The newest additions to the Hermes Beauty lineup are blushes, brushes and lip balms in the new Rose Hermes Collection. The colors are beautiful, understated and elegant. Items are available at Nordstrom, Saks Fifth Avenue, Bloomingdale's, Selfridges and Hermes. In today's review:
Silky Blush Powder
The Silky Powder Blush is a soft matte powder formula that has a rose scent. The formula is a silky smooth powder I find has buildable coverage on the face. They are ultra lightweight in texture and adheres well to the skin without looking too powdery. The packaging is beautiful in design and comes with a magnetic snap top and mirror inside.
The powder is heavily fragranced so if you're sensitive to perfume in makeup this is not the product for you. In terms of texture and coverage these remind me of a more velvety powdery version of the Laura Mercier Blushes for the natural coverage and satin finish.
When I first played around with the formula I was not super impressed, but the first color I tried was Rose Ombre which turns out to be my least favorite color. For my skin tone it looks a little dull and lackluster. I played with each of the shades and love the other shades. There are eight colors total right now, I ordered six of them:
19 Rose Abricot is a light peach
23 Rose Blush is a warm pink
32 Rose Pommette is a medium rose pink
28 Rose Plume is a soft pale pink
45 Rose Ombre is a medium dusty rose
49 Rose Tan is an orangey tan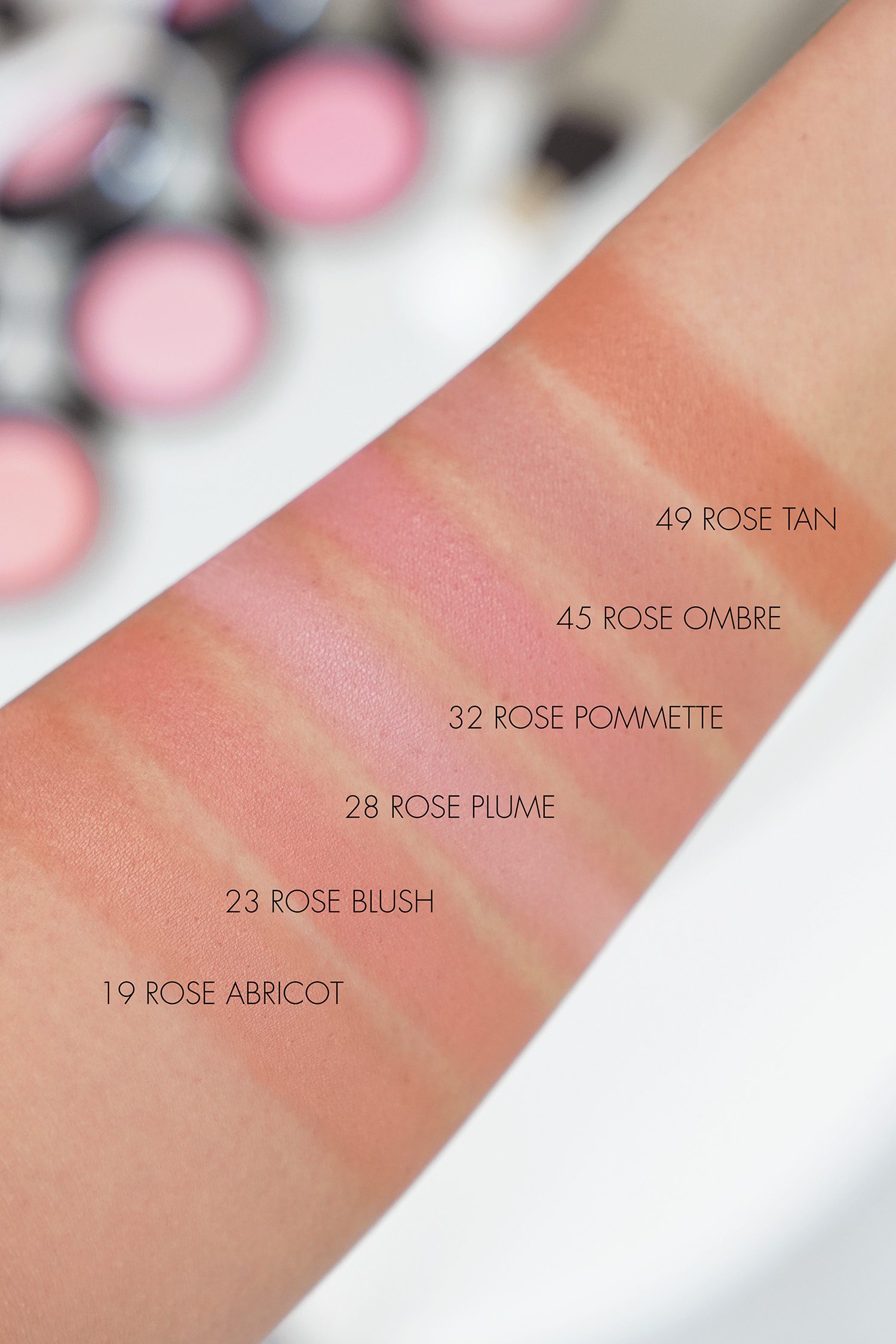 Overall I really like these! (All colors shown on the face below.) At $77 each these are quite the splurge and while I really like the elegant and understated look, I do not think I needed all of the colors I hauled. Do I think they're worth the $77 price tag? Not really, but I am happy with the formula and wear. If I had to pick a couple favorites, I would say I like Rose Tan and Rose Blush the best.
Brushes
There are two brushes in the Rose Hermes collection which includes a small angled Travel Brush and an angled flat Blush Brush. The smaller Travel Brush is super soft and smooth and surpassed my expectations in terms of performance. It picks up product nicely and blends perfectly. It is on the small side, I would have liked something a little bigger but the texture and density is on point. For a brush intended for travel I do think having a cap or retractable option is ideal. Something like the Chanel Brush No 111, Brush 103, No 108 or Charlotte Tilbury Airbrush are better buys in my opinion for a travel face brush.
The flat blush brush is just ok. I do not think it's worth the splurge. It performs well but I think it is pretty average. I think you would be better off buying something like the Chanel Contouring Brush No 109, Laura Mercier Angled Cheek Brush or NARS #21 Contour Brush instead.
Rosy Lip Enhancer
I've saved the best for last which is the Rosy Lip Enhancer. These are tinted lipsticks that have a transparent finish and enhance the natural color of your lips. They're like a waxier matte version of the Dior Addict Lip Glows. I find the Hermes Rosy Lip Enhancers give me a more natural kind of glow on the lips like the NARS Afterglow Lip Balm in Orgasm, but with a matte finish and different color. Dior Lip Glows tend to bring out a more vibrant flush on my lips.
They seem unscented to me. Lasting power is like a balm but the natural flush stays there for hours without fading on me. They have a lightweight texture to them.
When I swatched these on my hand and lips they looked nearly transparent, but give them a couple minutes on the lips and a lovely flush of color appears.
14 Rose Abricote is a light peach, transforms into a healthy peach with a hint of pink
30 Rose D'Ete is a brighter pink
49 Rose Tan is a deeper dusty mauve rose, on my lips it looks like a healthy rose
All the items on the face, wearing:
Look 1: Rosy Lip Enhancer Rose Abricote
Silky Blush Powder Rose Abricot
_____________
Look 2: Rosy Lip Enhancer Rose Abricote
Silky Blush Powder Rose Tan

_____________
Look 3: Rosy Lip Enhancer Rose D'Ete
Silky Blush Powder Rose Pommette
_____________
Look 4: Rosy Lip Enhancer Rose D'Ete
Silky Blush Powder Rose Blush
_____________
Look 5: Rosy Lip Enhancer Rose Tan
Silky Blush Powder Rose Plume
_____________
Look 6: Rosy Lip Enhancer Rose Tan
Silky Blush Powder Rose Ombre
If you've been holding off on these I hope you found this review and swatches helpful! The Silky Blush Powders are refillable with refills at $48 each. I'm not sure if the Rosy Lip Enhancer will be refillable, I don't see them on the Hermes website yet.
While I really like the blushes I do think they are extremely overpriced, even for a luxury brand. The lip enhancers are winners for me because of the color on my lips but your mileage may vary as they're enhancers and I suspect they will look slightly different on everyone.
You can find these at a number of different retailers. You may have to do a bit of shopping around as some shades have sold out quickly. I ordered from a few places including Nordstrom, Saks Fifth Avenue and Hermes. Also available at Bloomingdale's and Selfridges.
Shop the Post