Chanel launched new shades of Rouge Allure Laque and Rouge Allure Ink Fusion ($40 each). The colors run on the bold side which I think will be really nice for the fall season or if you like a classic bold lip. I also ordered a few pieces from the fall collection and have a quick look at one item today (the new blush). These are out now at Chanel.com.
Chanel Rouge Allure Laque
The Chanel Rouge Allure Laque Ultrawear Shine Liquid Lip Colour is a glossy liquid lipstick formula with a lightweight feel and high shine finish. You can see my previous review with swatches here and here. I do think that the Le Rouge Duo Ultra Tenue is significantly longer lasting if you're looking for extended wear. The Rouge Allure Laque has similar lasting power to a regular lipstick for me. Stays put but does fade if your lips touch something like cups or a napkin.
82 Beige Confidentiel is a warm orange beige
83 Beige Secret is a medium brown pink
84 Rose Ambigu is a rose color (my favorite)
85 Corail Alternatif is a bright coral red
86 Rouge Captivant is a deeper red
87 Rouge Irregulier is a plum brown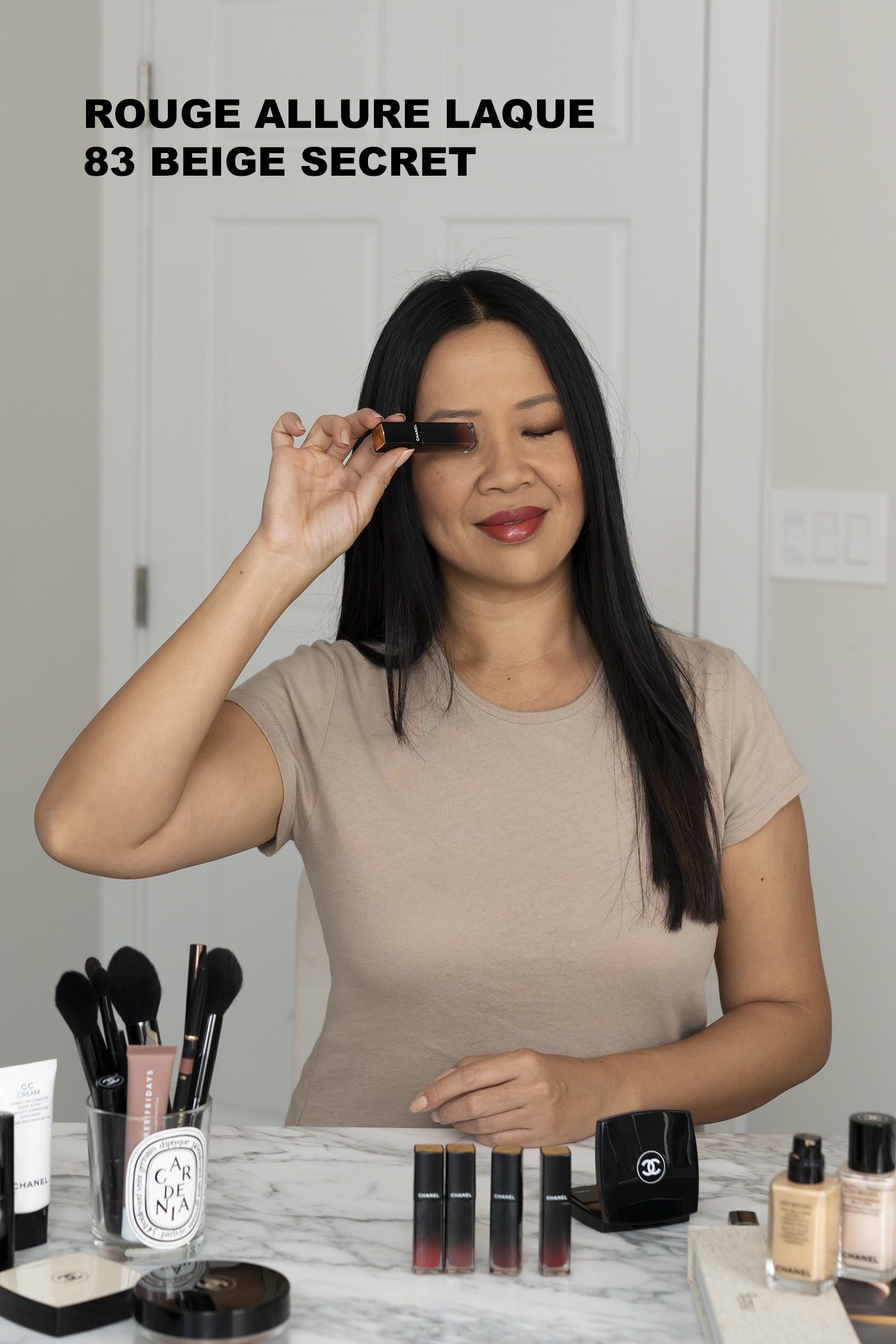 For skintone reference I'm wearing the Les Beiges Healthy Glow Foundation in BD41 right now (all my foundation shades in this post here).
Rouge Allure Ink Fusion
The Rouge Allure Ink Fusion is a fluid lightweight matte liquid lipstick. These colors looked fairly dark in the tube but I was pleasantly surprised by these colors! They're a lot prettier on the lips than what I see in the tube. There are a couple of repromotes. My other review of other shades here.
838 Orange Enigmatique is a soft muted orange (love this color)
840 Rouge Paradoxal is a warm red
842 Rouge Distinctif is a bold red with slight blue tones
844 Rogue Imprevu is a pink red
846 Rouge Particulier is a deeper red
848 Brun Mysterieux is a plum brown
Joues Contraste 608 Ombre
I ordered 3 items from the Chanel Fall-Winter Collection, one of them being the new Joues Contraste in 608 Ombre ($45). It's a super soft diffused nude almost neutral-cool caramel brown shade that offers a very subtle contour on my skin tone. I applied it and felt it was a little too neutral in the lip swatches with Rouge Allure Laque 82, 83, 84 and 85. I added some Laura Mercier Blush in Fresco and Ginger which I find similar in tone but show up better on my medium tan skin tone on the other Lip Swatch images above. If you want swatches and a more detailed of the Ombre Blush review let me know.
You can find the new Chanel Rouge Allure shades available now at Chanel.com. Have you checked any of them out yet? Or anything from the Fall Collection? What did you think?
Chanel Rouge Allure shades provided for review.