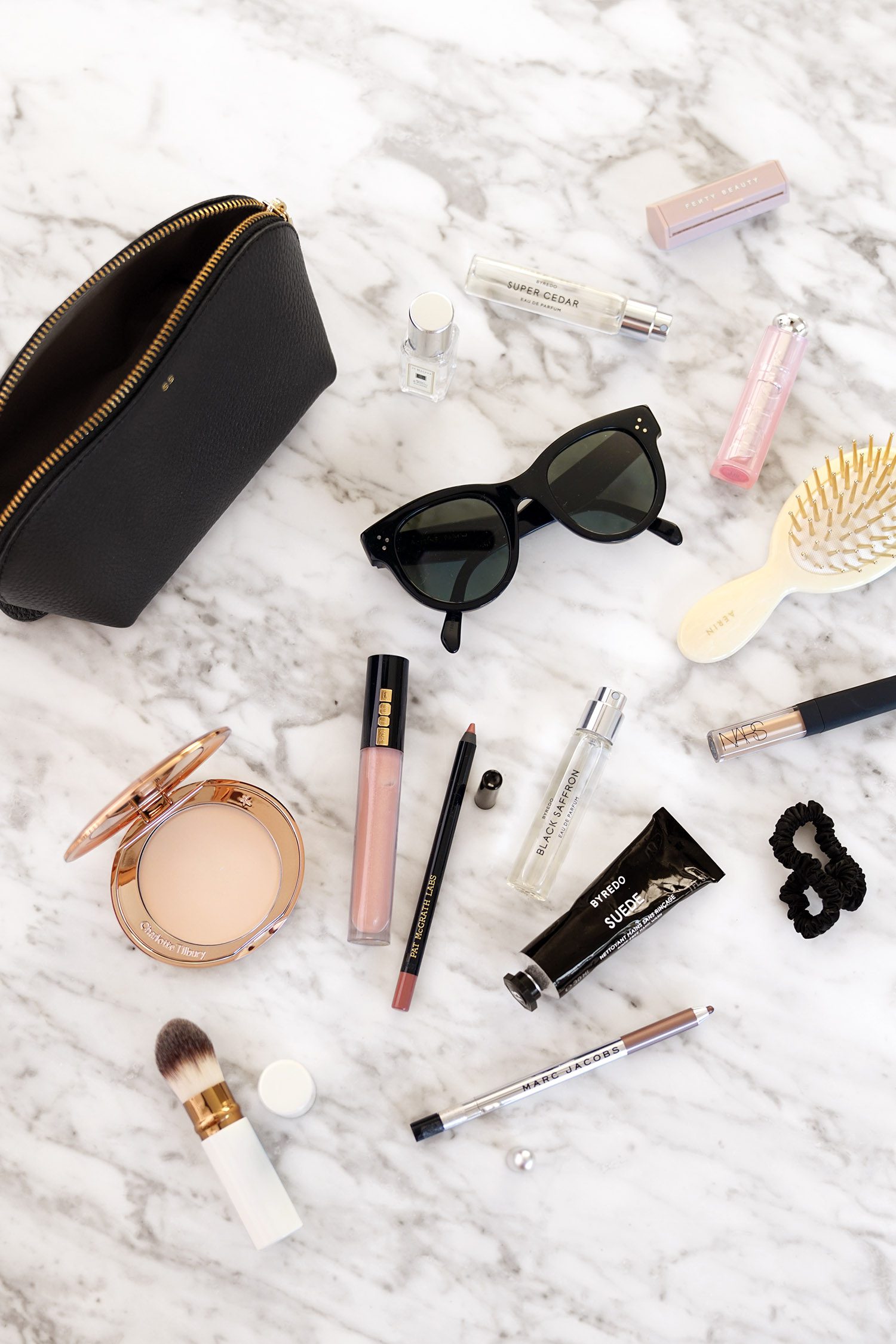 I'm back with a what's in my bag post! I feel like it's been a while since I've done one of these so I thought I'd share the cute little makeup bag I've been loving lately. As much as I love the flat pouches sometimes a regular makeup pouch with a wider base is a little more functional to hold bigger items.
I've received so many requests to review more from Cuyana and compare it to other brands I own. I finally ordered the popular Travel Case Set (comes with two bags, small and large) and am so impressed with the quality. It's much more functional for me compares to the other style I own called the Vanity Case Set (shown here).
Quick look at the large and small bags that come in the Travel Case Set for comparison: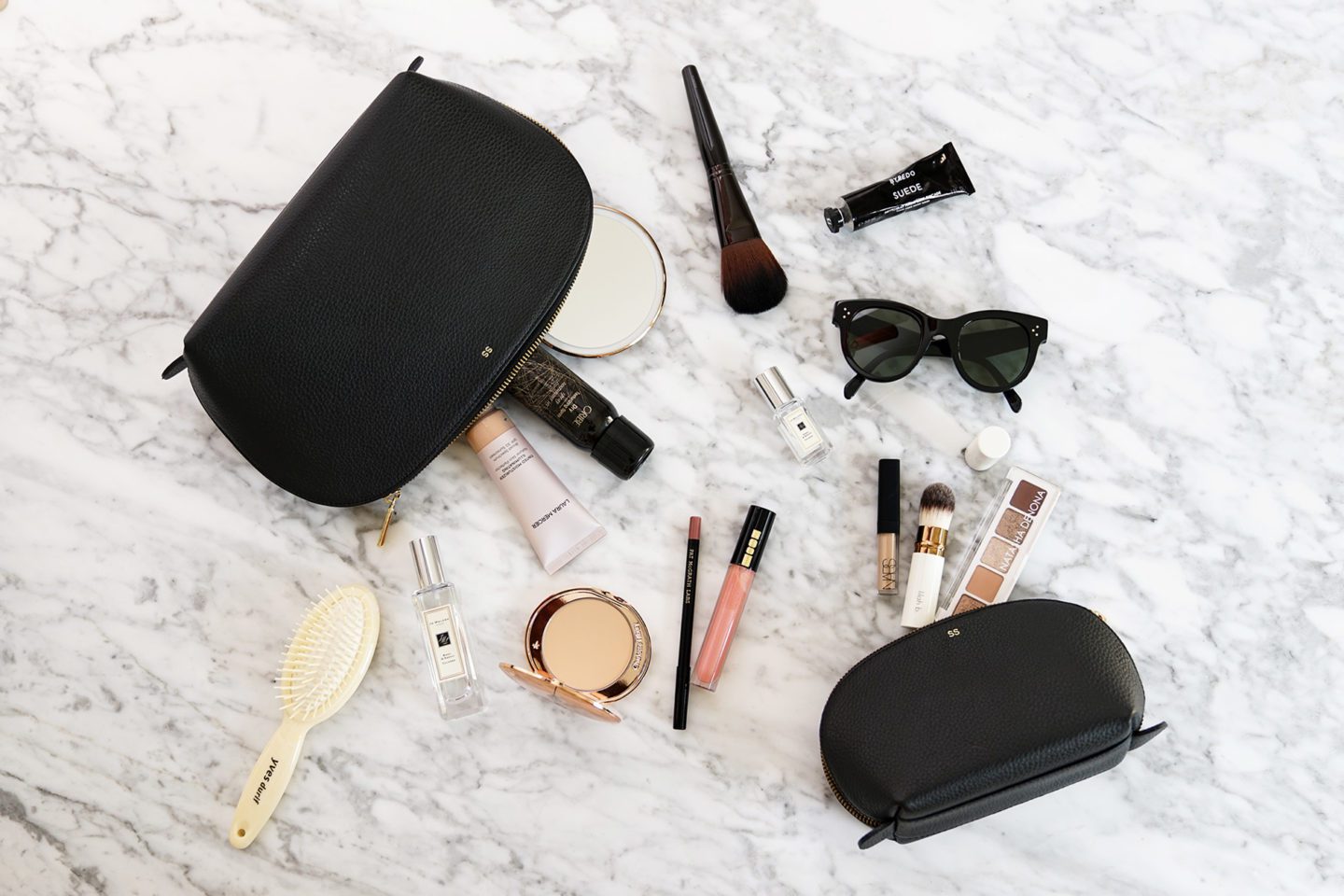 I will have a full review, comparison and roundup of my favorite makeup bags in a separate post. Today I wanted to share what I can fit in the smaller makeup bag for the Cuyana Travel Set which measures L 8" x H 5" x D 2.5".
Yes, all shown in the above photo fits inside the small makeup bag! I'll be posting a mini video on Instagram stories today as well:
A few more thoughts and details below:
My go-to touch up powder is the Charlotte Tilbury Airbrush Flawless Finish in Medium. If you're a long-time reader you know I've gone through many compacts! I just bought the foundation which I'll be reviewing soon and have high hopes for. These days I also have a small retractable brush from lilah b. which is actually a Retractable Foundation Brush but works for pressed powders just fine. I've kept a mini NARS Radiant Creamy Concealer in my bag but I rarely find the need to touch up my concealer if I'm out all day (it's for just in case). The Fenty Invisimatte Blotting Papers are so cute and they're refillable. I bought these recently and like them although I think the ones from Tatcha are actually a lot better.
For lips I rotate picks frequently, so these change on a daily basis! These days I've been loving just using a liner and topping with a sheer gloss. Pat McGrath LUST Glosses are among my favorite, left to right is Love Potion, Peach Perversion and Faux Real (swatches here). I like her Permagel Lip Pencils in Done Undone and Bare Rose the most (both swatched here).
Laura Mercier is another favorite, I've just started using her new lip pencils and love her Longwear Lip Pencil Baby Lips with Lip Glace in Opal on top.
On the nails, Essie Come Out to Clay
I've found the smaller makeup bag in the Travel Case Duo Set fits a small brush at the base. The Aerin Small Brush fits perfectly but it's quite a splurge. I've also really loved the Sephora Collection Mini Brushes in previous styles and just ordered this newer one.
Lip balms are essential for me, I love the Dior Addict Lip Glows and the NARS Afterglow Lip Balm for twist-up stick balms so I don't have to worry about getting my fingers sticky from pots.
I keep a mini perfume on me at all times because I find spritzing it on mosquito bites helps reduce the swelling and itch. Right now it's not too much of an issue for me, but there are always out here – even more so at dusk. I love the Byredo Mini Trio Sets because the vials perfect size for a small bag or pouch. There's a leather case you can buy separately to protect them, but I just keep them in my bag as is, I haven't had one break yet but they are glass so I would at least keep them in some kind of protective case or pouch. I also adore Jo Malone minis, I wish they kept these available permanently!
Sometimes I keep a hand cream with me other times it's just a hand sanitizer. I love the Byredo Hand Sanitizers in both Suede and Rose, they smell amazing and they're ultra luxurious!
What do you keep in your makeup bag? Do you rotate frequently or keep the same staples you use daily?
New posts and review coming soon! I've been taking a little time off the blog and social for some me time!