Happy Friday! I hope you all had a great week. So many of you have loved the recent nail polish posts (especially my top 5 neutrals) I thought I'd do another roundup of some Essie shades I've hauled recently. I've actually been more of an OPI kind of girl when it comes to nail polishes for lasting power and color range, but I've been exploring more from Essie outside of my go-to Topless and Barefoot and found quite a few nice neutrals that aren't nude. Ever since trying out the Speed Setter Top Coat I've now been able to make Essie polish last on my nails. I still want to try out the Gel Couture Top Coat but haven't yet.
It can get a little overwhelming with all the options – so I've picked a small handful. Some look really similar in the bottles (almost identical) but there are variations in undertones so there's a lot to pick from.
Lighten The Mood is one I bought over the summer. It's a really pretty off-white pale pink cream. Finish is not the most opaque so I need three coats.
Come Out To Clay is part of their Rocky Rose Collection for fall which is the perfect light peachy cream. I can get away with 2 coats, but sometimes apply 3.
Princess Charming is a Gel Couture formula with a wide brush and excellent coverage. It's a medium neutral rose cream.
Into The A-Bliss is also from the Fall 2019 collection, it's a medium cool-rose pink cream with mauve undertones. This applies more like a pink but dries down to a mauve.
Eternal Optimist is also a pick I hauled earlier in the summer, it's a pretty medium-neutral rose pink.
Stitch by Stitch is a soft baby pink that isn't too pale or too blue in undertone. I think it's a fun color to wear that isn't too bubble-gum like if you're looking for a more neutral pink.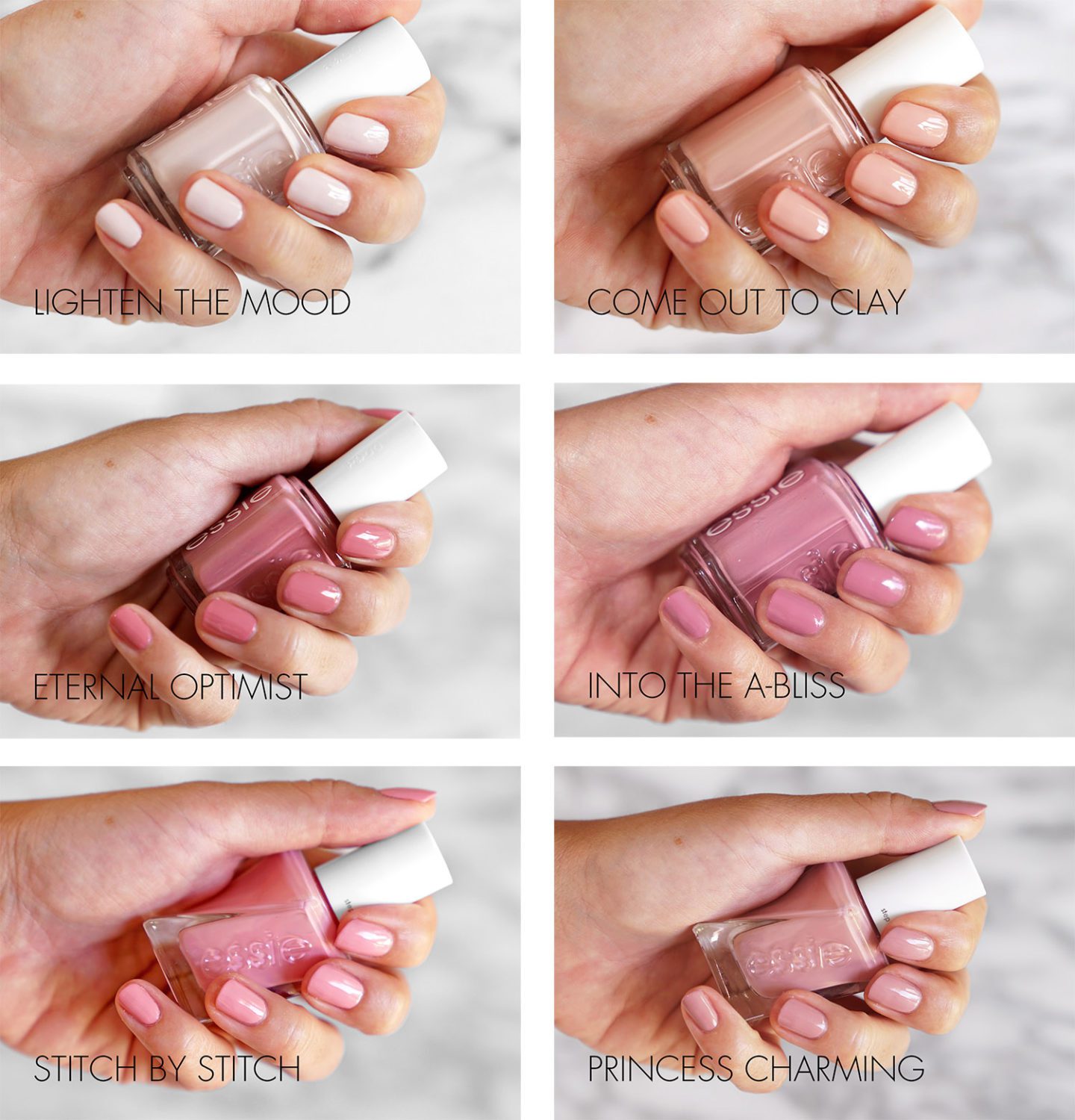 In case you missed it, you can check out my tips and favorites in my Hand and Nail Care Routine post that I posted recently. It's an updated list of my go-to products for a DIY manicure.
What are some of your favorite Essie nail polishes? Do you recommend any of their base or top coats? What should I try next?