Earlier in the year Viseart launched a new eyeshadow palette called the Petite Pro Palette ($30 for 8 x 0.026 oz/ powder-based shades). The packaging is similar to that of the Theory Palettes (reviewed here) with the magnetic cardboard casing and removable magnetic pans. The Petite Pro has mini pans of eyeshadow with a mix of matte and shimmer shades. I received in a gift bag at The Makeup Show Orlando last month and literally squealed when I saw this inside because I die for minis. I had passed on it when it first came out because I felt Minx and Honeymoon would be too similar to justify purchasing. After swatching it and playing with it, I confirmed these thoughts so if you own either of those you may want to shop your stash. (On the nails above is OPI Be There in a Prosecco.)
The Petite Pro Palette has four mattes and four shimmers. The quality, texture and pigment is excellent. I normally don't gravitate towards really warm coppers or reddish purples because they tend to pull too warm on my olive skin, but the color mix in the Petite Pro is really good. Part of me looks at the palette and thinks this is really similar to what I already own, another part of me thinks it's just really good for the color selection and convenience. If I had purchased it I don't think I would have regretted it.
Colors inside the palette include a matte bone, matte medium brown, matte warm reddish plum brown, matte bark brown with grey tones, shimmering taupe, shimmering warm gold, shimmering copper, shimmering red plum. I think every color in the palette is wearable and gorgeous.
A look a the Petite Pro Palette compared to the Theory Palette in Minx below. The packaging is the same style, but the shape and dimensions are slightly different:
Petite Pro Palette on the left vs. Theory Palette in Minx on the right: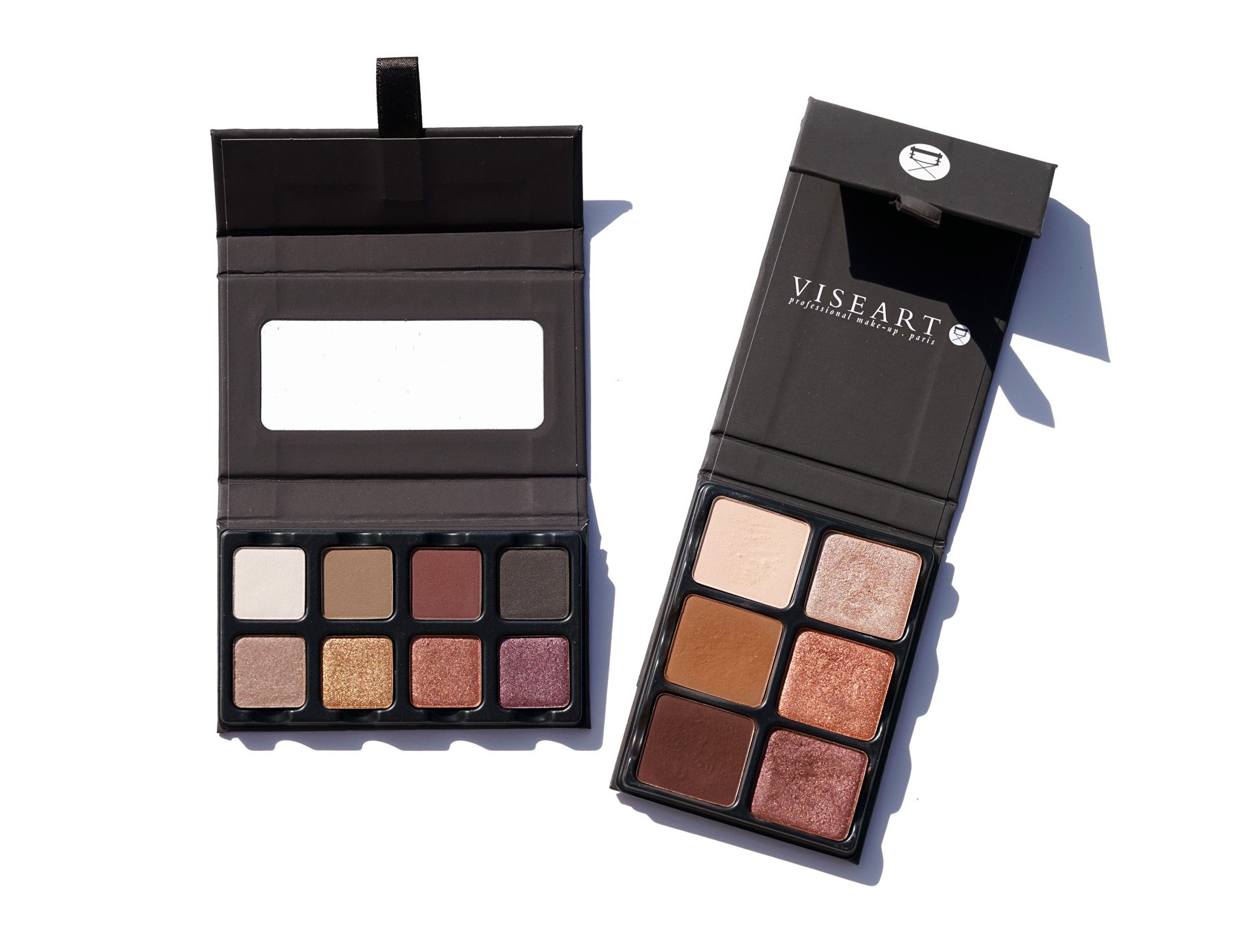 Swatch comparisons: Viseart Petite Pro vs Minx vs Honeymoon (previous reviews linked)
As you can see above I don't really have exact dupes but both Minx and Honeymoon have very similar vibes. My heart belongs to Tom Ford Honeymoon although I do think either of the Viseart Palettes are nice because they have the matte options which offer more combinations.
Quick take on the Viseart Petite Pro is that it's an excellent palette you can use for any occasion. It's versatile and has a good mix of neutrals and some brighter/warmer shades to be more interesting than something like Urban Decay Naked2 (which I still really adore). That being said if you can't do warm shades on the eyes because of your skintone or color preference, I would say opt for something like Viseart Cashmere Palette (swatched here), Urban Decay Naked2 (review here) or the MAC In the Flesh Palette (swatched here). I really like it but based on the number of palettes and shadows I own, I do think it's similar to other palettes I have.
You can find the Viseart Petite Pro Palette at Sephora. Have you tried this yet or the Theory Palettes? What did you think?
Palette gifted from The Makeup Show.