I'm excited to share a look at the Wayne Goss Luxury Lip Collection today with a first impressions review and swatches! As a long time fan of his brushes I was thrilled to receive a package from Beautylish including a preview of his entire lip launch. The items launched on 5/5 and by now quite a few colors have sold out but I expect there will be a restock. I was hoping to get my review up before the launch but I decided to swatch and lip swatch all the lipsticks and glosses and it took me forever! I hope you will find this a helpful resource. A lot of the shades are nude and neutrals – as always they will look very different on you if you have different skin tone than me. I'm very warm and golden/olive. The three products he has in his lip collection:
The High Shine Gloss
The High Shine Gloss is available in 7 color options. Three are shimmers and the rest are more like creams. They have a sponge tip applicator with a minty smell. Texture is medium with a cushiony feel. I like that there's enough density/thickness so they stay put on the lips. There's a bit of stickiness to them but it's not uncomfortable or heavy. Pigment varies by color, but in general I would say they run medium-sheer.
Tulip is a sheer beige with a hint of sparkle, this one contrasts with my natural lip tone and my lip lines show through, it works better on top of lipstick or a liner

Hyacinth

is a medium peachy pink cream
Cherry Blossom is a medium pink with a hint of sparkle (on me it almost looks identical to Hyacinth, the difference is subtle on me)
Petunia is a medium nude pink cream (my lips but better)
Antique Rose is a sparkling beige with champagne and rose gold shimmers
Hibiscus is a metallic pale pink shimmer
Chrysanthemum is a metallic copper rose bronze
Texture is smooth on all the finishes even the shimmers.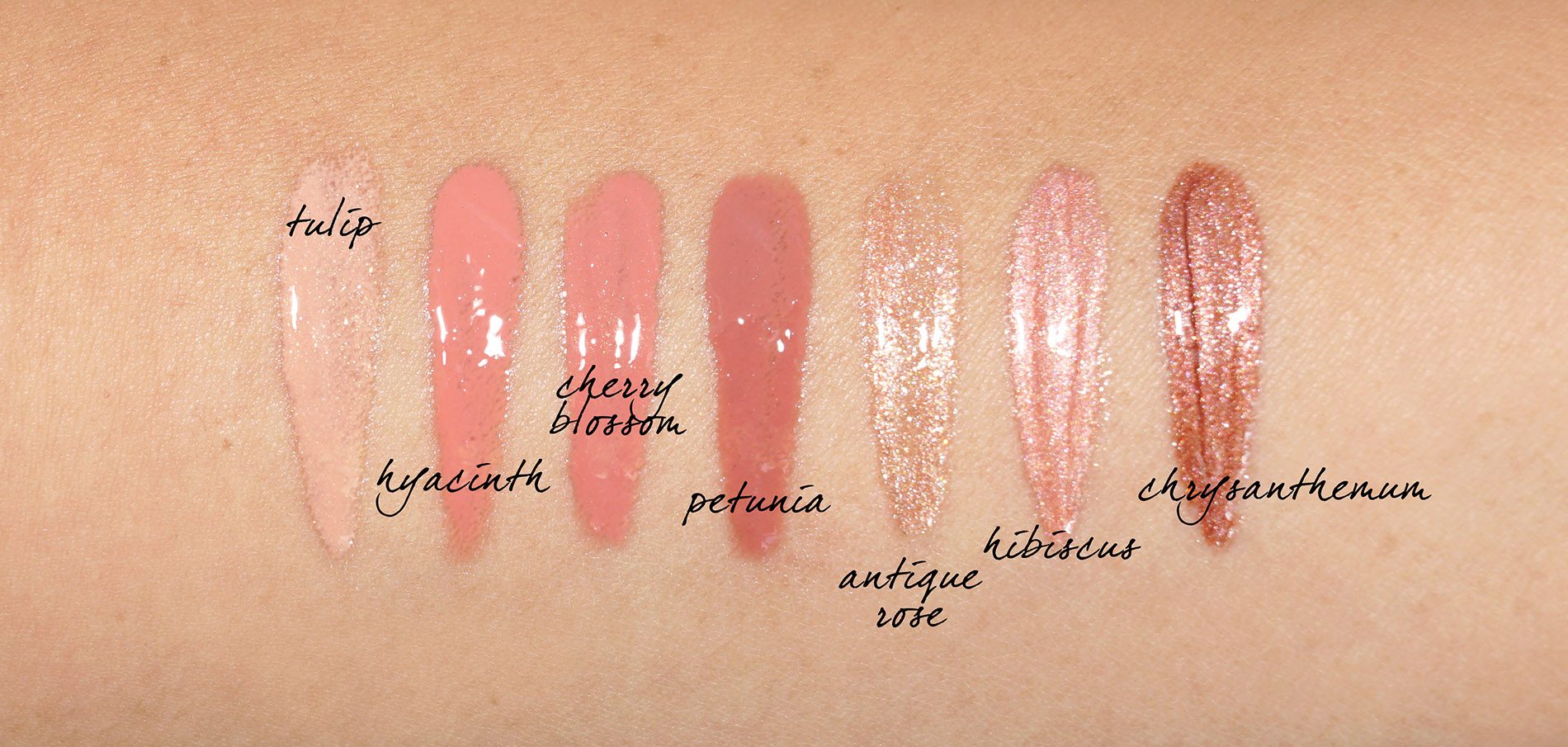 Swatched on bare lips. Photos taken with a flash. The sunlight kept shifting so there are slight variations in my skin tone as I took them outdoors.
The Luxury Cream Lipstick
The Luxury Cream Lipstick are excellent in formula and among the best I've tried! They're ultra smooth, comfortable, have beautiful flawless pigment and wear beautifully. I think they are just as good as the Tom Ford regular lip color if not better. There are a lot of lighter colors in the neutral nude category. They do look similar at first glance – but if you struggle finding the perfect undertone for a natural lip I think you will appreciate Wayne's careful selection of colors.
Colors include:
Camellia is a pale light peachy nude cream with yellow tones
Dahlia is a peachy cream
Daisy is a light pink beige cream
Lotus is a beige peach
Magnolia is a cream pink
Lily is a perfect muted neutral-nude pink
Amaryllis is a medium pink with coral tones
Orchid is an orange terracotta cream
Carnation is a soft washed blue-based rose
Zinnia is a warm but soft red pink berry
Swatched below on bare lips, also taken outdoors with flash. I highly recommend looking at other YouTube or Blog swatches to get the best sense of how these look on different skin tones and lighting. They are creamy and have a subtle natural shine finish (which I love). Lasting power is quite good and while I have not been able to test each shade, I did try Lily for an extended part of the day – it lasted through a bag of chips, 3 cookies and 2 cups of coffee. There was some color transfer but it stayed put an in tact which was impressive.
The Essential Pencil
The Essential Pencils are products I haven't put to an extensive test but still wanted to share swatches. I only tried two on the lips but in swatching these, they have a smooth non-tugging texture. Pigment is opaque and full. They glide on really beautifully!
Vintage Pink is a pale pink, significantly lighter than my natural lip tone
Natural Berry is a soft pink
Mauve is a warm pink
Sepia is a muted pink brown
Cinnamon is a dusty red
By the time I finished lip swatching the Lipstick and Gloss my lips felt a little raw. I decided to do swatch comparisons instead of lip swatches next to a few popular colors for reference. I hope this helps you! Left to right for comparisons are Charlotte Tilbury Lip Cheat in Pillow Talk, MAC Lip Pencil in Boldly Bare, Stripdown and Whirl, Pat McGrath Permagel Done Undone, Victoria Beckham Beauty Lip Pencils 2, 3 and 4.
Formula-wise the Wayne Goss Essential Pencils have the best smooth glide. There's no tugging which isn't usually a deal breaker for me as I apply liner in a feathering motion. I do really like the texture of his lip pencils and will be trying them out more in the upcoming weeks.
Two on a full face including his Luxury Cream Lipstick in Lily and High Shine Gloss in Hyacinth below:
I hope you found these swatches helpful! I literally just received these so I haven't been able to test these very long. First impressions are the Lipsticks are really quite phenomenal formula-wise. My favorite colors are Lily and Lotus. For the High Shine Lip Gloss I think the shimmers in Antique Rose are beautiful! I also like the everyday wearability of Hyacinth or Cherry Blossom (both are nearly identical on me so I don't think you need both).
You can find the Wayne Goss Luxury Lip Collection available at Beautylish. I am hoping they will be able to restock the sold out colors soon!

Many thanks to Beautylish for sending the collection for review.