Sharing a roundup of some chocolate nail colors I've been loving this season! I've never received so many "what color is that?" questions about some of the shades I've been wearing recently. The ones that have been getting the most compliments are OPI Bonfire Serenade and Olive and June JJ.
I've been in a pale pink and neutral nude nail kick most of this year but love these different shades of brown for fall to winter. Here are 10 nail chocolate colors to try this fall.
OPI Bonfire Serenade is a creamy cool-toned chocolate brown. Opaque with two coats.
OPI You Don't Know Jacques is a shade I always thought was brown, but I just bought a fresh bottle and it's almost taupe blue on my skin tone. I added it to the mix for comparison.
OPI Espresso Your Inner Self is a true medium chocolate brown shade. Also creamy, opaque, two coats.
Olive and June JJ is the prettiest warm chocolate milk shade, neutral-warm on me. This is with two coats.
Essie All Checked Out is a darker cool toned brown. Has full coverage with one coat, but I applied it with two.
Chanel Le Vernis Inspiration and Impulsion are both nearly identical to me. A lot of you wanted a photographed swatch side by side next to Infinite. I would say Inspiration is a medium neutral warm chocolate brown, Impulsion is slightly deeper and cooler in undertone, Infinite is nearly black on my fingers with two coats.
Dior Nude Line is another great chocolate color. It's a one coat wonder.
Hermes Brun Bistre is an ultra dark chocolate color, almost black on my nails, even in sunlight. It's a deep brown. Applied with two coats.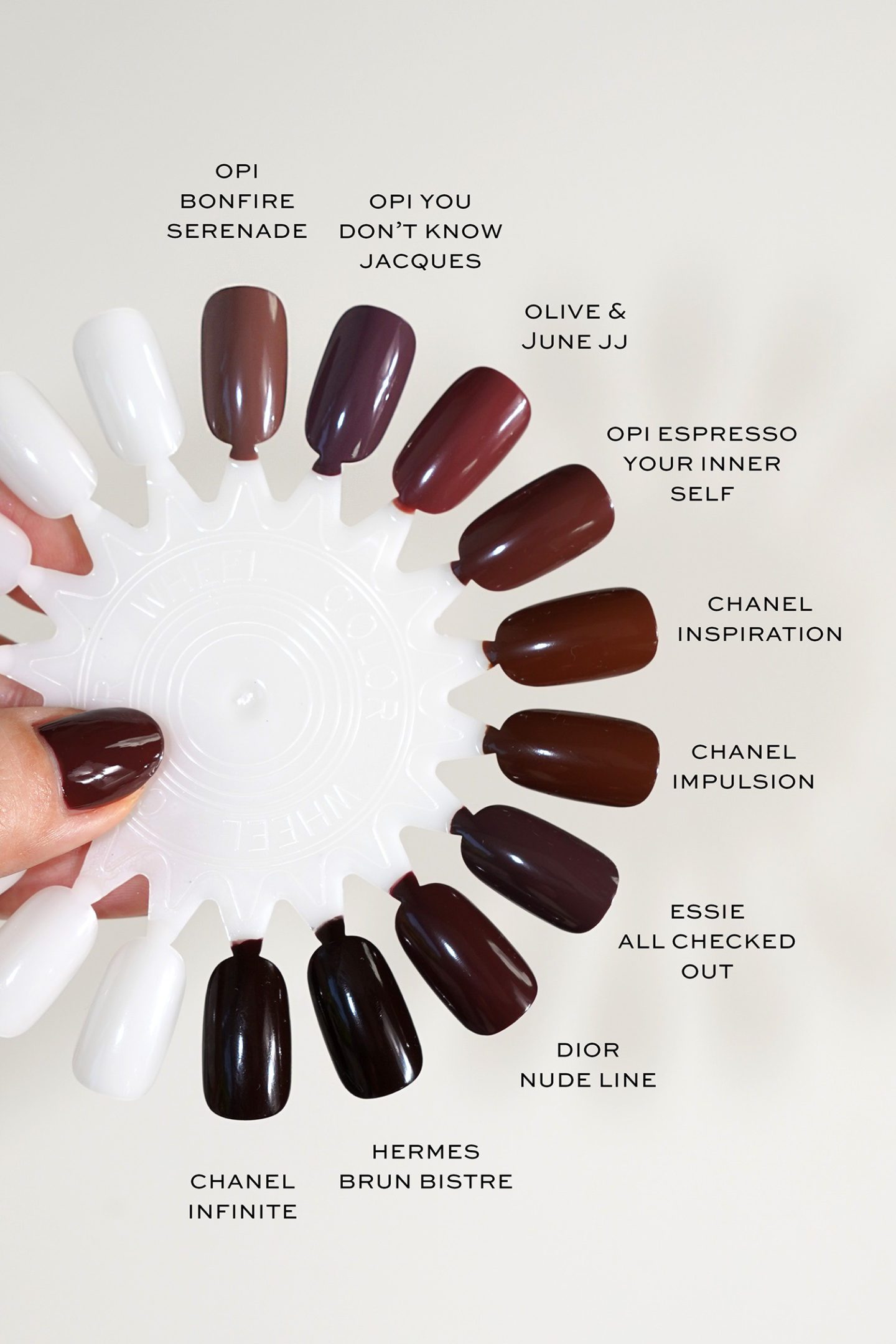 For those who wanted to know what I've been wearing lately I hope you found this roundup helpful! What nail colors are you wearing this season? I've also linked some of my favorite DIY hand and nail care products. A lot of them are also featured in this Hand and Nail Care Favorites roundup here.
Shop the Post

Would love to hear about your favorites!