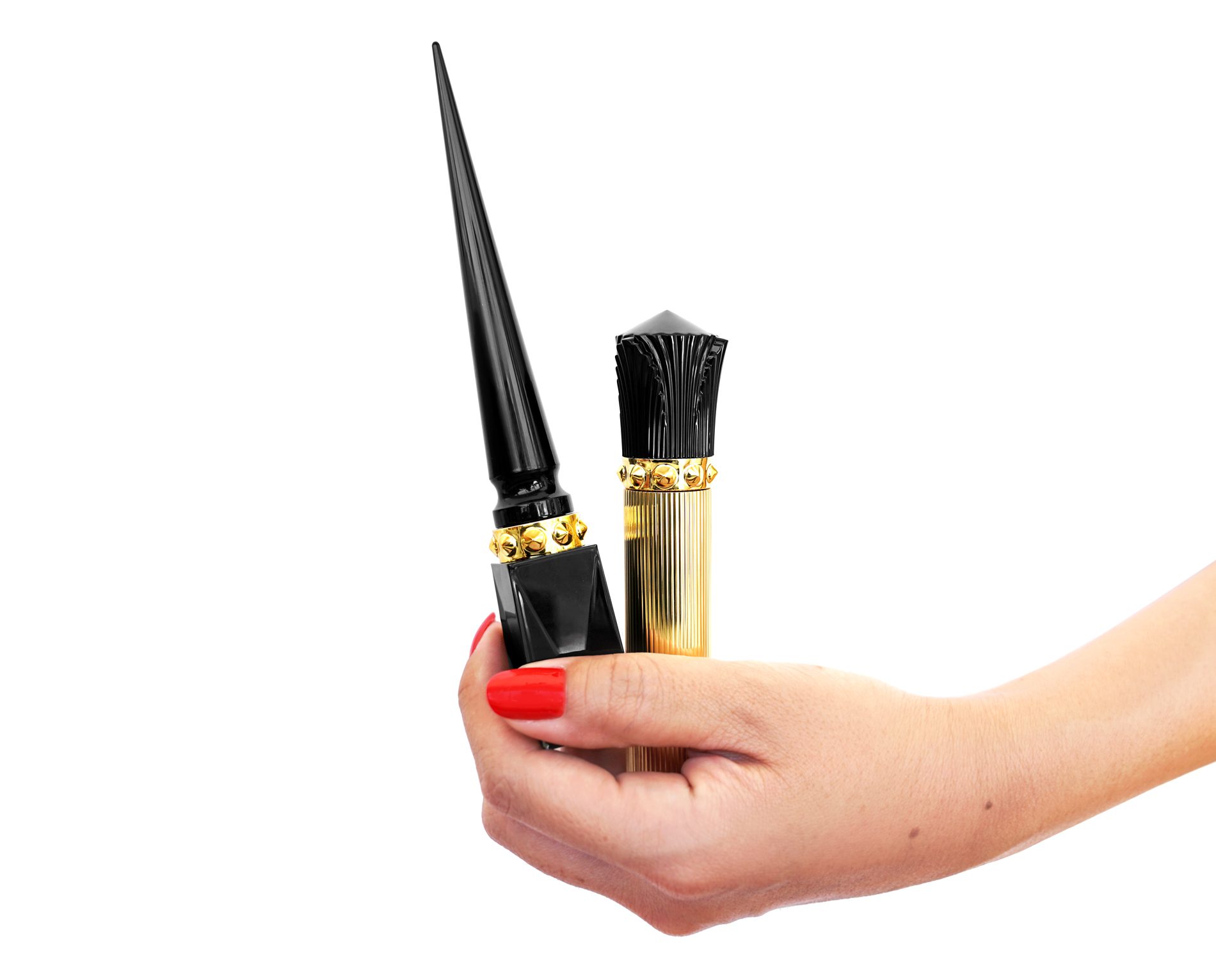 This spring Christian Louboutin has expanded his beauty line to include eye makeup in his Les Yeux Noirs collection. True to Louboutin style these are luxurious pieces with elaborate packaging that are like works of art. I have two pieces to review for you today but the entire collection includes:
I was kindly gifted the Les Yeux Noirs Amplifying Mascara in Khol and the Oeil Vinyle Luminous Ink Liner in Khol. I've reviewed quite a few Louboutin products before, both purchased items and press samples and have been really impressed with their nail polishes and lip products. Based on this I had extremely high expectations for both the mascara and liner. After testing I have one product I feel is a total hit and one item I have luke-warm feelings towards.
First – the packaging on both the liner and mascara is just out of this world gorgeous. They are so unique and the packaging makes quite the statement. Design-wise they are functional and very easy to hold and use. Travel-wise they aren't really travel-friendly. I tried both items in the black shade Khol and both are true rich black colors. Even though pigments have improved these days there are still some brands where the black shades actually look grey once they dry down.
Up first is the Les Yeux Noirs Amplifying Mascara in Khol. This is a true black mascara that comes with a rubberized applicator in a heavy weight tube. When it comes to mascara I feel like I'm usually disappointed. I have straight lashes that doesn't hold a curl very well. Also since they are straight I find many are prone to smudging. In testing mascara I know that there are some formulas that take a couple uses to get it going – I'm not sure why but sometimes the first application just doesn't work. That was the case with the Louboutin mascara. The first use did not do much of anything for my lashes except darken and define slightly. I gave it two more tries before it started to work properly am glad I did because it performs well.
It is described as having a formula that gives dramatic volume, enhances definition, length lift and curl of the lashes. I found that it did all that it claims with the exception of one area. For me it was a bit lacking in volume. As I've mentioned with other mascara reviews though – if a mascara can hold the curl, doesn't clump and doesn't smudge then to me I'll give it a thumbs up. I can build up volume with a few coats but it does take some work and patience on the upper lashes. I rarely wear mascara on my lower lashes because mascara tends to just clump and smudge. I gave this a try on my lower lashes and it's amazing there. Even with mildly humid warm weather here in Florida I had no smudging from morning until late evening. I will say it's not waterproof but it doesn't claim to be. The packaging is heavy weight and design makes it easy to hold and apply. Luke warm feelings are mainly due to price and the fact that it doesn't knock my socks off for volume. The most I've spent on mascara before was with the Chantecaille Faux Cils Longest Lash Mascara which is $72 and I was not happy about spending that much even though I've spent more on palettes and lipstick before.
On the nails is Edgypopi reviewed and swatched here
Next is the Oeil Vinyle Luminous Ink Liner in Khol which I think is just incredible. I'm not much of a liquid liner person although I've tried a number of formulas that are good. I just prefer pencils or dark shadows as liner because it's easier for me and I find them more forgiving with the precision aspect. Also many tend to bleed or just don't have enough pigment and end up looking ashy or grey on my eyes. The Louboutin liquid liner has a felt tip that is soft and easy to use. It also has a rich glossy black ink finish – the pigment and finish are what make this an amazing liquid liner. It lasts all day without smudging and there's no bleeding when I apply it. For me it set pretty quickly which is nice – sometimes if a liner doesn't set right away it can be prone to smudges when I blink. I give this one a solid thumbs up. Pigment is rich, texture is smooth, application is flawless and easy to build for a perfect cat eye. Finish is glossy but dries and sets 100% without smudging. It lasts all day. It literally covers everything I could want in a liquid liner.
A closer look at the packaging and detail of the applicators:
Applicators: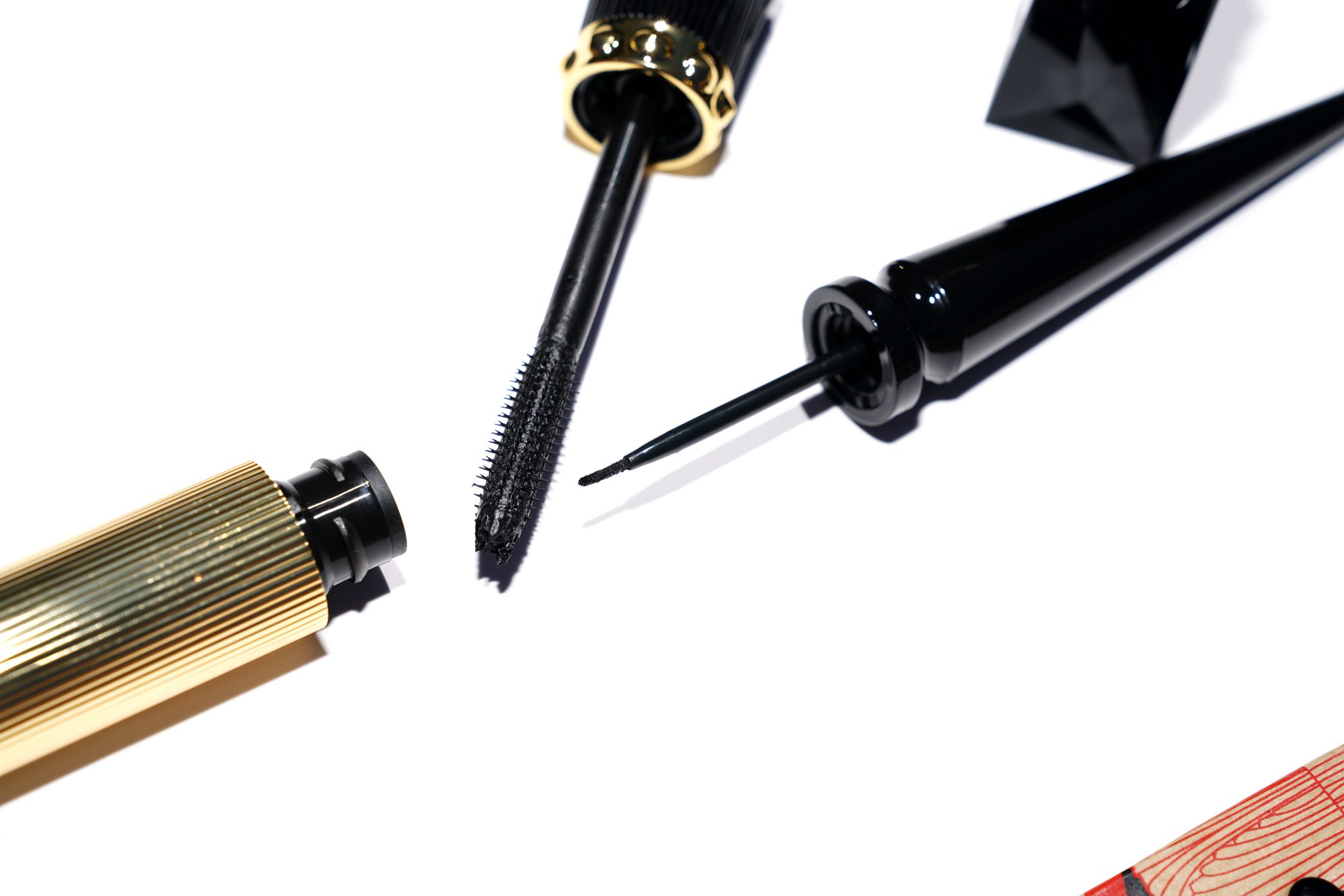 Closer shot:
Swatches of the mascara and liner with different pressure applied to show how you can control the thickness of the lines:
Swatch comparisons with a flash:
Bottom line both are solid performers. I absolutely love the liner and think it's 100% worth the splurge. With mascara I think it's just ok but mascara is hard for me in general to love because I have such high expectations. My lashes are so straight and sparse that few mascaras can really do everything that I want it to. Many times my expectations are just too high. For the price I think the lip products are a better splurge. I'm still obsessed with the lip lacquers (my picks reviewed and swatched here and here) and I think the lipsticks are excellent (red ones also reviewed here).
You can find the Louboutin Les Yeux collection online and at Louboutin Beaute counters now. I have yet to see the full beauty line in person but hope to make a trip in the next month to see it live. Available online at Nordstrom, Neiman Marcus, Sephora, Saks Fifth Avenue and Christian Louboutin.
Have you checked these out yet? What's the most you've spent on mascara or eyeliner?
Many thanks to Louboutin for gifting me the Les Yeux Noirs.