Continuing my home features with a roundup of some of my organization and storage favorites! As a beauty blogger I go through a lot of product testing and keeping everything organized is quite the challenge! I keep the vast majority of products in a beauty closet in Ikea Alex drawers and shelves with clear storage bins. I also have storage in my bathroom.
There are staples and things I use frequently that I like to have quick and easy access to. Being able to see things displayed also helps me find things faster when I'm pulling things for a makeup look, tutorial or comparisons (versus having things stored in a drawer). If you're looking for some ideas on how to display or store your products, I'm rounding up storage solutions I love.
Rotating Beauty Tower
I ordered one of the Rotating Makeup Organizers on Amazon. There are tons of options from a wide range of brands and I picked up this one. It comes flat packed and is super easy to assemble. Quality is decent for the price, but it's not the most sturdy or thick compared to the pricey acrylic organizers. This one has adjustable insert shelves for each side and also comes with small locking rings to hold the shelves in place. It holds a lot of product although I wouldn't put super heavy things on the shelves. I like it! It's functional, very affordable and lightweight.
Spinning Acrylic Lipstick Tower
I have a ton of lipsticks stored in these 24-Lipstick Acrylic Organizers in drawers but I found Impressions Vanity Lipstick and Powder Spinner with Drawers more functional. Sold out at Impressions Vanity but still available at Wayfair ($89.99). It's more expensive than what you'll find at Amazon but the quality is really good and I think all their acrylic organizers are well made and worth it. This one has holders on the side for pencils or brushes. It also has horizontal slots for compacts (which I use for more lipsticks) and also drawers.
Ikea Godmorgon Box
I purchased the Ikea Godmorgon Box with Compartments a few years ago and love it. Mine is the clear version which is no longer available but they still carry it in a clear smoked color. I love the quality – it has held up a lot better than I anticipated! I like that the compartments are removable. I like their other products in the Godmorgon lineup too.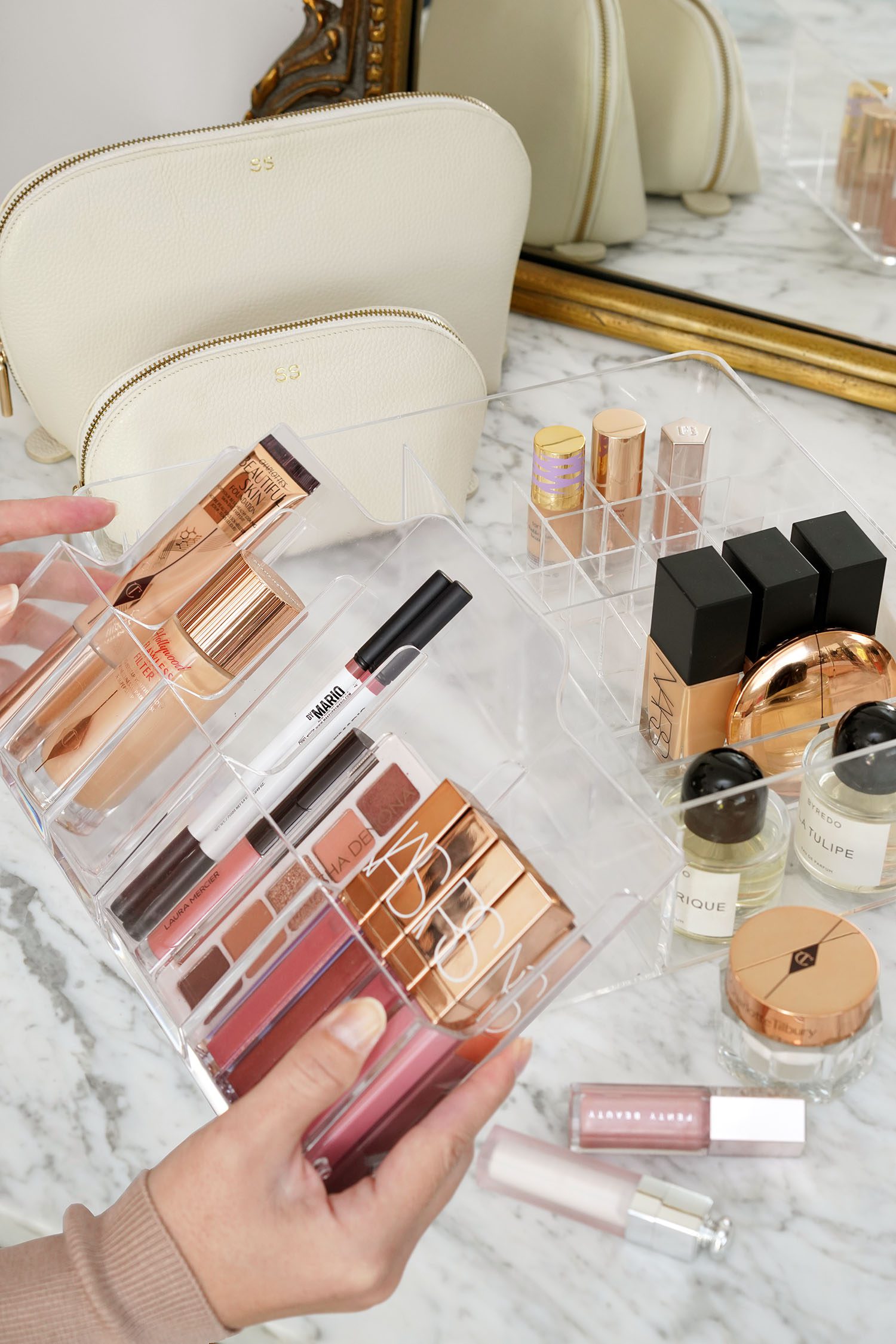 Snapware Snap and Stack
My little Olive and June box for storing hand and nail essentials has been a tried and true for a long time but I've found I needed something bigger. I saw this Snapware box on @overglowedit's highlights and ordered it immediately! The box comes in a few size options. Mine is the 2 tier Snapware Snap and Stack Portable Organizer (14.1 x 10.5 inches size) and I absolutely love it. I put in a few iDesign Shallow Organizers inside to separate products (I also use these in my bathroom drawers and Ikea drawers).
I keep my hand and nail essentials and tools here like my clippers, cuticle pusher, cuticle trimmers, nail oils, favorite base and top coats etc. All of my nail polishes are stored in my beauty closet but I keep the basics in these snap boxes for easy access since I switch my polish a lot with testing etc.
Plastic Hinged Lid Containers
I ordered a few mDesign Plastic Storage Boxes (they come in a few size options and in different colors). I like storing my lash curlers, perfume samples, beauty sponges and small things inside to keep them dust-free. These come in a set of 2 and I like that they're stackable too. I ordered some of the larger ones for Andrew's grooming products to store under his bathroom sink.
Acrylic Tiered Stand
This riser display stand is another Amazon find I've featured before. I like this functional tiered stand which helps me see product like perfume (or foundations) easier on my shelf. I have the smaller version.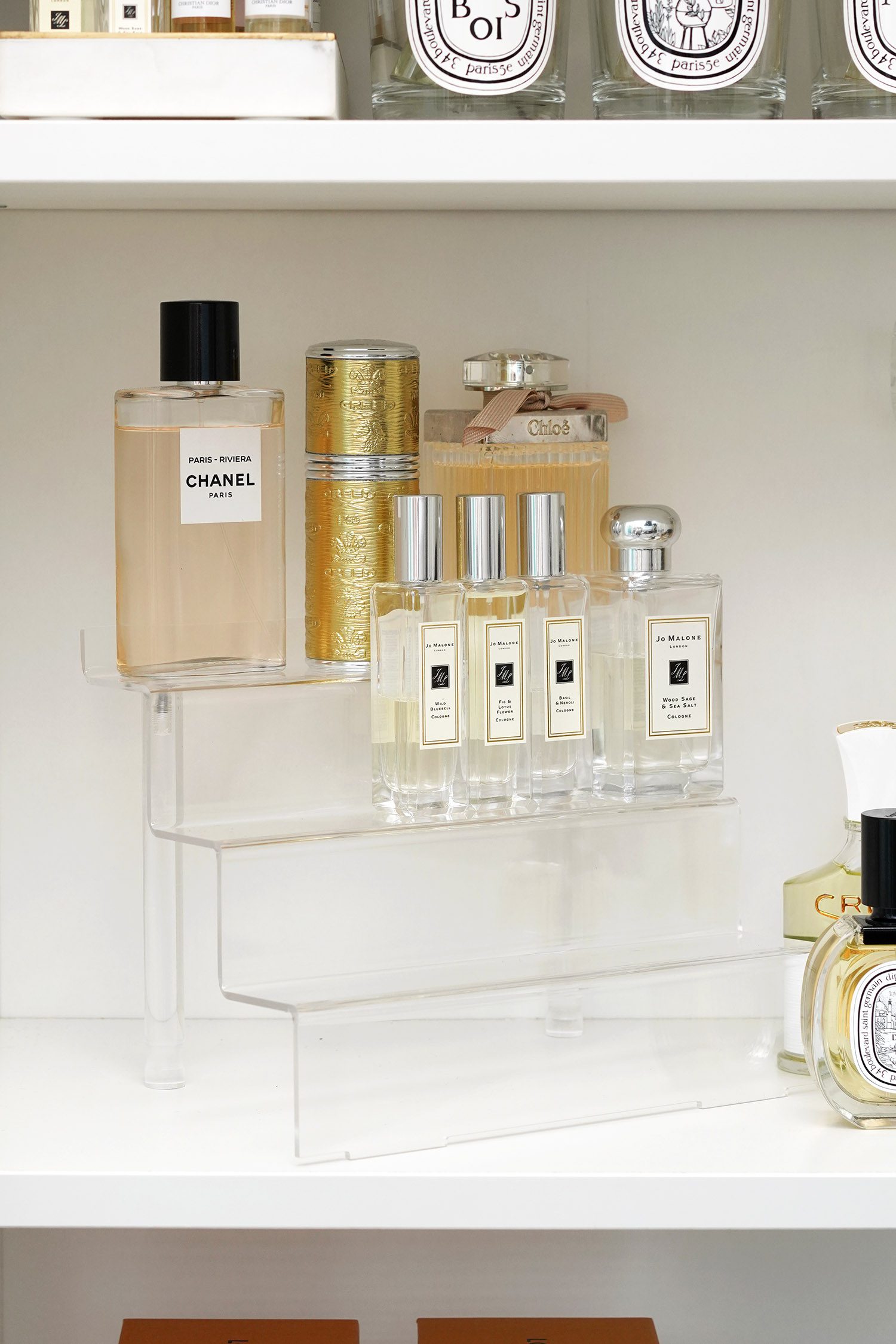 Marble Acrylic Storage
Still loving this Marble + Acrylic Storage Unit from CB2! Including it in the roundup in case you missed it! Several of you have messaged me you purchased this too and love it! I'm thrilled!
Jewelry Storage
Last mention is a couple of jewelry storage solutions I have. I get so many questions about these brass T-Bar stands. These are from Kendra Scott in the Large and Small size. They're perfect for hanging necklaces so they don't get tangled. Also available in silver and rose gold colors. I'm really happy with the quality.
I've received a few questions about how I travel with jewelry and store it at home. I bought the Mejuri Travel Case about a year ago and had my initials embossed on the surface. It's a delicate kind of leather they describe as grained but it has a smooth touch/feel to me. I've only traveled with it once and it worked well for my earrings and rings but necklaces became a tangled mess. It's still functional and I like the quality. Since the leather is on the softer side I do see it getting scratched if it's thrown into a luggage bag or suitcase.
I also ordered the Jewelry Box to organize my jewelry and just received it in the mail. I'm still in the process of organizing my earrings and other pieces of jewelry. I think it's a beautiful case! You can also have this monogrammed/embossed with up to 3 letters. I have the larger size (also available in black leather).
One last note is that I still really love the heavy duty acrylic organizers I've purchased in the past from Muji, Original Beauty Box and Glamboxes. It seems like several of the acrylic storage makers and brands are no longer around though. I had a feature of some units in our Home Loft Tour from several years ago when we lived in San Diego in case you're curious.
one / two / three / four / five / six / seven / eight / nine / ten
So many of you seem to love these organization posts. I plan on doing more in the future! What are your favorite ways to organize your beauty products?
Shop the Post