I'm back with a home decor refresh haul! I've added some small decorative pieces to the home with some new trays, storage units and more over the past few months. So many of you liked my 10 Things I'm Loving for the Home and Decorative Tray Roundup I thought I'd do an updated roundup!
Marble Oval Tray
I picked up this Marble Desk Accessory Oval Tray from Pottery Barn and love it. It's a solid piece of marble, quite sturdy and small enough to display a few beauty favorites. It fits my Byredo 1.7 oz bottles perfectly!
Also shown above: Round Mirror / Knot Bracelet / Sunglasses / Vase
Agate Catchall
Another Pottery Barn find, I thought this Agate Catchall looked pretty! There is quite a bit of variation in the stone. The one I received in the mail has slightly different veining and colors than the stock photo, but I think I still like it. It's on the larger/wider side with a curved base.
Also shown above: Dior Pouch (discontinued) / Sunglasses / Enamel Bracelet / Knot Bracelet / Glass Photophore / Chanel Gold Case
Coffee Table Add-Ons
For the coffee table I ordered the Architectural Digest A Century of Style book. I'm still in the process of browsing it but I love these kinds of books! I ordered mine from Pottery Barn but you can find this one easily at other stores too.
I did a CB2 haul for some small accent pieces. This Curve Ball Match Striker makes a pretty decorative piece. I neglected to read the reviews and am a little sad to report I couldn't get this to light matches with the glass etching. Also it doesn't come with matches. Still I think it's pretty!
The Diptyque Feu de Bois and Mizensir Bois Ardent candles are two of the best fire wood kinds of scents I've tried. They add a nice cozy feel to the home. (Use code SABRINA15 for 15% off your first order at Mizensir, US only.)
Our Coffee Table is from West Elm which we've had for around 3 years. I love the look but we're looking for a new one to replace it. The glass and mirror surface is so high maintenance and the brass finish did not hold up well.
Also shown above: Small Ivory Leather Tray CB2 (sold out) / Glass Match Cloche / Wick Trimmer / USB Lighter / Vase / Sofa
Large Cement Box
I had my eye on the CB2 Chelsea Cement Box and noticed they added a large size so I happily ordered it. I think it's beautiful! They also have these boxes in Quartz which I think are stunning too. I've put the box on my shelf for now. Our shelf is the West Elm Zane Bookshelf.
Marble Jewelry Tower
If you follow along on my Instagram you've already seen this Marble Jewelry Tower (in this Reel Here)! I've decided to use it for beauty storage for the things I reach for the most. I think it's beautiful (also marked down on sale now through 12/30). I still think the best functional beauty storage units were from Original Beauty Box however they're no longer in business.
This Marble Acrylic Storage from CB2 is pretty heavy because of the stone. The drawers are on the small/shorter side since it's designed for jewelry so it won't hold a lot of my foundation or skincare bottles inside.
I measured the height of each drawer since it's not listed online:
Drawer 1 and 2 are both 5 cm tall
Drawer 3 is 6.7 cm
Drawer 4 is 8.5 cm tall
For reference a Westman Atelier Foundation Stick and Armani Luminous Silk Foundation are both 9.5ish cm and a Chanel Les Beiges Highlighter is 9 cm tall. These are too tall to fit in the bottom drawer standing upright.
Marble + Brass
I recently added another Marble and Brass Tray to our home from Williams-Sonoma. This is very similar to the one I have from West Elm (shown below), but with different handles and slightly different dimensions.
This Marble and Brass 3-Tier Stand is a pretty addition to our kitchen. It's constantly on backorder but if you have your eye on it I recommend buying it. It was on a 3-month backorder when I ordered it and it ended up arriving a little sooner than they promised.
Brass Vanity Mirror
This little Brass Vanity Mirror from West Elm looked really cute online and I like it! It's on the small side but I love that it has two sides, one magnified, one regular. It's pretty sturdy too!
Tiered Stand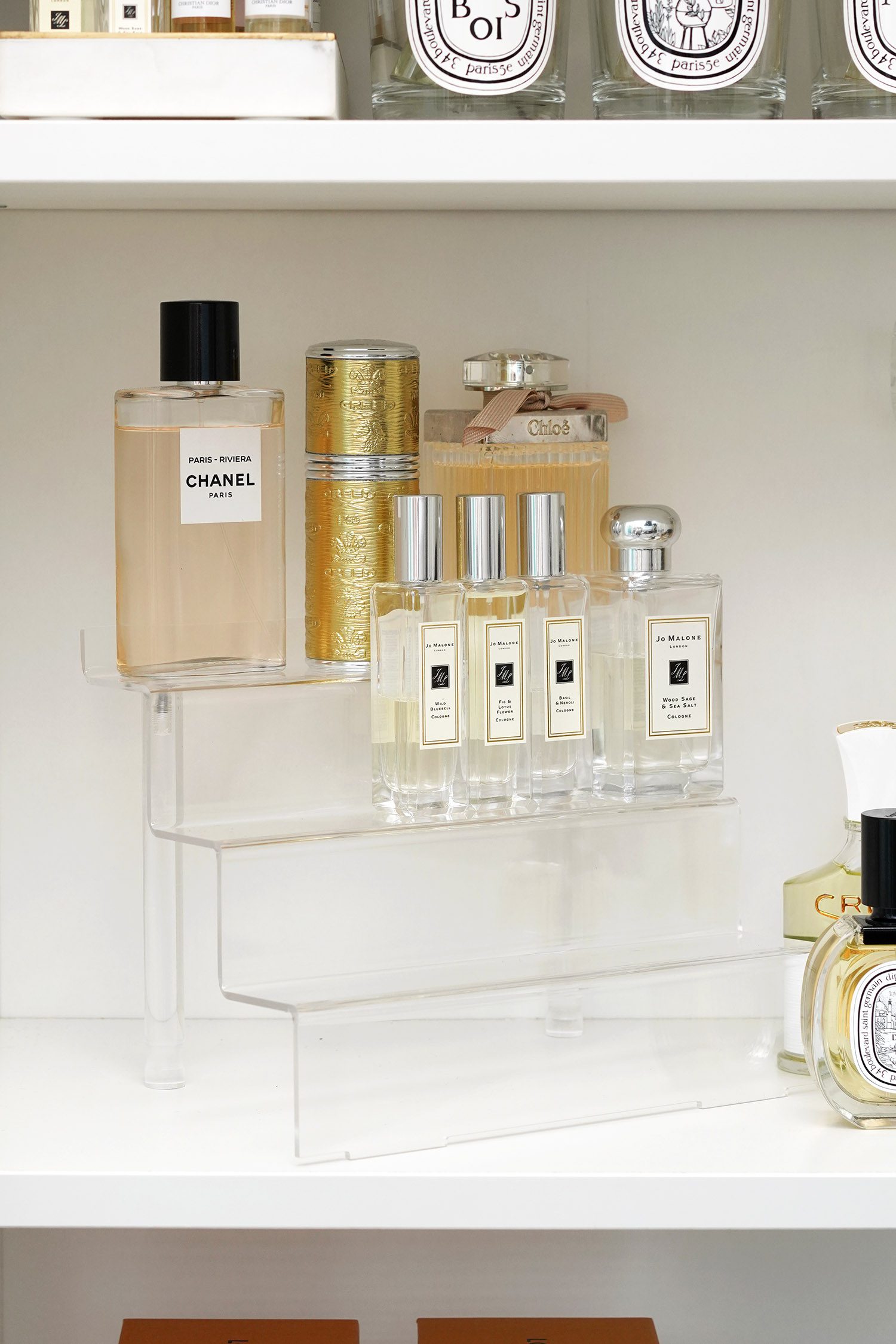 I ordered a few Acrylic tiered stands on Amazon to display perfumes. I picked the smaller size and really like it. It's functional and helps me see product easier. You can use this for anything really, doesn't have to be for perfume! See it IN ACTION HERE.
Gold Jewelry T-Bar Stands in the Large and Small are from Kendra Scott.
Muji Acrylic
Last but not least, I picked up this Muji Acrylic Storage Sunglasses Case. I love the quality of their acrylic pieces. If you have a store near you it's probably easier to find product. Online the inventory is hit or miss so I often have to keep rechecking to see if they've restocked items.
I think this is a cute case! I can also use it for mini bottles of perfume, nail polish, etc.
A lot of you asked about this Mini Bottle Stand from a while ago. It's back in stock if you're looking for it! It's on the small size but super cute.
That wraps up my home décor haul! Hope you found this helpful!
SHOP THE POST