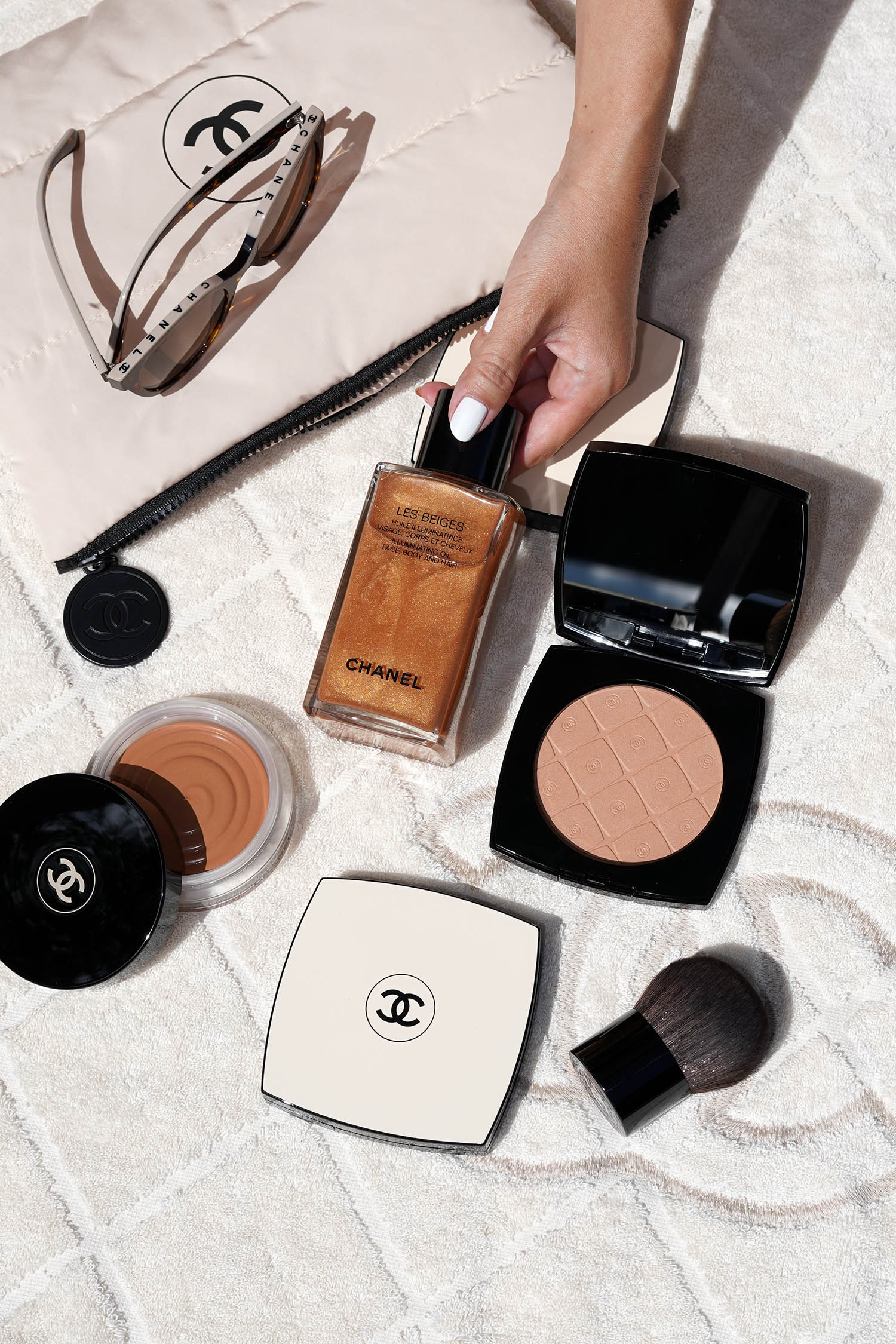 Chanel Les Beiges Summer 2022 has launched online at Chanel.com and I'm so excited to share a look! In today's review we have a look at:
Les Beiges Illuminating Oil
The Les Beiges Illuminating Oil is a multi-use dry oil for the face, body and hair. It has a clear base with golden shimmer suspended inside. Once you shake the bottle the shimmer floats inside. The oil has a subtle scent similar to the Les Beiges powders. The shimmer is hard to see unless direct sunlight or lights hit the skin. Once the light catches the shimmer you can see the skin has a subtle sun-kissed glow.
The shimmer will transfer to clothes (or furniture). As with any shimmer body product I think it's fun to wear on the arms or shoulders for a night out. Or on the legs too!
In natural light it looks like a glow like a regular body oil. In the sunlight you can see below on the left leg with oil there is a subtle glow/shimmer vs the right side (bare leg).
Left side with oil vs right side bare leg
While the oil is formulated for face and hair too, I've only tried it on the body.
Les Beiges Oversize Healthy Glow Sun-Kissed Powder & Kabuki Brush
The Les Beiges Oversize Kabuki Brush is a luxurious splurge and I love it. It's soft, plush and super sized so you can easily use it on the chest or shoulders if you want to bronze up the body area. It comes in a little black pouch – similar material to the ones you find with the eyeshadow or blush compacts.
There are three new powder bronzers this season in a supersized compact and I think they're so fun. The Les Beiges Oversize Healthy Glow Sun-Kissed Powders have an ultra soft powder texture different from the other Les Beiges powders. This one is softer with a subtle luminous glow. I haven't experienced any hard pan issues (like you might with the original matte ones) and it's softer in texture compared to the luminous glow ones (ones with the embossed horizontal stripes).
Sunshine – Light is the lightest color. It almost matches my skin tone and just adds a flesh-toned glow on my skin. I would be curious to hear if fair toned readers find this light enough for them!
Sunkiss – Medium is my best bronze, has a warm golden finish to it.
Sunbath – Deep is a deeper bronze
Swatches of all the 2022 Les Beiges bronzers
Swatch comparisons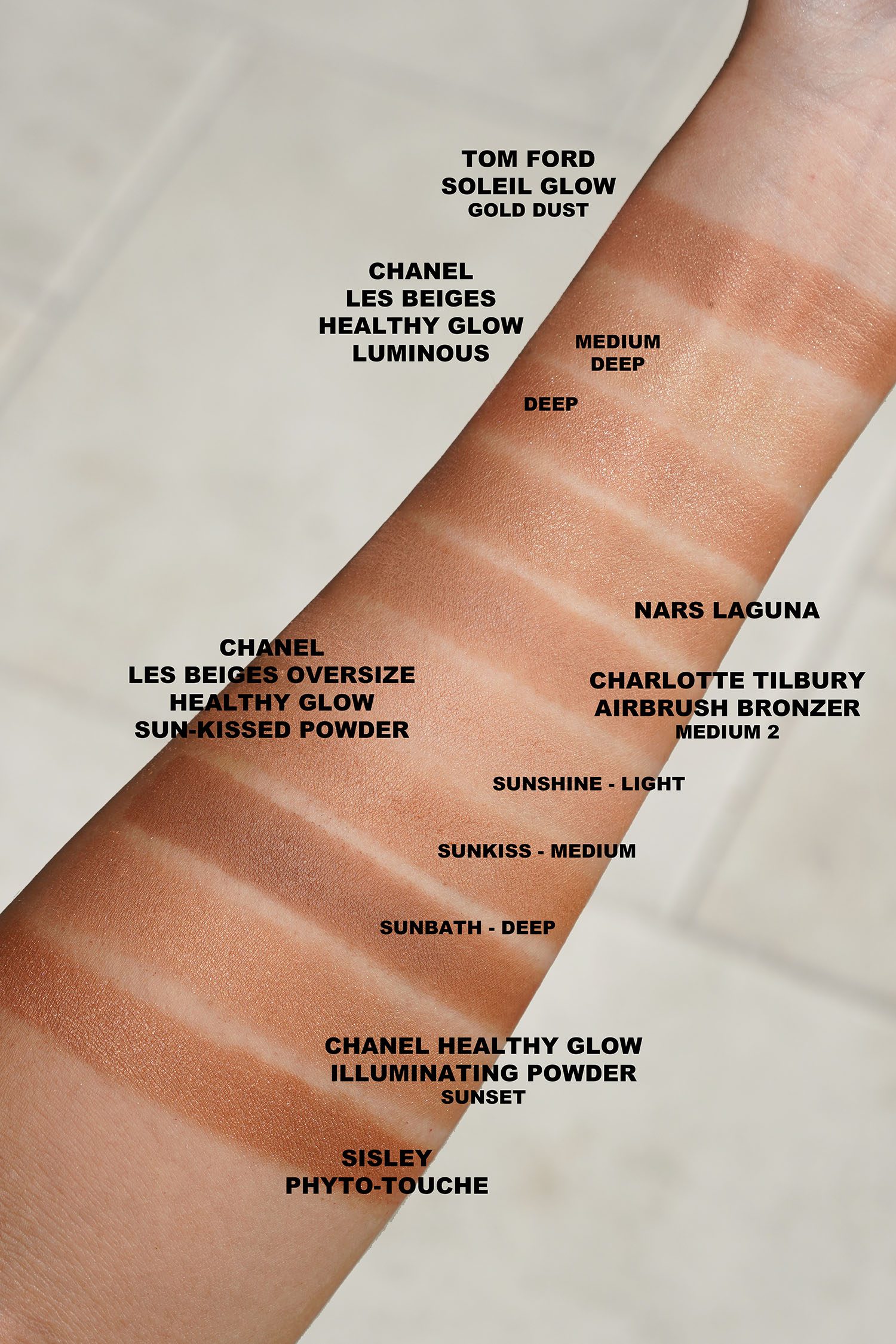 The formula is so good and it blends into the skin beautifully. I hope they will add more deeper tones or a neutral/cool option in the future. Looks below wearing the Chanel No 1 de Chanel Foundation in B40 and the Les Beiges Natural Eyeshadow Palette in Intense, each look with a different lip.
LOOK 1: Les Beiges Oversize Healthy Glow Sun-Kissed Powder in Sunshine – Light + Rouge Coco Baume in Flirty Coral (review here)
_______
LOOK 2: Les Beiges Oversize Healthy Glow Sun-Kissed Powder in Sunkiss – Medium + Rouge Coco Baume in My Rose (applied with the Powder Brush No 106)
_______
LOOK 3: Les Beiges Oversize Healthy Glow Sun-Kissed Powder in Sunbath – Deep + No 1 De Chanel Lip and Cheek Balm in Healthy Pink
_______
Les Beiges Healthy Glow Bronzing Cream (new shade 392)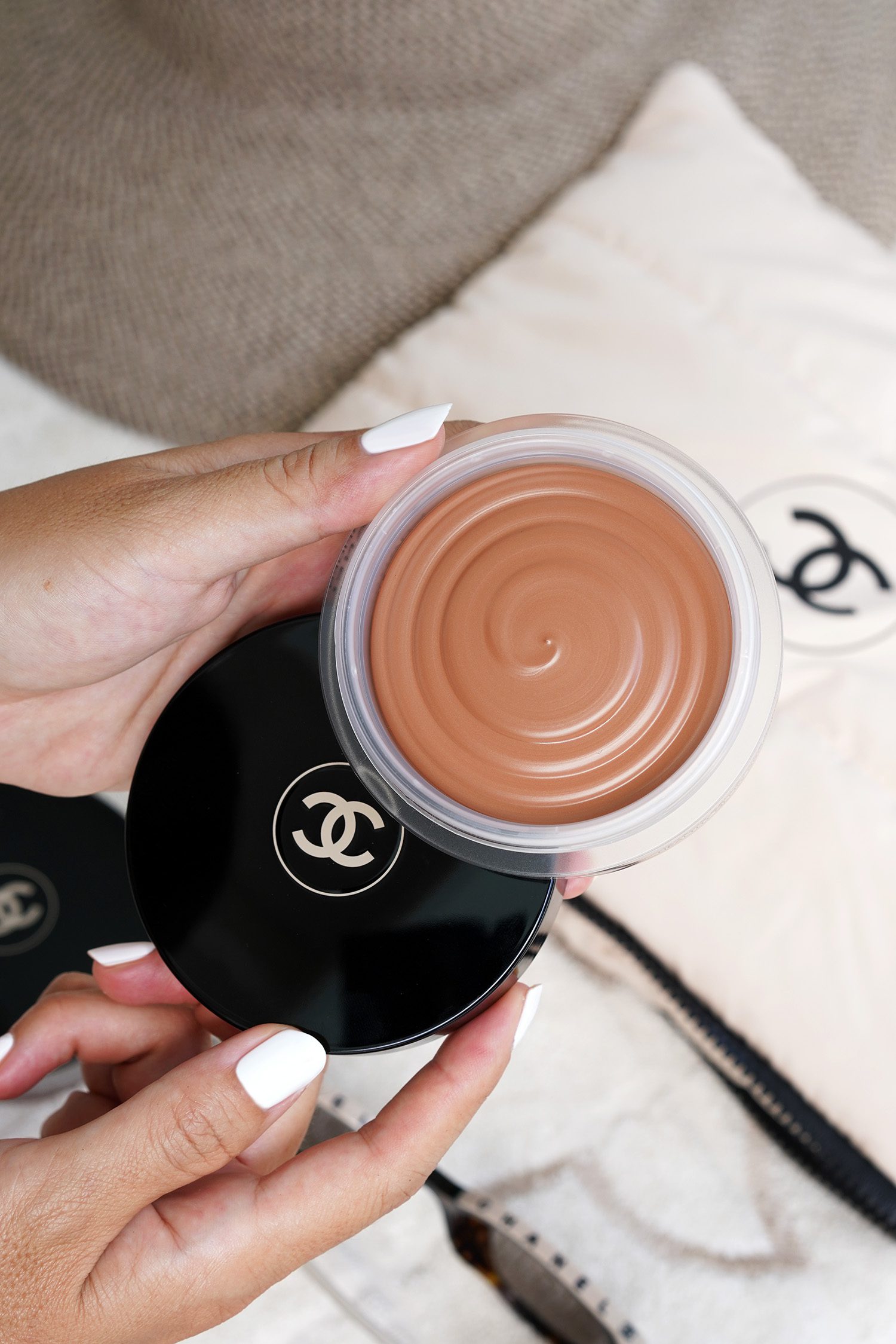 Last is a look at the newest shade of the Les Beiges Healthy Glow Bronzing Cream in 392 Soleil Tan Medium Bronze. This is a nice in between color and works perfectly for me. It does pull on the warm size but it's not too warm. Texture is creamy and pigment is medium. Formula performs the same as the other two shades which I really like. I hope Chanel will continue to expand the color range! I like to apply it with the Brush No 101 but any cream product brush will work.
A look at all three cream bronzers side by side
Wearing Les Beiges Healthy Glow Bronzing Cream in 392 with Rouge Allure L'Extrait in 812 (review here)
I also put the face swatches side by side for reference below:
Overall some beautiful additions to the Chanel Beauty lineup. I really love the new oversized powder bronzers and the large kabuki sized brush is really fun. I am glad they're expanding the color range and I hope they continue to do so in future collections. You can find the collection out now at Chanel.com.
They also added a new Water Fresh Complexion Tint and Water Fresh Blush online. I just ordered them so review to follow soon!
Body Oil, Bronzer in Light and Kabuki brush gifted. Other colors and items purchased by me.