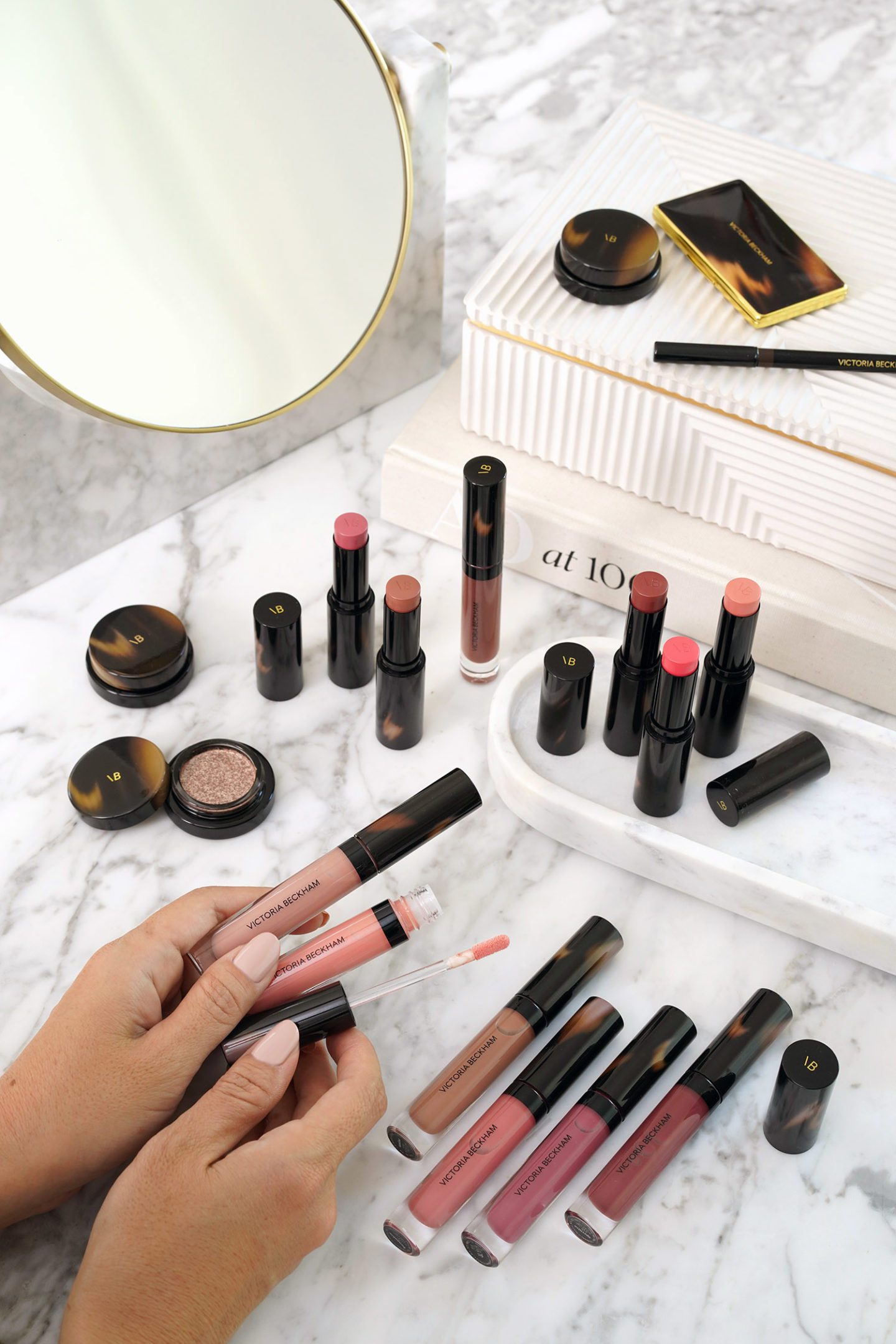 I have a Victoria Beckham Beauty haul to share today! She launched a lip gloss formula called Posh Gloss in nudes a while ago and so many of you have asked for a review and swatches. The colors seemed to greige/brown for my taste but when I saw she launched her Posh Gloss Spritz in pink shades I decided to give them a try.
I also have a look at her Cheeky Posh Cream Blush Sticks and a few of the Lid Lustre colors. Overall I'm really impressed.
Cheeky Posh Cream Blush Sticks
I'm beyond impressed with the Victoria Beckham Cheeky Posh Cream Blush Sticks ($42 each). It took me forever to try since I'm typically not a cream blush fan. Whenever a new cream blush formula is launched, I'm usually not interested. Most creams do not do well on my skin and I find they become super dewy oil slick within minutes.
These have a really nice dry down with a soft velvety texture that's creamy but not too creamy. Pigment is medium but can be sheered out. They do remain a tiny bit creamy on the skin, when the hot humid weather arrives I don't think they'll be super long wearing but for now they have pretty good lasting power on me.
Every single color is perfect to me. The lightest one is a bit pale on my skin but I like it mixed with the other shades. I can't pick a favorite. They're all phenomenal.
Knickers is a soft peach
Playground is a brown pink nude
Major is a soft pink mauve
Rollerskate is a hot pink (LOVE this one)
Miniskirt is a berry rose brown
If I could say one bad thing about them it would be the price. They're a bit steep given the size but I really like the product and packaging (twist up style).
Posh Gloss
The Posh Gloss ($28) is a beautiful gloss formula! It's smooth and glossy without any tacky/sticky feel. You can layer for a bit more coverage but in general they have medium pigment. I was surprised how wearable the colors are. Even the nudes. They have no detectable scent. My favorites are Bungalow and Fizz. Lasting power is pretty good for a gloss. They don't slide off or fade quickly, but they will transfer and won't last through a meal (at least for me).
Bikini is a pale light beige
Tan Lines is a neutral tan beige
Poolside is a 90s brown with a tiny hint of rose
Picante is a peachy pink
Bungalow is a perfect petal pink
Fizz is a neutral cool rose mauve
Aperitivo is a warm rose plum
On the lips below with a coordinating cream blush or bronzer. I'm wearing her Lid Lustre in Honey + Chiffon mixed with her Satin Kajal Eyeliner in Black. For skintone reference I'm wearing Chanel Les Beiges Healthy Glow in B40.
You can check out the swatches in action in my Reel below!
View this post on Instagram
Lid Lustre
Last we have a look at three of her Lid Lustres ($36 each). I really love these. They're sparkling pressed powder shadows that you can apply with a finger or brush. I love the multi-dimensional shimmers and they adhere well to the eyes with minimal fallout. Pigment is easy to control and layer. I hauled Honey and Tea Rose quite some time ago but couldn't remember if I had swatched them. I think those are the two best shades she has.
She recently added Starlight (khaki gold) and Chiffon (champagne quartz). I immediately ordered Chiffon but hadn't used it until this week. It's pure love. I'm hoping she continues to expand the colors for this formula because it's SO good. Shimmer is noticeable but more finely milled and less glitzy compared to the Hourglass Scattered Light Eyeshadows (which I still really love).
Overall a huge haul success in my book. I love everything I tried this round (which hasn't always been the case in the past). More Victoria Beckham Beauty reviews by clicking on the VBB Category.
You can find the full line online at Victoria Beckham Beauty. Also available at Bergdorf Goodman, Net-A-Porter and Violet Grey.
Shop the Post

Have you tried anything from her line? What did you think?