Chanel launched new Rouge Allures with the Rouge Allure Camelia Collection ($40 each) earlier this year and also revamped all of their Longwear Lip Pencils ($31 each). I have swatches of all 8 of the lipsticks and 15 of the 19 lip pencils.
The Rouge Allures come in two formulas, Regular Luminous Intense and a Velvet Luminous Matte. These are cased in the beautiful click case and the ends are embossed with a gold camellia. Formula-wise these are really excellent. The Rouge Allure Luminous Intense colors are smooth classic lipsticks, have medium but buildable coverage and have a natural looking sheen to them. I cannot detect any scent or taste. Colors are really pretty for a soft pink or bold look.
The Regular Rouge Allures in the Camelia packaging:
Camelia Blanc 327 is a pale pink that is almost like a clear balm on my lips
Camelia Rose 337 is a soft medium girly pink cream
Camelia Rouge Metal 607 is a stunning metallic red that isn't too frosty and has an ultra smooth pearl
Camelia Pourpre 637 is my favorite, it's a wearable deep plum with a very subtle pearl
Below wearing:
The Rouge Allure Velvets are luminous mattes. They have a soft almost airy feel to them. They're ultra smooth, non drying, almost feel hydrating, with a soft velvet finish. Pigment is full coverage and very opaque – they're like one-swipe wonders. I would have loved some more neutrals or lighter colors but every single one in this launch has flawless coverage. Since these are dark they leave a stain on the lips and when the color fades you can still see quite a bit of color left on the lips.
Camelia Fuchsia 347 is a bright bold pink
Camelia Rouge 357 is a bold orange red
Camelia Grenat 617 is a matte plum red
Camelia Carmin 627 is a perfect bold red
The Le Crayon Levres Longwear Lip Pencils have been revamped into all new colors. To me the new formula is very similar to the original, the main difference is the new ones seem more matte and more long-wearing. In the old original formula Nude 05 was the perfect universal pink brown with shimmer. Unfortunately there's no dupe in the new line although I do think there are a couple colors that pull similar. I have 15 of the 19 new colors swatched. There is also a clear version which acts like a matte lip primer to extend the wear of lipstick. These also come with a lip brush on one end.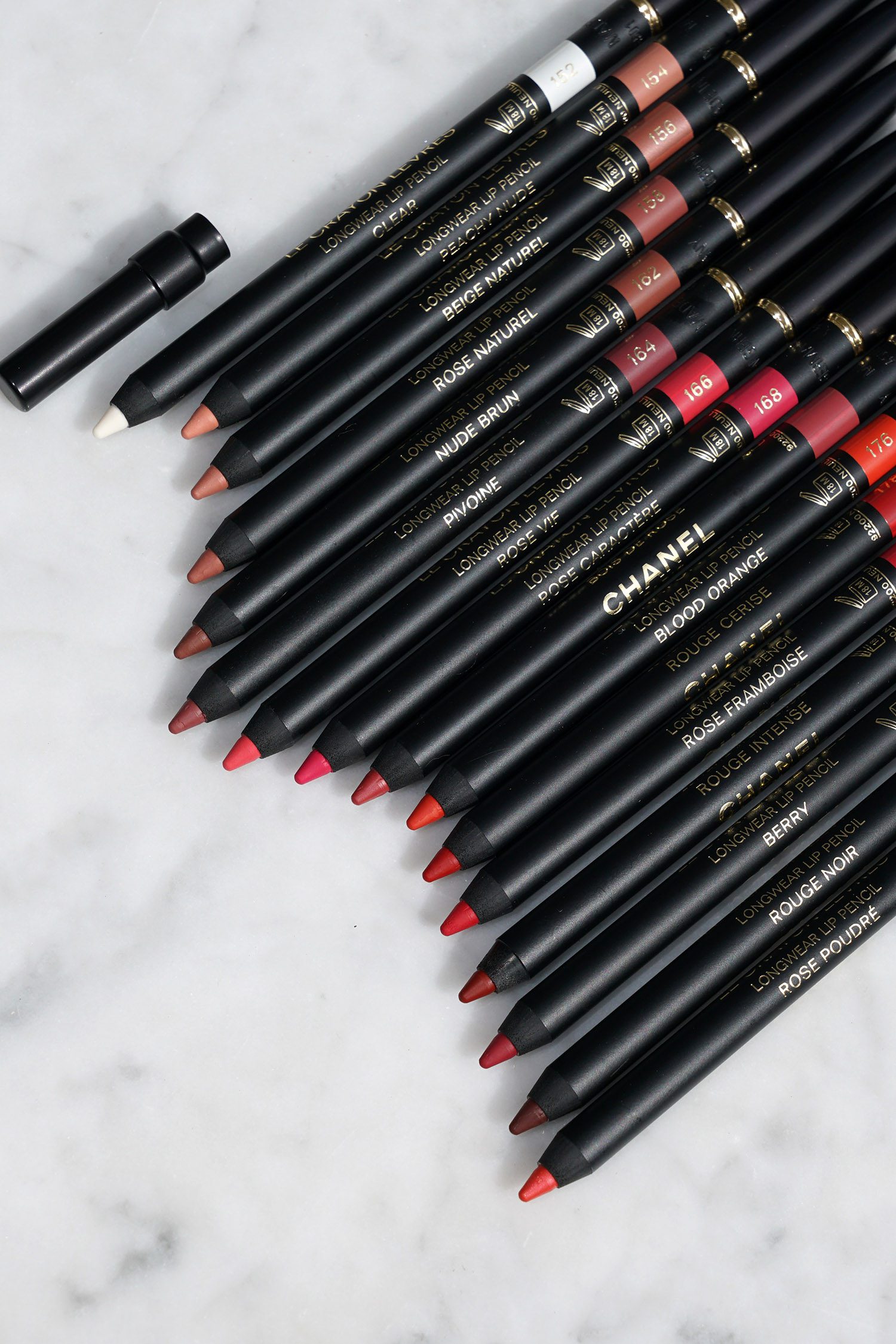 Neutrals below, the ones closest to my natural lip color is Rose Naturel or Pivone:
Descriptions:
Peachy Nude 154 is a pale milky peach
Beige Naturel 156 is a light pink beige
Rose Naturel 158 is a medium pink rose peach
Nude Brun 162 is a medium brown
Pivone 164 is a soft rose
Rose VIF 166 is a bright warm pink
Swatch comparisons to the original 05 Nude, MAC Whirl, MAC Stripdown and Charlotte Tilbury Pillow Talk
Deeper and bolder colors:
Descriptions:
Rose Caractere 168 is a bright electric fuschia
Bois de Rose 172 is a warm pinky rose with some shimmer
Blood Orange 176 is a bold bright orange
Rouge Cerise 178 is a bright bold red
Rose Framboise 182 is a deeper bright fuschia
Rouge Intense 184 is a brick red
Berry 186 is a hot pink
Rose Poudre 196 is a shimmery warm rose pink
Rouge Noir 194 is a satiny matte plum brown
Lasting power is very long with these. I find since they're mattes there is a tiny bit of tugging on bare lips. These are best applied in a feathering motion for me or applied over a balm/lip primer. I'm still playing around with all the colors but really love the way Rose Naturel, Nude Brun and Pivone wear.
Overall some solid launches in the lip department from Chanel. I would recommend buying based on color preference. Formula-wise I think they all wear extremely well. For the lipsticks there aren't many neutrals but the bold colors are classics that I think will flatter a wide range of skin tones.
You can find the new Chanel Rouge Allure Camelia Lipsticks and Longwear Lip Pencils at Chanel.com and all Chanel counters. I will have the La Fleur Et L'Eau Collection reviewed soon!
Chanel lip products provided for review.