I have a Patrick Ta Beauty haul to share today! I've accumulated quite a few things I've purchased from Sephora over the past few months. As a neutral nude makeup lover I was really interested in his Monochrome Moment collection and so I've put together a roundup of everything I've tested to date. Overall I think there are some really nice pieces, but I don't think they'll appeal to everyone. More thoughts on why for each product below.
__________
Major Glow Lip Shine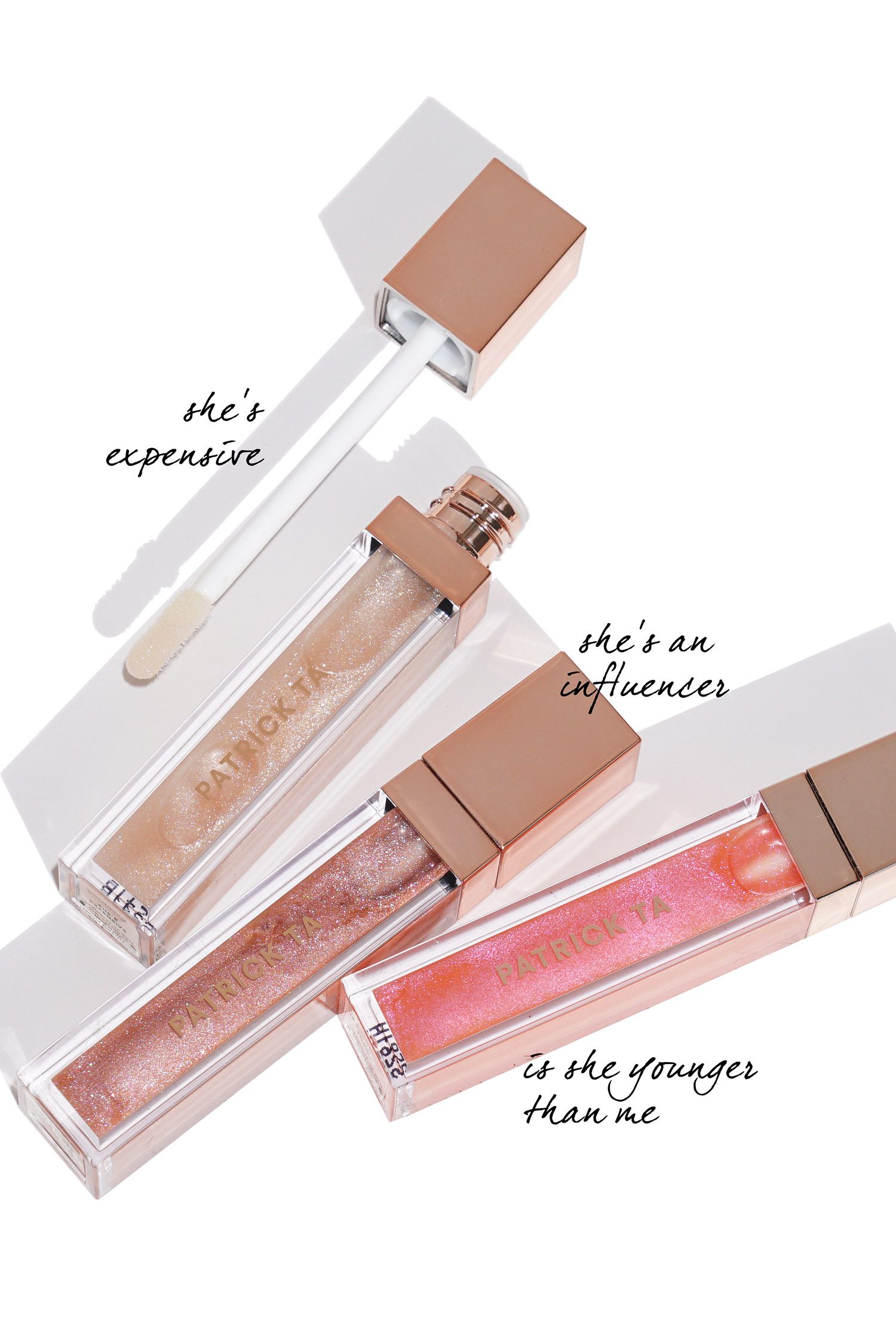 Up first are the Patrick Ta Major Glow Lip Shines ($22 each) in three colors. These are smooth non sticky glosses with a minty scent. There's no tingle sensation as one might expect with the mint and they feel smooth without any gritty texture even with the sparkle. These have a clear base even though they look tinted in the tubes. The sparkles are different colors. These are pretty alone or on top of lipstick, but I wish there was more visible color payoff rather than just sparkle. Lasting power isn't the best – they feel like they disappear from lips fairly quickly. I prefer Pat McGrath and Hourglass glosses for texture, color and lasting power.
I have two different kinds of applicators: two have a flat sponge tip and one has an angled sponge tip. I'm not sure if they changed it at some point or if there are different applicators for different colors.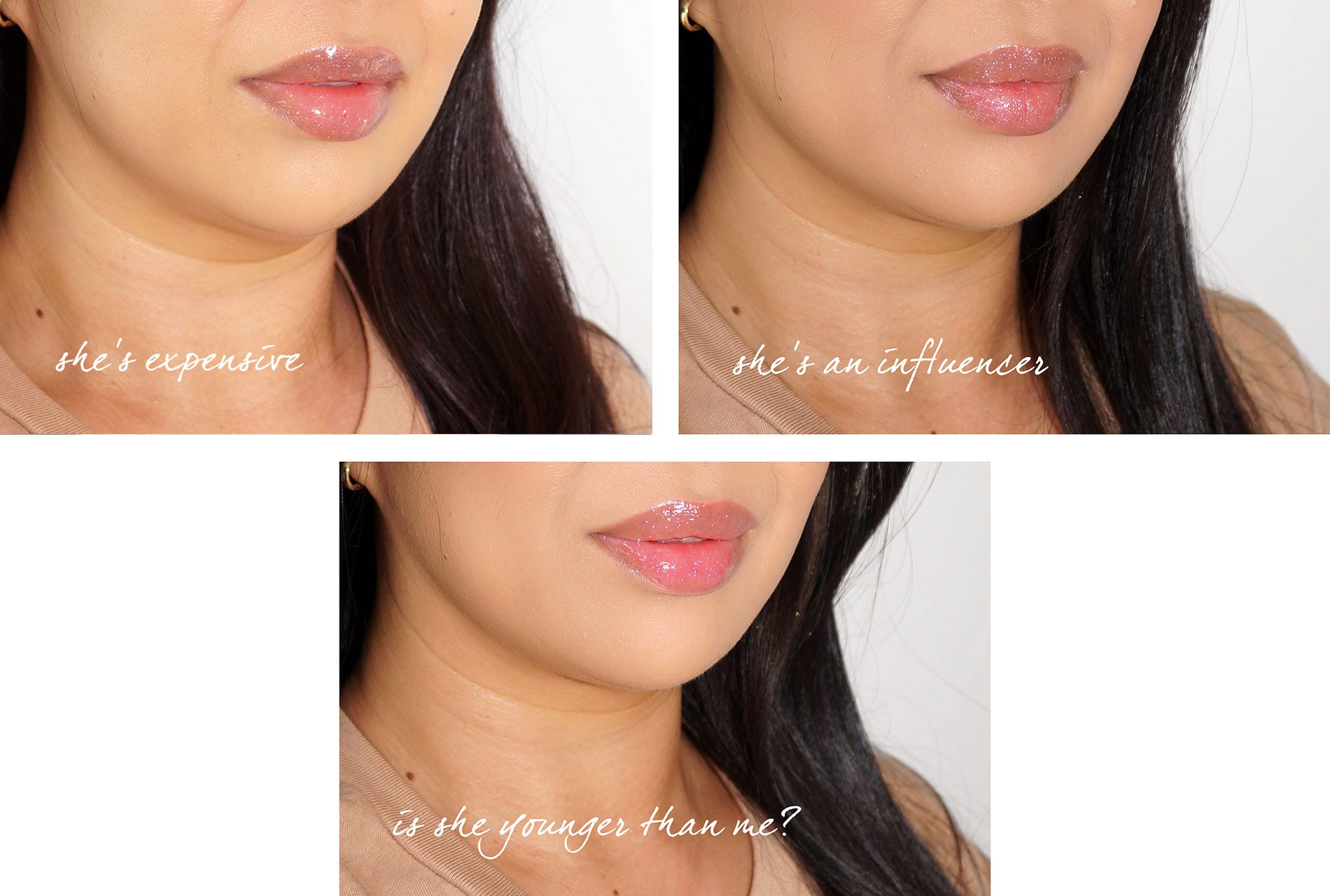 I've added swatches of other sparkle glosses below including Pat McGrath LUST Glosses in Pale Fire Nectar, Aliengelic, Earth Angel, Hourglass Unreal Gloss in Cosmic and MAC Dazzleglass in Sugarrimmed.
__________
Monochrome Moment: Silky Lip Creme and Precision Lip Crayon
As a neutral lip lover the Monochrome Moment had me so excited. The colors ended up being a lot different than promotional stock photos and swatches but I still really like the concept and colors. I bought 3 of the Silky Lip Cremes (the lightest one was too light for my skin tone) in She's Independent, She's Secure, She's Confident and they're all warmer and lighter than I anticipated. To get a better sense of the undertone I included swatches of other colors I thought would in the same color family including Chanel Rouge Allure Ink Fusion in Beige Naturel, Tom Ford Lip Lacquer in Universal Appeal, Lawless Soft Matte Liquid Lipsticks in Leo and George, NARS Velvet Lip Glides in Swing and Xenon, NARS Powermatte Lip Pigment in American Woman and Fenty Stunna Lip Paint in Uncuffed.
She's Independent is a neutral pink beige nude, She's Secure is a warm peachy pink nude, She's Confident is the darkest option which is a warm nude rose. I anticipated them being more rosy and cool-toned. On me they all pull warm.
Texture wise they're like liquid cremes that don't dry down to a matte finish (which I really love). They're super creamy and opaque and give full coverage with a tiny bit of shine. They will transfer if you touch your lips, in particular I found they stuck to my teeth easily. Lasting power is decent as long as you don't touch your lips. If you're looking for a neutral rose I recommend passing on the colors he has out right now.
The Precision Lip Crayons are click-up pencils with an angled flat tip. They're creamy and easy to apply for full coverage. I recommend feathering as they're very opaque and have a matte finish. Once they set they are super long wearing. You can definitely pair these with the Silky Lip Creme but the lip cremes are so pigmented and opaque the liners won't show through. I bought three: She's Humble is a neutral nude pink and She's Proud is a slightly deeper rose and She's Strong is a cool-toned brown.
Swatch comparisons to other neutrals I have: Pat McGrath Permagel Done Undone, Charlotte Tilbury Lip Cheat in Iconic Nude and Pillow Talk, Marc Jacobs Poutliner in Nudist and Primrose, MAC Lip Pencils in Stripdown, Whirl and Boldly Bare.
Lip swatches of 2 of the lip pencils and 3 lip cremes:
__________
Velvet Blush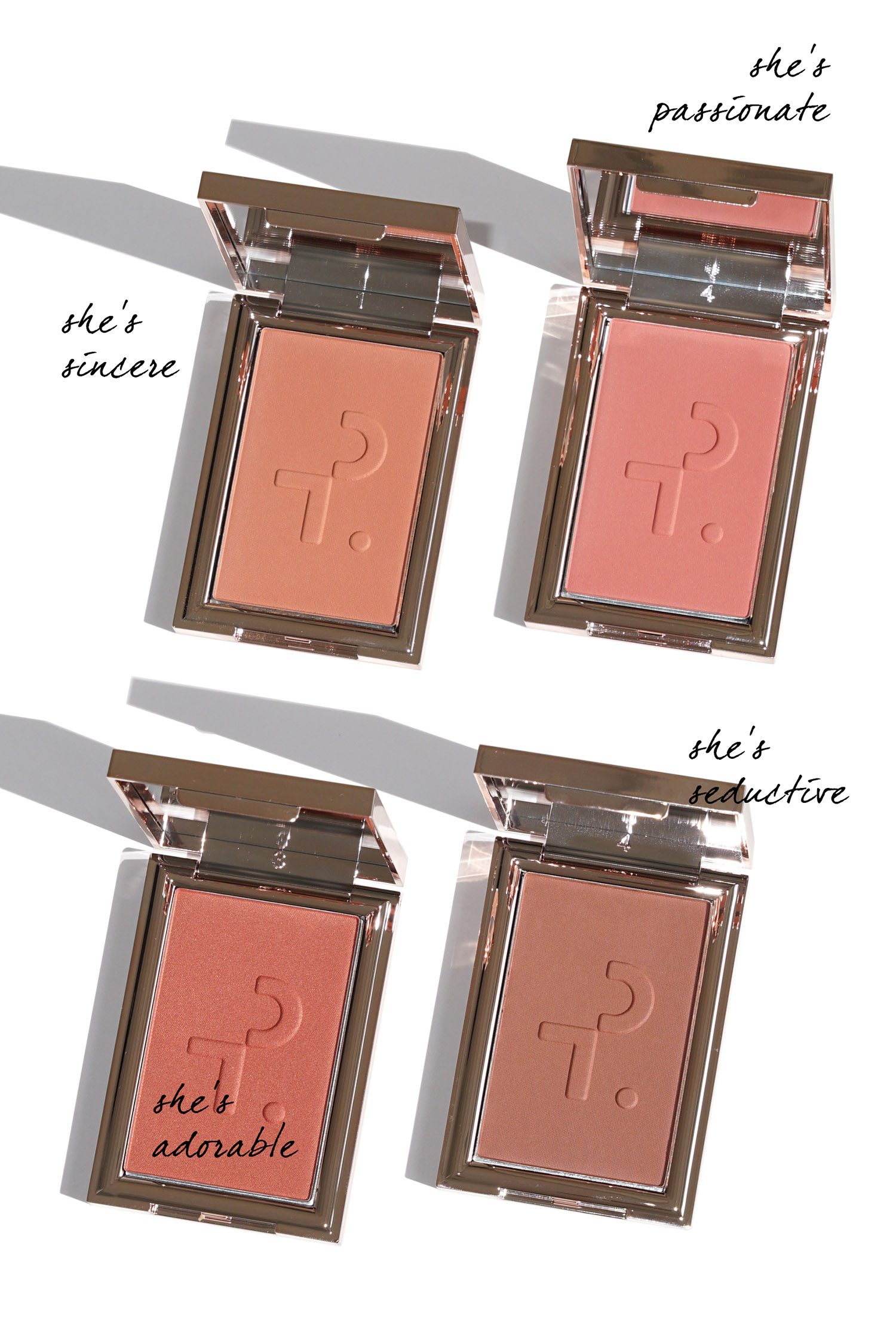 I hauled all four the Monochrome Moment Velvet Blushes and think these will be hit or miss depending on how much color payoff you want in a blush. The texture is stiff/hard but not so hard that it's impossible to pick up color. The texture makes it so the product is buildable and will give you a natural blushed look without being overdone. Swatching on hand in store won't give you the true sense of how these apply on the face. Fingers barely pick up any powder or pigment. Using a brush and swatching on hand as well won't show you much color. Sheer/hard texture doesn't necessarily mean bad – they do show up on my skin, I just wish it had a softer and easier to apply formula.
Swatches on the arm with a heavy hand and then below applied on the face, She's Adorable has the best color payoff/pigment:
For skintone reference I am wearing the Milk Flex Foundation Stick in Golden Sand, equivalent of Armani Luminous Silk in 6.5, MAC NC30-35, Pat McGrath 14 or 15, Chanel Ultra Le Teint Velvet in Beige 40. I'm starting to lose my tan slightly and I've also gone back to 100% dark hair as I'm trying to grow out my highlights. My colorist added a dark toner that almost matches my natural hair color last week.
Blushes are packed on pretty heavily on the face to show the color differences. With regular application of just one or two swipes the color is a lot more sheer.
__________
Major Glow On the Go Duo
The last thing I wanted to review was the Major Glow on the Go Duo with the Glitter Body Oil in A Dream and Major Glow Lip Shine in She's Expensive. I really like the body oil finish and texture – it has a spritzer applicator and the oil itself smells like sweet candy. I'm not the biggest fan of the scent but it's not a deal breaker and it fades after a few minutes. The Lip Shine isn't a must for me but if you're looking for a subtle glitter gloss this is a nice one to try.
__________
Overall I really love the lip liners for the lasting power, texture and packaging! The lip cremes have a nice texture but the colors weren't anything like I expected. The ones I bought still work for a nude lip look on my complexion but they're very warm toned so may not work for all skin tones. I would like them more if they didn't transfer to my teeth so easily. The blushes are nice for a subtle everyday kind of blush but the stiff texture and sheer color payoff will most likely make it a miss for many. While I don't think they're bad I do think other brands and options are better. The lip shines are just ok for me – I had higher expectations and hopes with the pretty sparkle, on my lips they're so sheer and the lasting power isn't there.

Have you tried anything from Patrick Ta Beauty? What did you think?