NARS just redesigned their Eyeshadow Singles and Duos in a new formula and packaging. Some shades have been repromoted and new colors have been introduced. The formula is softer and smoother with a more buttery feel and now comes with magnetic removable pans. I still have yet to find a palette to put them into so I'm keeping them in the original compacts for now. Today I have a review of the following items:
The new shadows are improved over the original but I really liked the original formula. Differences are in packaging design and texture. The revamped version is softer and velvety with a texture that seems to glide on the skin better. Pigment and color payoff is similar to me, I do think with the shimmers the softer velvety texture makes for a richer finish. All the colors layer and blend with each other beautifully.
First a look at the new vs old packaging. I like the concept of removable pans to make my own palette. I think all brands should have this option with singles! I'm still trying to find a good palette solution for these –  they do have one they launched a while ago but it hasn't held up the best for me.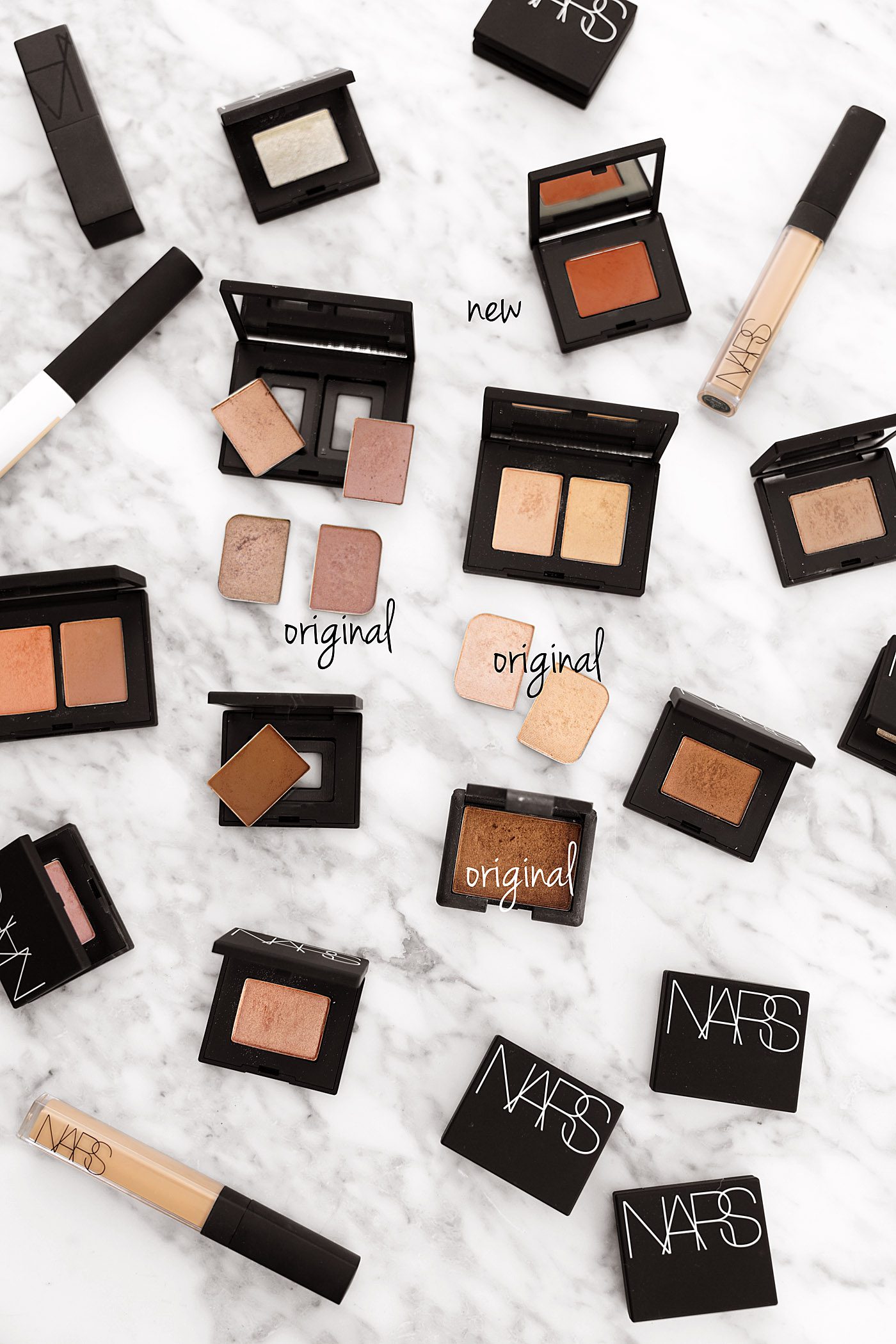 The Single Eyeshadow comes in 42 shade options. There are a different finishes of matte, shimmer, satin. Some retailers split these into Soft Essentials for Mattes, Precious Metals for shimmers and Pops for bright colors. The ones I tested were all excellent in color payoff, texture and smoothness. I'm partial to the shimmers for their buttery soft texture that glides onto the lids perfectly. Color I have include a mix of press samples and ones I purchased on my own.
Top Row:
Cabo San Lucas* is a sheer mauve with a soft satin sheen
Noumea* is a warm matte red brown
Bengali* is a matte cool deep brown
Middle Row:
Virgin Gorda is a shimmering rose nude
Ashes to Ashes* is a soft satiny shimmer taupe grey
Fez is a warm bronze shimmer
Bottom Row:
Verona* is a cool purple silvery shimmer
Isla Bonita* is an ultra pale minty silver
Lahore* is a shimmering taupe grey
Swatches below, to me Ashes to Ashes and Lahore almost look identical on my skin. Lahore has more pigment and shimmer, but the colors look really close. If you have a pink undertone you will probably see the difference more. I'm tan olive.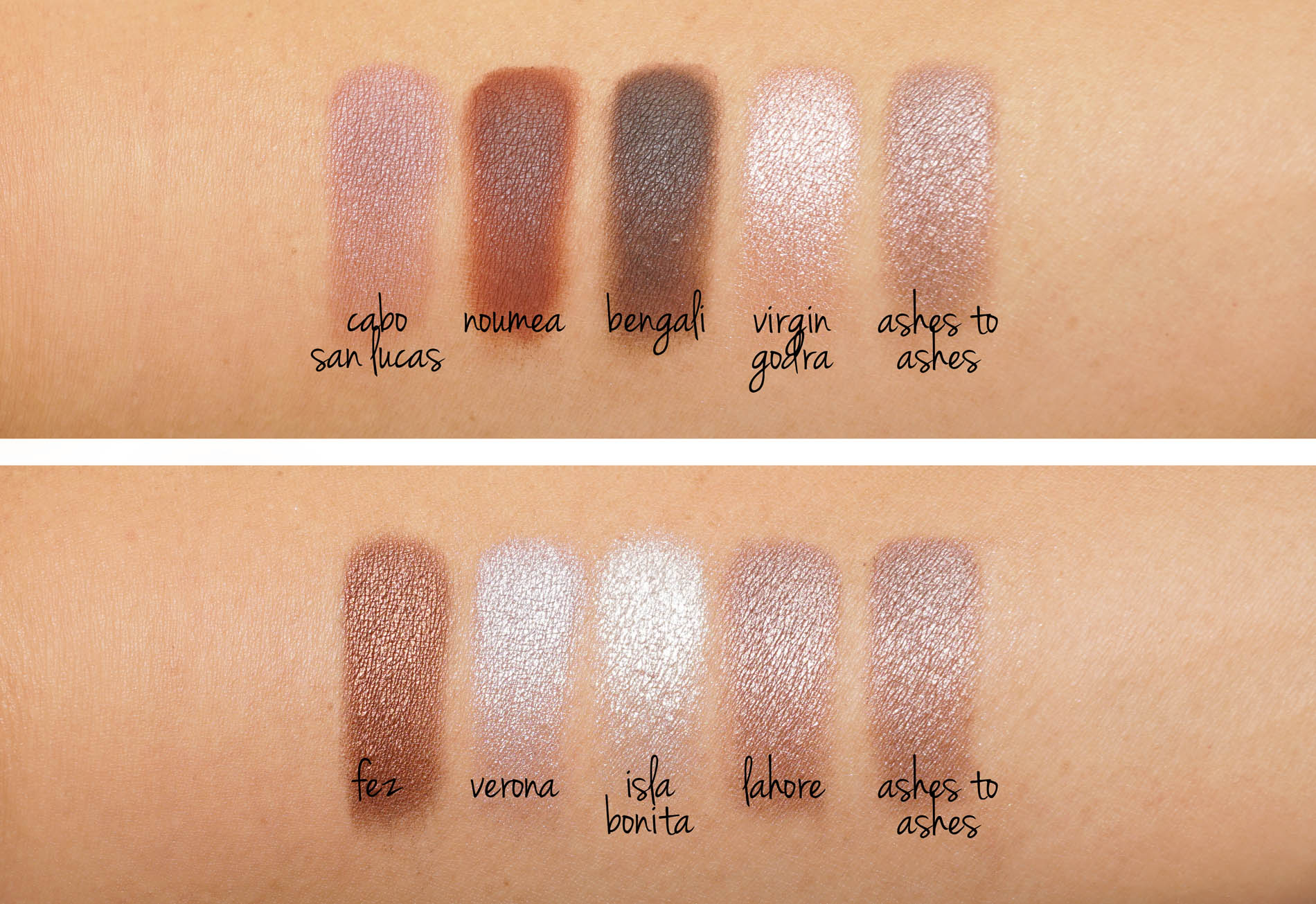 The Hardwired Eyeshadow Singles are ultra shimmery and metallic. I had my eye on a few so I stopped by the store to see them. The ones I wanted looked ultra glittery while the ones I had were more of a refined metallic. I may go check them out again as my experience with the four I have blew me away. They're so pigmented and non-gritty like you'd expect. The shimmer is ultra fine and adheres to the skin really well. Photos can't capture how beautiful these are.
Earthshine is a pale lavender with green, blue and violet flecks
Stud is the perfect silver taupe shimmer
Lunar* is a high shine lavender
Eclipse* is a duo-chrome purple that flashes pink
The Duo Eyeshadow has been relaunched in a lot of repromoted shades. Based on a comparison of old vs new, the colors with the same names are very similar but I see slight differences. Pigment wise the newer ones adhere better to the skin and have a softer smooth texture. Color payoff is similar though, my experience is that the color is really good and lasts a long time.
Colors I bought include the following below. I did receive some press samples but they weren't colors I felt like I'd use so I gifted them away and bought ones I knew I would:
Kalahari* is the perfect neutral medium tone plum and bronze
Alhambra has a shimmering pink and shimmering gold
Cordura has a shimmering bronze and deep chocolate with gold flecks
St Paul de Vence has a perfect soft pink and warm pink matte (I feel like since I missed out on the Charlotte Tilbury Pillow Talk quad this could be a good alternative)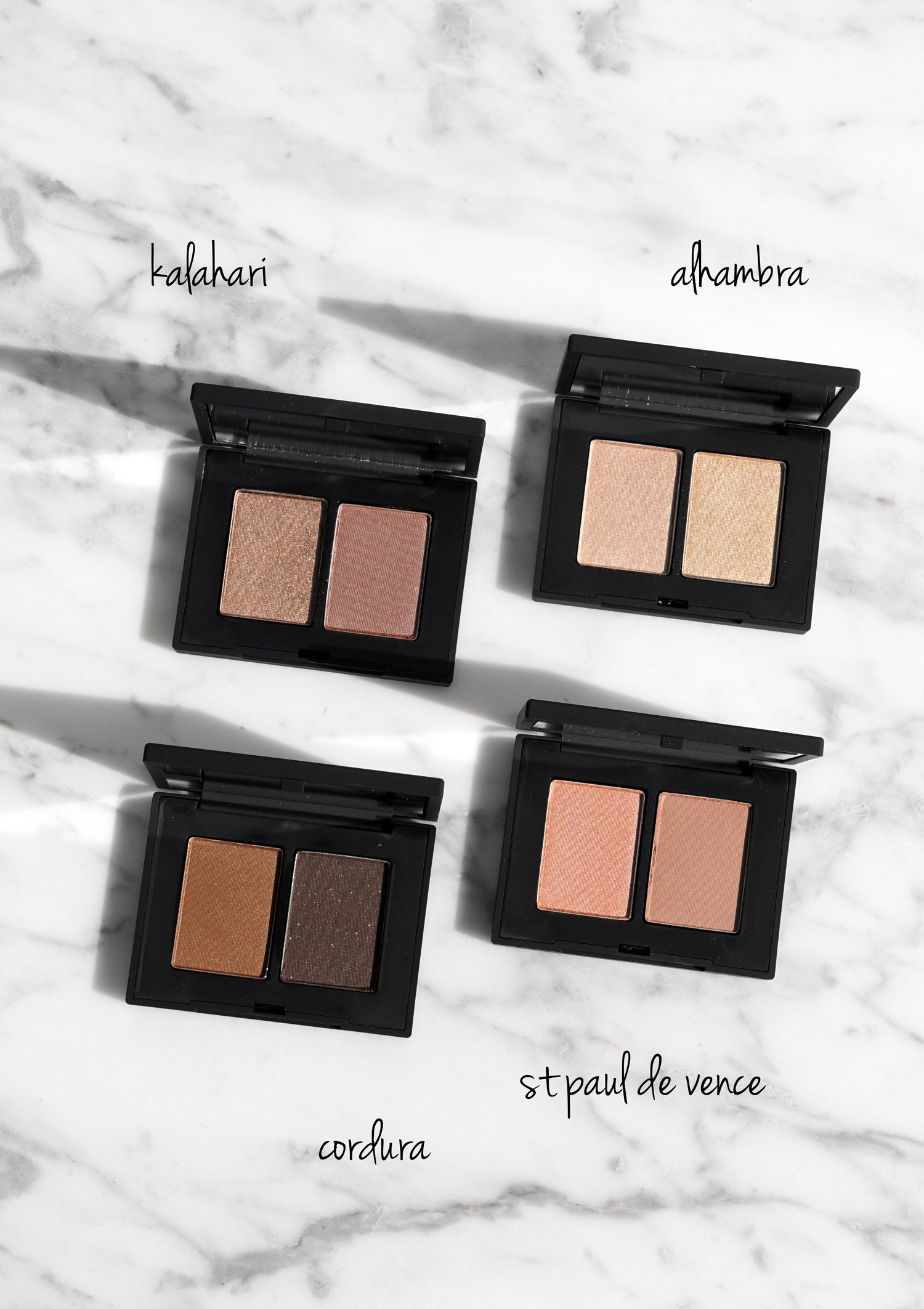 The Tinted Smudge Proof Eye Base now comes in tinted form. I ordered both Light and Medium as I wasn't sure what color I'd be. Medium is my match and I've swatched it next to a few Radiant Creamy Concealers in Custard, Macadamia and Ginger for reference. I wasn't a fan of the original clear base simply because it's not meant for my skin type. I know many love matte bases for eyeshadows but I don't have oily lids so most tend to dry out my skin. I prefer something creamy and emollient. These new Tinted Bases are ultra pigmented and a little goes a long way. They have a velvety matte dry down so while it will help the shadow stay put all day long I found them too dry for my skin type. It is an excellent product to even out the lids and help create a nice canvas for powder eye shadow and once it sets it is indeed smudge-proof.
Last but not least a quick mention of the Climax Mascara*. I'm going to do a roundup soon of mascaras I've been trying and this one is excellent. It volumizes, doesn't clump, holds the curl and is almost smudge-proof. Indoors in air conditioning it does not smudge on me. But outdoors for extended periods of time here in Florida we are still having humid weather with temperatures in the high 90s sometimes exceeding 100. In those cases minor smudging occurs. But overall this is an excellent formula.
A quick look at some of the originals I still have versus new version. I think the colors are really close but there are slight differences. The original Alhambra is a tiny bit peachier. Original Kalahari is cooler-toned. Original Ashes to Ashes is the slightest bit warmer in undertone.
Overall thoughts are positive. I think there has been an improvement in the new formula although I never had issues with the original ones. I really like that the pans are removeable and hope they come out with a large empty palette like MAC does that I can use to put the shadows in for travel or to make my own palette. I'm going to give the Hardwired shades another look, especially Pattaya because the formula is really good. I personally don't love the Eyeshadow Bases but they aren't bad – they're just not what I like to use because of the matte finish.
You can find the NARS Eyeshadow Singles and Duos out now. Some shades seem to have been selling out quickly so you may have to shop around to find the colors you want. Available at NARS Cosmetics, Nordstrom, Neiman Marcus, Sephora and all other NARS retailers.

Some items featured are press samples, others purchased by me. Press sample shades have a * next to them.