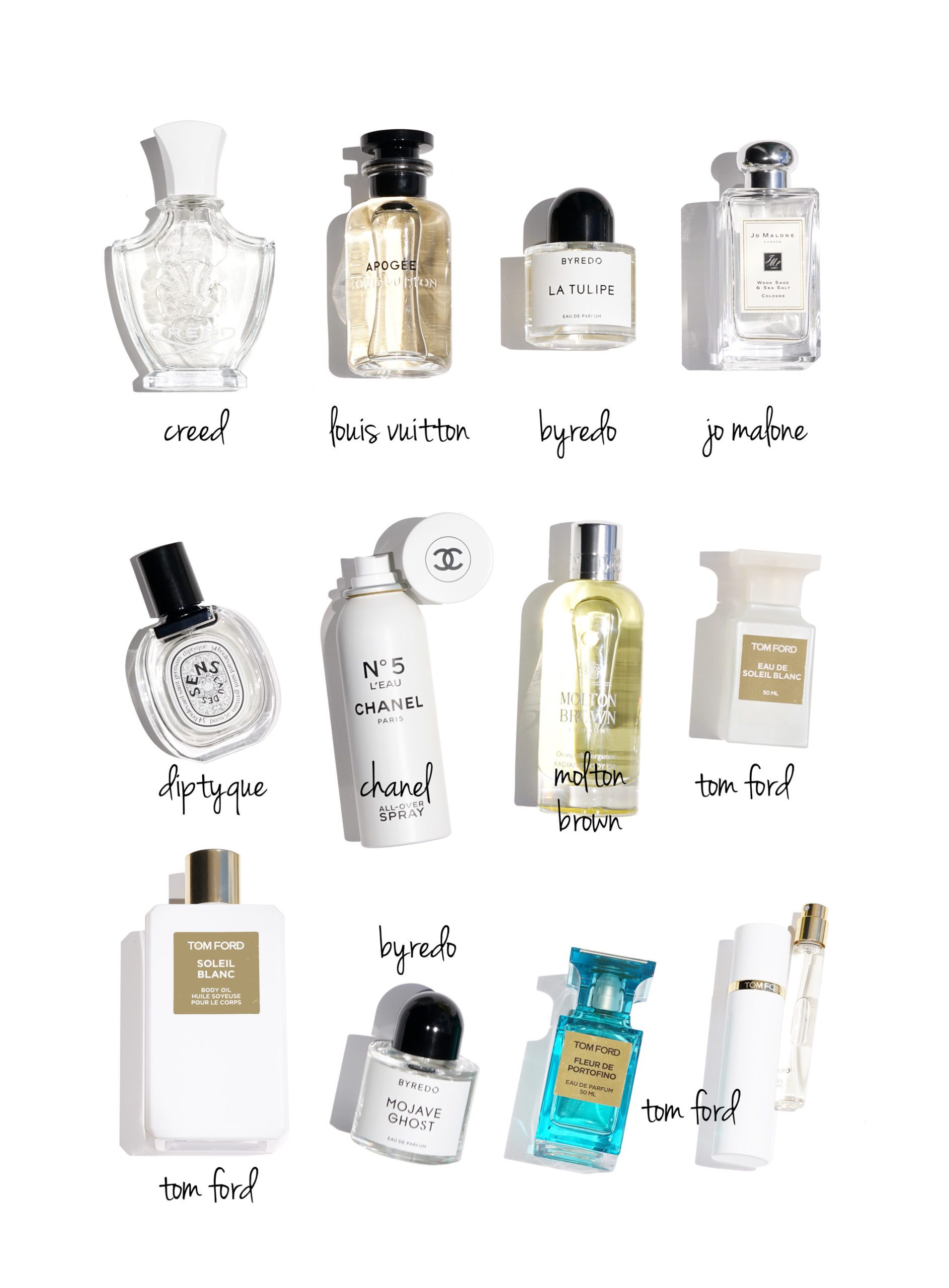 It feels like we skipped spring this year and went straight to summer here in Florida! Today I have a roundup of spring to summer fragrances that are light and fresh. I've been thrilled to find that so many of you are die hard fans of Tom Ford Soleil Blanc and Creed Love in White like me. This year both brands have launched new variations of the classics! I know fragrance is so personal so I'd love to hear about your go-to's. If you're looking for something new but don't know where to start I hope this list will give you some ideas of where to start exploring!
Row 1:
Row 2:
Diptyque Eau de Sens ($95 for 1.7 oz, also now available in a Solid Soap, Cleansing Hand and Body Gel and Hair Mist) is my all time favorite orange blossom. It's not too citrus and it's not too floral or powdery. It's the perfect mix to be orange and floral. Lasting power is not as strong as Tom Ford or Creed on me but I don't mind reapplying after a few hours as it fades nicely. I have the Hair Mist on my wishlist which I hope to pick up soon.

Top Notes: bitter orange, juniper berry.
Middle Notes: orange blossom
Base Notes: angelica, patchouli

Chanel L'Eau No 5 All Over Body Spray ($60 for 150 ml/5 fl oz) is a lighter variation of the L'Eau No. 5 reviewed here. I actually prefer the body spray version because it's softer and not quite as crisp. It also comes in a Hand Cream option which smells completely different to me but is still lovely.

Notes: Lemon, Mandarin and Orange, Rose, Jasmine, Ylang Ylang, Cedar and Musk

Molton Brown Orange and Bergamot Radiant Body Oil ($49 for 100 ml/3.3 fl oz) is such a beautiful dry oil. As you might guess from this roundup I'm obsessed with anything that has bergamot in it! This one is a fresh one that has a blend of orange, bergamot and mandarin. It's very bright and refreshing. The oil absorbs nicely into the skin and gives the body a luminous glow. Scent is very strong for a body oil, I can wear this alone instead of the perfume version. You can find this in other body products in their entire Orange and Bergamot collection.

Top Notes: orange, bergamot and mandarin
Heart Notes: neroli, cardamom and galbanum
Base Notes: musk, ylang-ylang and cedarwood

Tom Ford Eau de Soleil Blanc ($122 for 1.7 oz) is new this spring. It's one of my favorites of the season and I did not think it could get better than the original. It's really close to the original version but this one is lighter in feel and not quite as rich or deep. It's more green and a tiny bit more citrus with a brighter feel. I do not think you need both if you are already well stocked on one. I used up my original so decided to buy this one and I'm 100% happy I did.

Notes: Vert de Bergamot, Orange Bitter, Petitgrain Bigarde, Ylang-Ylang, Pistachio Accord, Coco de Mer Accord
Row 3:
_________________________
My top 3: Creed Love in White for Summer, Byredo Mojave Ghost and Tom Ford Eau de Soleil Blanc.
I know perfume is one of those beauty products that is best to shop for in person. I've ordered a few blind simply because I did not have a counter near me and it has been both hit or miss. After a couple misses I decided to never do it again. These days I've found more and more brands have started to sell sample vials or discovery sets on their websites. You may have to do a bit of searching to find them. Many larger retailers offer samples with beauty purchases, I almost always add one to my cart from Nordstrom. Lucky Scent also sells samples and sample packs of fragrances of their entire store. If you are ever in the Los Angeles area I highly recommend you stop by their store. You can read more in a feature I did here. In some cases you might not find any sample section online even on specific brand websites. I've also had luck a couple times e-mailing customer service to see if I could buy or order samples and in two instances they did!
That wraps up my spring to summer perfume favorites. I know it's quite a lot and some of you stick to 1 or 2 scents but I also know women who rotate on a seasonal basis and like to switch things up like me. As always please share your personal favorites in the comments! I love reading about what you love and wear.
Press samples featured include items from Creed, Molton Brown and Louis Vuitton.