By popular request I have a roundup review of some natural glowy bases that look like skin but better. Even though the full coverage matte finish base has been very much on trend, fresh looking skin is still very much in! I'm rounding up some of the new ones I've tested alongside favorites from NARS, Sunday Riley, Sisley, Make Up For Ever and Erborian. I've included a few glow primers and bases in this post that go along with a few of the brands I've mentioned. At the end I'll do my best to give you the bottom line of what I recommend depending on your skin type and what you're looking for. Face swatches of a few of the bases and also side-by-side arm swatches at the bottom of this post.
Sunday Riley
Up first is the Sunday Riley The Influencer Clean Long Wear Foundation ($42 for 1.08 oz/32 ml). This is a very natural looking foundation that looks like fresh skin. On me it blurs out all my pores, smooths the skin, looks fresh and radiant. There is a noticeable glow so I absolutely recommend setting with a powder. It lasts all day on me but it's not transfer resistant – if you touch your face some will come off a little. I personally love this one. My match right now is 190, but I ordered 3 shades sight unseen in 180, 190 and 200.
Why I love this one: It blends in seamlessly into the skin, even on bare skin. I find it works best if I apply with a beautyblender sponge but fingers work as well. I took a quick look at the customer reviews at Sephora and it appears to be hit or miss. I feel like those who find it a miss either couldn't find a good color match, are most likely using a moisturizer/primer that is not compatible with this formula or do not like the ingredients. It has silicones and dimethicone very high on the list. After wearing this for around 4 days I find that I really love the wear and look.
Below bare skin vs. Sunday Riley The Influencer Foundation 190 on the face. I don't have any added concealer or powder with any of the face swatches. I did do my eyes and lips with Tom Ford Eyeshadow Quads Nude Dip + Cocoa Mirage Eye Shadow Quad, Benefit BADgirl BANG Mascara, Diorshow Brow Styler in Universal Brown, MAC Lip Pencil in Boldly Bare and MAC Lustre Lipstick in Patisserie.
Coverage is sheer to medium. I personally need to add concealer and powder for sure, but below you can see the base worn on it's own to get a sense of how much I was able to build. It covers redness and also evens out the skin in a natural looking way. Two pumps cover my entire face.
Erborian
I've been playing around with Erborian Korean Skin products for several months now. I discovered the CC Creme and BB Creme back in December while in Miami. Over the years so many of you have asked for CC Creme and BB Creme recommendations and I never have any to give because I actually don't like those formulas. I find them often too thick, too pink in undertone and tacky-feeling on my combination skin. The ones from Erborian are the first ones I've ever truly liked.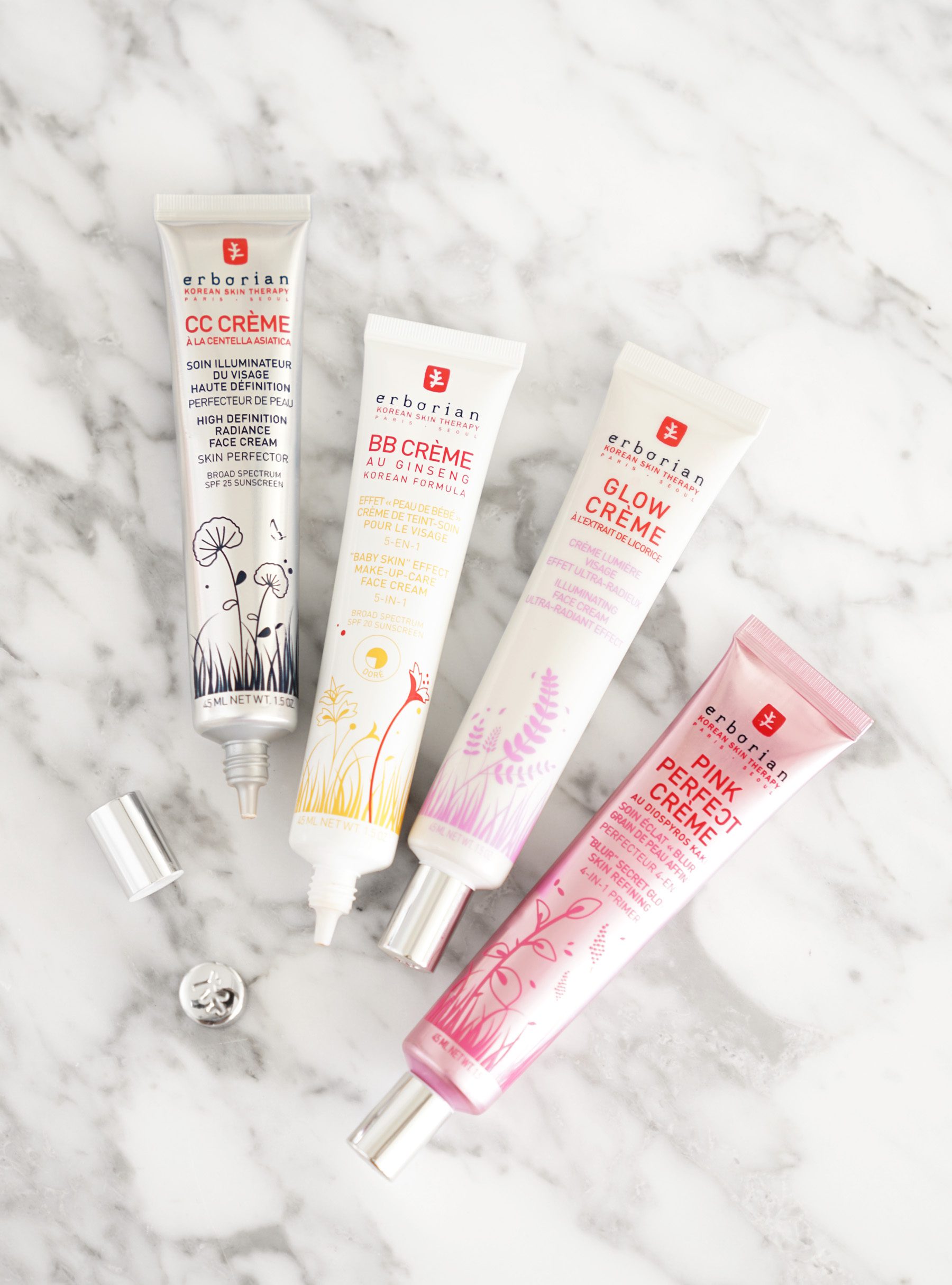 The Erborian CC Creme is a white colored cream that adjusts to match your skintone once you blend. It can be used as a color-correcting primer but I find I can use it on it's own. I use the Regular Shade (there are only 2 at the moment). It gives the skin a fresh dewy glow and evens out the skin and adds brightness. It is hydrating but not thick or heavy.
The Erborian BB Creme in Dore is something they call having a baby skin effect. To me it does give the softness of baby skin but with an added glow. There are three shades with this and even though it does seem to have medium coverage the color is quite forgiving when you blend it out. I absolutely feel application with a good sponge is essential with this one, otherwise it can look blotchy or streaky. It's not a high maintenance application product, but with any base I feel less is more. You can get an even application with a sponge, use a little then layer if you need more.
The Glow Creme is something I've been using on and off as a primer or a highlighter on top of bases. I like it a lot but it's not 100% love because it has a pinkish undertone which I don't always want. I feel this is best for dry skin, if you have oily skin this may make you look too shiny. The blurring effect is minimal, I find the glow adds radiance and combats dull/sallow looking skin.
The Pink Perfect Creme completely blew me away. I resisted as I do not like anything pink for my face as I'm olive/yellow/golden. This is a great blurring primer that smooths the skin with a semi matte finish. The pink adds a very subtle glow to the skin. It helps minimize my pores, but as you can see from the bare skin photo my pores are on the small side. It is very lightweight in finish.
All the Erborian products are scented, but it's not overpowering and it did not irritate my skin.
On the face wearing the CC Creme which is just a tiny bit too dark for me right now. The BB Creme in Dore is a perfect match once blended out even though when swatched it looks pink/peach. Wearing the same eye and lip makeup as listed above. Both photos I just have the base on, no powder or concealer.
YSL, NARS and Make Up For Ever
Next are some other natural glowy bases that look like skin from YSL, NARS and Make Up For Ever. The YSL Touche Eclat All-In-One Glow is a great radiant base for normal to dry skin. Although I'm more combination, this winter/spring we've had incredibly dry weather here so this has been perfect for me. I use Shade B40, you can see the full review + what it looks like on the face in this post here.
The NARS Velvet Matte Skin Tint is the best natural base with a soft velvety matte tint. It doesn't look overly matte, it's what I want in a tinted moisturizer look but without the glow or dewy feel. I am often in between shades Groenland and St. Moritz, right now I'm St. Moritz exactly. Coverage is very natural looking like skin and easy to build. This is probably my favorite natural looking base for everyday.
The NARS Pure Radiant Tinted Moisturizer was one of my favorites when I lived in San Diego. There the climate is mild year round and this gives the skin beautiful coverage and hydration without looking shiny, heavy or sliding off. In South Florida this is too dewy for most of the year as we have humid climate. I still use this on and off. I'm in the same shades as the other lines and alternate between Groenland and St. Moritz.
I wanted to briefly mention that the Radiance Primer is excellent for NARS bases. I often think you should use the same brand of primer and foundation – they're designed to work with the products they formulate within the line. The color of this one is soft and peachy which I love. It blends out to a clear finish but having that subtle radiance makes a difference on me.
Make Up For Ever has some great bases. Their Ultra HD Invisible Cover Foundation and Stick Foundation are holy grails in my book. I was really excited to try the new Ultra HD Perfector and found my best match was Shade 7. I like but don't love this. It's great for a fresh dewy look if you don't need a lot of coverage or color. It definitely looks like my skin but better. I don't love it because it's a little too sheer and a little too hydrating for my taste. It does last on me without sliding off. I set with a powder to tone down the dew. I think it can work great as a first layer of base and then add a fuller coverage base on areas.
Sisley-Paris
Last but not least are some loves from Sisley. I've been so impressed with everything I've tried from the line. I wanted to mention three things. The Instant Eclat Instant Glow Primer is my favorite glow base out of all the ones I've ever tried. It comes with a hefty price tag but I bought this and find it's 100% worth the splurge. I love that the color isn't too pink or iridescent. It adds a very soft glow to the skin. I do find that the Charlotte Tilbury Brightening Youth Glow or Wonder Glow can do similar things, just with a different color or level of shimmer at a cheaper price. But the Sisley is the best.
The Double Tenseur is another popular primer. It smooths out the skin and helps foundation apply and adhere better to the face without feeling silicone-like, thick or heavy. I love that it's clear so I don't have to worry about my face changing color or looking too white. It looks like second skin and smooths the surface of your skin.
The Sisley Tinted Sunscreen Cream is one of the best tinted creams I've ever tried. It cost a small fortune but I was really happy with the purchase. The only downside is the shade selection is extremely limited. In the swatch you'll see below Golden 2 looks light, but once I apply it, it will adjust to my skin tone without oxidizing. I know this sounds like a contradiction, but it warms up without darkening.
Swatches
Swatches of the bases I mentioned alongside a few others:
Swatches of the glow primers alongside some other options. Note that once you blend these most of the colors sheer out a lot on the skin. The Bobbi Brown Golden Glow Extra Balm reviewed here.
Final thoughts
That rounds up my Natural Bases That Look Like Skin But Better post! I hope this helped you in case you were wondering about some of the new launches. Finding one that works for you is going to depend on your skin tone, skin type and coverage needs.
If you need more coverage products, you can read some of my other base reviews by clicking the Base Makeup tag. A few full coverage formulas I love include the Laura Mercier Flawless Fusion, Tom Ford Waterproof, NARS Natural Radiant (many reviewed here). My favorite setting powders in this post here.
You can find the products listed at retailers below:
If you are shopping at Sephora, don't forget to use your promo code:
Rouge Members: receive 15% off 4/20 through 4/23, use code

YAYROUGE

VIB Members: receive 15% off 4/20 through 4/23, use code

YAYVIB

BI Members: receive 10% off 4/20 through 4/23, use code

YAYINSIDER
I'm doing one last giveaway this month. One person will receive one $100 eGift card to their choice of Nordstrom or Sephora. Open internationally but you must be 18 years or older. To enter for a chance to win use the widget below.
Runs through Monday April 23, 2018 (edit, extending to 3:00 PM EST). I contact the winner via e-mail same day. Not sponsored or affiliated! Good luck!
Press samples featured include the Sisley Double Tenseur, Erborian BB Creme and CC Creme. All others purchased by me.