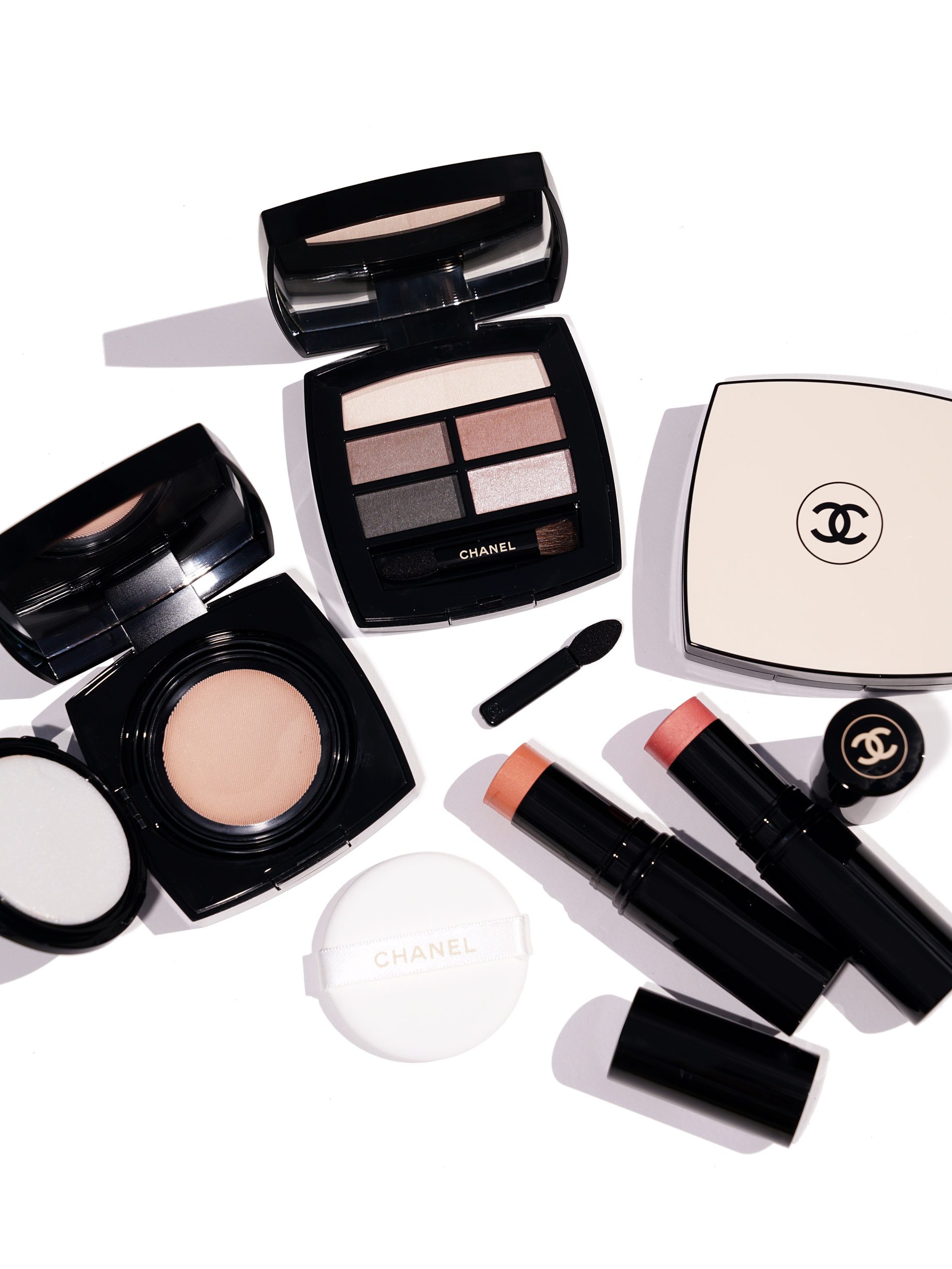 The Chanel Les Beiges Collection this year brings us a some new products including a new foundation formula, new brush, two new cheek colors, a natural eyeshadow palette and some repromotes. I have four items I've been testing this month thanks to the Chanel team and am happy to report the collection exceeded my expectations. There have been mixed reviews about this year's launch, after testing this I do think it's going to be a hit or miss for you depending on how natural or pigmented you like your makeup. For me it's a hit. In today's review:
The Les Beiges Gel Touch Healthy Glow Tint is an interesting base. If you like BB creams or dewy sheer bases you will love this one. I had expected this to be a cushion – but it's not really cushion like. It has a soft flexible mesh top where you press a sponge into to absorb product. There was some excess that had oozed out around the edges when I opened and I swatched with my fingers and barely saw any coverage. Quick tip is to use the sponge – it's amazing what a difference there is in application when you apply it with the sponge. I've been a long-time fan of the original Les Beiges Healthy Glow Colour Powder in 20 as a setting powder but subsequent Les Beiges launches have often let me down – the newer bases and tints have been tricky to work with sometimes.
The Gel Tint compact is smaller around in size compared to other Les Beiges compacts, but it's also taller.
Swatches of 30 and 40:
Comparison swatches to the Dior Dreamskin Cushion in 30 (which looks dark but actually matches once blended out), Saturday Skin All Aglow Sunscreen Perfection Cushion in 5 Honey and 6 Goldie, Sulwhasoo Perfecting Cushion in 25.
Coverage is sheer but still noticeable. There's enough coverage to cover redness, even out skintone and see color on the skin. Shade-wise I wish there were more yellow-toned options. 30 looks a bit light and pink on my skin but it does adjust and darken on me – my skin is weird these days, some foundations darken quite a bit after they dry down. 40 is the right undertone but it matches when I have a tan. As mentioned in a few recent posts, if I'm out of the sun for even 2-3 days I lose my tan very quickly. Since there is sun everywhere in Florida it's impossible to avoid the sun – so my skintone changes frequently. Long story short – I can wear either 30 or 40.
I think the Gel Touch Cushion is better suited for normal to dry skin, but even in the hot humid weather I've found it stayed put all day and didn't slide off in the humidity. You do need to set with a powder – when testing this I set with the Les Beiges Healthy Glow Sheer Colour Powder in 20 and it helped to tone down the glow but still keep the skin looking radiant and glowy.
Next up are the two Les Beiges Healthy Glow Sheer Colour Sticks in 23 (sheer warm pink) and 24 (sheer apricot). Both have a very natural sheen to them and I believe 23 and 24 are new shades. I tried these when they launched a few years ago and found the pigment lacking once you blended them out on the skin. The pigment in this years' has improved significantly – but they are still very natural looking. They have a satiny almost velvet finish so they're not like regular creams. I found they lasted and stayed put all day.
Last but not least is the Healthy Glow Natural Eyeshadow Palette. Reviews on this have been all over the place in terms of reviewing the pigment. I found all the colors performed well with good pigment – they are all sheer to medium for a soft natural eye though. If you're looking for high impact rich pigment this is not the palette for you. For me it's a great fool-proof everyday kind of palette. If you have dry lids or us a matte primer the shadows most likely won't show up as well as they are very soft – try using a more emollient base and the colors will show up better. I used the Laura Mercier Caviar Eye Stick in Rose Gold to prep my lids.
In the palette you have a sheer beige base, a soft cool brown, a soft warm brown, a satiny charcoal brown and a shimmering champagne. Everything is soft with a diffused look to them. For the person who wants natural definition to their eyes this is just perfect.
It has a similar vibe to the Dior Eye Reviver Palette which I found way too sheer and natural for me. It also reminded me a bit of the Urban Decay Naked2 Basics so I swatched them side by side.
A beauty look with just the Les Beiges Gel Touch Healthy Glow Tint in 30 on the left side. On the right look:
Bottom line I like the collection a lot more than I expected. For me the winner is the Natural Eyeshadow Palette – it's great for everyday when you just need a little color or a fool-proof conservative palette to add definition without looking like you have a lot of makeup on. I really like this year's launch of the Blush Sticks – the pigment is a lot better than it was a few years ago but they still look natural. For a cream they stay put for a good amount of time but that being said they're still creams so if you're going to be outdoors in humid weather for an extended period of time they're not going to be budge-proof. The Gel Touch Tint is going to be hit or miss for you depending on skin tone and skin type. I think if you like moisturizing dewy bases you'll love this. I like it more than I expected and I found a few color matches although I would prefer it to have more of a yellow/olive undertone. I did just buy the Dior Forever Perfect Cushion in 21 and Forever Undercover Concealer in 30 and 31 and I'm testing some bases from Sisley-Paris so you may want to stay tuned for those reviews.
You can find the Chanel Les Beiges collection now online at Chanel.com and at all Chanel counters. P.S. The new brushes have launched as well along with some new nail and lip colors! I'll be reviewing some of the brushes soon – I'm currently putting them to the test.
Have you tried anything from this year's Les Beiges collection?
Press samples include the Chanel Les Beiges Gel Tint in 30, Les Beiges Blush Sticks in 23 and 24, Les Beiges Eyeshadow Palette and Le Rouge Crayon in Beige Rose. All other items purchased by me.