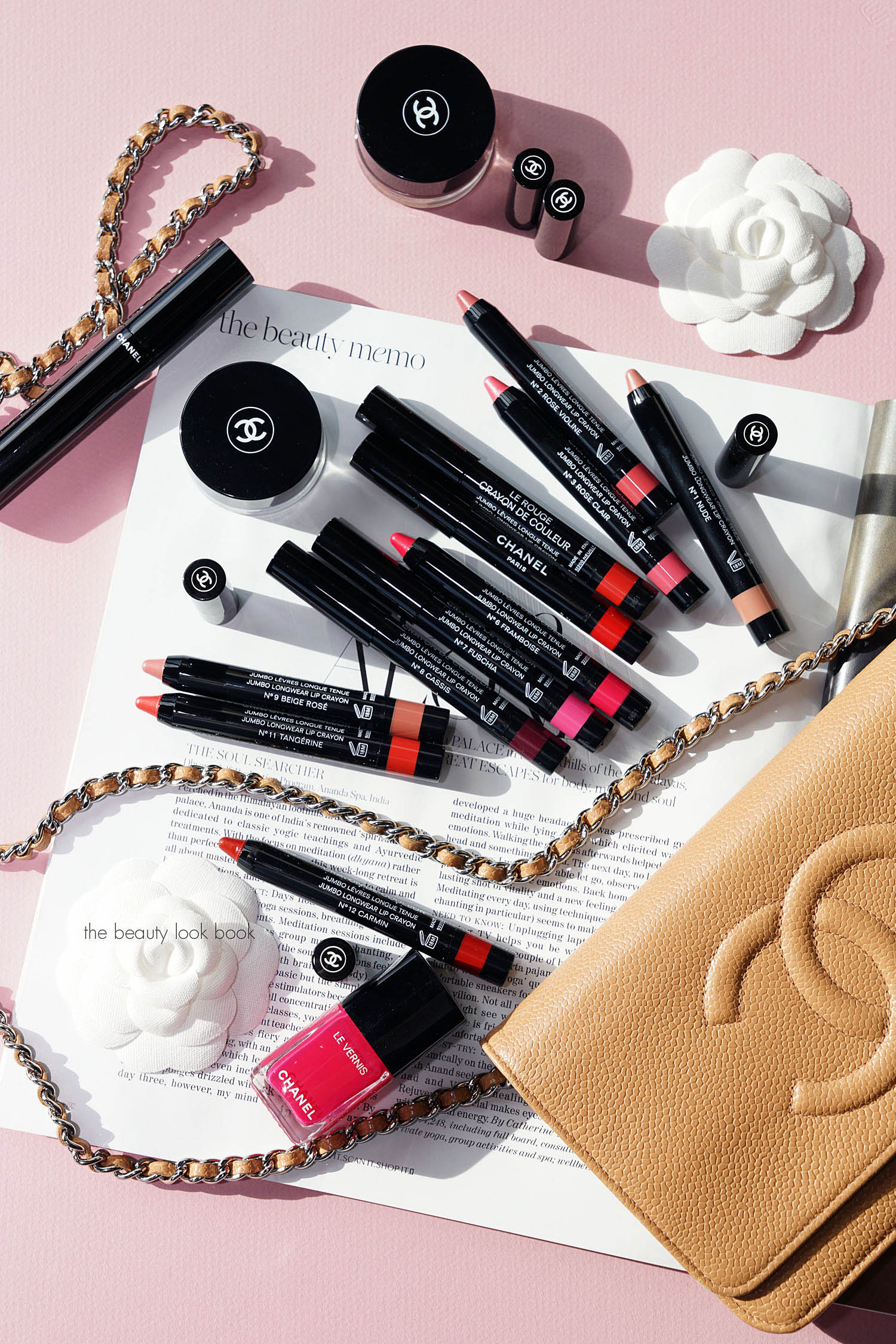 This spring beauty season seems to the season for the lips. There are a quite a few new formulas launching in lipstick, balms, crayons and liquid lipsticks and as the ultimate lip junkie I can't help but feel super excited. Today I have a review of the Chanel Le Rouge Crayon de Couleur Jumbo Longwear Lip Crayons ($37 each) to share and thanks to the Chanel team I have all eleven shades swatched for you. Right now they are exclusive to Chanel.com but should be launching at counters and stores soon.
The Le Rouge Crayon de Couleur is a twist up lipstick in chubby stick form with a satiny smooth finish. They have a glossy shine much like the Rouge Coco Shines and Rouge Coco Stylos, but with a creamier texture. Most of the colors offer medium-full coverage with a few swipes. They glide on easily and have a nourishing feel. If you remember many years ago Chanel had a lovely lipliner called Le Crayon Gloss. They came in a traditional skinny lip pencil format but had this amazing glossy formula. The new Le Rouge Crayon de Couleur reminds me a little of those in the sense that these pencils have a lovely natural shine. I love sheer glossy lipsticks but often wish most had a bit more pigment with the same texture. I almost feel like these Jumbo Longwear Lip Crayons were made for me because it's almost everything I could want in a lipstick. There's no detectable scent. In terms of lasting power they stay put a long time and don't slide off or fade quickly. However due to the glossy emollient nature of these you will see color transfer to cups if you drink anything.
The colors are just perfect:
First a look at other Chanel lip products for scale: Rouge Allure, Rouge Coco Stylo (all shades swatched here) and Rouge Coco Shine in Boy:
The 11 colors shown below with descriptions:
Nude No. 1 is a nude beige with medium coverage
Rose Violine No. 2 is a perfect soft beige rose cream with full coverage
Rose Clair No. 3 is a shimmery cool light rose pink with medium-full coverage
Rouge Corail No. 4 is a orangey red with full coverage
Rouge No. 5 is a classic red with full coverage
Framboise No. 6 is a strawberry pink red with full coverage
Fuschia No. 7 is a hot cool pink with full coverage
Cassis No. 8 is a deep plum, due to the contrast with my lip tone I found this one a bit patchy
Beige Rose No. 9 is a light beige pink with medium coverage
Tangerine No. 11 is a hot orange with full coverage
Carmin No. 12 is a deep red
Another photo for scale, they are on the short side compared to the regular Chanel lip liners. On the nails is Chanel Camelia Le Vernis.
Individual lip swatches on bare lips, for skintone reference I'm wearing Anastasia Beverly Hills Foundation Stick in Warm Natural.
Swatches all side by side:
Bottom line: right up my alley. I do think they are on the pricey side given the small size. At this time I don't have the exact product weight as the pencils arrived as press samples without boxes. That being said I love all the colors. Cassis is the only one that I had issues with – it can be fixed with a lip liner as a base to help smooth out the color. It applies well but on me went on slightly patchy – not a deal breaker as it wears beautifully. By comparison the other colors apply flawlessly. Nude and Beige Rose are the sheerest out of the bunch but still offer full coverage with a bit more swiping back and forth. As I just received them and did swatches as quickly as I could I can't report on whether or not they offer long lasting moisture. However they do have a nice emollient feel and my lips have experienced no peeling or drying even with all the swatching and wiping. If you like a glossy lip with pigment I think you'll really like these. They are pricey but the formula is excellent and I'm in love with every single color.
You can find the Chanel Le Rouge Crayon de Couleurs online now at Chanel.com. Right now Tangerine and Carmin are listed as limited-edition colors.
Jumbo Crayons provided courtesy of Chanel for review. Camelia Le Vernis featured was also a press sample from last year. All other items featured from my own collection.
Save
Save
Save