The MAC Tendertalk Lip Balms come packaged in a sleek streamlined case much like the
Huggable Lip Colors
(some featured
here
and
here
). Tendertalks have an iridescent packaging that has a holographic 90's feel. It flashes all kinds of fluorescent colors depending on how the light hits the packaging.
There are five shades which is the most I've seen for this kind of color-shifting lip product. To date most of the color options I've seen are the light pink that often shifts to fuchsia on me or a coral. MAC added a few more options that are perfect for that semi-sheer bright summer lip look. The sheerness gives the balms a more effortless casual feel compared to an opaque full coverage look.
Do note these will most likely look different on you depending on your lip chemistry but I thought these were worth reviewing and swatching anyways.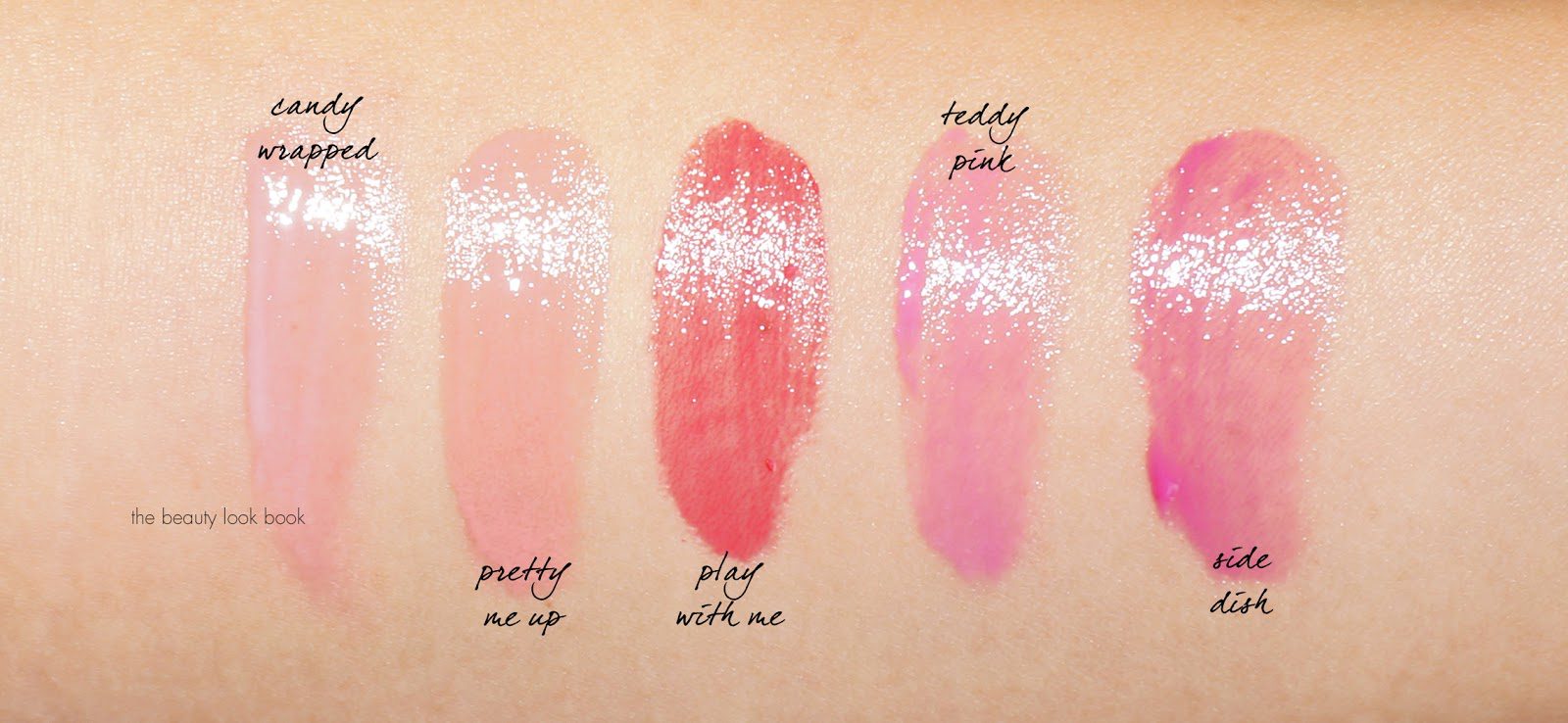 Colors from left to right:
Candy Wrapped is a sheer almost transparent pink that turns into a bright pink on my lips.
Pretty Me Up is a sheer peachy color that also turns pinkish on my lips.
Play With Me is a sheer red that deepens and brightens in color on me.
Teddy Pink is a bright cool pink in the tube it turns more mauvey and cool-toned on me.
Side Dish is a cool pink that turns into a deeper mauve bright pink.
Another look and swatches on my lips. They took about 30 seconds to adjust in color on me. Once on, they did leave a slight stain on the lips, but it was easy to remove with makeup remover (I used the Clinique Take the Day Off).
Everyone knows I'm a neutral lip lover at heart, but for this launch my two favorites are the deeper brights in Play With Me and Side Dish. For summer I love the sheerer-brights. Many of the brighter lip color that has a bit of transparency gets a thumbs up from me – they're perfect for the summer season but wearable even for someone like me who almost always wears nudes or neutrals.
Texture is smooth and balmy without having a greasy feel. They are easy to apply without any tugging but not so soft that they feel like they will melt or break. Once on the lips there is a noticeable balmy feel like a cushion but it's not heavy. They have the signature soft vanilla scent that most MAC lipsticks have. I found they stayed put very well once on the lips – no sliding around and lasting power was good until I drank or ate something. They left a slight stain on my lips, but it was easy to remove with makeup remover. Moisture-wise they do have a moisturizing feel and they did not dry out my lips or make them peel like other MAC lip products do.
I like these for summer. There are however quite a few tinted new lip balms out this summer – I'll be reviewing the
Estee Edit Cocobalms
, the added shades of
Clarins Instant Light Natural Lip Perfectors
in the upcoming week. Depending on your preference for formula and packaging you may want to explore other options, however the ones from MAC are unique in the sense that they are the color-adjusting kind and have a brighter summery look in terms of color.
You can find the MAC Tendertalk Lip Balms at counters now. Online at
MAC
and
Nordstrom
. Have you tried these yet? They launched last month so they've been out for a few weeks by now.
MAC Tendertalk Lip Balms provided courtesy of MAC for review consideration.