Tom Ford Sable Smoke #14 ($48) is a creamy caramel honey nude. It's officially now my perfect honey nude for my pigmented lips and medium-toned skin. Full smooth coverage with a non-drying formula and beautiful finish. Has a wonderful delicious vanilla scent. Doesn't wash me out. Lasting power better than the average lipstick. Luxurious feel on the lips. Need I say more?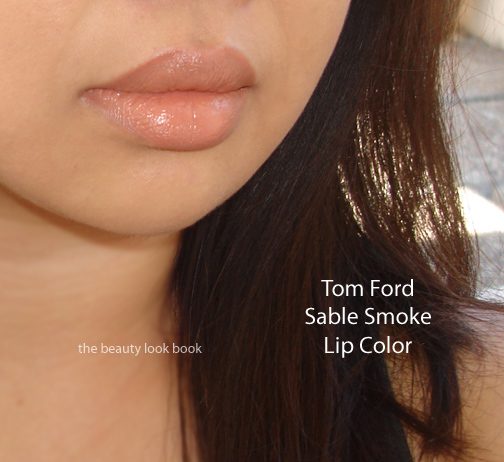 A few comparisons below. When swatched next to other peaches or nudes you can see how Sable Smoke is more of a caramel honey color. L to R: Tom Ford Sable Smoke, Edward Bess Pure Impulse, Burberry Romantic Rose, Chanel Cashmere Rouge Coco and D&G Almond.
Here is one more set of swatch comparisons (actual lipsticks aren't shown, only swatches). Below, L to R is MAC Viva Glam Gaga, MAC Freckletone, MAC Gel, MAC Creme de Nude, YSL Rouge Volupte #2.