Here's November's List of Ten Things I'm Loving Right Now. As always, I want to hear your lists too! And they don't have to be beauty/makeup related.
1) Henri Bendel Candles from Bath & Body Works $26 – these are the best candles I've tried with so many feel-good scents. My favorites are Vanilla Bean, Fig, Quince, Pomegranate – and my husband loves these too.

2) L'Occitane Holiday Sets – Still loving the scented hand creams, in particular the Shea Vanilla and Frangipani scented ones! I wish they weren't limited edition. Also love the Shower Celebration set – wish all the scents came in larger sizes (I believe the only one available individually right now is the Almond Shower Gel).

3) Paul & Joe Lip Lacquers $20 – You've seen these in my look features earlier in the month and my regular readers know that I bought practically every color. They are absolutely fabulous and I hope these are here to stay. They are great alone or over a liner/lipstick. I can't rave enough about them. Cute packaging, nice pigment, non-sticky texture, very wearable colors. I've purchased my Paul & Joe items from Bergdorf Goodman, The Primping Parleur's Online Boutique, Beautyhabit.com and Dermstore.com – but check the Paul & Joe Beauty website for locations around the world.

4) PhytoSpecific Integral Hair Care – this is a spray hair treatment which is supposed to "restore moisture, smooth, redefine curls, detangle, make setting easier, and protect hair from heat damage." I have thick slightly wavy hair which I cannot air dry because it poofs up into a huge frizz ball. Up until a year ago when I started using this, I religiously blow dried and straightened my hair daily. I tried a number of no-frizz serums and straightening sprays, but I still had to go through the daily ritual of blow dry/straighten. This spray is incredible for me and once I spray and comb through, it allows my hair to air dry without turning into a huge frizz ball. I haven't tried any of the other PhytoSpecific products, but I do love the shampoos in the regular Phyto line.

5) Dolce & Gabbana Caramel Blush $44 – I love nude blushes and this one is pretty without looking muddy on my skin. You can buy D&G online at saks.com, but I highly recommend ordering through the Saks NY or Beverly Hills counters because you get excellent customer service and the makeup artists who run the counter are very good at recommending colors. If you have any questions about other products, you can ask me too! I've accumulated quite a few things from them since they launched the line.

6) Edward Bess Daydream Bronzer $48 – By far my favorite powder bronzer of the moment. Wasn't so thrilled with the hefty price tag, but I have to say that it gives that natural tanned glow. My skintone is on the pale side right now, I'm the equivalent of what's in between MAC NC30-35. Normally I'm more of a NC35-40ish. You can purchase Edward Bess at Bergdorf Goodman or online at EdwardBess.com. Compared to some other bronzers:

7) Le Metier Eye Brightening & Setting Powder $36 – I've always been skeptical of brightening powders mainly because I usually don't see a difference when using them. This, however, is every bit as great as Ellyn (from Neimans King of Prussia) and Lisa (my fellow Le Metier fan) have both raved. I use the shade Revive which is good for medium-tanned skintones. The next shade down Refresh is quite a bit paler. Seems like they need a shade in between. I use it after I apply my foundation in place of concealer under the eyes and it is an instant-brightener/evener all in one. (FYI – Neimanmarcus.com has free shipping with code and a promotional Peche Lip Creme with any Le Metier purchase, good as long as supplies last.)

8) MAC Pigments: Naked, Fairylite, Your Ladyship, Shimmertime – I like light/neutral pink shimmers for a natural barely-there all over eye color. I believe all of them have been discontinued except Naked, but you can get a full sized Shimmertime Pigment in one of the MAC holiday sets and Naked is also available as a mini in one of the holiday pigment sets.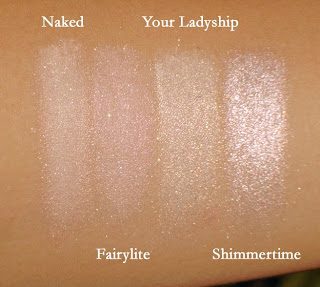 The swatch picture couldn't capture the real color, so I'll try my best to describe the differences:
Naked is the most neutral
Fairylite has the most pink and most visible silver sparkle/micro glitter
Your Ladyship has a golden sheen to it
Shimmertime is the most pink/frosty throughout
9) MAC Style Black Mineralize Eyeshadows: Gilt by Association, Cinderfella, Young Punk $19.50 each – Yes, I do like MAC products even though I don't write much about the line! I was afraid these would be too glittery, but they work well when applied with a damp brush or over a gel liner for a pretty smoky eye. It appears they are sold out online, but most MAC stores usually still carry seasonal stock so check your local store.

10) Hot Chocolate – I know many of you prefer I stay on the beauty topic, but I really love this time of year because it's the perfect time for hot chocolate, apple cider, and warm teas. A classic favorite is the Williams Sonoma Hot Chocolate that they only carry during the holidays. I've seen a few at Godiva and Crate & Barrel that I'm dying to try out. I know Trader Joes has a lot of holiday ciders and goodies, so I'm hoping they have a hot chocolate too. Do you have a favorite hot chocolate?