Charlotte Tilbury launched a new set called The Supermodel Brow Lift Kit ($124) containing 5 of her essentials for creating her flawless eyebrow look. I've already tried a few of the items individually in the past and I think it's great that Charlotte Tilbury has launched some sets for those who are just starting to get into her line. This kit allows you to choose your own colors, if you were to buy everything separately it would retail at $138.50 so you do get a bit of a price break with the set. What's inside the kit:
Legendary Brows Brow Gel
Brow Lift Brow Pencil
The Retoucher Conceal and Treat Stick
Life Changing Lashes Eyelash Curler
Full Fat Glossy Lashes Mascara in Black
Up first are the Brow Lift brow pencil and Legendary Brows gel. I selected the color Supermodel for both which is a good neutral-cool medium-deep brown. I have dark black hair but it has a lot of natural streaks of red and brown so pure black is often too harsh and some browns contain red which is a no-go for me. Supermodel is a deep enough to look natural on me and doesn't look harsh.
The Brow Lift brow pencil has beveled tip and it's a twist up on one side with product and a brush at the other end. It has a slightly waxy feel which helps fill in sparse areas. The color and texture are really good and easy to apply.
The Legendary Brows comes in a clear shade which I've tried and liked. I was really interested to try the tinted version which I like a lot better. It helps add a bit more definition in a natural way and does help to keep flyaways in place.
Here's what the Supermodel brow pencil and gel look like on me, since I have odd-shaped brows I usually go light with product because one swipe too much ends up looking really harsh. Foundation shade worn is the Becca Aqualuminous Foundation in Light and Beige mixed (review here), on the lips is MAC Lustre Lipstick from the Work it Out collection Testosterone (review here). It's barely noticeable but on the cheeks is a sheer wash of the Charlotte Tilbury Filmstar Bronze and Glow duo in the lighter option (both options on the face here).
Brow swatch comparisons: Diorshow Brow Styler in Universal Brown is my most-used brow pencil because it's the easiest for me to use without overdoing it, Kevyn Aucoin Precision Brown Pencil Brunette is darker, Anastasia Beverly Hills Brow Wiz in Medium Brown has a bit more warmth, Tom Ford Brow Sculptor Espresso is my second most-used pencil because the color works for me, Glossier Boy Brow in Brown is a good one for natural brows and runs a bit lighter but still works for my dark hair, Tom Ford Fiber Brow Gel in Espresso is my favorite tinted brow gel because the tiny fibers help fill in the brow naturally, By Terry Brow Mascara in Dark Brown was my first tinted brow product which I've repurchased many times.
If any of you want a more comprehensive brow post for natural brows let me know and I'll put one together with thoughts on some powder formulas and tools I like. Let me know in the comments!
Up next are the Full Fat Lashes Mascara in Glossy Black and the Life Changing Lashes curler. I've tried both and I think the mascara is just ok. I have super straight lashes so I need a lot of volumizing for them to show up. What I do like about the mascara is that it's a true black, it doesn't clump and is pretty good at not smudging. It doesn't hold my curl and it doesn't add much volume but everyone I've talked to about this in person loves this one.
For the Life Changing Lashes curler I bought one a few years ago when her line launched. I no longer own it because it got so much use and wear I had to throw it away. I haven't repurchased or looked at them since – not until this kit arrived for review. For some reason I feel like the one she has right now has been improved – it feels a bit larger in size and more hefty than the original (which I really liked). The one she has now is still very good. The curler portion seems to be larger but since I don't have the original one I owned I can't really compare – if you have purchased them before let me know if you think there's a difference. It does a great job at curling without pinching. The rosegold finish is just so pretty!
Swatches of the set, first without flash:
With flash:
Last but not least is The Retoucher Concealer. This is a twist up with brush kind of concealer. I've owned #3 in the past and used it up but since then have gotten around 1 to 1.5 shade lighter in color. Of course now that I've been in Florida for a month now I've gotten a bit of a tan with the outdoors so I'm in between shades. Right now #2 works well to brighten the under eye area perfectly for me. It has medium smooth coverage and gives a natural looking finish. If you need more coverage I would say this is not the best for blemishes or dark spots. I used mine up to the end and planned on repurchasing but have a lot of other formulas I'm testing so never got around to it.
I swatched them all in a concealer story I did a while back but am reposting for reference:
Bottom line this is a great kit for easy to do brows. You can use the Retoucher under the brow bone to highlight or open up the eyes and also underneath to brighten. The soft emollient blendable texture makes for a nice natural look. I love both of the brow products for a natural easy everyday kind of look. The only item I'm not crazy about is the mascara but I'm going to try experimenting with some primers and lash bases to see if I can try to make it hold the curl better.
You can find the The Supermodel Brow Lift Kit online now at Charlotte Tilbury for $124. Have you tried any of these before? If so what did you think? If not do you have any go-to brow products?
Brow kit provided courtesy of Charlotte Tilbury for review.
Now that spring is officially here, everything in my wardrobe including my makeup and skincare have been going through a bit of an update. As always I find one of my favorite ways to update my look is to focus on new colors for lips and cheeks. There are a new launches I've been mixing into my weekly beauty routine and I've teamed up with Nordstrom to share some colors I think will be great for the spring transition.
Up first are some cheek products – I've really been obsessed with all things from Tom Ford Beauty. As part of the Summer Soleil collection, they launched a Sheer Illuminating Cheek Duo in Reflects Gilt. Even though I own so many other highlighters I find this one unique in the formula and color. It gives the skin a luminous sheen and it can also be used on the eyes. Tom Ford also revamped all their Powder Blushes. I have not yet had a chance to investigate the new formula in all the colors in detail but a quick look at the counter did prove the shades have changed a little. I have two new shades I bought include Inhibition (a perfect peachy nude) and Gratuitous (a mauve plum). They have a very subtle sheen in the pan but the shimmer does not really show up on the skin. Both have smooth medium buildable pigment and apply beautifully on the face. I like that they're neutrals, but not nude. Also they have color that shows up  on the skin but they don't darken or oxidize on me.
Gratuitous (plum) on the left and Inhibition (peach) on the right. I'm wearing Tom Ford Waterproof Foundation in Bisque.
Next is my favorite category: new lip colors. I love a good glossy lip because the formulas are usually more hydrating, smooth and soft. They're also more forgiving when it comes to fading as the day progresses. If you splurge on one item, I would again say go with anything from Tom Ford. I really love the Lips and Boys lipsticks, Bradley is the perfect nude (shown in the photo above with Inhibition Blush). For summer they launched Clutch-Sized Lip Balms in bright sheers. They feel really good on the lips and the colors add a nice healthy flush of color that is super natural but fun.
Makeup bag from Tory Burch.
If you're a gloss kind of person, Chanel Rouge Coco Glosses are new. They come in a wide range of colors and finishes. If I could pick only one color, Tendresse is my favorite purchase because it's rosy and gives the face a brightened effect.
YSL launched their Volupte Tint-In-Balms which have been nearly impossible to find because they keep selling out. I managed to order three shades in 1 Dream Me Nude, 2 Tease Me Pink and 3 Call Me Rose. These resemble the Volupte Sheer Candy, but the new Volupte Tint-In-Balms are supposed to be a lipstick balm hybrid with a bit more color. They have that amazing passionfruit scent and go on smooth but sheer. I was surprised to see color but if you don't like sheer colors you may want to opt for the brighter ones (I bought mine sight unseen). I personally love these and definitely want a couple more of the brighter ones.
For something different I also picked a few of the new Bobbi Brown Art Stick Liquid Lip colors. The packaging is super cute – they look like a chubby stick but it's a squeeze tube for a super opaque creamy liquid lipstick. The finish is semi-matte but gives you full coverage. As one who really doesn't like semi-matte finishes I'm undecided about these. They are comfortable on the lips but a little goes a long way, so the first few times I applied, I really overdid it. Pigment is incredible and they don't dry down like traditional liquid lipsticks. Colors are on the bold side.
Last but not least, I bought the YSL Lip Perfector a couple months ago. It's supposed to be a multipurpose product that nourishes, soothes and enhances your natural lip color. For me it's a basic lip balm that feels nice and does a good job of hydrating the lips. It doesn't do anything for my natural lip color (it applies clear and stays clear), but I have no regrets purchasing and it does work nicely under lipstick if you feel your lips are dry. That being said I still prefer the Dior Addict Lip Glow Pomade.
For the eyes, I picked up the YSL The Shock Mascara and many of you wanted to know my thoughts. I really like it! On me it doesn't clump, it defines well, it holds the curl and it doesn't smudge. So based on this it's a thumbs up for me because so many mascaras either don't hold the curl or smudge. I do wish it did a better job at volumizing because I have wimpy lashes, but I can get more volume by layering. I've featured the new MAC In the Flesh Eyeshadow palette a few times already but felt it was worth re-mentioning because I find it really versatile and wearable for everyday. I love the color combinations and find it easy to wear. It's one of those palettes I feel is an effortless kind of palette to wear. Another item I've had on repeat is the Burberry Eye Color Contour in Pale Copper. It's a shimmering bronze shade that is one I can wear on it's own and feel like I've added depth, color and dimension to the eyes. I've been on the hunt for this color in powder form, but for now the cream version works for me.
Right now Lancome has a gift with purchase at Nordstrom so I restocked on a couple items and picked up one thing new. Cleansing water in general is something I really love and use on a regular basis. I use it to double cleanse because it helps remove all traces of makeup. I've tried a number but the Lancome Micellar Cleansing Water remains one of my favorites because it's gentle, effective and doesn't leave a film on the skin. I have lost count of how many times I've repurchased! For a lash base/primer, many of you recommended I try the Cils Booster XL Vitamin-Infused Mascara Primer as a base coat to help add volume and I loved it so much I bought a second tube. Also because I'm going to need a good primer now that I've moved to Florida, I decided to give the La Base Pro a try (it has an overwhelming number of positive reviews). Fingers crossed it doesn't break me out. Quick note – with this GWP there are options to choose from so there's a promo code you'll need to enter at checkout. Minimum purchase is $39.50 but there's also a step up.
Be sure to check their Beauty Gifts with Purchase page as well – they often have good promos there from other brands, sometimes there will be a good sampler bag with a larger purchase.
That wraps it up for my first spring makeup roundup! As I go finish up testing more skincare and sunscreens I'll have more roundups in the upcoming weeks. I've already had quite a few items I've been testing for the past month since I moved and hope to share the hits and misses as I progress. Do you change your routine as spring rolls around? What do you have in your spring makeup bag right now?
Many thanks to Nordstrom for partnering to sponsor this post. Press samples include the Tom Ford Reflects Gilt, Fathom and Bradley. All other items purchased by me.

Chanel recently reformulated their lip gloss with a new formula called Rouge Coco Gloss ($30 each for 5.5 g/0.19 oz, made in France). This is a new and improved version that offers more hydration with a glossier finish and plump feel. As a long-time Glossimer fan I was a bit sad to see the original formula go but since Chanel has revamped a number of other products in their line I think it was inevitable to see a new gloss formula. The new Rouge Coco Glosses have two different formulas, most are a regular lip gloss formula Gel Brilliant Hydrantant / Moisturizing Glossimer, but three shades are what Chanel calls Top Coat Intense / Colour-Intensifying Top Coat designed to layer over lipstick to change color.
There are 30 shades of Rouge Coco Gloss total for the initial launch. At a quick glance there are at least a few that seem to be repromotes (but with different names). We're in the midst of working on a few remodels which will take some time so much of my makeup is stored boxes so I won't be able to do swatch comparisons for old vs new. I received 8 shades as press samples and purchased 8 on my own to review. Some thoughts on the new formula and then swatches of 16 colors below.
The Rouge Coco Gloss formula is described as a "non-sticky, ultra light formula leaves lips visibly smooth and plump, and perfectly brilliant." These are indeed smooth glosses that give the lips an ultra high shine. They aren't tacky or sticky but being a gloss there is still a little bit of balmy gloss feel. On my lips they don't really feel ultra light, but more like a semi-thick balm.
Finish is ultra shiny and glossy.
Pigment and finish varies across all colors. Some are sheer creams, some sheer shimmers, some high sparkle shimmers, others are opaque creams.
There's no detectable scent. Yay!
Compared to the original, the sponges have a curved more cushiony bigger applicator tip which allows for more coverage in fewer swipes.
Formula is hydrating and has a cushiony feel, the new ones are noticeably more cushiony and hydrating compared to the original formula.
Lasting power is pretty good, I've been snacking a lot lately so I haven't had any extended period of time where my lips go untouched to test these. I find they stay put for a few hours without sliding off or fading. They will of course transfer if you drink or eat.
Some of the colors are sheer so my natural lip color shows through making many of these look similar.
These have numbers on the bottom of the sticker, but they also have names which aren't listed on the actual gloss (they are on the boxes).
A look at the old vs new:
I split the colors into color grouping for the swatches, descriptions on each color below as well. As always I've swatched these on bare lips. My foundation shade is Tom Ford Waterproof Foundation in Bisque. First are the light golds and neutrals:
774 Excitation is a top coat, it's a sheer gold that brightens lip colors
712 Melted Honey is a sheer warm golden honey shimmer
722 Noce Moscata (purchased) is a semi-sheer smooth shimmering neutral fawn, love this!
714 Caresse (purchased) is a medium coverage nude brown cream
716 Caramel (purchased) is a medium coverage nude pink cream
Next are the peach orangey shades and the two darker colors I have:
744 Subtil (purchased) is a pigmented shimmering peachy color with pink and gold
736 Douceur (purchased) is a sheer cantelope cream
776 Impulsion is a top coat, it's a sheer orange that brightens and warms up colors
752 Bitter Orange is a pigmented bright orange with a tiny bit of shimmer
768 Decadent is black in the tube, on the lips it's a sheer vampy plum, color is gorgeous but this one went on super streaky and settled into lip lines for me
778 Caviar is a black shimmer in the tube, on the lips it's a super sheer almost black grey gloss, this is a top coat designed to deepen lipstick color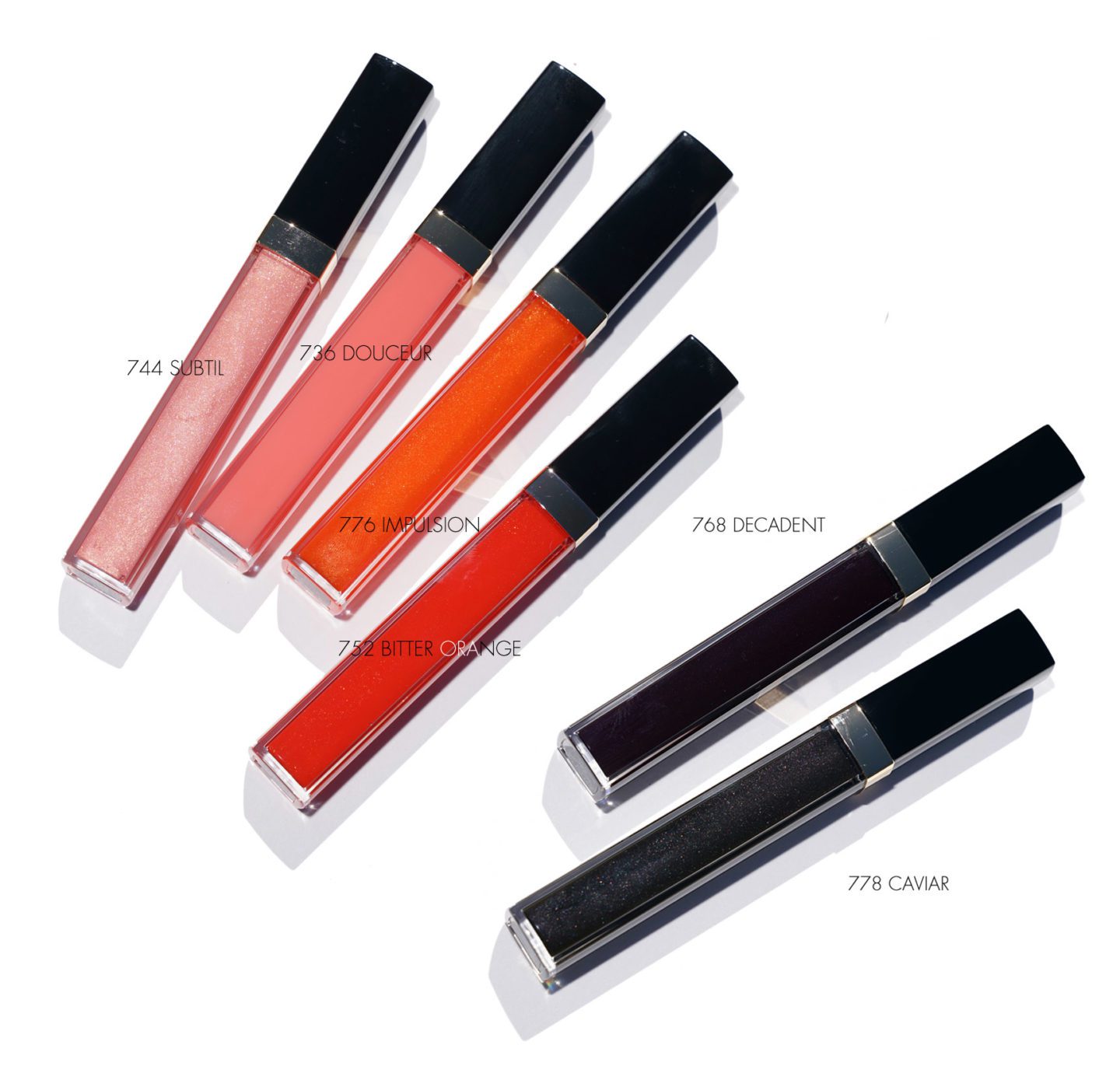 Last set are the pinks:
726 Icing is a sheer pale milky pink, this one goes on smooth without any streaks
119 Bourgeoisie is a medium pigmented shimmering rose with gold flecks, this is almost identical to Wild Rose in the original formula, but the new one feels a lot more sparkly
728 Rose Pulpe (purchased) is a medium bright soft pink with micro sparkles
172 Tendresse (purchased) is another favorite, it s a medium hot pink rose with shimmer
738 Amuse-Bouche (purchased) is a pigmented bright pink with a tiny bit of shimmer
For those curious about how the top coats transform lip colors, I have it swatched over Rouge Coco in Vera (a baby pink) and Suzanne (a medium plum). To recap, 774 Excitation is the gold top coat, 776 Impulsion is the Orange Top Coat and 778 Caviar is the black top coat. I was really skeptical that these would do anything to lip color. I received the top coats as press samples and even after seeing them at the counter they didn't really speak to me until I swatched them on my own. As you can see below they really do shift the color. They're sheer but still manage to change a lipstick. I like Impulsion (the orange one) the best.
Overall, my thoughts are that Chanel has indeed improved the formula. I still have quite a few in the old formula which I adore. I would have loved to see a few more of the original shades in the new formula, but I think there will be a lot we can look forward to in the future. The main differences between old vs new is the applicator change and also the new ones have a cushiony feel with more shine. Off the top of my head, Bourgeoisie looks like Wild Rose, Douceur reminds me of Sirop, either Caresse or Caramel remind me of Giggle.
Since I have pigmented lips and some of these colors are sheer or semi-sheer many look pretty similar on my lips. I was completely blown away by the pigment of Bitter Orange and Amuse-Bouche. Both are brighter than I'd normally wear but I think will be perfect for when the actual summer season arrives. As much as I adore sheer glosses, part of me wishes all the colors had the same pigment as those two. My top 5 color picks out of what I tested: Caramel, Noce Moscata, Amuse-Bouche, Tendresse and Bourgeoisie. My husband commented that my lipstick looked good when I wore Tendresse which made me smile because he rarely comments on my makeup.
You can find the Rouge Coco Gloss at all Chanel counters now. I ordered the ones I purchased online at Chanel and Nordstrom. They retail for $30 each.
8 colors provided as press samples, 8 colors purchased by me.
There are four new Le Vernis Nail Colours ($28 each for 13 ml/0.4 fl oz, made in France) from Chanel that have launched with the new Rouge Coco Gloss collection. The new shades are all creams (non-shimmers) in Tulle, Washed Denim, Androgyne and Emblematique. All four performed well in terms of smooth application and rich opaque pigment. The color selection seems to be an odd mix to me as there is not really a theme but since they aren't really part of a color collection it makes sense that they wouldn't be coordinated or match. My favorite one is Tulle which surprised me. In the bottle I thought it looked like a boring peach but on the hands it's actually just perfect for spring.
I purchased all four colors, descriptions as follows:
Tulle (is the only one listed as limited-edition) is a medium peach, it's the perfect mix of peach with a slight hint of pink, there's no yellowish tone which is perfect for my olive skintone. I don't do back-ups of nail polish anymore but I'm tempted to do so with this one.
Androgyne is a dark purple, it has that secret shimmer you see in the bottle, but on the nails all you see is a cream color. Sometimes I wish Chanel made the shimmers visible on the nails – it has this pretty almost blue iridescent sheen to it. This one is almost identical to Vertigo (comparisons below).
Emblematique is a sheer blue-based red. It has a slight jelly finish but is still smooth and opaque. On me these kinds of reds apply true to the bottle but then darken as they dry down. Out of the four I would say this is the least unique and most easily dupeable.
Washed Denim is a surprisingly pretty soft blue. Whenever I wear blues on the fingers I often feel like it looks so unnatural. There are lots of lighter blues that I'll still wear or grey blues but for me blue is hard to pull off. This one manages to be muted enough and has some grey tones that it's very wearable for everyday but still different enough that it's not a neutral. I really like this one.
Swatches and close ups of each color. I used 2 coats for application with each swatch, Tulle is first.
Tulle
Androgyne
Emblematique
Washed Denim
Nail wheel comparisons, note the following shades have been discontinued: Majesty, June, Orange Fizz, Paradoxal, Vertigo
Overall I love Tulle and Washed Denim because the colors are flattering and the most unique out of the four. Some may find peach polishes to be fairly standard but for me, if a peach polish has too much brown, beige or yellow it ends up making my olive skin look sallow. Tulle has enough pink in it to work for me. I find Emblematique can be duped by a lot of other sheer blue-based reds. Androgyne looks very similar to Vertigo, so if you already own that one you might want to skip it to avoid dupes. That being said the new Chanel polish formula has improved in pigment and lasting power. You can see previous reviews of the new polishes here, here and here.
I'll have the new Rouge Coco Glosses reviewed and swatched soon. I'm working my way through quite a few of the shades, first impressions are that they do seem to be more lush and more hydrating than the original formula (which I loved). You can find all four of the Le Vernis nail polishes at all Chanel counters and stores now. I ordered all four from Chanel.com.
Have you checked these out yet? Did you pick up any of the colors? If not what have you been wearing on your nails lately?
Happy National Fragrance Day! Spring has just arrived and this is the time of year I start to shift my perfumes to something light or floral. Long-time readers know I love to explore light, clean and modern scents. What I wear changes depending on season, occasion and mood. I try to take my time with testing to see if a scent is something I feel is really me. Perfume is something that smells different on everyone's skin – there are scents that smell completely different on my friends than it does me. I tend to rotate frequently although I've always wanted to have a signature scent. Here in Florida it already feels like spring with warm sunny skies. It's warmer here than it was all winter long in Southern California. I've got spring on my mind and the scents I've been reaching for in the past month along with my husband's go-to scent include:
That rounds up my current favorites for National Fragrance Day! As we transition to spring I'd love to hear about what you've been wearing and whether or not you're changing scents or keeping the same ones in your daily rotation!
Press samples include scents from  Maison Francis Kurkdjian and Christian Louboutin. All others purchased by me.