I have a beauty haul roundup with some new launches from Nordstrom! Tom Ford Beauty recently launched some new products in the Shade and Illuminate lineup and new lip colors. I've been putting the new Concealer and Blush Duos to the test and have a closer look today.
Shade and Illuminate Concealer
I've been a long-time fan of Tom Ford foundations and one of the best splurges I've made is the Shade and Illuminate Soft Radiance Foundation (I wear either 5.7 Dune or 6 Natural). Tom Ford launched a new concealer called the Shade and Illuminate Concealer ($90, currently exclusive to Nordstrom) and I ordered a couple shades in 3W0 Latte and 3W1 Golden.
It's quite the splurge but I really like the super creamy opaque formula. I've found it has phenomenal coverage for under the eye and is crease-proof. Coverage is medium but buildable. It has some skincare elements infused to add a glow and smoothing effect. I prefer concealer to be slightly lighter than my skintone for brightening but try to keep it as close a match as possible.
With this formula I feel 3W0 Latte is a great match for me. There wasn't any oxidizing or darkening so the color works perfect for me.
Swatched below compared to a few other favorites in the NARS Radiant Creamy Concealer, Cle de Peau Concealer and Laura Mercier Flawless Fusion for color reference. If you're similar to my skin tone and prefer a lighter shade for more brightening I'd recommend going lighter to the 2W0 Beige or 2N0 Creme.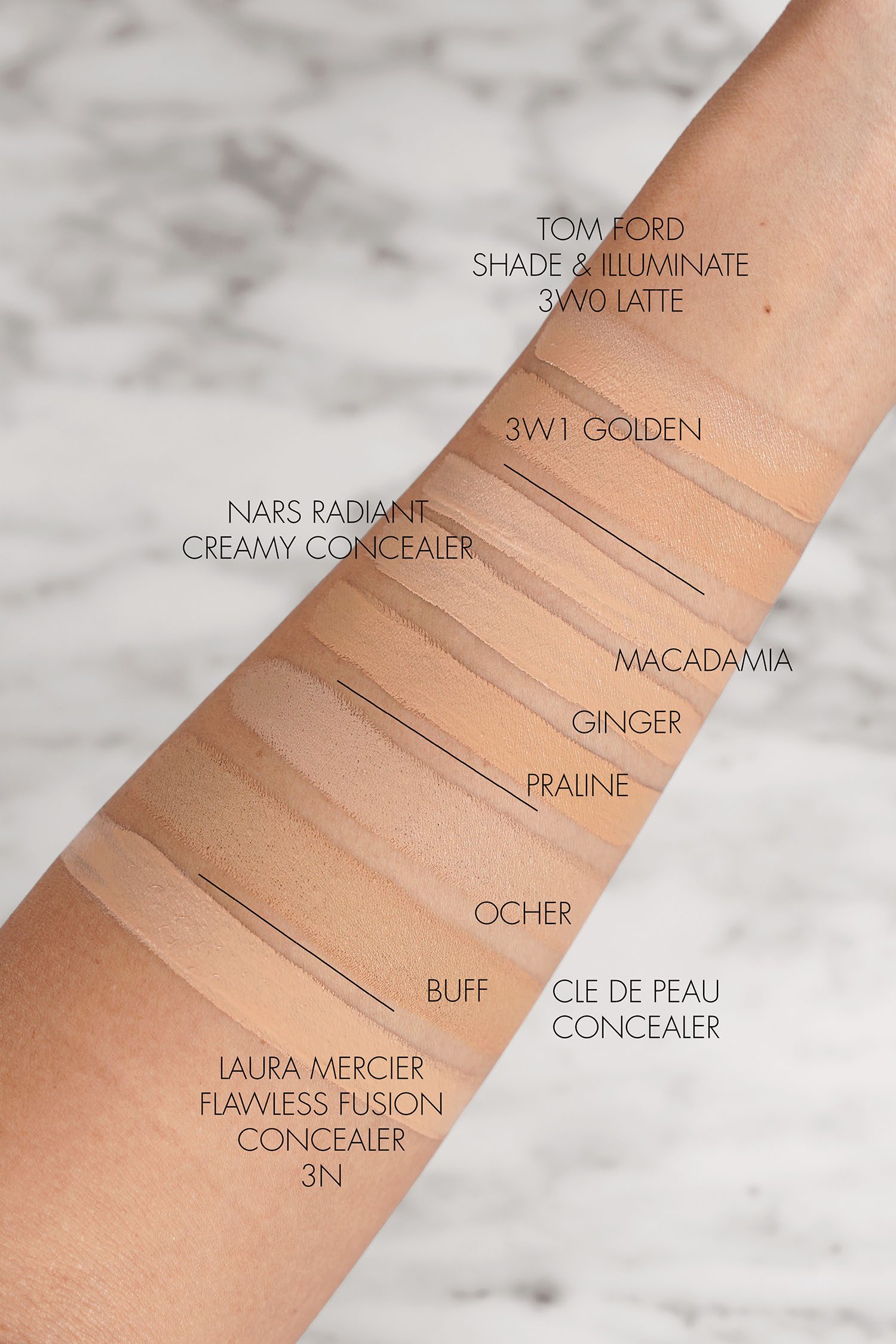 Shade and Illuminate Blush
Tom Ford Shade and Illuminate Blush ($90) is a new formula of blush. There are currently four shades available at Nordstrom. These have a silky smooth texture with sheer to medium coverage. On my skin they have a satiny finish. Each duo has one matte and one shimmer shade but I found the shimmer to be very subtle (almost barely there). So if you love non-shimmer blushes these will be perfect for you!
These apply flawlessly on the skin. If you remember the original Tom Ford blushes they had a subtle micro pearl with a subtle sheen. These pull more on the matte side but have the same beautiful buildable soft texture. I swatched these with a heavy hand on the arm, but you'll see in the face beauty looks below they look quite natural.
02 Explicit Flush has a beige peach shimmer + coral matte
03 Peach Poison has a matte peach + deeper brown with some gold shimmer
04 Cherry Blaze has a soft pink + peachy coral with a slight shimmer
05 Sundrunk has a pink beige matte and a soft rose pearl
Lip Color
I noticed a few new shades of Lip Color ($58) and decided to order 2 of them in Pink Charade and Neutral Party and love them both. Pink Charade is a neutral cool toned pink and Neutral Party is a medium neutral pink brown shade. Both are creams and have smooth full coverage.
Gloss Luxe Moisturizing Lip Gloss
Last I have swatches of the four new Gloss Luxe Moisturizing Lip Glosses ($58 each). These run on the sheer side so they'll add a soft wash of color. They feel really comfortable and hydrating. I find they work best layered over a pencil or lipstick.
21 In the Buff is a pale sparkling champagne gold
22 Sunrise Pink is a pretty pink rose (my favorite!)
23 Bare Assed is a shimmery cool rose-plum with gold shimmer
24 Honeyed Coral is a berry plum with gold shimmer
Beauty looks below wearing:
Look 1: Shade and Illuminate Blush in Explicit Flush, Lip Color in Pink Charade + Gloss Luxe in In The Buff
______
Look 2: Shade and Illuminate Blush in Peach Poison, Gloss Luxe in Honeyed Coral
______
Look 3: Shade and Illuminate Blush in Cherry Blaze, Gloss Luxe in Sunrise Pink
______
Look 4: Shade and Illuminate Blush in Sundrunk, Gloss Luxe in Bare Assed
______
I'm really pleased with everything. The concealer is quite the splurge but performs exceptionally well. It has that same creamy feel as the formula from Laura Mercier and NARS but with better coverage. Out of the blushes my favorite is Cherry Blaze with Sundrunk in close second. I'll have to play around with the lip colors more to see if they're dupeable with other shades but I think Pink Charade is a nice neutral-cool pale pink. For the glosses I think Sunrise Pink is the perfect medium rose pink I've been looking for!
You can find all the items available now at Nordstrom. Have you checked out any of the new launches yet? They just added Byredo Makeup and Westman Atelier to Nordstrom too! I may splurge on one of the Byredo lip colors or balms soon.
SHOP THE POST:
Many thanks to Nordstrom for partnering to sponsor this post. As always all opinions my own.