Chanel recently reformulated their lip gloss with a new formula called Rouge Coco Gloss ($30 each for 5.5 g/0.19 oz, made in France). This is a new and improved version that offers more hydration with a glossier finish and plump feel. As a long-time Glossimer fan I was a bit sad to see the original formula go but since Chanel has revamped a number of other products in their line I think it was inevitable to see a new gloss formula. The new Rouge Coco Glosses have two different formulas, most are a regular lip gloss formula Gel Brilliant Hydrantant / Moisturizing Glossimer, but three shades are what Chanel calls Top Coat Intense / Colour-Intensifying Top Coat designed to layer over lipstick to change color.
There are 30 shades of Rouge Coco Gloss total for the initial launch. At a quick glance there are at least a few that seem to be repromotes (but with different names). We're in the midst of working on a few remodels which will take some time so much of my makeup is stored boxes so I won't be able to do swatch comparisons for old vs new. I received 8 shades as press samples and purchased 8 on my own to review. Some thoughts on the new formula and then swatches of 16 colors below.
The Rouge Coco Gloss formula is described as a "non-sticky, ultra light formula leaves lips visibly smooth and plump, and perfectly brilliant." These are indeed smooth glosses that give the lips an ultra high shine. They aren't tacky or sticky but being a gloss there is still a little bit of balmy gloss feel. On my lips they don't really feel ultra light, but more like a semi-thick balm.
Finish is ultra shiny and glossy.
Pigment and finish varies across all colors. Some are sheer creams, some sheer shimmers, some high sparkle shimmers, others are opaque creams.
There's no detectable scent. Yay!
Compared to the original, the sponges have a curved more cushiony bigger applicator tip which allows for more coverage in fewer swipes.
Formula is hydrating and has a cushiony feel, the new ones are noticeably more cushiony and hydrating compared to the original formula.
Lasting power is pretty good, I've been snacking a lot lately so I haven't had any extended period of time where my lips go untouched to test these. I find they stay put for a few hours without sliding off or fading. They will of course transfer if you drink or eat.
Some of the colors are sheer so my natural lip color shows through making many of these look similar.
These have numbers on the bottom of the sticker, but they also have names which aren't listed on the actual gloss (they are on the boxes).
A look at the old vs new:
I split the colors into color grouping for the swatches, descriptions on each color below as well. As always I've swatched these on bare lips. My foundation shade is Tom Ford Waterproof Foundation in Bisque. First are the light golds and neutrals:
774 Excitation is a top coat, it's a sheer gold that brightens lip colors
712 Melted Honey is a sheer warm golden honey shimmer
722 Noce Moscata (purchased) is a semi-sheer smooth shimmering neutral fawn, love this!
714 Caresse (purchased) is a medium coverage nude brown cream
716 Caramel (purchased) is a medium coverage nude pink cream
Next are the peach orangey shades and the two darker colors I have:
744 Subtil (purchased) is a pigmented shimmering peachy color with pink and gold
736 Douceur (purchased) is a sheer cantelope cream
776 Impulsion is a top coat, it's a sheer orange that brightens and warms up colors
752 Bitter Orange is a pigmented bright orange with a tiny bit of shimmer
768 Decadent is black in the tube, on the lips it's a sheer vampy plum, color is gorgeous but this one went on super streaky and settled into lip lines for me
778 Caviar is a black shimmer in the tube, on the lips it's a super sheer almost black grey gloss, this is a top coat designed to deepen lipstick color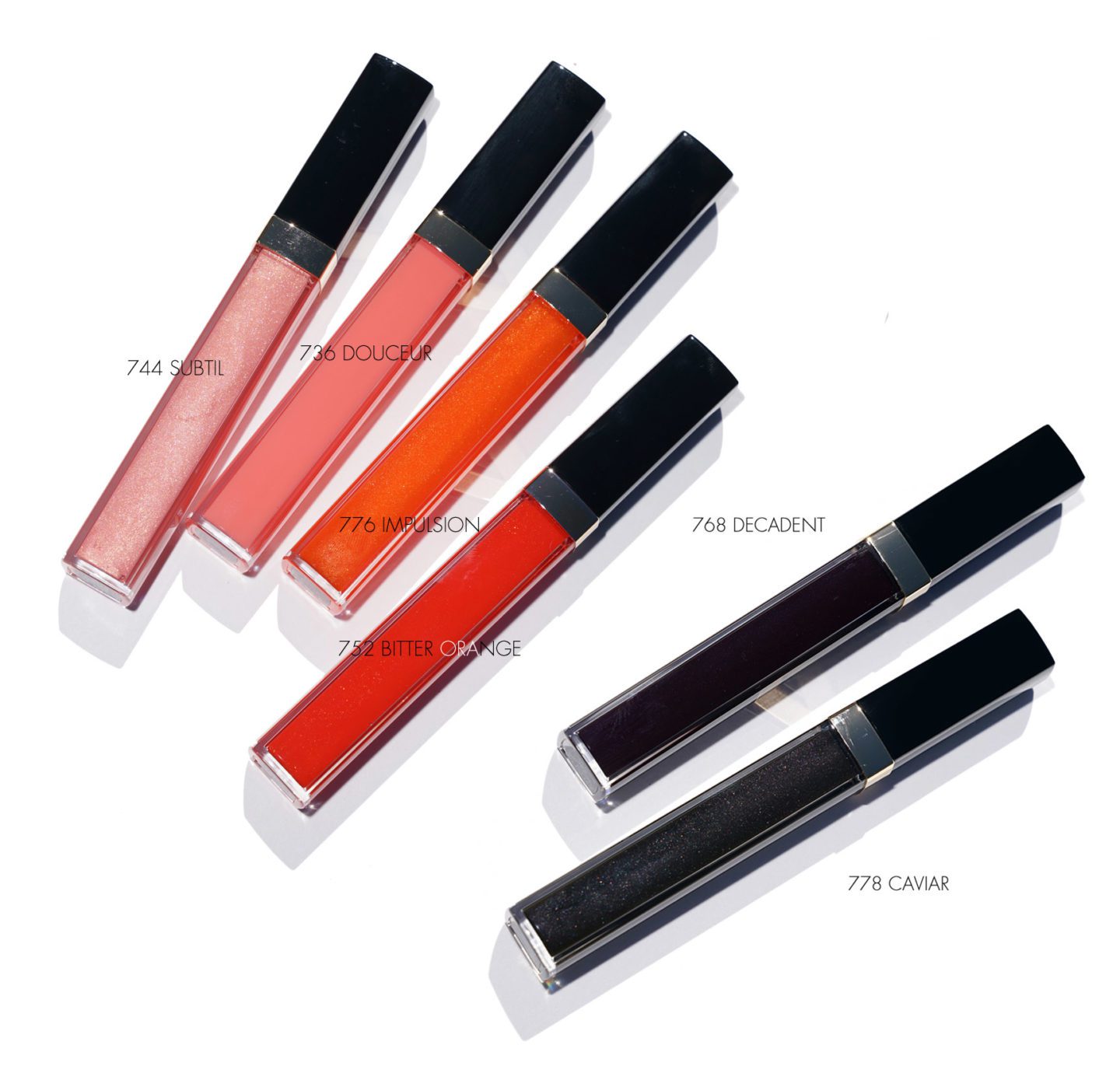 Last set are the pinks:
726 Icing is a sheer pale milky pink, this one goes on smooth without any streaks
119 Bourgeoisie is a medium pigmented shimmering rose with gold flecks, this is almost identical to Wild Rose in the original formula, but the new one feels a lot more sparkly
728 Rose Pulpe (purchased) is a medium bright soft pink with micro sparkles
172 Tendresse (purchased) is another favorite, it s a medium hot pink rose with shimmer
738 Amuse-Bouche (purchased) is a pigmented bright pink with a tiny bit of shimmer
For those curious about how the top coats transform lip colors, I have it swatched over Rouge Coco in Vera (a baby pink) and Suzanne (a medium plum). To recap, 774 Excitation is the gold top coat, 776 Impulsion is the Orange Top Coat and 778 Caviar is the black top coat. I was really skeptical that these would do anything to lip color. I received the top coats as press samples and even after seeing them at the counter they didn't really speak to me until I swatched them on my own. As you can see below they really do shift the color. They're sheer but still manage to change a lipstick. I like Impulsion (the orange one) the best.
Overall, my thoughts are that Chanel has indeed improved the formula. I still have quite a few in the old formula which I adore. I would have loved to see a few more of the original shades in the new formula, but I think there will be a lot we can look forward to in the future. The main differences between old vs new is the applicator change and also the new ones have a cushiony feel with more shine. Off the top of my head, Bourgeoisie looks like Wild Rose, Douceur reminds me of Sirop, either Caresse or Caramel remind me of Giggle.
Since I have pigmented lips and some of these colors are sheer or semi-sheer many look pretty similar on my lips. I was completely blown away by the pigment of Bitter Orange and Amuse-Bouche. Both are brighter than I'd normally wear but I think will be perfect for when the actual summer season arrives. As much as I adore sheer glosses, part of me wishes all the colors had the same pigment as those two. My top 5 color picks out of what I tested: Caramel, Noce Moscata, Amuse-Bouche, Tendresse and Bourgeoisie. My husband commented that my lipstick looked good when I wore Tendresse which made me smile because he rarely comments on my makeup.
You can find the Rouge Coco Gloss at all Chanel counters now. I ordered the ones I purchased online at Chanel and Nordstrom. They retail for $30 each.
8 colors provided as press samples, 8 colors purchased by me.
There are four new Le Vernis Nail Colours ($28 each for 13 ml/0.4 fl oz, made in France) from Chanel that have launched with the new Rouge Coco Gloss collection. The new shades are all creams (non-shimmers) in Tulle, Washed Denim, Androgyne and Emblematique. All four performed well in terms of smooth application and rich opaque pigment. The color selection seems to be an odd mix to me as there is not really a theme but since they aren't really part of a color collection it makes sense that they wouldn't be coordinated or match. My favorite one is Tulle which surprised me. In the bottle I thought it looked like a boring peach but on the hands it's actually just perfect for spring.
I purchased all four colors, descriptions as follows:
Tulle (is the only one listed as limited-edition) is a medium peach, it's the perfect mix of peach with a slight hint of pink, there's no yellowish tone which is perfect for my olive skintone. I don't do back-ups of nail polish anymore but I'm tempted to do so with this one.
Androgyne is a dark purple, it has that secret shimmer you see in the bottle, but on the nails all you see is a cream color. Sometimes I wish Chanel made the shimmers visible on the nails – it has this pretty almost blue iridescent sheen to it. This one is almost identical to Vertigo (comparisons below).
Emblematique is a sheer blue-based red. It has a slight jelly finish but is still smooth and opaque. On me these kinds of reds apply true to the bottle but then darken as they dry down. Out of the four I would say this is the least unique and most easily dupeable.
Washed Denim is a surprisingly pretty soft blue. Whenever I wear blues on the fingers I often feel like it looks so unnatural. There are lots of lighter blues that I'll still wear or grey blues but for me blue is hard to pull off. This one manages to be muted enough and has some grey tones that it's very wearable for everyday but still different enough that it's not a neutral. I really like this one.
Swatches and close ups of each color. I used 2 coats for application with each swatch, Tulle is first.
Tulle
Androgyne
Emblematique
Washed Denim
Nail wheel comparisons, note the following shades have been discontinued: Majesty, June, Orange Fizz, Paradoxal, Vertigo
Overall I love Tulle and Washed Denim because the colors are flattering and the most unique out of the four. Some may find peach polishes to be fairly standard but for me, if a peach polish has too much brown, beige or yellow it ends up making my olive skin look sallow. Tulle has enough pink in it to work for me. I find Emblematique can be duped by a lot of other sheer blue-based reds. Androgyne looks very similar to Vertigo, so if you already own that one you might want to skip it to avoid dupes. That being said the new Chanel polish formula has improved in pigment and lasting power. You can see previous reviews of the new polishes here, here and here.
I'll have the new Rouge Coco Glosses reviewed and swatched soon. I'm working my way through quite a few of the shades, first impressions are that they do seem to be more lush and more hydrating than the original formula (which I loved). You can find all four of the Le Vernis nail polishes at all Chanel counters and stores now. I ordered all four from Chanel.com.
Have you checked these out yet? Did you pick up any of the colors? If not what have you been wearing on your nails lately?
Happy National Fragrance Day! Spring has just arrived and this is the time of year I start to shift my perfumes to something light or floral. Long-time readers know I love to explore light, clean and modern scents. What I wear changes depending on season, occasion and mood. I try to take my time with testing to see if a scent is something I feel is really me. Perfume is something that smells different on everyone's skin – there are scents that smell completely different on my friends than it does me. I tend to rotate frequently although I've always wanted to have a signature scent. Here in Florida it already feels like spring with warm sunny skies. It's warmer here than it was all winter long in Southern California. I've got spring on my mind and the scents I've been reaching for in the past month along with my husband's go-to scent include:
That rounds up my current favorites for National Fragrance Day! As we transition to spring I'd love to hear about what you've been wearing and whether or not you're changing scents or keeping the same ones in your daily rotation!
Press samples include scents from  Maison Francis Kurkdjian and Christian Louboutin. All others purchased by me.
Happy Monday! Hope you had a great weekend 🙂 I have a quick what's in my bag post today. Since moving to Florida I've made a few changes in my bag contents. With stronger sunshine I now carry some kind of sunscreen with me to reapply. For some reason I've found my skin feels a bit more dry, especially with the hands so I carry more hand cream. I also carry more perfume with me on-the-go. Our first days here we got a lot of bug bites and since I usually swell up with any kind of bite I was in a bit of a panic. With bites I spray perfume on the bite as soon as I feel something swell or see a tiny dot. For some reason spraying perfume immediately helps stop the itching and swelling for most bites (at least on me). We did some research and found that the bugs usually come out at dusk so we've tried to avoid the outdoors during that time and haven't had another bug bite since.
What I've had in my bag lately:
Full list of what I have in my bag:
That wraps up what I've had in my bag for the past few weeks. If you have sensitive skin and have any sunscreen favorites please share in the comments! Open to any brands or formulas, preferably ones that don't leave a white cast on the skin!
What do you have in your bag right now?
Last month I was lucky to get an early sneak preview of the Tom Ford Summer Soleil Collection in Los Angeles at Violet Grey. I went with my friend Rae from The RaeViewer and we were able to check out everything and get our makeup done by their National Artist Executive Allan Aponte (he's amazingly talented). Both Rae and I are huge Tom Ford fans – we still remember the first time we each splurged on a Tom Ford lipstick, so being able to play with the new collection together was just the best. You can see a few sneak peeks of her makeover on her YouTube channel (I'm kinda proud of these clips because it was my first time filming someone!).
In today's review I have the following new items to share with you:
For quick reference to those who want to know what else is in the collection, other items includes the Ultimate Bronzer in Terra, Fire Lust Skin Illuminator (repackaged in the same size as the Shimmer Shots), a Bronzing Gel and the Soleil Contouring Compact in a new shade Soleil Afterglow, Soleil Eye and Cheek Palette. Some of the Soleil Blanc items have been launched in more body product formats as well.
Up first are the new Ultimate Bronzers which are the large size bronzers in a new formula. The Small Bronzing Powders have been repromoted and the colors/formula remains unchanged (swatched last year here). The larger ones come with an almost creamy texture that have a subtle luminosity and blend on the skin beautifully. I want to warn you first that they swatch on the arms and hand very orangey – but I promise on the face it looks amazing. On the skin it has a semi sheer finish but the pigment is enough to give the skin a warm slightly bronzed healthy look.
Here are the two new ones swatched compared to the original formula (which you can still find in the small size). Note that I swatched these with a heavy hand so you could see the color variation – on the face with a brush they apply a lot sheerer and look very natural.
Both Rae and me after our makeovers. We both are wearing the bronzers in Gold Dust with the Reflects Gilt Highlighter. You can see below the bronzer doesn't look orangey on us but rather warms up the complexion. Also as a side note her skin is always glowing in the most beautiful way!
There's a new retractable brush called the Soleil Bronzing Brush made with synthetic material. We were told at the event that Tom Ford brushes are all going to be made with synthetic materials going forward. I've bought quite a few of the original ones which I love so I will do some investigating to compare the new to original launches. Given how well made this new one is I have high hopes they will continue to be just as good in quality. The Soleil Bronzing Brush has a tapered tip and comes in a beautiful white and gold packaging. I love how soft it feels – it almost feels like a kitten it's so soft!
I'm pretty much excited about everything in this collection, but if I were to pick my two favorites it would be the cheek duos. There's a Sheer Highlighting Duo in Reflects Gilt which has two variations of beautiful gold shimmer. It has the most incredible formula like a metallic cream to powder that almost has a wet sheen. It looks incredible on the skin and just the tiniest amount dabbed with a brush gives the skin an amazing glow. I saw it on several members of the Tom Ford team, one who has fair complexion and it looked like a blush on her. On me it's a highlighter that can be easily layered. Pigment is smooth and flawless. It's just so so pretty. For the cheeks there's a new Sheer Cheek Duo called Paradise Lust. This is a more coral version compared to the previously launched Bi-Coastal. Paradise Lust has an iridescent champagne gold and a satiny coral. Mixed this is perfect for summer.
All three duos swatched side by side:
For the eyes there are two new Cream and Powder Duos called Young Adonis (silvery taupe) and Sun Worship (gold). Two colors have been repromoted in Golden Peach and Naked Bronze (both long-time favorites). If you scroll up to the photo above of me and Rae, I'm wearing Young Adonis on the eyes and Rae has Sun Worship (it might be hard to tell with the lighting in the studio). So many of you wanted to know if the cream in Young Adonis was a dupe for Platinum. I thought that was the case the minute I saw it but Allan confirmed it was lighter in color (a swatch below will show the difference). Sun Worship is a yellowy gold which looked so so pretty on Rae. I find it wearable on me too but if you don't like yellow golds, I'd say skip this one.
Swatch comparisons of the cream sides to Tom Ford Opale and Platinum (review here) and the Charlotte Tilbury Eyes to Mesmerize in Norma Jean and Marie Antoinette (review here).
Last but not least are the Clutch-Sized Lip Balms. These are the same size as the Lips and Boys and are just the cutest! The balms are super comforting and come with a dome tip. All but two of the colors look really bright but since they are balms they give the lips that really pretty soft pop of color. I love sheer brights because they give the lips a nice glow but don't look overdone. The texture is really smooth and they glide on the lips easily. Since they are balms they won't last as long as a lipstick but they stay put in the sense that they won't disappear within minutes. The day I went to the event in LA I took a flight right afterwards to meet my husband in Tuscon, AZ. He was driving the moving truck while I was at the event and we met up in Arizona. I had the balm applied around 11:30 am and it stayed put and did not budge for 6 hours. The only reason it came off was because I stopped at the airport for a snack because I forgot to eat that day with the travel and moving things on my mind.
Swatches applied straight from the tube:
L'Odissea  is a sheer peach
Neotropic is a pretty orange coral
Cruising is a cool sheer pink
Fathom is a cherry pink
Pure Shores is a pinkish red
La Piscine is a sheer plum
Below the colors can be intensified if you apply with a lip brush:
Swatched on bare lips straight from the tube. On me Fathom and Pure Shores almost look identical. It's hard to tell the difference even in the tube. I cannot pick a favorite –  I love them all.
Bottom line lots to love to refresh your look. As a Tom Ford lover and long-time collector I was a bit worried there would be a lot of repeats or colors that looked the same. At first glance the theme and look is very similar to past launches, but if you give them a chance you'll find there are actually quite a few new items that are different enough to justify adding to your collection. I love the cheek duos and the new bronzer formula is really good – but given that I have a LOT of bronzer I wouldn't call them must-haves. A the same time I really like the formula and and they are very wearable. For the eyes I love Young Adonis – I'm a taupe-silvery eye shadow lover but Golden Peach and Naked Bronze are still my favorite out of all the eye duos. The lip balms are super fun – I think everyone needs at least one even though they are the splurge they really do a good job of adding hydration to the lips in a way that doesn't feel thick or goopy.
My top picks: Reflects Gilt, Paradise Lust, Young Adonis and any one of the Clutch-Sized Lip Balms.
You should be able to find the collection at all Tom Ford Beauty counters now. Since I've moved I no longer have one close to me so I ordered the eye duos online at Sephora. You can also find Tom Ford Beauty at Violet Grey, Nordstrom, Neiman Marcus, Saks Fifth Avenue, Beautylish, Net-A-Porter and Tom Ford.
Many thanks to the Tom Ford team for inviting me to the preview! Summer Soleil collection provided courtesy for review with the exception of the Cream Powder Duos which were purchased by me.