Happy Friday – I'm excited to share a roundup today with 10 new spring beauty launches I think are worth the splurge! I have a mix of makeup for eyes, lips and cheeks that I've been testing out recently and have teamed up with Nordstrom to share a look at some of my favorite haul picks.
(Top photo wearing MAC Studio Fix Tech in NC35, Gucci Pressed Powder in Shade 5, Anastasia Beverly Hills Brow Wiz in Medium Brown, Bobbi Brown Eyeshadow Palette in Golden Nudes, Laura Mercier Blush in Fresco + Bellini, Charlotte Tilbury HappiPeach)
Foundation + Powder
MAC recently launched their new Studio Fix Tech Cream-To-Powder Foundation and it is amazing! It's a solid cream foundation described as a lightweight sweat and humidity-resistant foundation with medium coverage and a natural matte finish. It's like a foundation dream come true! Coverage is medium and it smooths the skin in the most beautiful way. This one lasts all day, melts beautifully into the skin, covers my imperfections and dark spots. I like that it doesn't cake or crease and looks nice and fresh all day. Shade-wise I picked up both NC30 and NC35, I can wear either shade (wearing NC35 in this post).
Bare skin vs MAC Studio Fix Tech in NC35:
As a lover of cushion foundations, I couldn't be happier to learn that Chantecaille launched a new one. The Future Skin Cushion Skincare Foundation is a water based formula with medium dewy coverage and long lasting power. I like that it is both blurring and smoothing at the same time – when you press it into the skin it melts in nicely and is easy to blend. Once it sets it stays put and does not budge. The Shade in Wheat is my perfect match.
The Gucci Poudre de Beaute Mat Naturel Pressed Powder has finally arrived in the US! It's a sheer medium powder that is lightweight powder that sets foundation in a very natural way. You can use the sponge for more coverage but I like applying with a brush. It's nice for touch ups and feels comfortable on the skin. It has a floral scent but it did not irritate my skin. I have been using Shade 04 or 05 and both work for my skin tone.
Cheeks
I've written about a number of different blush favorites from NARS, Charlotte Tilbury, Chanel and a few other brands, but my latest obsession is the Laura Mercier Blush Color Infusion Powder Blush. I've been loving Fresco for a perfect natural soft tan with a hint of shimmer. I recently bought Ginger which is lighter and it gives the prettiest soft tan peach glow. There are four newer shades that are perfect for that natural glow. Guava is a light pale peach, Bellini is a pretty bright light peach, Watermelon is a pale pink with a light pearl finish, Passionfruit is a softer pink. If you want a good soft natural blush that won't oxidize or look muddy, I highly recommend checking out the colors from Laura Mercier.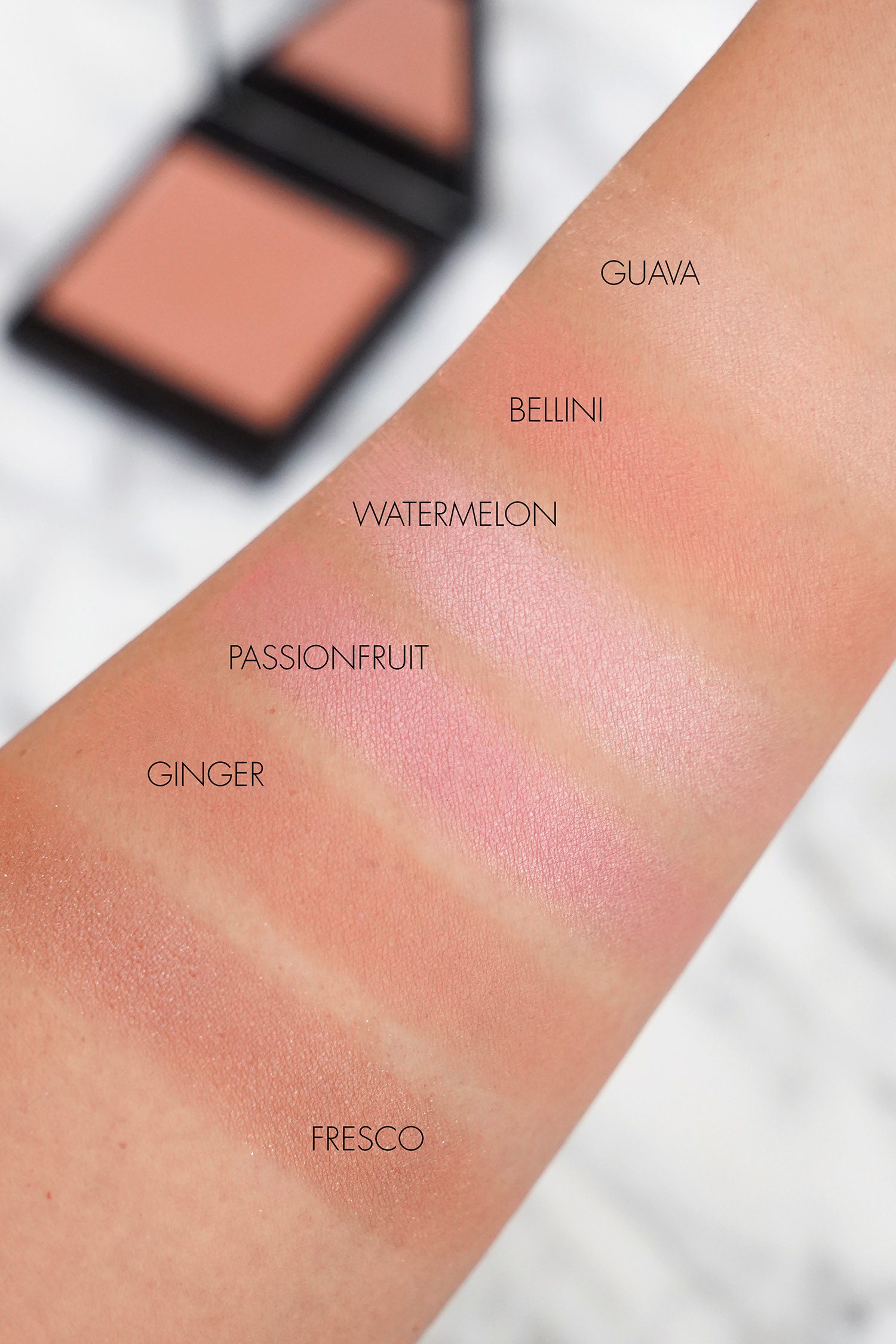 Eye Makeup
Two new eye discoveries include the Bobbi Brown Real Nudes Eyeshadow Palettes in Golden Nudes and the Gucci Stylo des Yeux Eye Pencil in Noir. The Bobbi Brown Golden Nudes palette has the perfect mix of neutrals in golden and brown tones for a polished eye look. If you want shimmers that aren't super frosty or too trendy this one is a great one to look into. The middle shade looks orangey but on the eyes it's perfect to warm up the eye for a summery look!
A number of you have asked for a smudge-proof eyeliner and I think I've found a new favorite. The Gucci Stylo des Yeux Eye Pencil in Noir is smooth, ultra pigmented and once it sets it does not budge. I picked one shade in black to try, but based on how long it lasts I think I'm going to try a couple more shades.
Neutral Lips
You girls know I'm such a huge nude lip lover! I picked up some new shades to try. The new Rouge Dior Lipstick in 100 Nude Look (matte) combined with the matching Contour Lip Liner in 100 Nude Look is my perfect everyday neutral. The matte lipstick is a full coverage weightless matte that has a smooth finish (no tugging!). The lip pencil is a long wear formula that helps extend the wear of the lipsticks.
Bobbi Brown added some new shades to the Crushed Lipstick formula and I picked up Buff which is a lighter neutral pink beige. It has smooth medium-to-full coverage and it comes in a wide range of shades and undertones. I really like this one! I swatched these next to a few others from MAC for reference including the classic Matte Lipstick in Velvet Teddy, new Powder Kiss Lipstick in Teddy 2.0, Powder Kiss Liquid Lip in Date Maker, and Lip Pencil in Subculture.
If you're looking for a tinted balm with lots of pigment, definitely check out the Charlotte Tilbury Hyaluronic Happikiss Lipstick Balms. This a rich glossy balm with lots of color. Crystal Happikiss (soft pink) is one of the sheerer ones but still shows up on my lips. Happi Peach is a pretty pigmented peach. Pillow Talk is a soft rose (this formula is warmer than the lipstick version). Enchanting Kiss is the prettiest rose pink. Lasting power is medium since it's a balm but if you add a lip liner underneath you can extend the wear. They're comfortable and hydrating with a subtle vanilla scent.
Makeup looks wearing MAC Studio Fix Tech in NC35, Gucci Pressed Powder in Shade 5, Anastasia Beverly Hills Brow Wiz in Medium Brown, Bobbi Brown Eyeshadow Palette in Golden Nudes, Laura Mercier Blush in Fresco + Bellini.
That wraps up my new beauty roundup! If you've been looking at any of these newer launches I hope you found the swatches and review helpful! You can find all of my picks at Nordstrom.
Shop the Post:
Many thanks to Nordstrom for partnering to sponsor this post. As always all opinions my own. All items featured purchased by me.