I hauled the four of the five items from the Hourglass Ghost Holiday 2019 Collection and have swatches of everything today. There are two new Ambient Lighting Palettes and they're absolutely gorgeous but I have some mixed thoughts about them. Right now there are two Confession Lip Duos and I opted for the one with a neutral nude pink + plum. For the eyes Hourglass has a Scattered Light Trio with minis of their scattered light shadows (two repromotes and one new shade). Overall I find the launches easy to wear for my medium-tan skin, if you're swatching in store note that the powders can look more glittery than they are in normal everyday lighting. The store lights emphasize the tiny sparkles and make them look like they could be a glitter bomb. Rest assured that while they are indeed glowy – both palettes are wearable for everyday even for those who are super conservative on the shimmer. In today's post:
Hourglass Ghost Ambient Lighting Edit Palette
The Ambient Lighting Edit Ghost Palette has three repromotes and three new shades. I ended up loving it more than I thought I would, but I think at this point most of us can agree that we would like to see all new shades and more options for tan to deeper skin tones. I'm more on the tan side and find the colors show up well. The palette as a whole gives the skin a soft diffused glow. I really love the concept of Dim and Diffused Light as soft light reflecting setting powders but have always wanted those powders in darker color options. I was surprised to find that both still work for my tan skin to set and they did not make my face look chalky even though they are pale. Shades include:
Finishing Powder in Dim Light – pale peach pink with a satin shimmer
Finishing Powder in Diffused Light – ultra pale yellow finishing powder
Strobe Powder in Iridescent Strobe Light – pale shimmery pink
Bronzer in Eternal Bronze Light – the softest bronze I've seen from Hourglass, a satiny soft non-orangey bronze
Strobe Blush in Iridescent Rose – the prettiest iridescent healthy looking pink glow, I would LOVE this in a full size individual option
Blush in Sublime Flush – soft light-medium rose pink shimmer
Below wearing: Tom Ford Flawless Glow Foundation in 6.5 / Ambient Lighting Palette Ghost with Dim Light to set, Sublime Flush + Iridescent Rose on cheeks / Confession Lipstick in I Cherish
Application is smooth, soft, easy to blend and stays put all day. For the three new shades the Eternal Bronze Light bronzer is the most neutral soft bronze I've seen from Hourglass, it can double as a neutral contour. The Iridescent Rose is a beautiful shimmering rose it's on the sparkly side with tiny gold flecks. Sublime Flush has a similar but paler/cooler compared to Surreal Effect (in the Ambient Quad and also in Surreal Light 2016). Overall I think it's a beautiful palette complete for a full face look. I would give it 10 out of 10 stars if it did not have Dim/Diffused Light. They've repeated these shades in so many palettes and have them available individually, I would have really liked to see new colors.
Ghost Ambient Lighting Blush Quad
The Ghost Ambient Lighting Blush Quad is a new format which I really like! It's small and more compact – I really like the concept. It's still fairly expensive but I think the colors are gorgeous.
Blush in Surreal Effect is a repromote from the Surreal Light Palette 2016, it's a medium soft pink shimmer swirled with a deeper magenta pink
Strobe Blush in Brilliant Nude is a repromote, available individually, this is a shimmering champagne swirled with a tan bronze sparkle
Strobe Blush in Lucid Glow is a shimmery coral swirled with a soft gold
Infinite Flush is a soft pink swirled with a mauve
Below I've swatched with a heavy hand to show the color but they apply sheerer on the face and blend out easily for a soft glow.
Wearing: Tom Ford Flawless Glow Foundation in 6.5 Sable / La Mer Pressed Powder in Medium / Hourglass Ambient Lighting Blush Quad with Lucid Glow + Brilliant Nude mixed / Urban Decay Naked Reloaded Palette / Hourglass Scattered Light in Foil / Hourglass Unreal Lip Gloss in Truth
I like Lucid Glow the best in this palette, I'm a sucker for any coral peach blush because I think it brightens up the complexion beautifully. The other shades are also lovely, I do like Brillant Nude for a nice highlight that isn't your traditional pale champagne. Application is smooth and easy to layer/mix.
Ghost Confession Refillable Lipstick Duo
I bought the Confession Lip Duo as an impulse buy and kinda regret it mainly because I have similar colors already. The colors are beautiful and easy to wear though. I Cherish is a pretty nude pink and You Inspire is a beautiful deep plum that doesn't turn red (a lot of plums look too red, blue or pull too vamp on my skin). I really have nothing to complain about as the colors are wearable, require no tweaking and glide on the lips beautifully. I feel like I could have definitely shopped my stash.
Wearing on the left: Tom Ford Flawless Glow Foundation in 6.5 / Ambient Lighting Palette Ghost with Dim Light to set, Sublime Flush + Iridescent Rose on cheeks / Hourglass Confession Lipstick in I Cherish
Wearing on the right: same base, on the cheeks Ambient Lighting Palette Ghost with just Eternal Bronze Light / Hourglass Confession Lipstick in You Inspire
Scattered Light Glitter Shadow Collection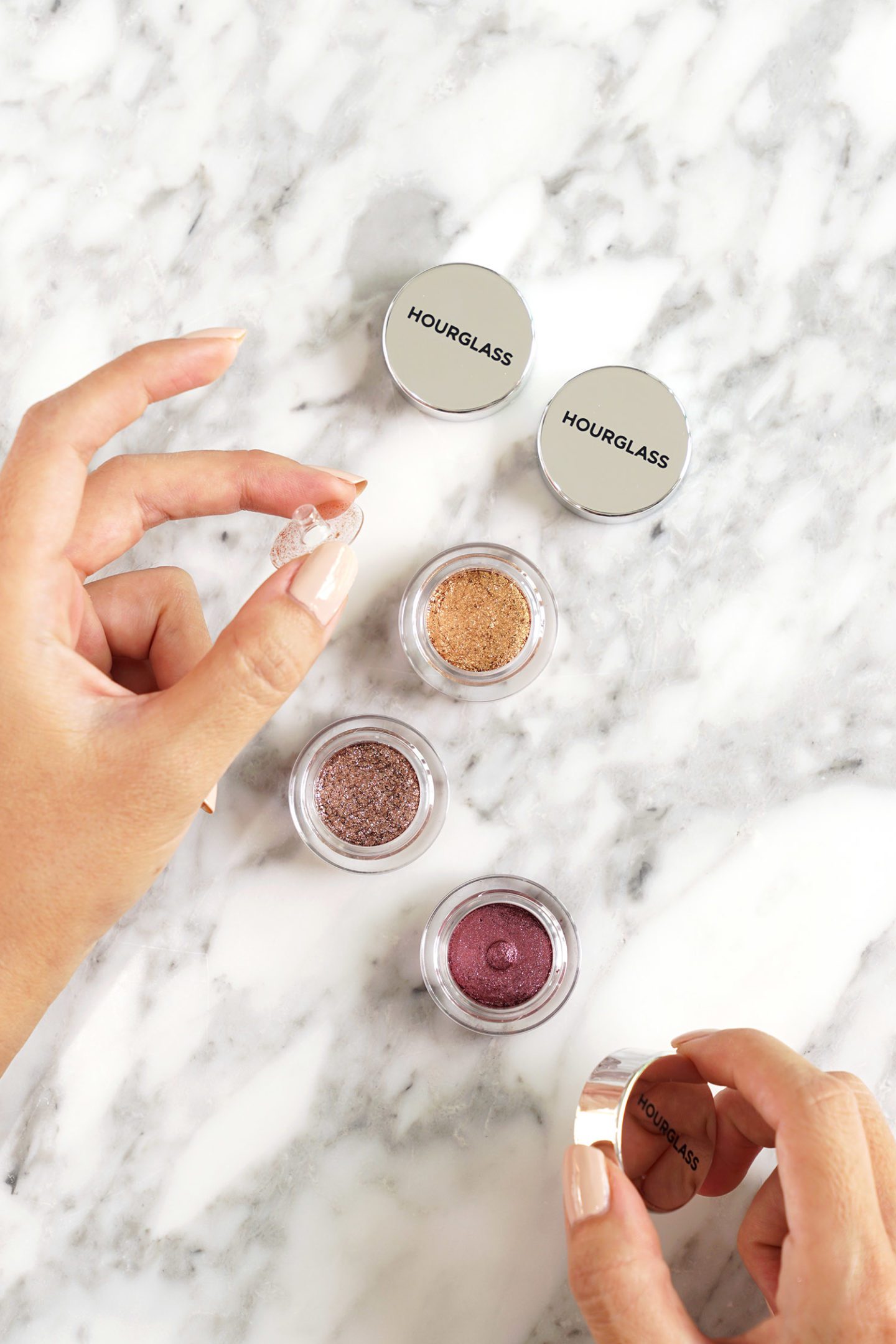 The Scattered Light Trio has miniatures of the Scattered Light Eyeshadows. I already own two of them but did not mind having repeats as I plan on regifting the minis to friends. The trio shadows are smaller at 0.07 oz each versus the 0.12 oz of the full size. I don't normally don't mind minis but I like to apply these with my finger and found the smaller size a little bit tricky to stick my finger in without getting product under my nail. It's not impossible and you can definitely get a brush in there. Foil is a beautiful gold shimmer, Ray is a sparkling taupe and Molten is a beautiful shimmering plum. I really wish they had Molten individually in the full size because that one is beautiful!
Other individual colors swatched here and here.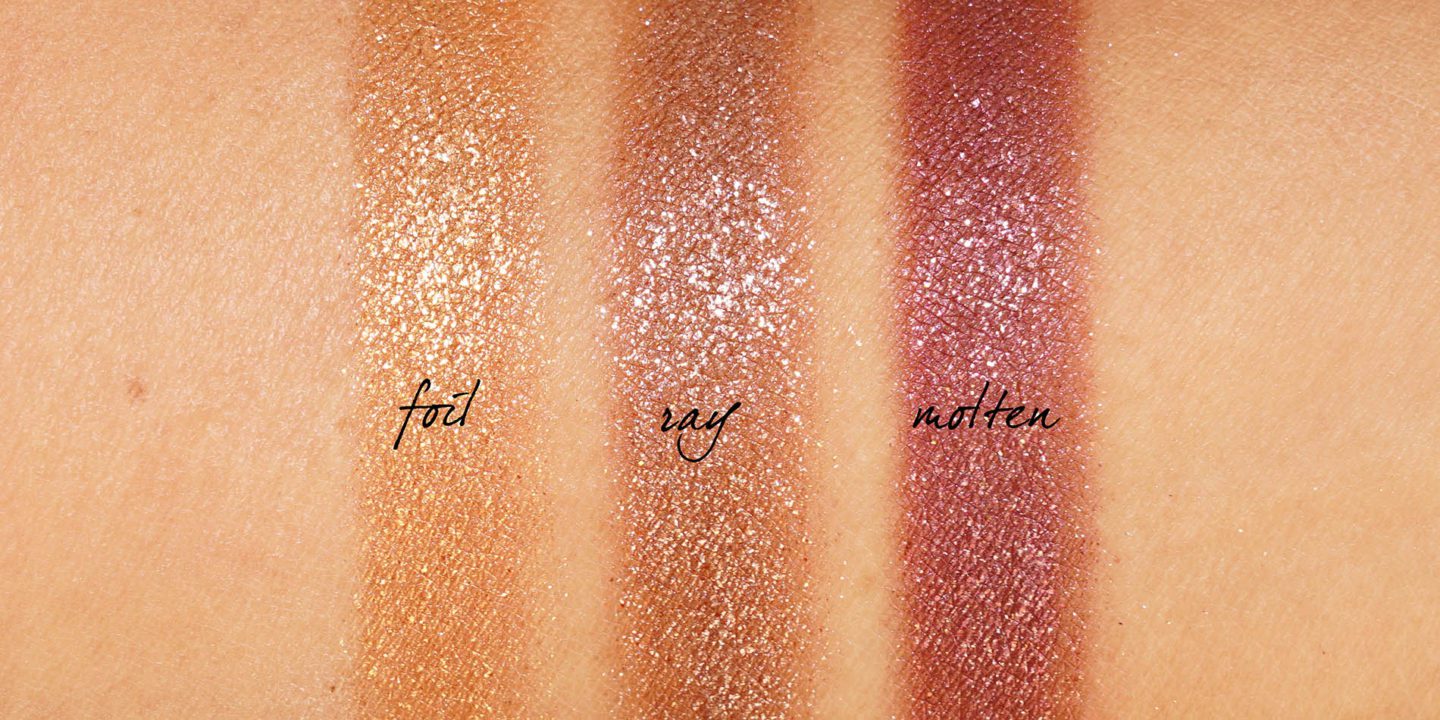 Below look wearing Scattered Light in Molten:
Overall I'm pleased with my haul picks. Quality-wise everything performs well. As irked as I am that the 6-pan palette has 1/2 repeats I think it is lovely and I do think it was worth the splurge. If I had to pick one palette between the two I think the 4-pan quad is the more unique option although I'm so smitten with that Iridescent Rose Strobe Blush in the 6-pan palette. The Confession Lipstick is among my favorite lipstick formula for a creamy opaque lipstick. Color-wise the new launches are very wearable but not unique.
I think the Scattered Light Trio is a nice way to try three shades at a more affordable price although I do prefer the individual larger sizes because I can apply them easier with my fingers. I also like picking my own colors. Out of all the colors I own I wear Blaze the most, followed by Ray these days.
You can find the Hourglass Holiday 2019 Ghost Collection out now. I hauled my picks from Nordstrom and Sephora. Also available at Hourglass Cosmetics.
Have you tried anything from the collection yet? I have some more holiday I'm working on including selects from NARS holiday and I just ordered most of Tom Ford Soleil Neige. There will also be some new lip posts coming up!