There are lots of new beauty launches at Sephora and I have a haul roundup review of what I've tried and loved. If you're not a Beauty Insider yet I highly recommend doing so! It's free to sign up and opens access to a lot of benefits like free samples, early access to new launches and events and more! You can sign up here. You can also receive free shipping on all orders with code FREESHIP.
New Kosas
Kosas Revealer Skin Improving Foundation ($42, available in 36 colors) is a new foundation with skincare and SPF25. It has medium natural looking coverage with a dewy finish. It has ingredients to improve and brighten skin tone over time. My match is Medium Neutral Warm 230. I pair it with the Revealer Super Creamy Concealer ($28) in Tone 05 for concealing and brightening and top it with the Cloud Set Baked Setting Powder in Comfy to set. So far I love the finish, coverage and wear!
Rare Beauty
The Rare Beauty Always an Optimist Soft Radiance Setting Powder ($22) in Light Medium is one of my favorite purchases this year. It's a great soft setting powder that looks natural and lasts all day. I also ordered the Always An Optimist Powder Brush ($28) and love how soft it is! Highly recommend!
The Rare Beauty Warm Wishes Effortless Bronzer Stick ($23) are 100% worth tracking down (they keep selling out, but you can add your email to their website for the restock alert). I have two shades in Happy Sol and Always Sunny and love these. They have an easy to blend creamy texture and look natural on the skin. Below wearing Always Sunny. I use these as a bronzer or contour.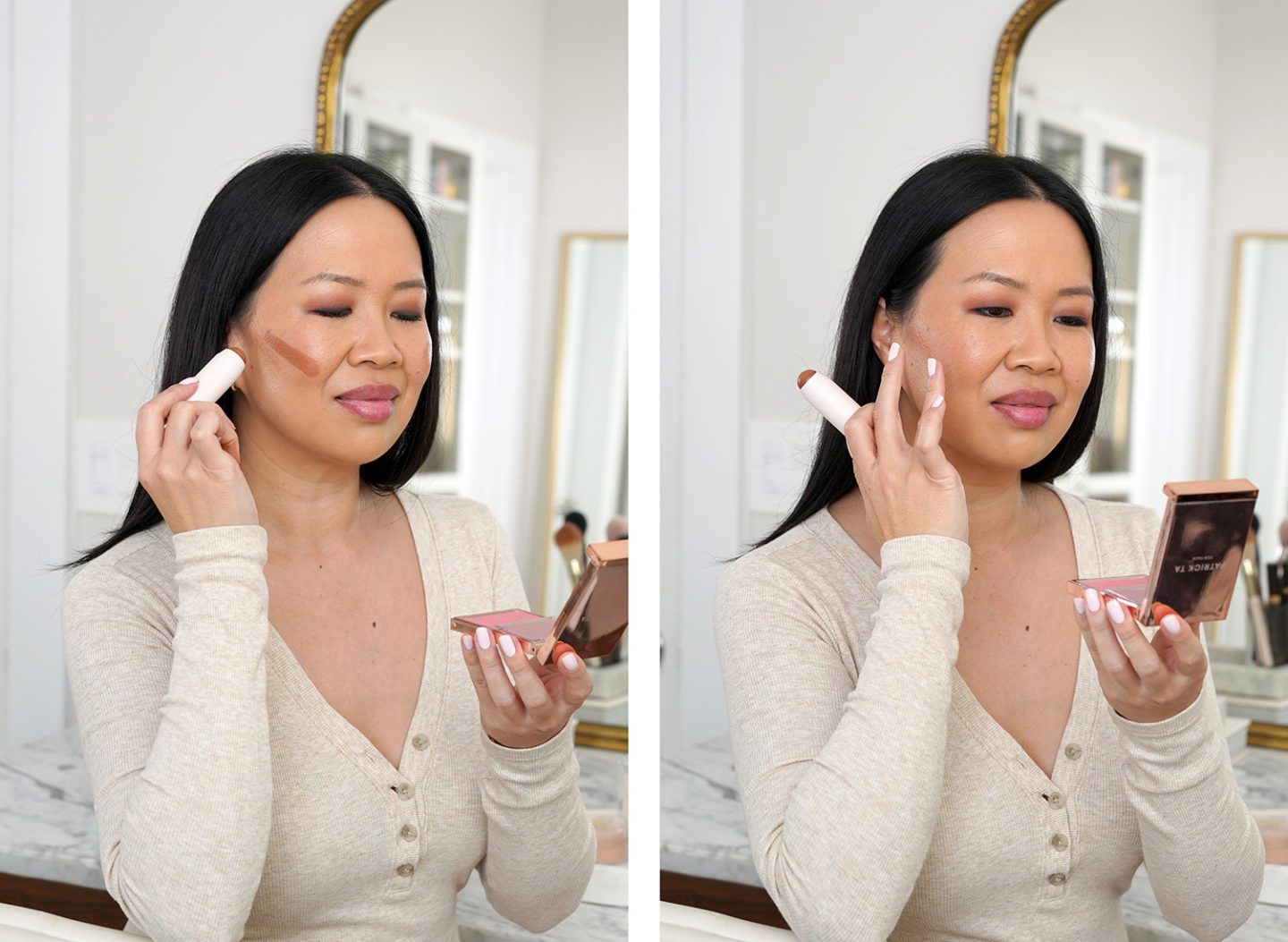 Patrick Ta Beauty Newness
Next we have some newness from Patrick Ta. The Major Beauty Headlines Double-Take Crème and Powder Blush ($34 each) are really good! I picked two to try in She's Blushing (beige pink brown) and She's That Girl (pink tones). I love the formula and packaging (cream has a cover protector inside)! Colors are super flattering, texture is divine, I want to check out more colors.
Another new launch is the Patrick Ta Major Volume Plumping Lip Gloss ($24 each). These are beautiful plumping glosses without the sharp tingle (I feel like the tingle is mild on these). The shine is really pretty. They have a cinnamon almost ginger like scent to them. I like 2 CC's the best (warm pink) but they're really all good.
Left to right: Pouty (clear sheer pale pink), Superficial (beige), 2 CCs (warm pink)
Tom Ford Bitter Peach
Always excited for Tom Ford Beauty newness so I had to try the Bitter Peach Eyeshadow Quad in Belle de Peche ($89) and Bitter Peach Lip Color Matte ($58) in Cherie. The quad has a unique texture, almost like a stiff creme-matte formula. It's different from any of their other quads so formula might not be everyone's cup of tea. I love it though. The peach tones are soft and muted but pigment definitely shows up on the eyes. The look is tied together with a dark brown liner for me.
The Lip Color in Cherie couldn't be more perfect for me. I love the neutral peach pink tones!
Lawless Plumping Lip Gloses
The Lawless Forget the Filler Lip Plumping Line Smoothing Glosses have been on my radar for a while so I decided to give them a try. These are thick high shine glosses with a plumping effect. My favorite so far is George which a pretty cool-toned brown mauve, I also love Glazed.
New Hair Care Loves
Last a look at some hair care and skin care items I've tried and loved. dpHUE launched an entire line of Color Fresh styling products and I've been slowly working my way through testing them. So far I like the Color Fresh Leave-In Conditioner Mist ($28) the best. It's a lightweight spray on conditioner treatment you leave on. Multitasks to detangle, protect and prime the hair. Leaves my hair smooth and fresh looking after a blow out. Also smells amazing!
My favorite dry shampoo of the moment is the Living Proof Perfect Hair Day Advanced Clean Dry Shampoo ($30) to absorb excess oil and refresh the hair in between washes.
Oribe's Hair Alchemy Line is a new launch and I love it to strengthen the hair. I've been loving the Hair Alchemy Strengthening Treatment Serum* ($64) for a good styling product that doesn't weigh down the hair. I use it on damp hair before using heat tools to smooth and protect the hair.
The Color Wow Dream Coat Supernatural Spray ($12 to $58) is one of the best anti-frizz treatments I've tried. I plan on ordering the mini to take on travel with me. It coats the hair evenly to help smooth out the hair and block humidity. They recommend using every 3-4 shampoos (I'll use it once a week). 100% lives up to the hype for me.
Skincare Highlights
I love a good clarifying cleanser and the Glamglow Supersmooth Acne Clearing Mask to Scrub ($34) is a newer one I really love. It's a great detox cleanser to clear out pores without stripping the skin. Contains salicylic acid, charcoal, kaolin clay and silica beads. It reminds me of the Jack Black Deep Dive Glycolic Facial Cleanser where you can also leave it on to use as a mask (just with different ingredients).
The Supergoop! Daily Dose Hydra-Ceramide Boost SPF 40* ($46) is another winner for me. I use it in place of moisturizer and apply to clean skin. My makeup layered well on top and you can also layer their Unseen Sunscreen on top as well if you want. I used the oil on my recent getaway trip every day we were away and it was effective and didn't irritate my skin.
That wraps up my Sephora haul! If you've been curious about any of these new launches I hope this roundup review helps you decide on what to try!
Shop the Post
Sponsored by Sephora. As always all opinions my own. Press samples have a * next to them, all other items purchased by me.