I have my Nordstrom Anniversary Sale Beauty Haul Round 2 today with my picks in hair care and fragrance! If you have favorites in any of the lines there are some great bundles and savings available in sets. I've rounded up the Best Hair Care + Fragrance Sets I've found at Nordstrom Sale this year. Anniversary Sale Beauty Exclusives here. Don't forget to check out the Gift With Purchase options too!
Anniversary Sale is available to shop for Icon, Ambassador and Influencer Card Members now! Public Sale starts July 28 and runs through August 8th.
HAIR CARE
Oribe Magic Duo Full Size Gold Lust Dry Shampoo & Dry Texturizing Spray Set ($64 sale price, $96 value) is usually available in a value set or travel sizes during this sale and this year they have the full size duo. I love the Dry Texturizing Spray to add soft texture and definition! The Gold Lust Dry Shampoo is one of my favorites.
Oribe Gold Lust Shampoo and Conditioner Set ($90 sale, $136 value) comes with full and travel sizes of the Gold Lust Shampoo + Conditioner! One set for home and another for travel. I usually buy the jumbo sizes when I order this but the set looked really good for travel.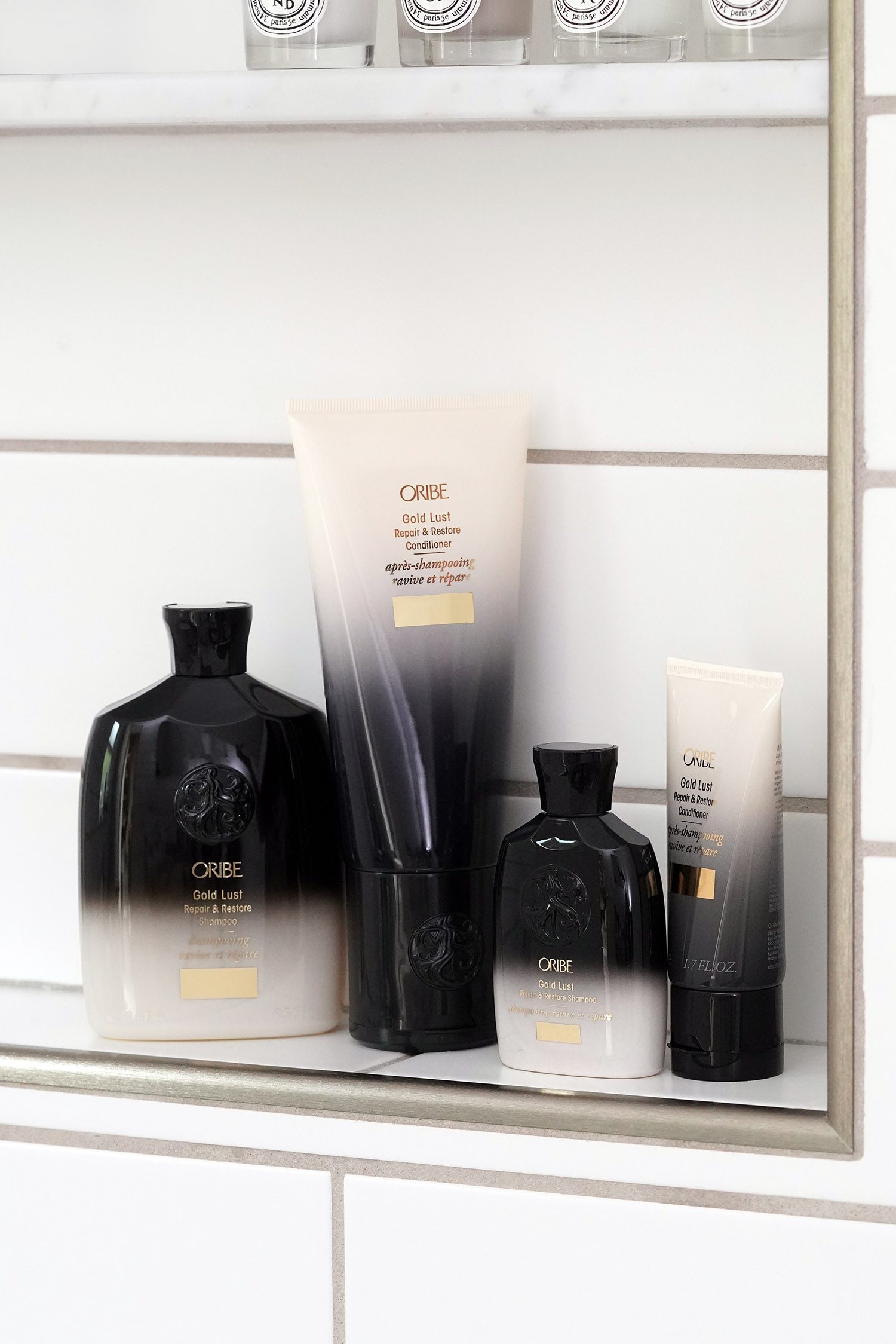 Olaplex Bond Maintenance Hair Care Set ($84 sale, $126 value) my most-used shampoo and conditioner formula for the past year! Has the No 3 Hair Perfector, No 4 Bond Maintenance Shampoo and No 5 Bond Maintenance Conditioner. I relied heavily on this formula when I had color treated hair but it's still good for those with natural hair.
BODY CARE
Kopari Full Size Coconut Melt Set ($35 sale, $56 value) it's been a while since I restocked on the Kopari Coconut Melt and I forgot how nice this is to have for dry skin days. It's so versatile to use as a moisturizer or in the bath. I love the Tropical Coconut scent, it's similar to the original just a little more sweet.
FRAGRANCE + CANDLES
I picked up some goodies from Diptyque, Tom Ford, Jo Malone and Boy Smells for the sale.
Diptyque Travel Size Scented Candle Set ($60) I always get these every year, mainly for gifting away. This year's variation has Baies, Figuier, Roses, Feuille de Lavande and Feu de Bois. If you've never tried Diptyque and don't want to commit to the full sizes before trying I think this is a great way to sample scents!
Diptyque Do Son Eau de Toilette and Hair Mist Set ($90 sale, $125 value) has two mini sizes of the Do Son Eau de Toilette and Hair Mist. This one is such a unique scent and I would say is one of Diptyque's signature scents. It has a mix of tuberose, orange blossom and jasmine. These both come in the 1 oz size. Full sizes are 1.7 oz – 3.4 for the perfume and 1 fl oz for the hair mist.
Jo Malone Travel Size Wood Sage and Sea Salt Set ($40) this is another great gifting set, it has three minis in a pouch of the Wood Sage and Sea Salt Cologne (0.3 oz), Peony and Blush Suede Body Cream (0.5 oz) and English Pear and Freesia Candle (1.2 oz). The sizes are super minis so they're mainly trial size but the set makes a nice chic gift that won't break the bank.
Tom Ford Travel Size Soleil Blanc Shimmering Body Oil Set ($72) has two mini Shimmering Body Oils in the Soleil Blanc set. I already own the regular classic Gold color and have bought several of the mini sets in the past (love them!). This year's has Rose Gold and Bronze – both don't really show up color-wise, but your skin glows with tiny micro sparkles in the Soleil Blanc scent.
Tom Ford Travel Size Soleil Fragrance and Atomizer Set ($164 on sale, $205 value) comes with three Soleil scents in:
Soleil Blanc (coco de mer, ylang-ylang from the Comores islands and cardamom)
Soleil Neige (bergamot, jasmine and lemon)
Soleil Brulant (warm and spicy orange flower, amber, black honey)
Several of you have asked me to review/try the newest Soleil scent in Soleil Brulant. I had a feeling I would not like it as several other beauty bloggers tried it and said it smelled like a spicy herb. I would say that description is spot on. It's not terrible but it's not something I could ever envision myself wearing. I spritzed on Soleil Neige which I know a lot of you love – it smells fresh and floral with lemon notes, I'm still undecided. I think my heart still belongs to Soleil Blanc, Sole di Positano or Neroli Portofino.
Boy Smells Late Bloomer Votive Candle Set ($56) has five small 3 oz candles in Prunus, Cameo, Petal, Les and Gardener. I've tried a few of the candles in the past and really liked them! I can't recall if I tried any of the scents that are in this particular one but I think they smell really pretty. There's another Moody Woods Variation you might want to check out if you like woody scents. My store did not have this available but it's still available online.
OTHER SALE ITEMS TO PUT ON YOUR RADAR
A note on a few things on sale I already own and love that you might want to check out!
Simplehuman and Riki both have their mirrors on sale. I use both nearly everyday and think this is a great time to save on them. You can see my Favorite Mirrors roundup post if you want more details. Riki Love Riki Skinny is on sale for $130 ($200-$210 after the sale) in both the White and Rose color. The Simplehuman 8-Inch Sensor Mirror is on sale for $140 ($200 after the sale).
Skincare Favorites from Sisley, Fresh, Charlotte Tilbury and Bobbi Brown:
For skincare I'm pretty stocked on my favorites right now so I didn't buy anything. Moisturizer-wise I really love the Sisley Black Rose Skin Infusion Cream for a really nice lightweight water cream and they have a Black Rose Skin Infusion Set with a full size cream and minis of the Mask and Oil to try ($155 on sale, $268 value, the cream by itself is $210).
I love the Fresh lip treatments and the Rose Petal-Soft Lip Cream Set includes a full size Petal Soft Lip Cream and mini Advanced Treatment Lip Balm (my stick balm shown is the full size, but sale set comes with the mini) ($25 sale, $37 value).
Charlotte Tilbury Magic Cream is available in two sets including the Magic Cream Set ($160 sale) and Setting Spray and Magic Cream Set ($75).
The Bobbi Brown Vitamin Enriched Face Base is one of the best priming moisturizers I've tried that doubles as a foundation primer + moisturizer in one. They have a Face Base Primer Set on sale for $62 ($139 value).
If you had the NuFace Trinity on your radar they have mega savings in the NuFACE White Trinity Facial Toning Kit – available for $199 sale, $339 value.
Also one thing I wanted to mention is that Nordstrom started carrying the minis of Maison Francis Kurkdjian fragrances. They put them out on display for the sale, BUT they're not a sale exclusive or on sale. I just wanted to mention it since the mini sizes have been so hard to find in the US but I'm really happy they're now available in select scents! Minis are in the 1.1 oz size and are either $135, $165 $180 depending on the scent. I already own the Baccarat Rouge 540 Eau de Parfum in the small one and love it.
SHOP THE POST:
Did you haul anything yet from the Nordstrom Sale? I know many of you mentioned you were shopping starting today! Let me know if you found anything good 🙂