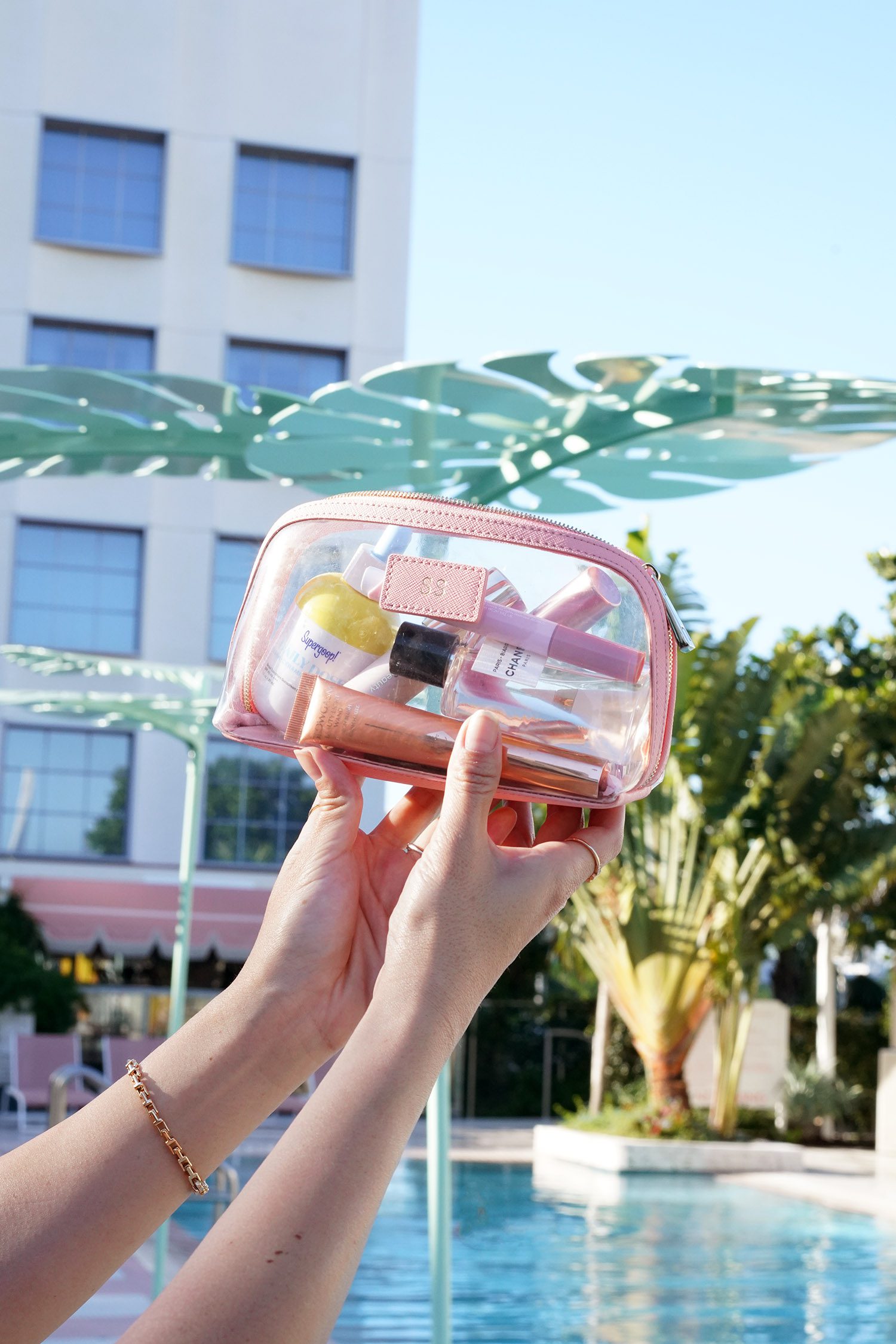 We took a few days off for a much-needed getaway in Miami! We always have fun in South Beach and love the beaches, great shopping and food. I'm already planning our next trip and hopefully we will be able to stay longer next time! Here were the highlights!
Where We Stayed
Andrew picked out our hotel this trip and he booked us a room at The Goodtime Hotel. We absolutely loved it! We stayed in one of the Queen Ocean View rooms and it was so cute. On the small side, but rooms have a well thought out floor plan and we loved the location. It was further south from the hotels we've usually stayed in and it was perfect. Less traffic, not as busy and perfect walking distance to the beach and restaurants we love. Parking is expensive but we luckily found a garage right next to the hotel for a lower rate.
This was probably one of my favorite hotels in Miami! They do have a cute common area they call the "Library" for guest to relax or work. Their restaurant is by the pool called Strawberry Moon and it was delicious.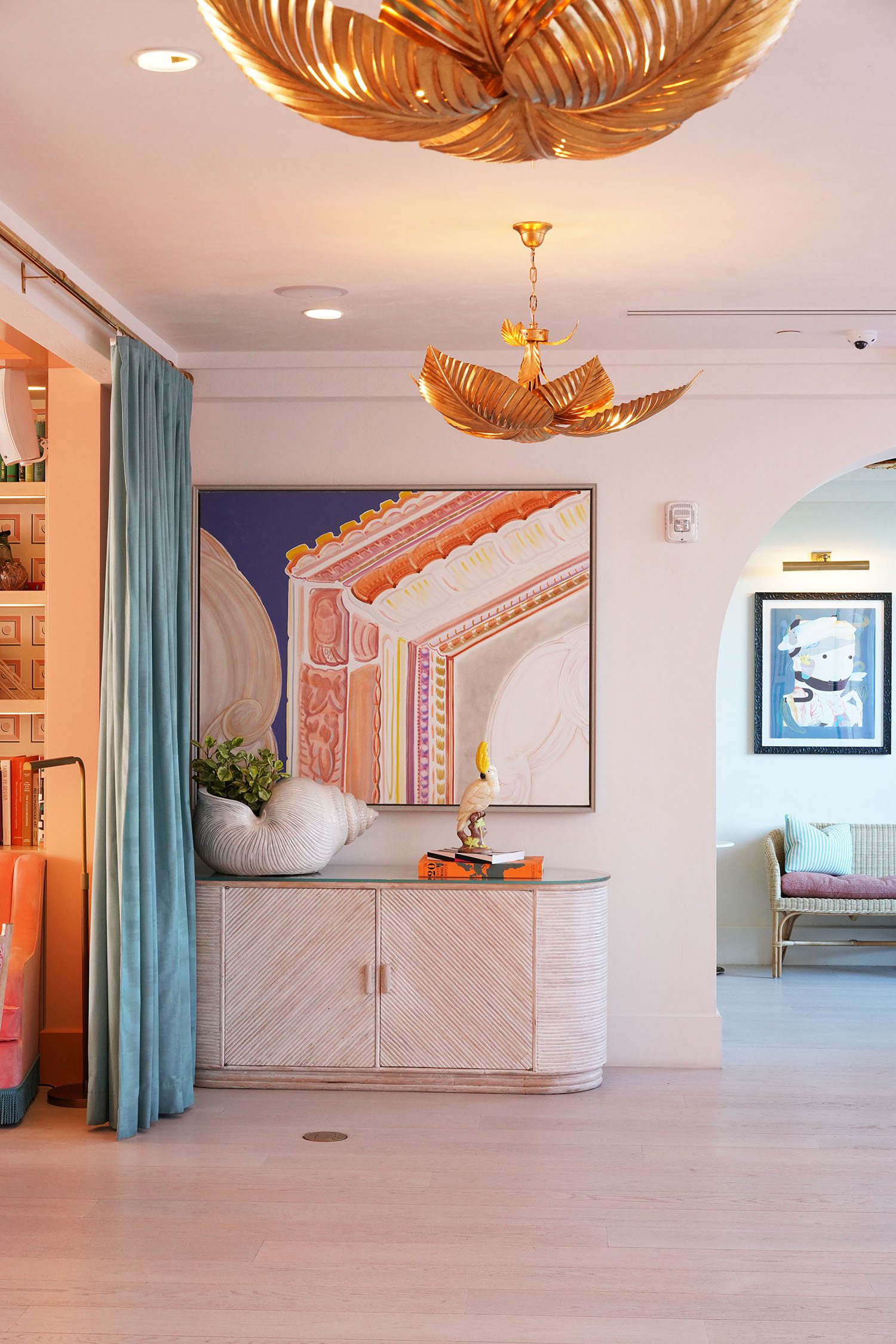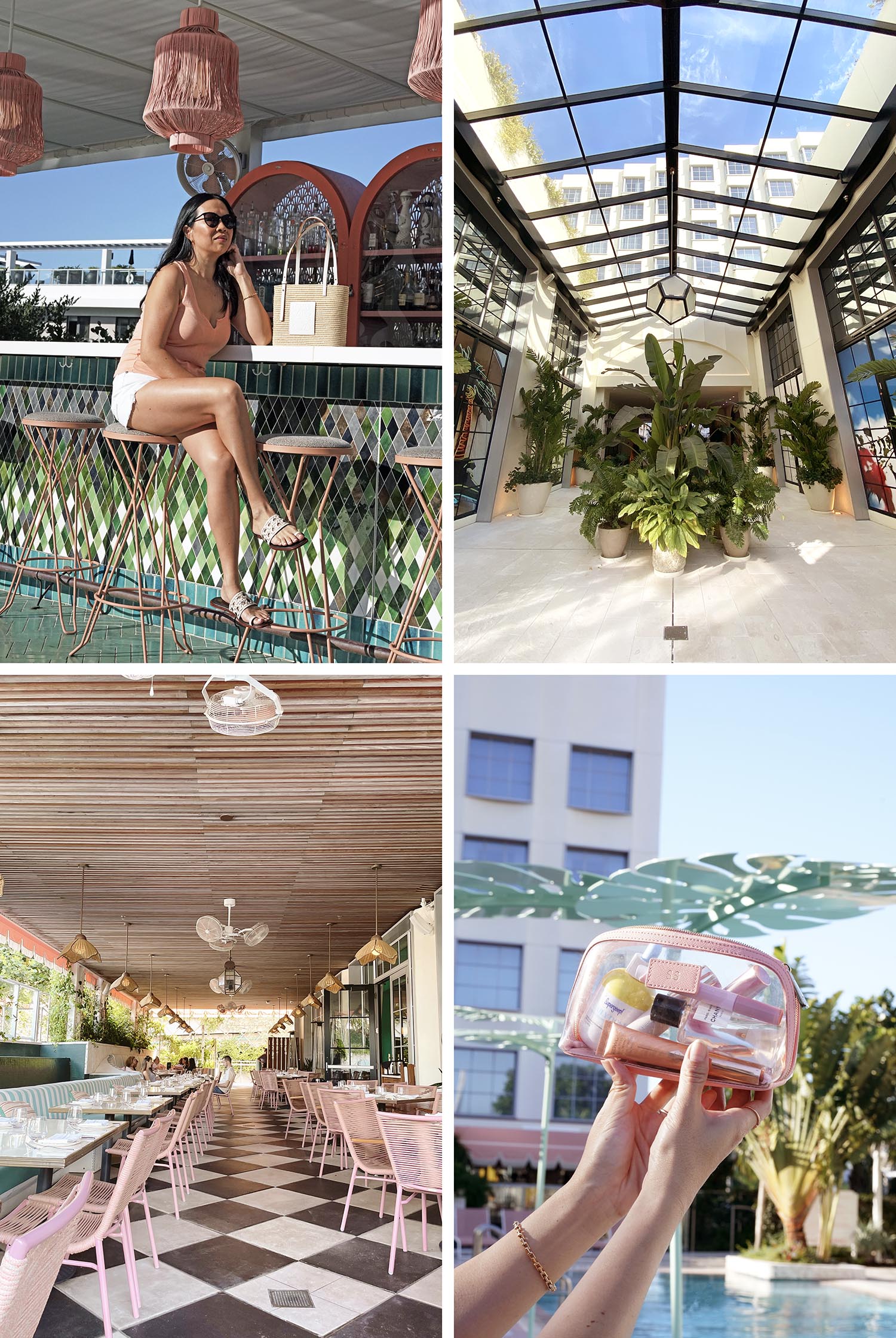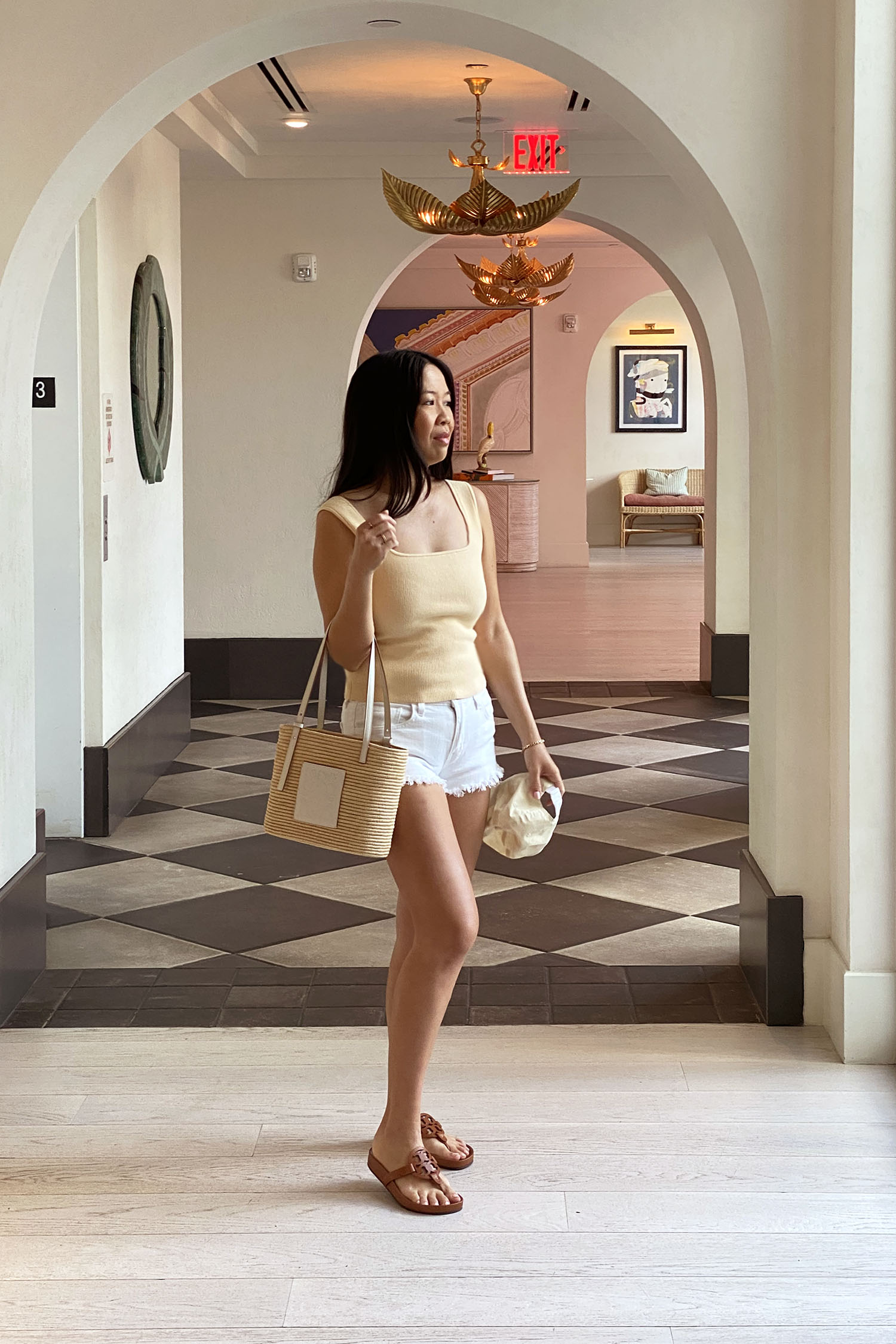 TOP Reformation / SHORTS L'Agence (also packed similar ones from Agolde) / TOTE Loewe / HAT Rag and Bone / SANDALS Tory Burch
Other hotels we've stayed include Royal Palm, Loews Miami, The Edition South Beach, East Miami and a few other smaller boutique hotels. I really loved the Edition Hotel and would love to go back (but it's on the pricey side). East Miami is gorgeous but located in Brickell (downtown) so it's farther from the beach. Both Andrew and I have had a great experience at each one. We try to pick a different one each time, but we both agreed hands down we'd go back to The Goodtime Hotel again.
What I Packed
We both packed our Away Carry-On suitcases (I packed the Original Carry-On in Blush, Andrew packed the Bigger Carry-On in White) plus a travel bag for each of us. Andrew still uses his Everywhere Bag and it's held up so well over the years. I used the Weekender (larger, discontinued). If you're looking for luggage I still highly recommend Away. If you click on my PACKING tag you'll see reviews of multiple sizes, what I packed on past trips and what I recommend for travel.
You can tap each icon to shop what I packed
Beauty Packing
For beauty I brought 4 pouches/bags. I like to have multiple cases to keep things separated and organized for easy access. I packed the Daily Edited Clear Travel Case (pale pink) to carry makeup (mine is the older design, review here). I also usually bring an empty cosmetic pouch or case with me so I can use it during the trip on-the-go and packed one of The Daily Edited Small Cosmetic Cases.
I'm still a lover of Truffle bags as well. I was finally able to use the Clarity Jumbo Train Case* they gifted me last year and it was perfect for my skincare and hair care. I packed a lot of skincare, sunscreen, cleansers and my own Oribe Shampoo and Conditioner*. Everytime I skip bringing my own hair care I always regret it. This trip I didn't bring my own hair dryer and it's something I'll never do again. I've been spoiled with my Dyson and sometimes I don't fully appreciate it until I have to use something else. I never want to be without it.
For makeup brushes I usually grab my favorites and throw them into one of the Truffle Clarity Jetsets. I bought this one myself the first year we moved to Florida back in 2017 and it's held up so well.
Makeup-wise I pretty much put the same products on my face everyday. You can see my vacation makeup in this Reel linked below. I wore the Patrick Ta Major Dimension Palette everyday (swatches here, it's still in my top 5), love the Sisley Bronzer and Chanel Les Beiges Healthy Glow Powders and also the Les Eaux de Chanel Riviera perfume. For lips I really loved the Chanel Rouge Coco Baumes for spring-summer (my fav is Flirty Coral) and the Blush Lumiere in Peche Rosee (all swatched here). I also am still obsessed with the Tarte Maracuja Juicy Lip Balms!
View this post on Instagram
Where We Ate
There is so much to explore food-wise in Miami and I have a long list of places to try. With so many people visiting Florida, Miami has become busier compared to our last two visits. I did not make reservations because last year we didn't need any. This trip all of the places on my list were fully booked. We still had a lot of fun and tried some new eats!
Our must-visits are always Joe's Stone Crab (I love the crab cakes and chocolate chip angel food cake, it comes with a side of the most amazing chocolate mousse), the Salty Donut and Zak the Baker.
We also tried Strawberry Moon for breakfast (loved), Sorbillo for pizza (was pretty good, but will try a different pizza place next time), Joey's in Wynwood (love) and Big Pink (super fun diner place).
Fun Stuff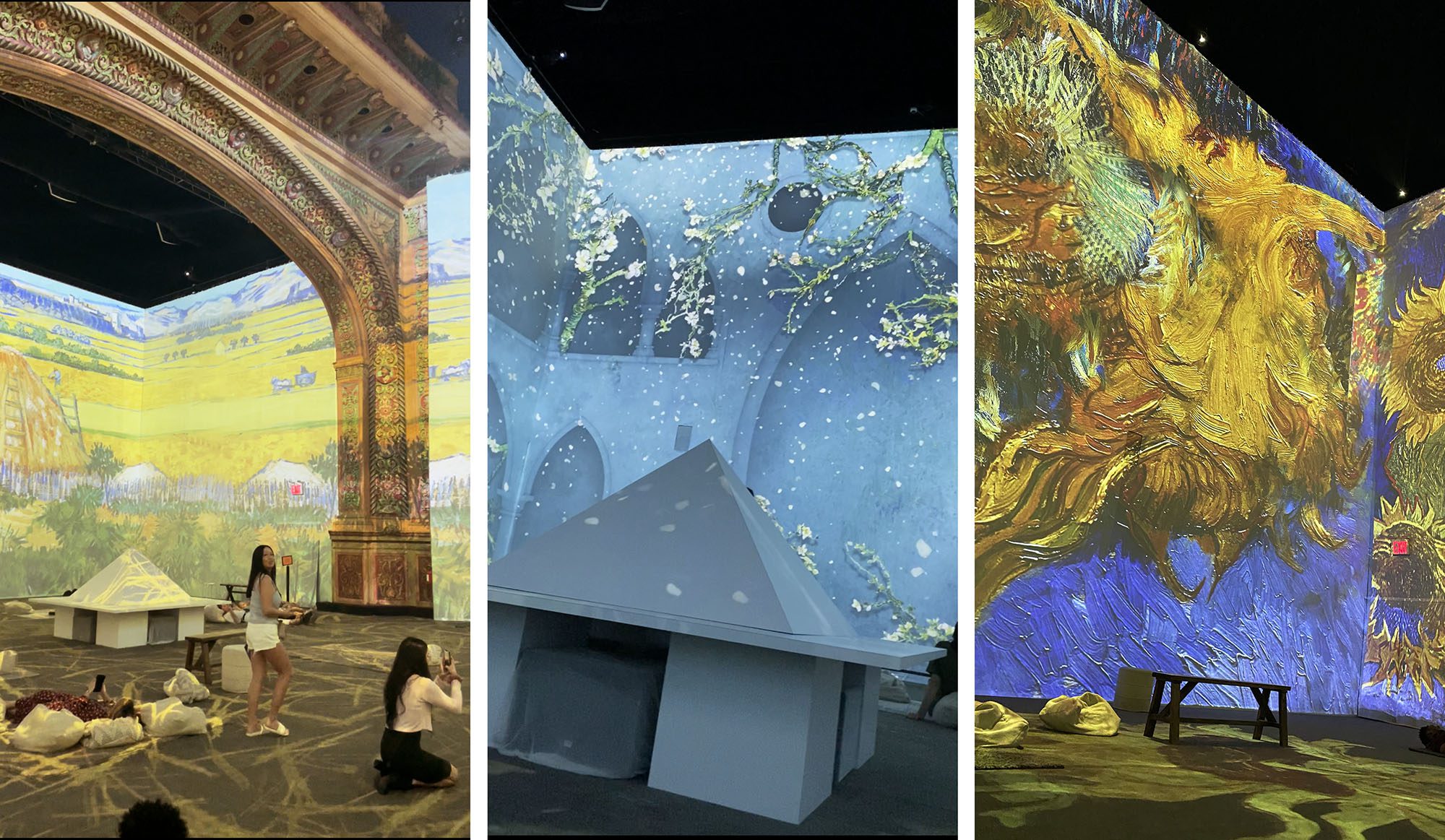 We try to go to at least one museum or exhibit each time we're in town. The Van Gogh Immersive Exhibit is still in Miami and if they have an exhibit in your city I highly recommend checking it out! It takes about an hour depending and I loved how they brought a lot of his paintings to life in an immersive experience.
We also love relaxing at the beach or pool. It doesn't feel like a vacation without beach time! There's so much fun people watching! While our hotel wasn't on the beach, they did have a designated beach area with umbrellas and lounge chairs. Depending on how busy it is you can sometimes rent umbrellas and chairs even if you're not staying at the hotel.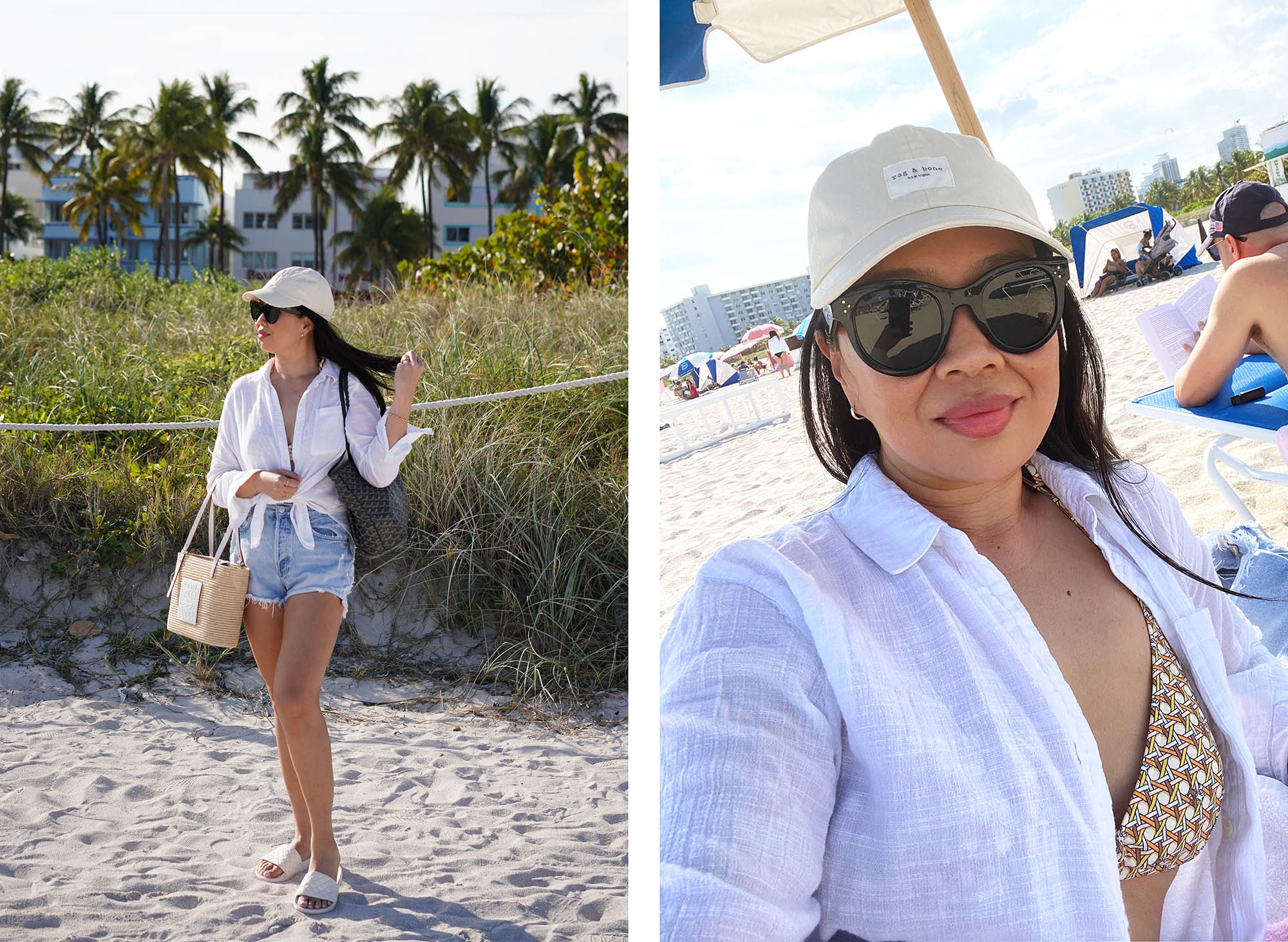 I could spend days shopping and window shopping but a lot of the malls are spread out, so I try to pick just 1 or 2 areas to explore. We went to the Miami Design District and I splurged on some wishlist items I had from Loewe including the Mini Puzzle Bag (also available at places like Neimans, Net-a-Porter and Nordstrom), the new shine lipsticks from Hermes and a new pair of sandals.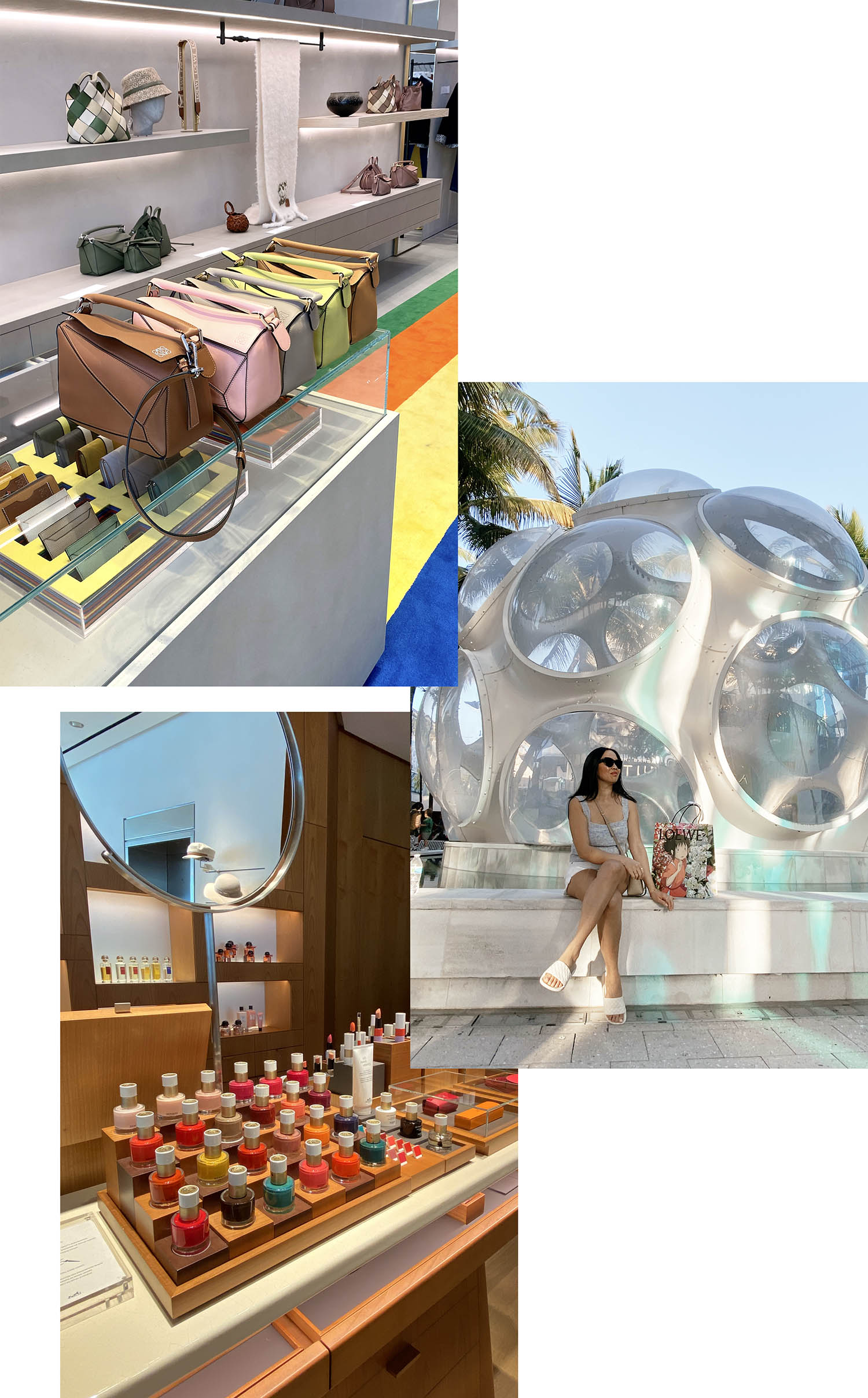 Do you have any Miami favorites? Would love to hear recommendations on hotels or places to eat if you have any!