The latest from NARS is their Light Reflecting Foundation ($49, available in 36 shades) and new shades of the Light Reflecting Setting Loose Powder ($39, now in 4 shades). I posted a video on my Instagram Reels showing the application of the foundation in Sahel and so many of you had more questions about the formula I thought I'd do a full review!
The new NARS Light Reflecting Foundation is a foundation with skincare benefits described as a formula that will blur, smooth, conceal and maintain moisture. According to NARS the formula is 70% skincare. The NARS team sent a few shades and I found my best match to be either Santa Fe M2 or Sahel M2.5. I'm at my lightest right now, most of the year I'm usually a match to Vanuatu M3.5 or Barcelona M4.
In case you missed the tutorial you can watch it below:
View this post on Instagram
The foundation finish has a natural glow and an easy to blend formula with medium coverage. I found it covered most of my sun spots and freckles without looking too heavy. I really don't need concealer with this foundation! It has a lightweight feel I don't feel it on my skin.
I would say texture is the biggest difference between this one and other NARS foundations. It has a more natural look and lighter texture compared to the Natural Radiant Longwear Foundation (reviewed a few years ago here).
A lot of you also asked how it compared to the Sheer Glow Foundation formula and I wish I could compare but can't. I used it for a while when it launched, loved it, and then suddenly developed an allergic reaction to it so I stopped using it. I have no issues with the new Light Reflecting Foundation though.
I haven't used this new formula enough to notice skincare benefits but I like the way it looks, blends out and feels on the skin. It does have a natural light reflecting quality to look like my skin but better. It is a long wear foundation that adheres to the skin so I find it essential to double cleanse at the end of the day. It's not challenging to remove like a waterproof mascara but with all newer longer wearing foundations and powders these days you will need to take a little extra care at the end of the day to remove all of it at night.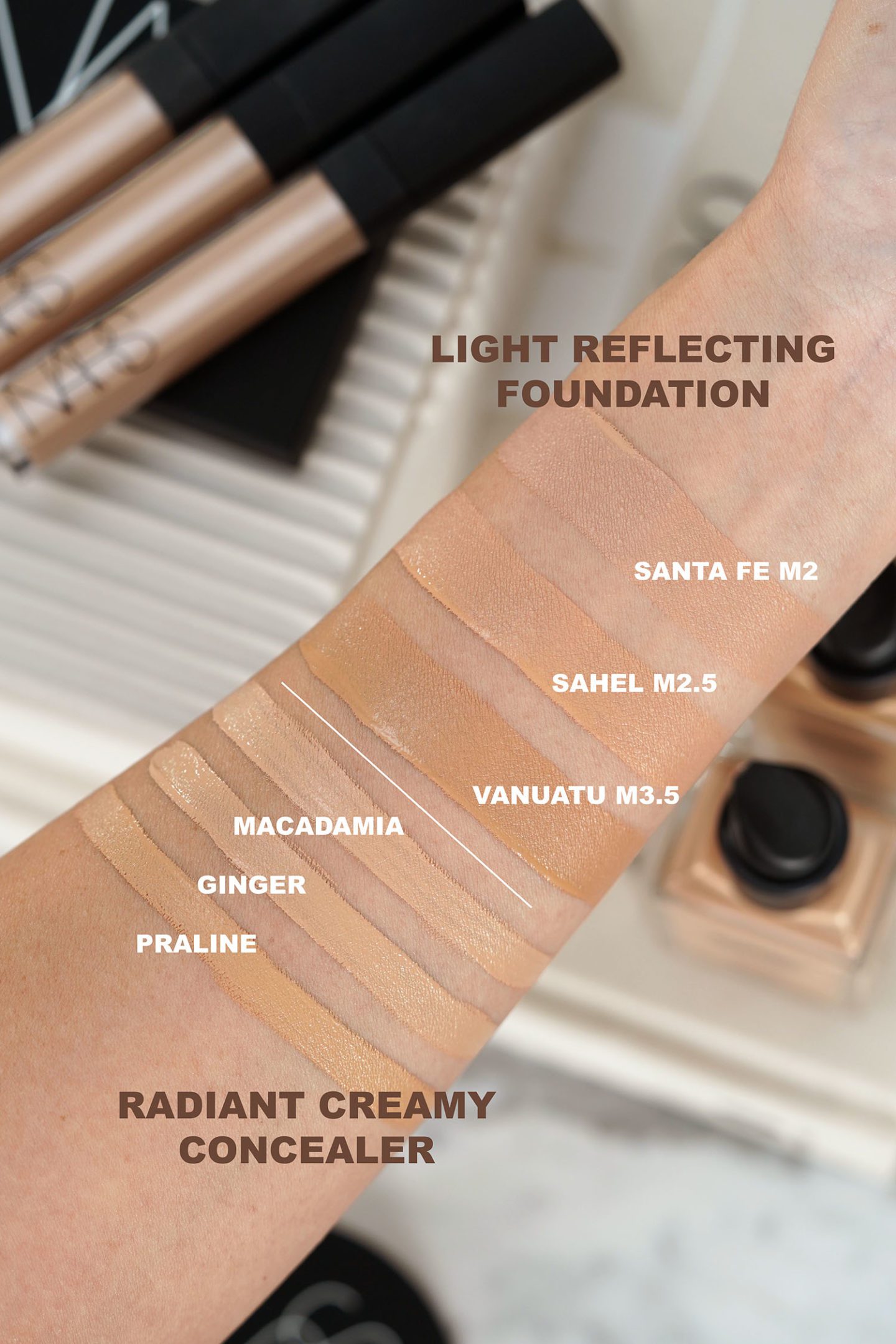 Bare Skin vs a swipe of Sahel below
Side by side with Foundation vs No Foundation (applied with a beautyblender)
The Light Reflecting Loose and Pressed Powders used to be in heavy rotation when they first launched in the translucent Crystal shade. Both are stark white in the compact but smooth and set foundation without adding any white tint. I'm thrilled they decided to add more shades which I think will be better for tan to deeper skin tones.
Both the pressed and loose powders have NARS' light reflecting complex. It diffused light, blurs out fine lines and has a soft look without any flashback in flash photos.
You can see the Light Reflecting Pressed Powder in Crystal in action in my Reel (linked above). I highly recommend giving it a try! It has a very stiff texture in the pan. If you swipe a brush you will almost think no product is being picked up on the brush but once you apply to the face you will see the transformation!
Here's a closer look at the Light Reflecting Loose Powder in Shore for medium to medium-deep skin tones. It looked a little dark in the jar but I am pleased to report it doesn't darken my foundation. This one has a mesh sifter cover and a lid to prevent spilling/leakage. It has a superfine light feel, almost like air.
One more quick look at one of my favorite concealers in the NARS Radiant Creamy Concealer in Ginger. Right now I find Macadamia a better match for spot concealing/brightening. I could probably use Custard too, but most of the year I'm either Macadamia or Ginger. In the summer I go as deep as Praline.
Full makeup look wearing:
Overall I really like the new NARS foundation! I like how it blends, wears and feels. You can find it now at Sephora and NARS Cosmetics. Have you tried this one yet? What did you think?
Shop the Post:
NARS Foundation + Powder provided for review. Press samples also have a * next to them.