I hope you all had a wonderful Thanksgiving weekend! I cannot believe the entire month has flown by and at this time I wonder where the entire year went! To wrap up the end of the month I'm rounding up my Top 10 favorites for November.
Complexion Favorites
I've been loving my Armani Luminous Silk Foundation lately ($64, I wear Shade 6.5). It's always been a favorite but I have found myself reaching for it more and more. I just used up another bottle and need to repurchase one. (Review here.)
Chantecaille re-launched their Perfect Blur Finishing Powder ($79) earlier this year in their Flower Power Collection. It was limited-edition in the flower embossed compact but they have it now in permanent form in the classic grey compact. I've been using the one I have but purchased a backup as it's almost used up. I use Light/Medium. It looks light in the compact but has a transparent finish on the skin and blurs out pores and sets makeup beautifully.
Chanel's Fluide Enlumineur Or Ivoire Highlighter ($48) has become a favorite. I mix it in with foundation for a beautiful glow. I rarely order backups these days of makeup but this one is listed as limited-edition and ordered another one. Review here.
Perfume Favorite
I have so many perfume favorites this time of year but one that stands out is the Mizensir Tres Chere ($260). This one is described as "a poetic love letter in a bottle" and I couldn't agree more. It has a mix of orange blossom, bourbon vanilla and sandalwood. It's a soft sweet scent which I love.
I was introduced to Mizensir earlier this year with a sampler of their perfumes and love the selection. The line was founded by master perfumer Alberto Morillas. He's the genius behind many of the iconic scents such as Gucci Bloom, Acqua di Gio, Marc Jacobs Daisy to name a few. I love the little details in the line – their fragrances are unisex and designed to capture a mood. The warmer scents are enclosed in a gold-capped bottle while the fresher scents have a silver cap. The house symbol on each bottle features Alberto Morilla's Jack Russell terriers which touches my heart.
Long-time readers know we used to have two Jack Russells (we still have one!). Jake (who passed away a couple years ago) and Lucy (who is 16 and slowing down, but still hanging in there).
The team has been kind enough to offer me a promo code for my readers. You can save 15% off your first order with code SABRINA15 (US site only). They also have sampler sets you can buy which I think is great.
I tried a few of them in the sampler form and love For Your Love and Luxury too.
Hand + Nail Care
For the nails my favorite has been the Hermes Nail Polish in Rouge H ($45). I ordered several shades but haven't tried them all. At $45 each they are quite the splurge. A number of you have asked for a review and whether or not I think they're worth $45. I'm really happy and pleased with the formula, color and wear time. I think they're just as good as Chanel, Smith and Cult and OPI in terms of wear. Pigment for the colors I ordered is excellent. Two coats covers the nail perfectly. These have a wider tip brush for easy application. I don't know that they're worth $45 as I don't think any nail color is. But I have no regrets! I ordered mine from Saks but the shade is currently sold out there. You can find it still at Hermes.com.
I will try to swatch/review the other shades too but for now here are some comparisons. At arm's length the color Rouge H is very similar to other shades like Chanel Vamp, Rouge Noir etc.
The color you all have been loving the most though is Chanel Rouge Intemporel (from Holiday 2021, swatched here). It sold out at Chanel.com but I just saw it pop up at Saks Fifth Avenue here if you've been looking for it!
For top coat I've been really liking the Essie Speed Setter ($10). It's a fast-dry top coat and does dry quickly and helps extend polish wear. A few things to note though. One is that you need to let your polish color dry completely first. It won't speed up the dry time of your polish but it is a quick-dry formula for the top coat. Two is that there can be some shrinkage if you don't cover your entire nail area.
For hand cream I've still been loving the Chanel La Crème Main ($50). I love all the formulas actually. I think it's such a nice splurge.
Eye Makeup
For the eyes I've been loving the NARS Unwrapped Mini Eyeshadow Palette ($25) in Laguna (on the eyes here). It has all of my favorite tones and I love the mix of sparkles and mattes.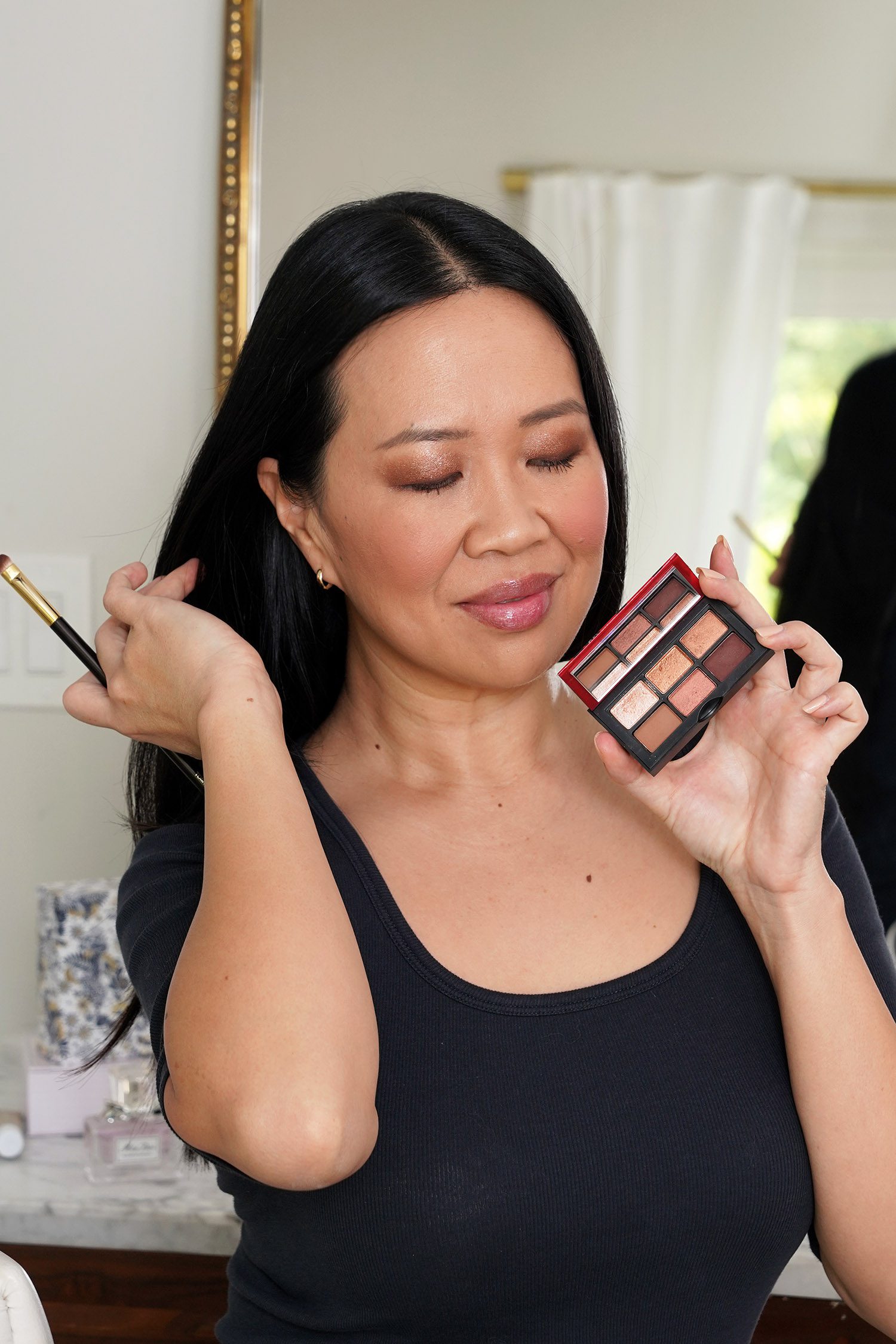 Lips
Top two lip favorites this month include the Chanel Rouge Coco Bloom in Dream (review here) and the Dior Lip Maximizer in Bronze. The Chanel Rouge Coco Bloom is a creamy swipe and go kind of formula. Dream is the best color (in my opinion)!
Also love the Dior Lip Maximizer in Bronze (reviewed here). It's a sheer sparkly gold with a glossy finish.
SHOP THE POST

That wraps up my Top 10 this month! What were your favorites?