Hourglass launched three palettes for Holiday 2021 and today I have swatches of all three. There are two larger palettes with 5 shades each, and one palette in a trio format.
Hourglass Ambient Lighting Edit Face Universe
Two of the new palettes are 5-pans, one in a light/medium option, the other in a medium/deeper option. Each one contains 1 Ambient Lighting Powder (for setting/blurring), two blushes, one bronzer and one highlighter. The lighter variation is the Hourglass Ambient Lighting Edit Face Universe ($80). Colors in this palette:
Ambient Lighting Infinity Powder – color is a mix of Diffused Light, Dim Light, and Hypnotic Strobe Light, pale sheer ivory (repromote)
Ambient Strobe Lighting Blush in Vibrant Heat – raspberry and light pink swirl
Ambient Lighting Blush in Luminous Rose – described as a soft plum, but mine pulls more golden peach with the swirl pattern
Ambient Lighting Bronzer in Glistening Bronze Light – soft bronze shimmer
Ambient Strobe Lighting Powder in Supernatural Strobe Light – champagne shimmer
Colors performed well. The Ambient Lighting Infinity Powder looks really pale for a finishing powder but I find it sheer enough to use even on my medium-tan skin. It has a soft diffused finish I can use to set foundation or use as a very soft glow highlighter/diffuser.
Blushes perform well on my skin although the plum rose shade looks a lot warmer and almost bronzey on my skin compared to what I see in the pan. Overall really pretty, but not entirely unique. You may want to wait for a Friends and Family sale that happens during the holiday season.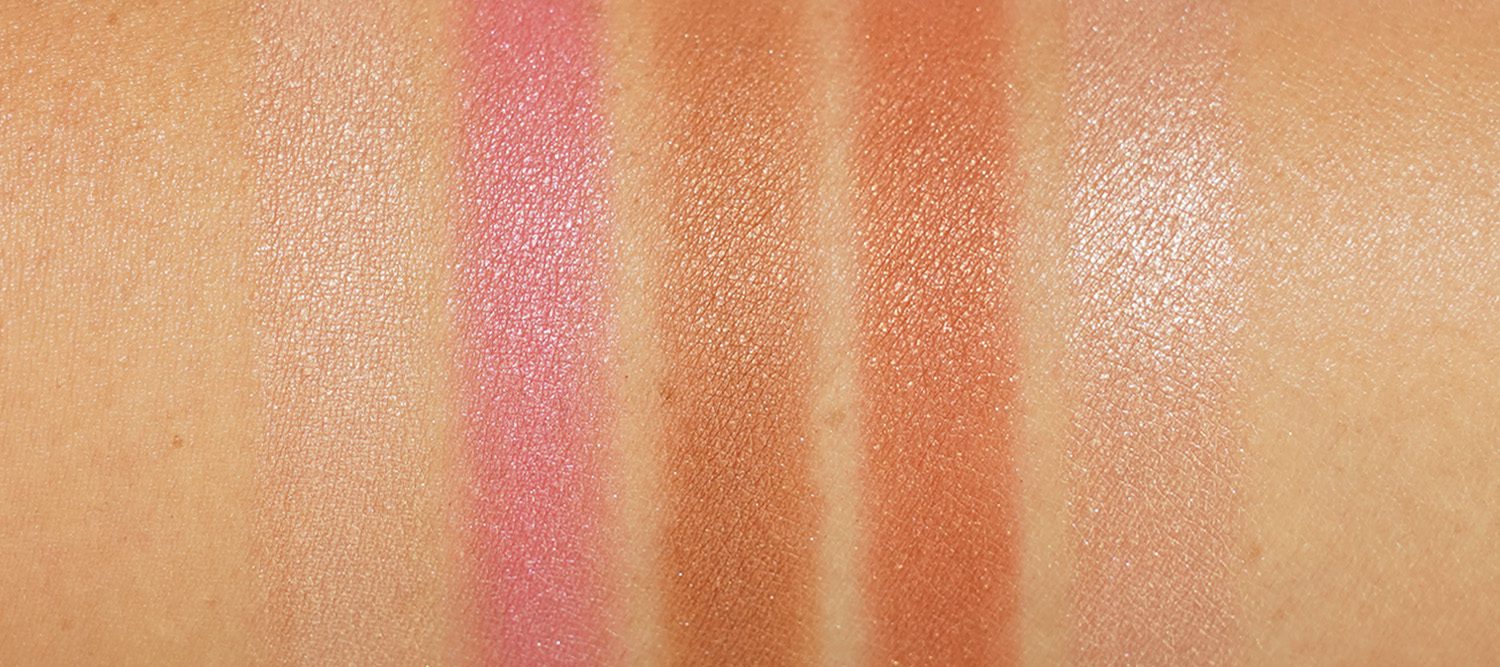 Wearing:
Hourglass Ambient Lighting Edit Face Universe Unlocked
The deeper variation is the Hourglass Ambient Lighting Edit Face Universe Unlocked. This looks like it has deeper tones for medium to tan skin tones. I was surprised to find this wearable for me since the colors looked a bit dark, but the plum and rose blushes make for a really pretty look. I do wish that they had all new colors instead of repromotes, but out of the two palettes I prefer this one.
Ambient Lighting Powder in Radiant Light – soft golden beige bronze (repromote)
Ambient Lighting Blush in Rose Heat – deep berry satin
Ambient Lighting Blush in Coral Flush – bright peony
Ambient Lighting Bronzer in Radiant Bronze Light – shimmery warm bronze (repromote)
Ambient Metallic Strobe Lighting Powder in Solar Strobe Light – metallic warm champagne with a peachy tone
Wearing the same makeup as above breakdown with the Universe Unlocked Palette and lip color wearing Hourglass Unreal Lip Gloss in Prose
Hourglass Ambient Lighting Edit Palette Vol III
Last is a look Hourglass Ambient Lighting Edit Palette Vol III which is a finishing and highlighting palette for deep skin tones. A deeper palette like this from Hourglass has been long overdue and I'm glad they've started to add darker variations. Since this is a deeper toned palette and I have medium-tan skin, the colors are too dark for me to try as a finishing or blurring product but the powders seem smooth and finely milled. I did try as a bronzer but found colors a bit on the warm side for me. I think I could probably use this on the eyes as a deeper brown/bronze palette for my skin tone.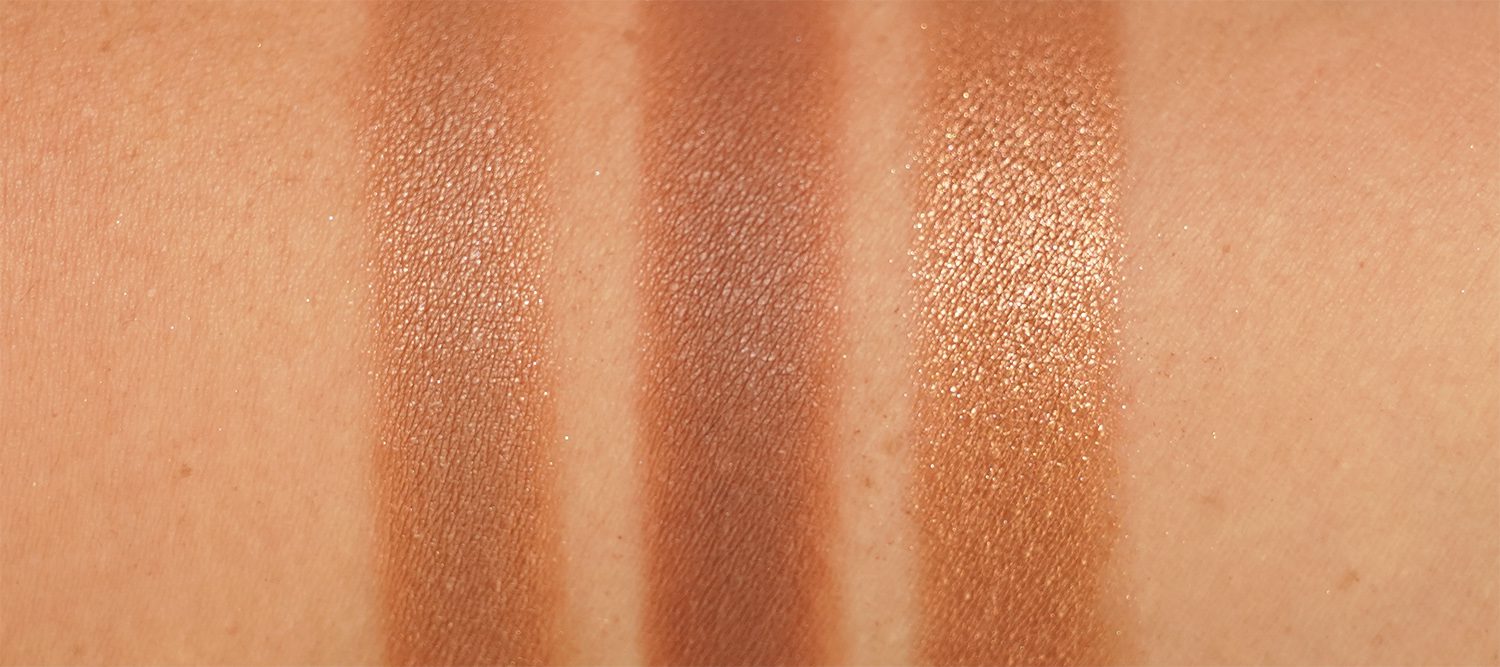 Here is a side by side of the palettes Vol 1, Vol 2 and Vol 3:
I ordered my 5-palettes Hourglass Ambient Lighting Edit Face Universe and Universe Unlocked from Nordstrom. Also available at other retailers like Sephora, Neiman Marcus, Space NK and Ulta. The Hourglass Ambient Lighting Edit Palette Vol III seems to be available only at Hourglass Cosmetics right now.
Shop the Post:
Have you checked out the Hourglass Holiday palettes yet? What did you think? Are there any other palettes you have on your radar?