Dior just revamped their classic Addict Lip Glow and I hauled a number of colors! The formula is now reformulated to be 97% natural. These are color reviving balms so the color will adjust slightly to give the lips a custom glow. Brightness varies depending on lip chemistry. I know some of you have mentioned the classic Original Pink turns into a bright fuchsia pink, while for others it's more of a softer flushed pink. These are currently available at Dior and Sephora.
To me these seem pretty much identical to the original formula – hydrating, smooth, slightly minty in scent and a subtle glossy sheen. I did an IGTV featuring a natural glowing makeup look featuring the new Rosewood 012 which you can view via @BEAUTYLOOKBOOK.
I also hauled a few of the other shades and have them swatched below. The colors on the lips mimic what you see in the tube with a flush of color as they transform on the lips.
Colors I have in the new formula:
000 Universal Clear
001 Pink
004 Coral
008 Ultra Pink
011 Rosegold
012 Rosewood
015 Cherry
020 Mahogany
Swatches below. These will look different on everyone as they're transforming balms and the flush that will appear is going to vary depending on your lips. Even on me the flush doesn't always look the same. Sometimes the flush and brightness is bolder, other times the color looks more true to tube.
Looks with the Dior Addict Lip Glow colors I hauled on my lips (all except Rosegold 12 which is similar to Pink 01 on me except for a veil of shimmer), also wearing:
Swatches: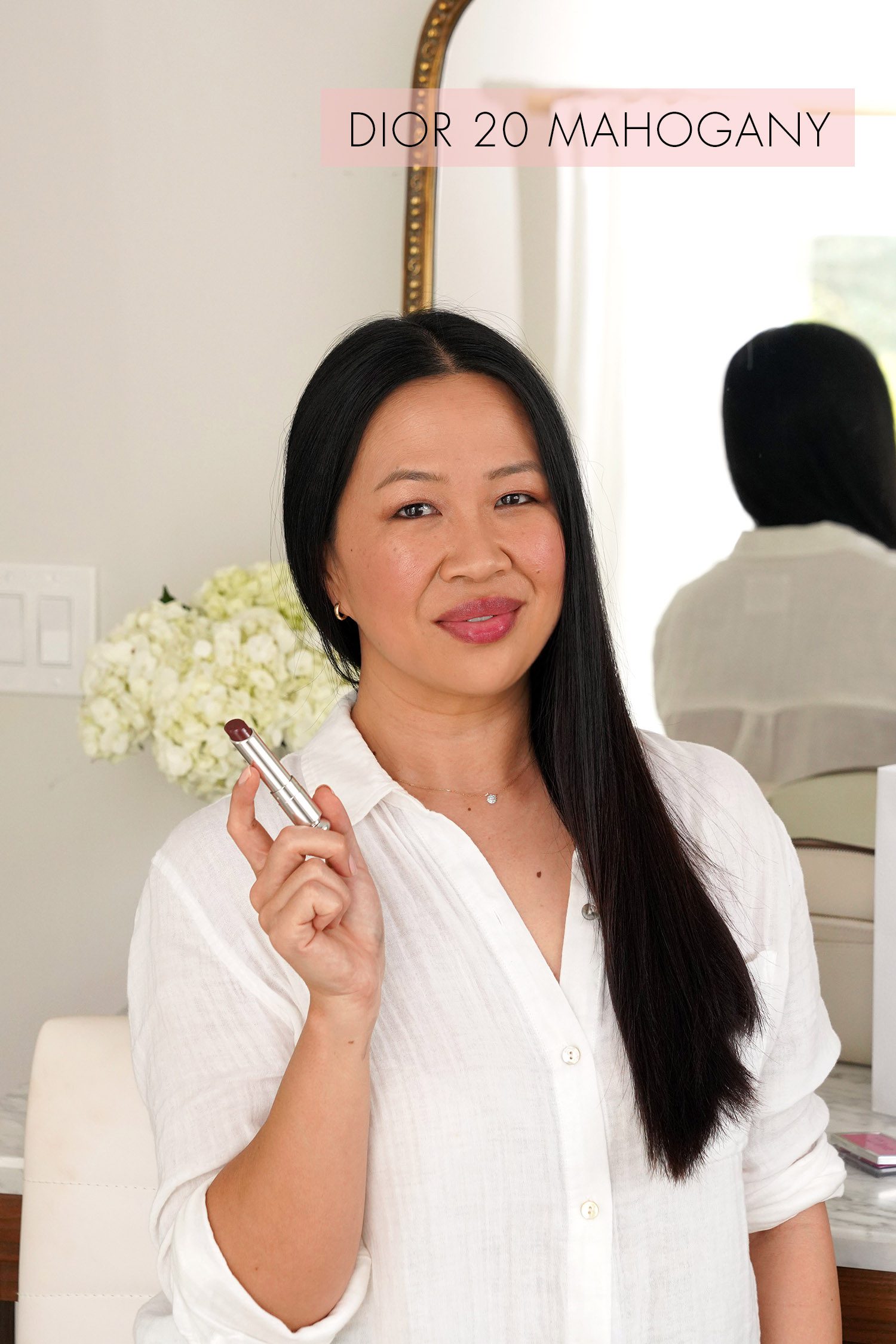 A look at a couple more items below. The 5 Couleurs Couture Eyeshadow Palettes are the newest formula from Dior and I think the texture is a significant improvement from past palettes. Nude Dress is a nice everyday neutral with a mix of shimmers and mattes. Mitzah reminds me of a less shimmery version of Tom Ford Honeymoon (I prefer the Tom Ford for colors and formula). They're beautiful and nice for everyday with soft blendable textures and long lasting pigment.
I also hauled the new Backstage Face and Body Powder-No-Powders. They looked like they ran dark online so I ordered 3 Neutral (what I thought my shade would be) and 2 Neutral (one shade lighter). They do run darker from what I expected and 2 Neutral is the perfect color for my medium tan skin. It has a soft sheen with a blurring effect. Texture is lightweight and finish is sheer. I didn't swatch these because they blend into the skin and you can't really see them in an arm swatch, but they do melt into the skin with a super lightweight finish.
Today is the last day for the Sephora Spring Savings Event! Use code OMGSPRING at checkout to save online and in store at Sephora:
Rouge Members Save 20% off 4/9 to 4/19
VIB Members Save 15% off 4/13 to 4/19
Insiders Save 10% off 4/15 to 4/19
Shop the Post: