I have a Spring Foundation + Concealer Edit for you today! I've put together a roundup of some foundations and concealers I've been testing this spring. There are a few newer launches I've been really excited about and if you've been curious about any of the formulas I hope you find this helpful!
Chantecaille Future Skin Cushion
The Chantecaille Future Skin Cushion ($128) is one of the best cushion foundations I have ever tried. It gives that skin-but-better kind of glow with enough coverage to even out the complexion in a natural way. I tested two shades: Nude is a medium color with neutral undertones and Wheat is a deeper medium beige with more golden undertones. I've found I can wear either shade right now. I tan easily so Wheat will be my go-to summer shade and right now Nude is a nice match.
The cushion comes with a refill (which I love!). The formula is water-based and melts into the skin beautifully! I feels lightweight and fresh on the skin and once it sets I find it has good lasting power.
Below wearing the Chantecaille Future Skin Cushion in Nude + Lip Chic in Clover, Tee by ATM
Chanel Sublimage L'Essence de Teint
I was a huge fan of the Sublimage Le Teint Cream and was really eager to try the new Chanel Sublimage L'Essence de Teint. I ordered shade B40 which is a good match. The main difference between the two is the original is a cream (heavier in texture, more opaque) and the new launch is a serum (lighter in texture, more fluid). It's a medium to full coverage formula on me and has a glowy finish. Formula is very hydrating and smooth. It comes with a brush which is excellent! Smooth and well made.
Lasting power is pretty good with a powder. It does get a bit glowy within a few hours and need a touch up, but it performs well on me. Wearing it below with the Rouge Coco Flash in Easy. I would normally set with powder but for all the face photos in this post I wanted to show you more of what it looks like on the skin.
A few of you asked whether I'd recommend the new Sublimage vs the Les Beiges Foundation vs the Tint vs CC Cream. I think they're all a little different:
MAC Studio Fix Tech Cream-to-Powder Foundation
I featured the MAC Studio Fix Tech Cream-to-Powder Foundation in a recent roundup but wanted to highlight it again. It's one of the best solid cream to powder foundations I've tried! It's truly long-wearing and has an easy to blend texture even though it's full coverage. I'm somewhere in between NC30 and NC35. Wearing it below with the MAC Lipglass in Beaux.
Westman Atelier Vital Stick
I finally ordered the Westman Atelier Vital Stick Foundation Shade VI since the brand is now available at Sephora. I ordered Shade 6 sight unseen and was thrilled to find it a perfect match! There are so many mixed reviews but really love it. Texture is creamy (not waxy as some felt) and it is truly easy to blend. Coverage looks medium natural and buildable. I am really happy with the lasting power, color, coverage and texture! The only complaint I have is that I find it very pricey for the amount you get, but I really love it.
Dior Forever Natural Nude
I had such high hopes for the Dior Forever Natural Nude Foundation. This is described as a lightweight base with 24-hours of fresh wear. It does have a lightweight texture with medium coverage and a radiant finish but the colors darkened on my skin significantly within a few minutes. I ordered my usual shades in the 3 range, 3N (more neutral) and 3W (yellow) and 3W worked a bit better for me as it's a bit lighter and more yellow. Wear was inconsistent for me – some days it looked fresh and radiant for hours while other days it separated and became greasy looking within a few hours. The main deal breaker for me is that it irritated my skin and left tiny little red bumps on my face. For me unfortunately it was a miss.
Swatches below side by side for reference: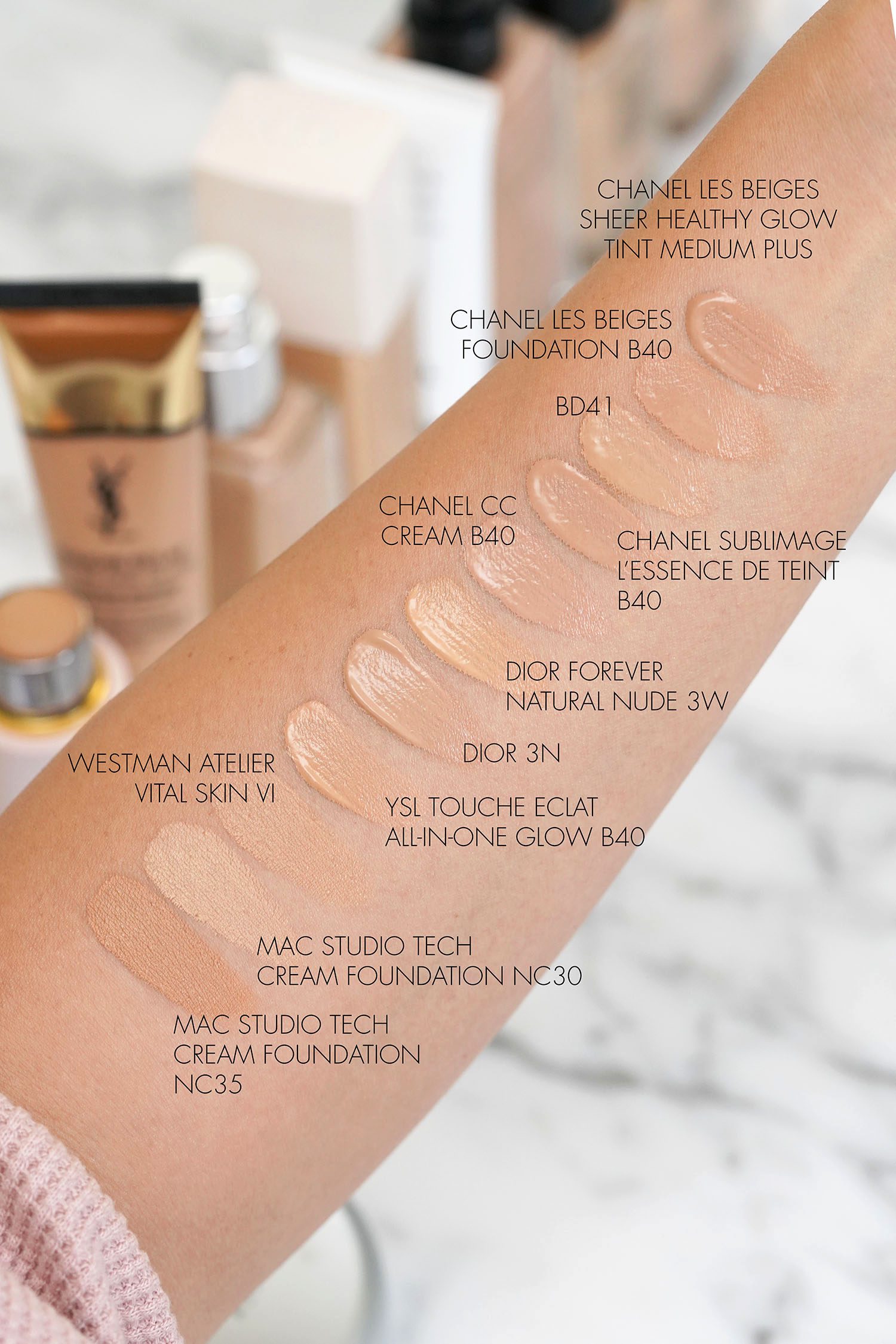 Concealer
I still love my go-to concealers including the NARS Radiant Creamy Concealer, Laura Mercier Flawless Fusion, Pat McGrath and Cle de Peau for brightening and spot concealing, but have been trying a few different formulas.
YSL Touche Eclat
I started using the YSL Touche Eclat again and forgot how much I love this for brightening. It has finish that blends into the skin beautifully and I alternate between Shade 3 and 4.5 to brighten. Reposting the swatches from my last post below.
By Terry Hyaluronic Hydra-Concealer
My newest try is the By Terry Hyaluronic Hydra-Concealer which is lightweight concealer that is 87% skincare based. This has medium coverage with a blendable texture. I was really impressed with the coverage even though it has mostly skincare (versus makeup). It evens out the under eyes and brightens nicely with a smooth and silky feel. Finish is what they call a lumi-matte – not quite matte, not quite dewy. I really like that it doesn't emphasize fine lines, it's creamy but not as creamy as the ones from Laura Mercier or NARS. For me this is best as an under eye brightener rather than applying on other areas of the face. As usual I always need to set with a little bit of powder to make it last.
I found Shade 300 to be a perfect match for what I needed. For reference I use her Hyaluronic Hydra-Foundation in 400N.
Swatches below next to a few others I have from NARS as I know a lot of you wear Macadamia or Ginger. Thought this would be helpful if you have similar skintone to me!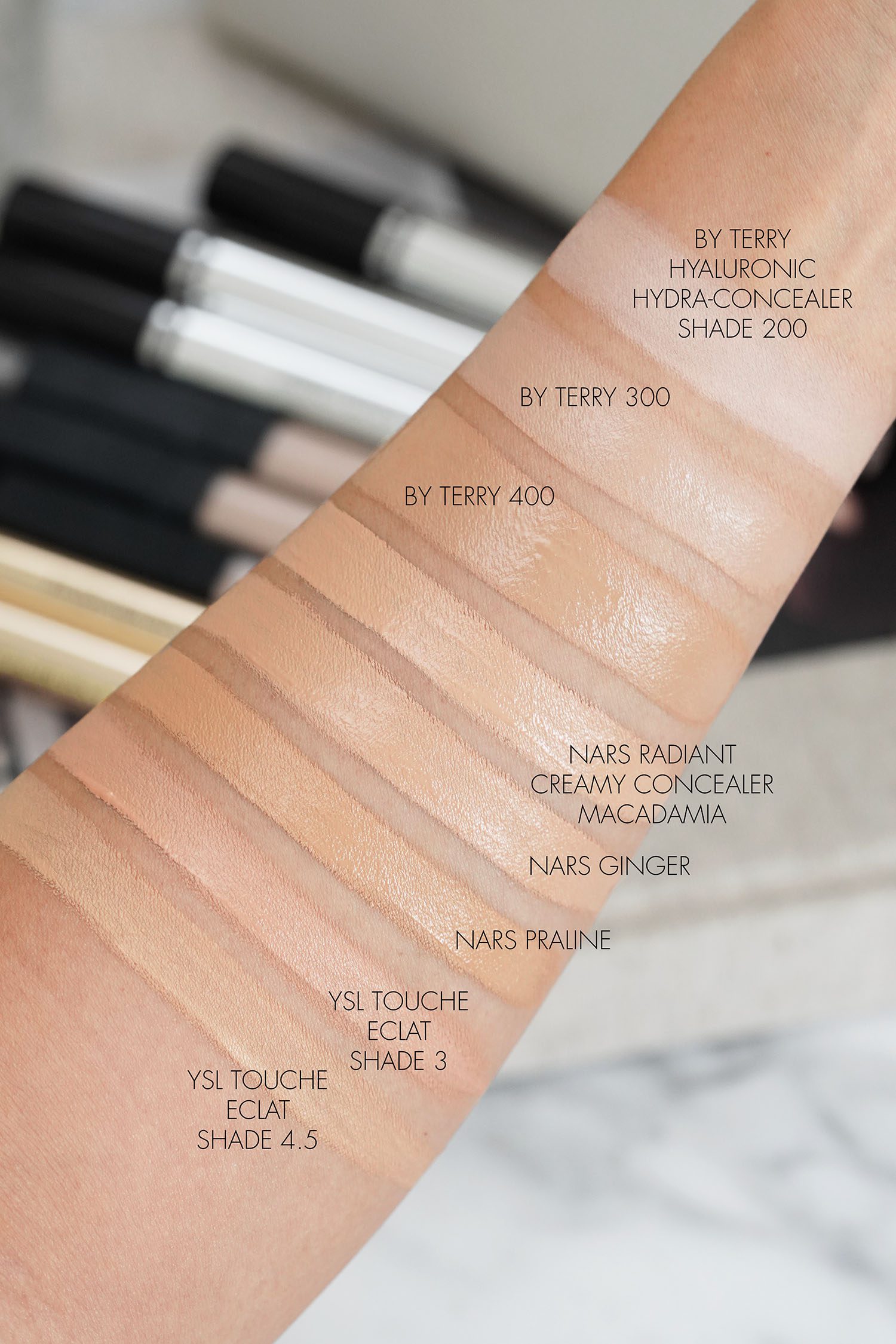 Laura Mercier Secret Camouflage Correct and Brighten Concealer Duo
Last but not least is another look at the Laura Mercier Secret Camouflage Correct and Brighten Concealer Duo. This is a super convenient product with one side for brightening under the eye and a more pigmented side for spot concealing. I reviewed this in my Makeup Favorites For a Flawless Glow post but had a few more shades to swatch and compare for you. I wear the 3N color in this formula and also the Flawless Fusion Concealer (this one is creamier).
N code is for neutral tones
W is for warmer tones
C is for cool tones
I know I covered a lot in this roundup! If you want to know which one is the best, I would recommend product based on your skin type or what coverage/finish you're looking for. I have normal combination skin but it changes by season. Right now I'm very normal-to-dry as we're in the dry season in Florida. My favorites right now:
I hope you found my Spring Foundation + Concealer Edit helpful! Let me know if you've tried any of these and what you thought.
Shop the Post:
Press samples include the By Terry Concealers, Chantecaille Future Skin Cushion in Nude.