Some of the most frequently asked questions I get are "what do you recommend for the best glow foundation?" and "what are you wearing that makes your skin glow?" I love a base that looks glowing but natural – like my skin but a bit better. Based on the messages and comments I've received from you, it looks like many of you do too! I thought I'd do an updated roundup of my glowy makeup favorites! I've partnered with Nordstrom to share my top picks.
I've included my top picks for foundation, concealer, liquid highlighter and glow powders. For me I love layering product for a natural look. I'll usually apply a light-to-medium coverage base all over and then add product as needed to help correct things like dark circles, dull skin, scars or acne.
Best Glow Foundations
I have three favorite glow foundations and to me they are all suitable for a wide range of skin types. My most-used base is the Armani Luminous Silk Foundation (I wear shades 6.5 or 7) for a natural long-wear medium buildable coverage foundation with a subtle glow. I always set with a powder to make sure it stays locked in place.
I also highly recommend the Laura Mercier Flawless Lumiere Radiance-Perfecting Foundation (I wear Latte 3N1.5). This has a tiny bit more radiance and is easier to build coverage compared to the Armani. Although it has a dewy finish as long as you set with a powder this too also has long lasting power and stays put looking fresh for hours. I like that they have different undertones for each shade category making it easier to find a match whether you're warm, neutral or cool.
Chanel Les Beiges Healthy Glow Foundation (I wear B40 or BD41) is another favorite for medium dewy coverage. It has enough pigment to cover dark under eye circles for me (although mine are moderate in color) and also covers sun spots. It is fragranced though so if you're sensitive to fragranced products I would do a patch test first. Out of all the bases I wear this is the one that gets me the most compliments!
On low maintenance days or good skin days I really love the Laura Mercier Tinted Moisturizer (I wear 3N1 Sand) for the best all-around sheer coverage base with moisture. It has sheer coverage and evens out the skin in the most natural way.
Below wearing the Laura Mercier Flawless Lumiere Foundation
Best Way To Add a Natural Highlight
For that lit from within kind of glow I can't rave enough about the Charlotte Tilbury Hollywood Flawless Filter Primer and Highlighter. I like this because you can add glow to the foundations you already have and you can also control how much glow you want. It's a versatile product you can wear under foundation as a glowy base, over foundation as a highlighter, under the eyes where you want to brighten. I usually apply under the eyes or on the cheek bones (similar placement to where you would put a concealer to brighten). I blend with a beautyblender sponge and it gives the skin more dimension and life. I've worn a number of different colors depending on what look I'm going for. Right now I like 3 for brightness and 4.5 for a closer match to my skin tone.
I also like the Armani Fluid Sheers and Chanel Les Beiges Sheer Healthy Glow Highlighting Fluid to mix in with foundation for added shimmer.
My favorite way to apply the Hollywood Flawless Filter in Shade 4.5 (you can blend with a brush or sponge)
Best Powder Glow
I've been a fan of the Hourglass Ambient Lighting Powder for a long time! I think they're versatile to use as a finishing powder or a soft highlight. For my medium olive skin, Dim Light works as an all over setting powder (even though it has a pink tone) and Radiant Light works as a very soft candlelight warm soft bronzer (to warm up the complexion).
The palettes come with me on almost every trip I've been on. The original Hourglass Ambient Lighting Palette has been a good one to use as a soft diffusing powder. Original has Dim Light, Incandescent Light, Radiant Light. I recently bought the newer Ambient Lighting Palette Volume II which has Soft Light, Radiant Light, Golden Bronze Light – it's a deeper option which I really love. I think it's going to be a more versatile option for me since I tan easily.
Powders are soft and melt into the skin. I also love the Armani Neo-Nude Powders for a good glow. Sometimes it can be a bit too glowy so I recommend applying with a light hand or layering with your regular matte powder.
Concealer
For concealer I love a good creamy formula that I can use under the eyes and blend easily. I usually try to pick a color close to my skin tone so it's not too contrasted. Although I have olive golden skin, I often like pink or peach ones under the eyes to counter dark circles. My top picks include: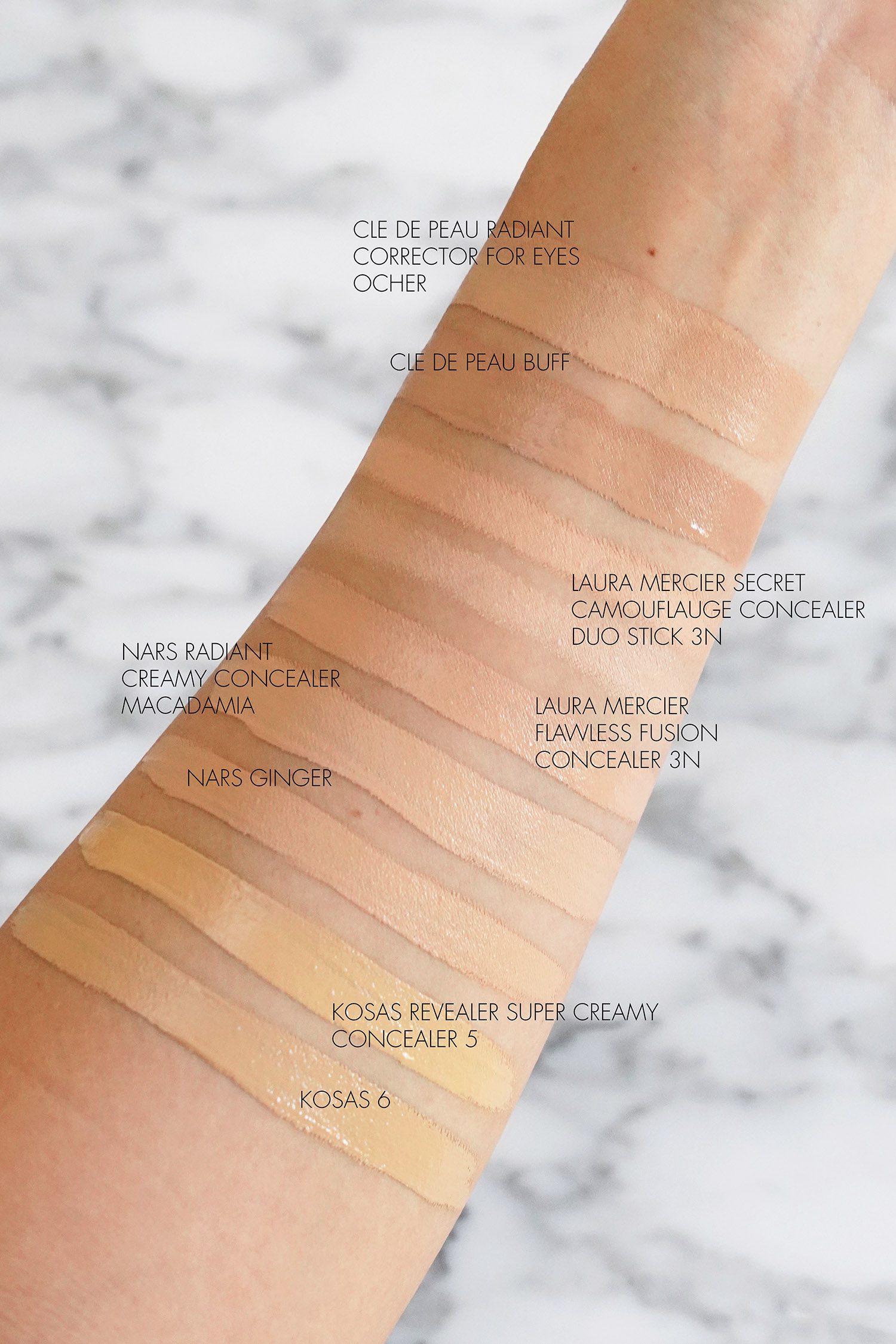 Wearing:
I hope you found this roundup helpful! Let me know if you have any questions in the comments. Or if you want to share your favorites for a glowing makeup look I'd love to hear about them too!
You can find all of my picks at Nordstrom.
Many thanks to Nordstrom for partnering to sponsor this post. As always all opinions are my own.