Natasha Denona recently launched her Mini Love Collection with new shades for eyes, lips ad cheeks. I'm thrilled to be able to share a look at the new collection today! She also added new shades of pencils in her I Need a Nude Lip Liner formula and I hauled a few colors from Sephora.
___________
Natasha Denona Love Cheek Duo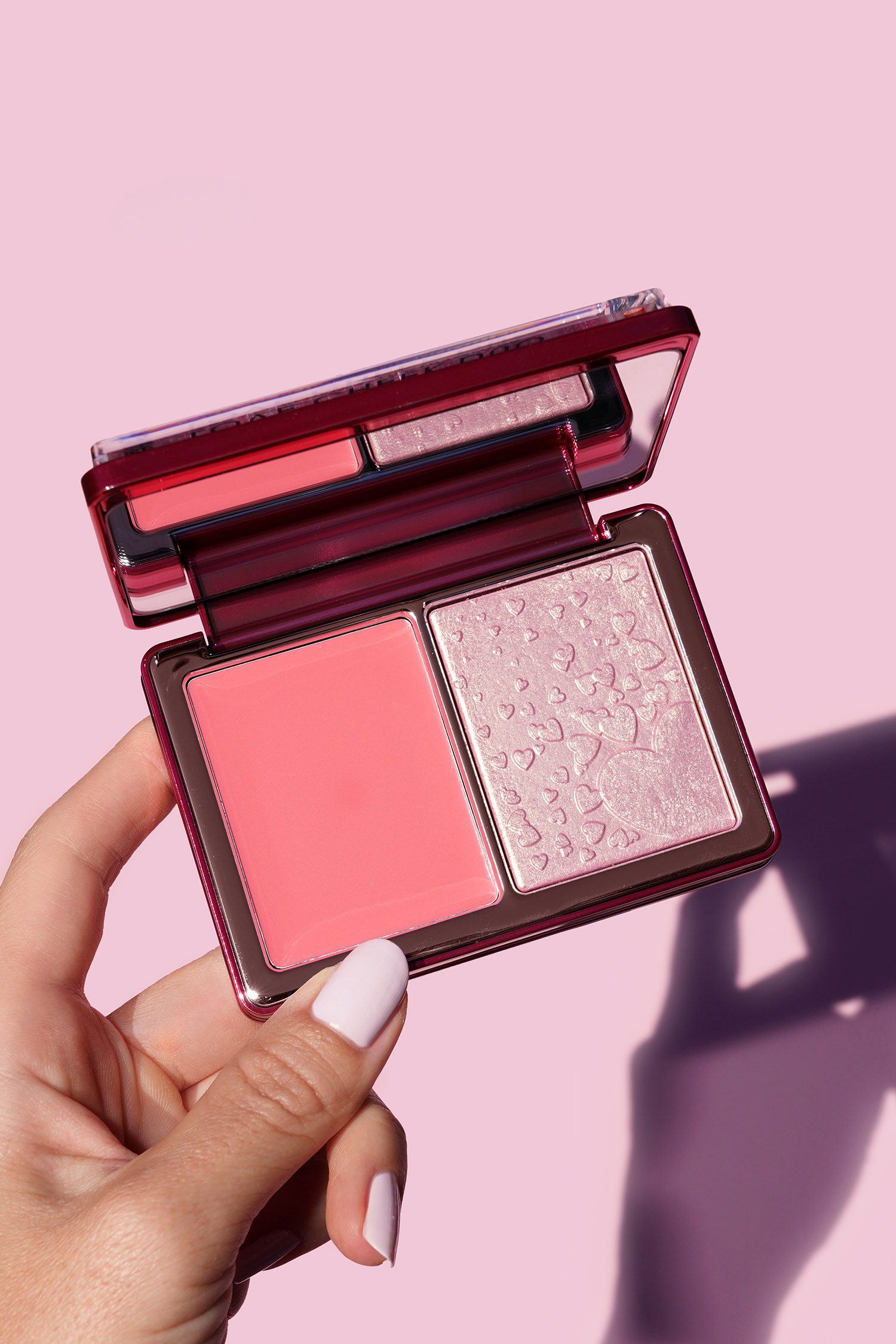 The Natasha Denona Love Cheek Duo has a soft cream blush in a pink coral cream and an iridescent pink gold shimmer. The cream dries down to a soft matte finish and while it's more of a baby pink on me once blended it looks more natural and soft. The shimmery highlighter has a beautiful multi-dimensional sheen that flashes pink and gold without being too glitzy.
The product description says the Cream Blush in the Duo is the same as the cream from her Diamond and Blush Palette Darya (reviewed here). I pulled mine out to compare even though it's pretty old and the colors are identical on my skin. The Highlighter in this Duo is similar to the Duo Glow in the Diamond Palette but the one in the new duo pulls more pink in undertone.
Performance-wise the Love Cheek Duo has excellent wear time and is easy to blend. The highlighter isn't too shimmery and I think when layered they can give a lovely soft delicate glow. Swatch comparisons below to her Mini Bloom Blush (review here), Fenty Beauty Cheeks Out Freestyle Cream Blush in Strawberry Drip, Chanel Spring 2021 Blush Highlighter Duo (review here).
___________
Mini Love Palette
Up next is her Mini Love Palette. I love her mini eyeshadow palettes because they come with perfectly coordinated colors for a complete look. The colors in this palette all perform beautifully – there is a nice mix of mattes and shimmers. Quality and performance wise colors blend nicely, they're pigmented, lasting power is good. I just didn't like the colors for me. I personally do not like purple eyeshadows for me. They don't mix well with my olive complexion.
Colors include a sparkling mauve pink, matte mauve, deep matte plum, shimmery pale pink and shimmery rose pink.
___________
I Need a Nude Lipstick in Amorosa
For the lips there's a new lip color called Amorosa which is a nude pink. Her nude lip colors come in a wide range of options and undertones, many are too light for my complexion, but I really like the look of Amorosa! It's a nude pink and gives me a true-nude lip look. It is better if I pair it with a slightly deeper lip pencil and blend but I've swatched it below by itself for you to get an idea of how it looks. It's creamy, opaque and has full coverage.
Below wearing the Natasha Denona Mini Love Collection including her Mini Love Eyeshadow Palette, Love Cheek Duo, Amorosa Lipstick. Top is from Revolve. For my base I'm wearing the Pat McGrath Skin Fetish Foundation in LM14 (review and swatched here).
___________
I Need a Nude Lip Pencils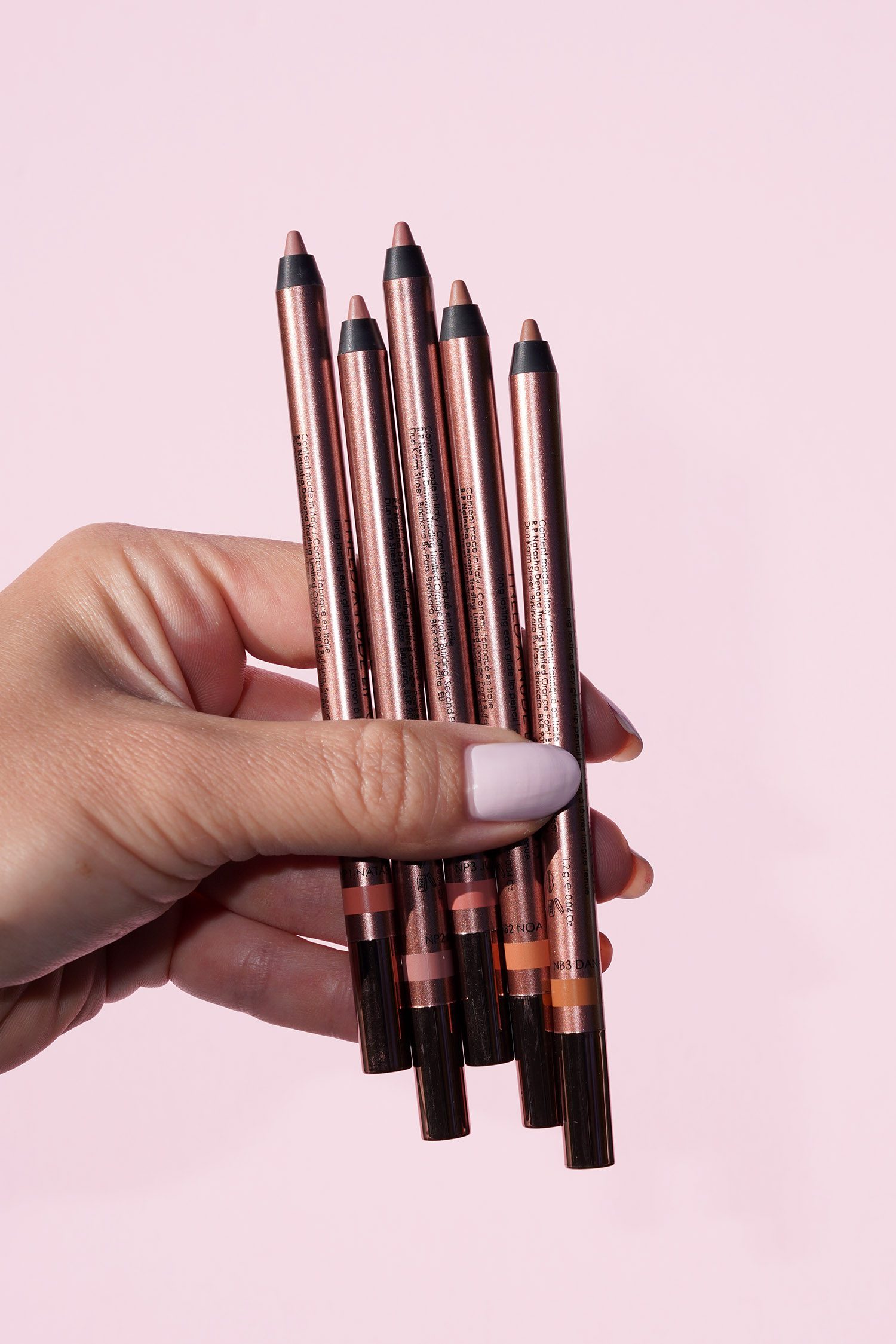 Last but not least as a nude lip lover I hauled some of her I Need a Nude Lip Pencils. Formula-wise they're perfect. They have a smooth texture with high pigment and a natural matte finish. They're not drying and glide on the lips perfectly. Lasting power is phenomenal and stays put for hours without budging or fading.
Color-wise I think these are best when used as a lip liner and combined with a lipstick + gloss. I know many of you like to use liners as a line and fill kind of product, like a lip crayon. For me these nudes pull too nude if I apply all over the lips. If you go to her Instagram @natashadenona and look at her Live Swatches highlights she has really helpful demo, application tips and live swatches.
For color selection nudes can be tricky depending on your skin and natural lip tone. A lot of nudes that I like don't always work for you especially if you don't have warm olive tones like me. My pigmented lips vary in color day to day. Sometimes they're pink, other times they're more purple, other days they look more brown. For me these lip pencils look really similar on my arm. If you look at the swatches on the @natashadenona Instagram Highlights you will see the colors have more variation on lighter skin tone.
She has her lip pencils labeled with a color code to distinguish the undertone (NP = neutral pink, NB = neutral beige). Colors I bought (please note they look so close on my arm in the photo but there are differences in undertone, especially when on the lips):
NP1 Natasha – light neutral mauve pink
NP2 Ilona – light medium pink brown
NP3 Julia – medium pink
NB2 Noa – medium beige
NB3 Dana – cool beige brown
The two that worked best for me are Ilona and Julia, but they pull very light on my complexion. The Pat McGrath Permagel Lip Pencil colors in Done Undone or Buff or Structure work better for my lip tone and complexion for a natural lip (swatched here) – but these have more color while the Natasha Denona Lip Pencils are nudes just as the name implies. Below wearing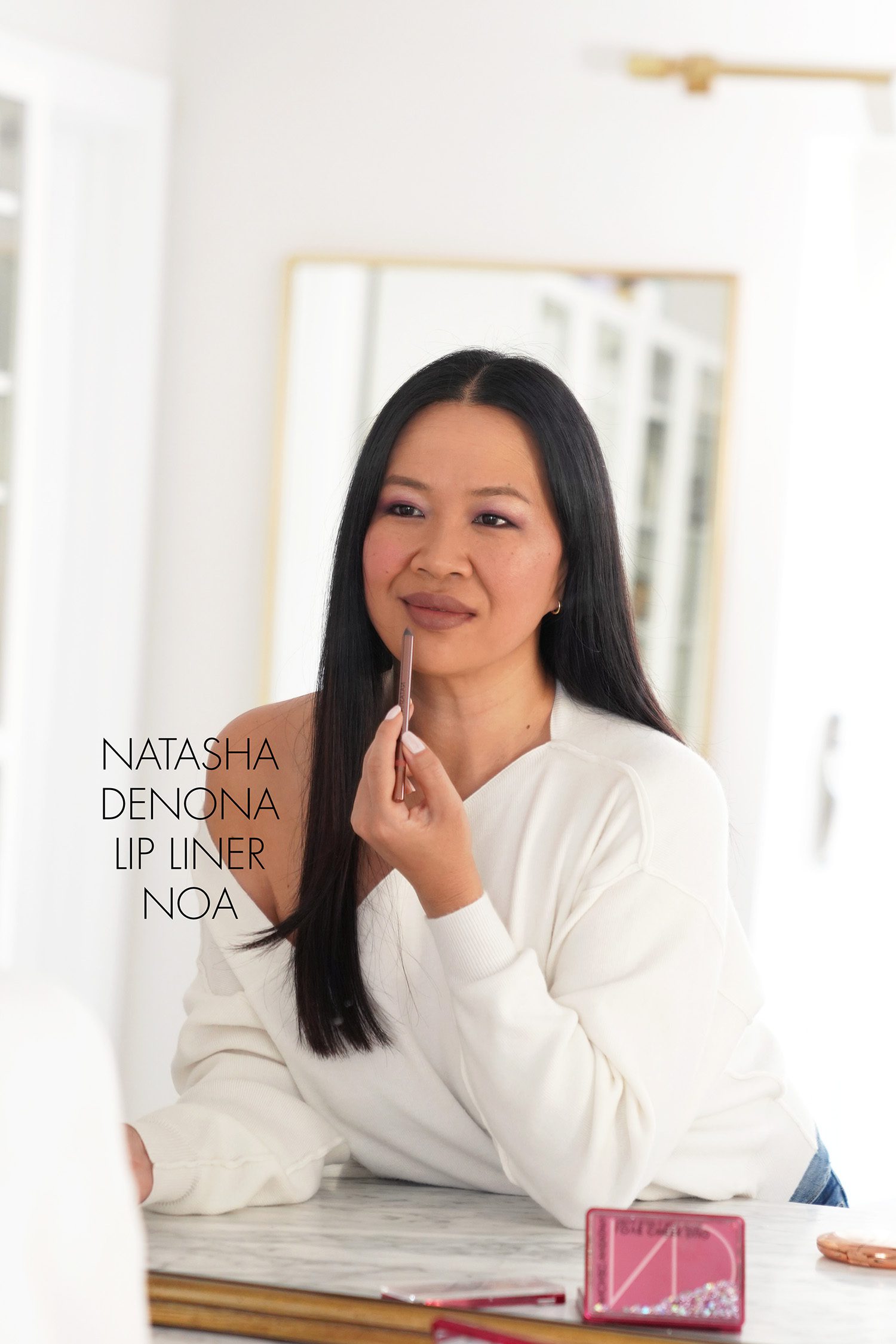 ___________
That wraps my look at the new items from Natasha Denona! You can find her new items available at Sephora and Beautylish. Hope you found these swatches helpful. Did you check out anything from her new launch yet? What did you think?
Mini Love collection provided for review. Lip liners purchased by me.