By popular request I have an overview of EM Cosmetics today! Several of you have expressed interest in seeing swatches and a review of the products created in Michelle Phan's line and I have a look at a little of everything.
Eyeshadow Palettes
There are two colors of the Divine Skies Eyeshadow Palette ($38 each) in Magic Hour and Faded Clementine. These come in 6-pan mirrored compacts with a mix of mattes and shimmers. The pigment in each palette is beautiful. The mattes have a velvety powder finish that are easy to blend. Shimmers have a pretty multi-dimensional finish that is smooth and soft.
Magic Hour has a mix of softer pinks, tans, shimmery pearls and pink-gold tones. This one is my favorite of the two.
Faded Clementine looks like a sunset. It has a mix of tangerine, plum, berry and peach. It looks intense but is surprisingly wearable even for my neutral-loving self. It does take some layering and blending, but it is pretty!
Swatches below:
Eye Makeup Basics
I tried three of the EM Cosmetics eye basics. These are no-fuss easy to use staples. The Pick Me Up Volume + Length Mascara ($24) is a lengthening mascara in a tubing formula (takes a few uses to get it going). I loved that it did not smudge on me and adds serious length, but it does not always hold the curl.
The Flexibrow Clear Brow Gel ($20) is a nice clear brow gel to hold the brows in place.
The Illustrative Liquid Eyeliner ($32) comes in two shades, Black and Brown. I tried the Brush tip version and LOVE it (I actually prefer this format in general). It has a glossy finish that dries quickly and is completely smudge-proof. I highly recommend it.
You can also find all three in one of their Holiday Cozy Essentials Set ($50) which comes at a value price in a cute pink bag.
Cheeks
For cheeks there are two shades of Heaven's Glow Radiant Veil Blush ($34). This is a powder formula with a soft luminous glow. Magic Hour is a soft rose and Faded Clementine is a tangerine. I think both are easy to wear with good lasting power.
The Color Drops Serum Blush ($25) is a liquid serum formula with a sheer dewy finish. Venetian Rose is a mauve rose that is easy to blend and layer. Lasting power is pretty good for a liquid product. It comes with a dropper applicator and gives a glowy dewy look. (I'm ordering Pink Nectar today!).
Foundation
The Daydream Cushion Foundation ($48) is one of the best cushions I've tried. It has SPF50 and is available in six shades. I am in between shades of Sweet Secret and Summer Hue – if I mix them I get my exact match. I love this formula because it's not overly dewy or too luminous. It has perfect flawless natural coverage that melts into the skin. Lasting power is really good when set with a powder. It covers uneven areas without looking cakey or heavy. This is a solid A+ formula-wise. I hope they expand the color range!
Lip Gloss
The lip products are the stand outs for me. They have a nice everyday kind of clear gloss called Morning Dew Crystal Lip Gloss. For color the True Gloss formula ($20 each) is a unique almost whipped kind of cushiony gloss with a plumping effect. Color has a watercolor wash effect on the lips.
Lip Cushion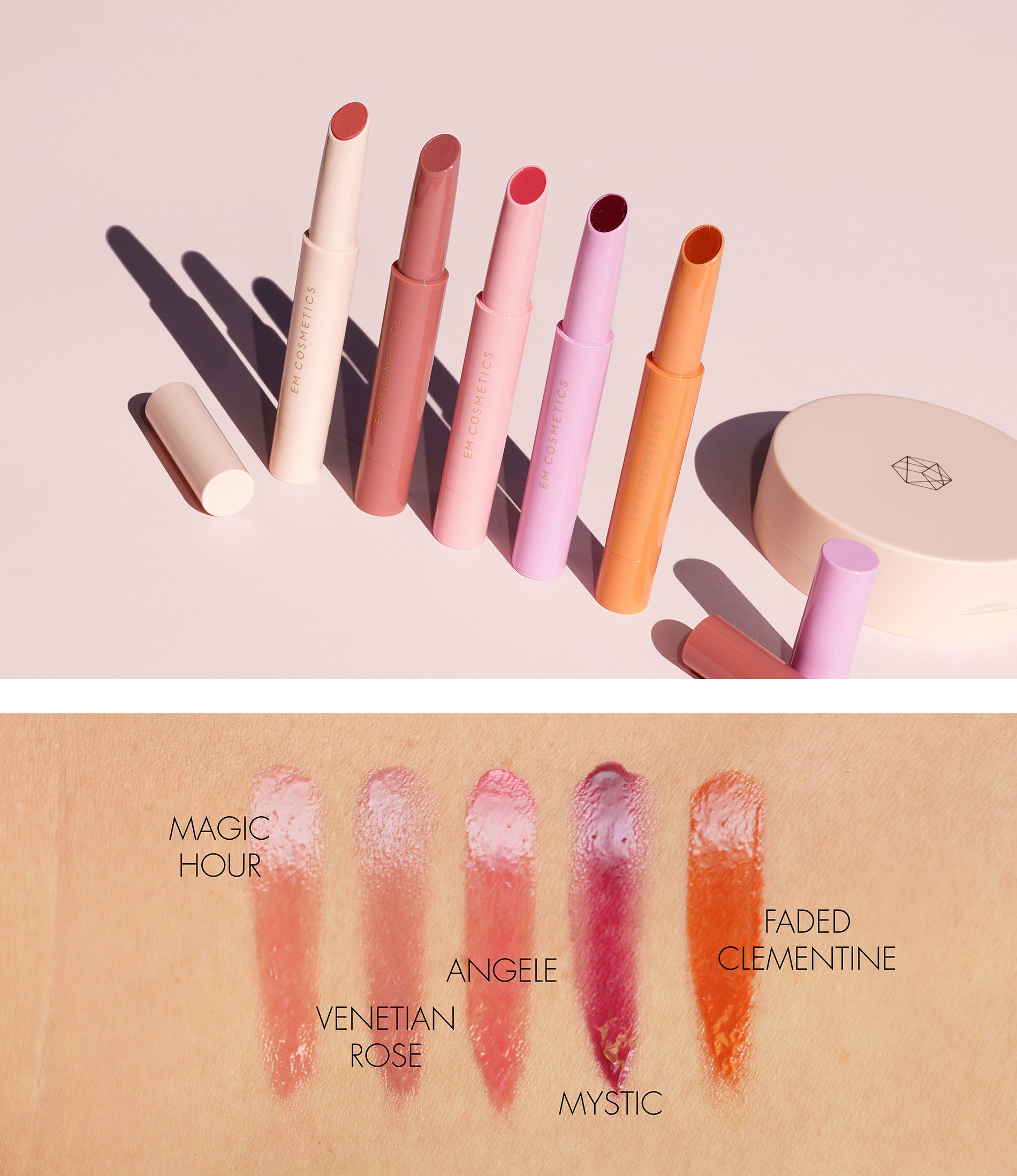 I've saved the best for last because I am COMPLETELY obsessed with the Lip Cushion Tinted Lip Luminizers ($22) and Soft Blur Velvet Lip Liners ($19). It's rare that I will say anything is a MUST try because of dupes or similar options, but I think both of these are musts.
Every single color of Lip Cushion is beautiful and wearable. They're luminous, hydrating and give the lips a lush look. Magic Hour is my favorite for that perfect peachy pink. Lasting power isn't going to be long because it's a glossy kind of product, but it's one I don't mind reapplying.
Venetian Rose is a soft mauve, Angele is a bright flattering pink, Mystic is a pretty plum, Faded Clementine is an orange but a wearable orange. They are all creams (as in no shimmer). Below also wearing:
Faded Clementine Blush + Lip Cushion below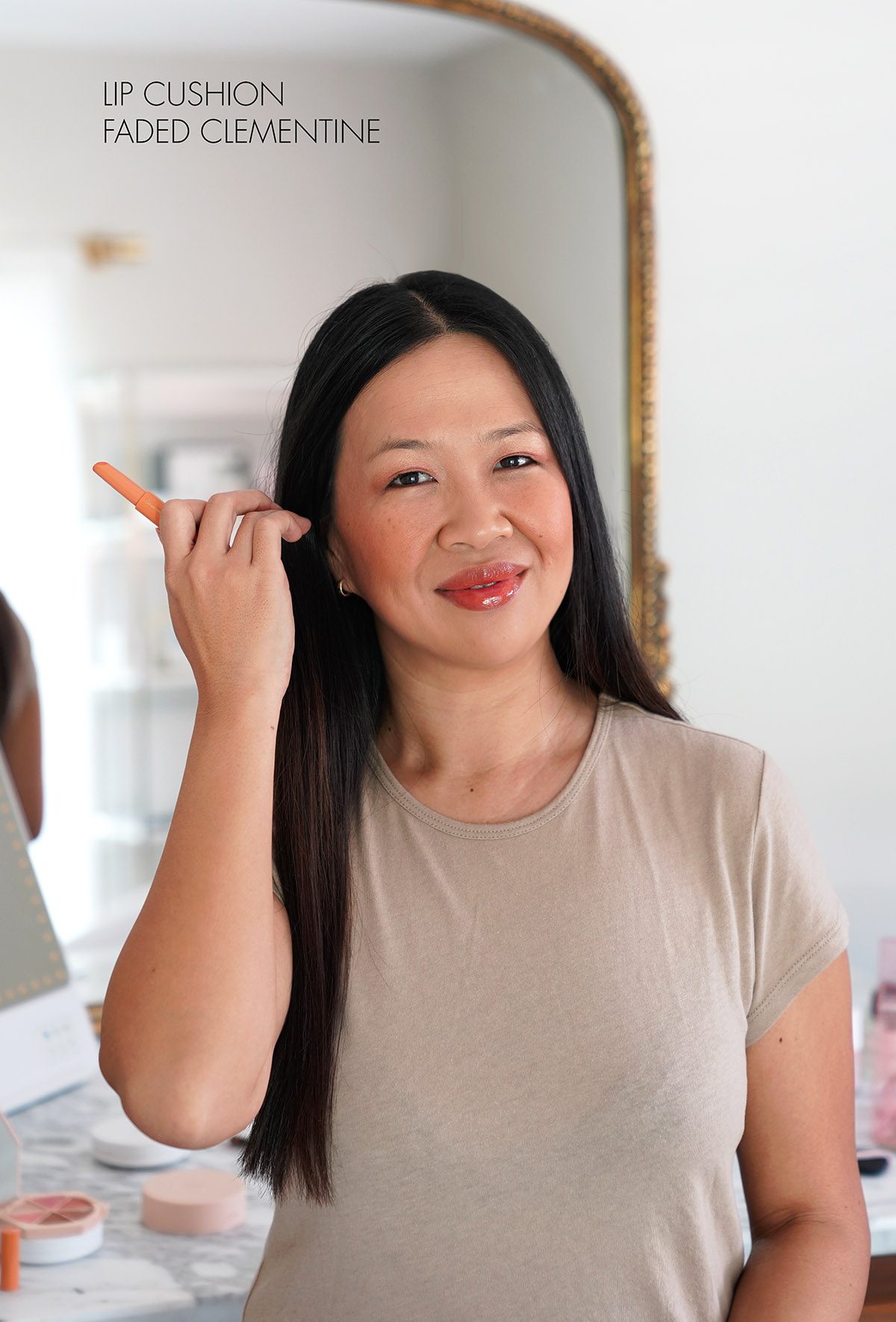 Lip Liner
Finally we have a look at the Soft Blur Velvet Lip Liner ($19) which is the best lip liner formula I've ever tried. It's opaque but glides onto the lips flawlessly – there is absolutely no feathering or tugging and I think every single color is wearable.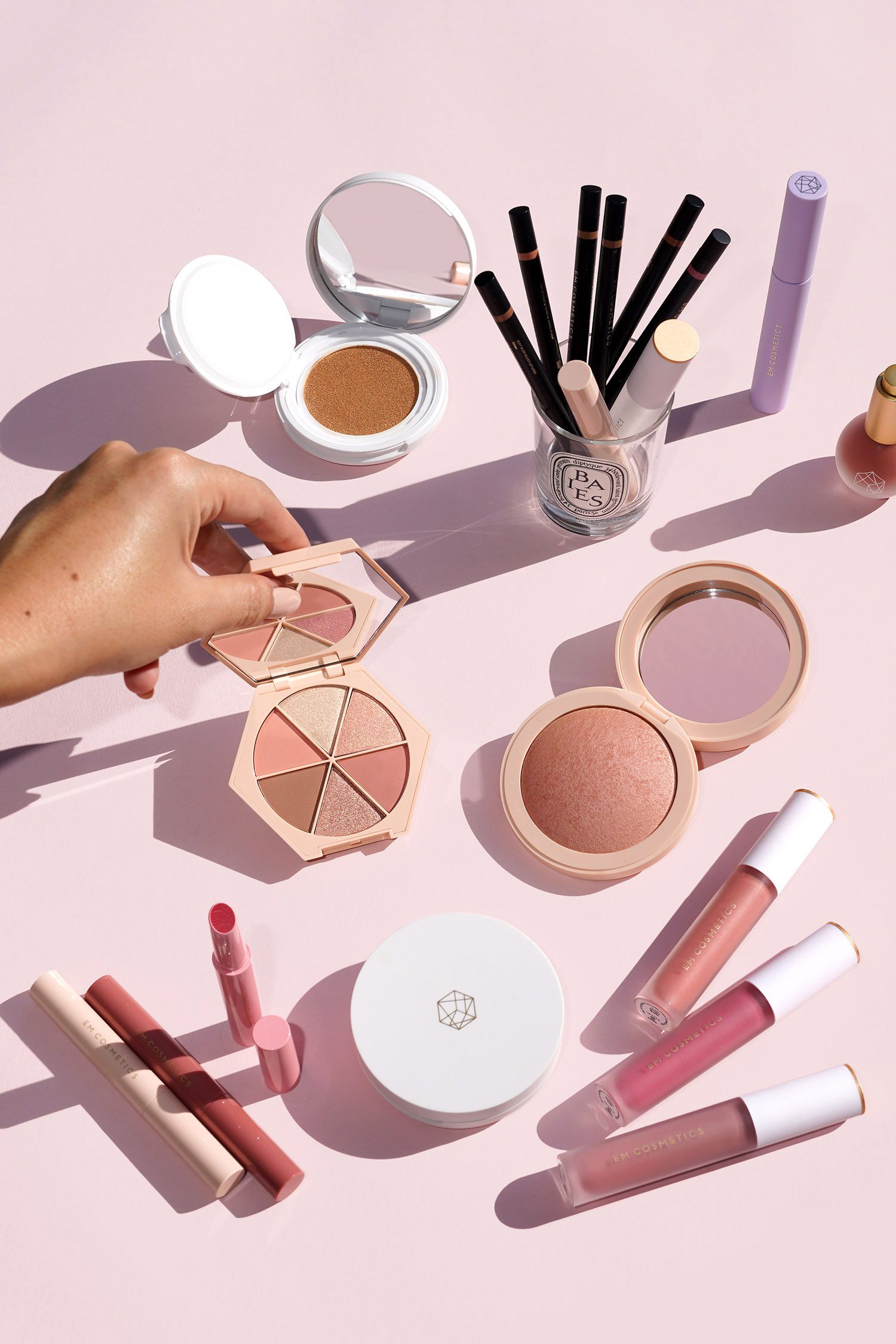 That wraps up my EM Cosmetics overview! I hope you found this helpful. They have some good bundles available at some discounted prices if you're shopping multiple items.
You can find everything online available at EM Cosmetics. Have you tried anything from the line? What did you think?
Most EM Cosmetics products featured provided for review. Venetian Rose Lip Cushion and Summer Hue Daydream Cushion purchased by me.