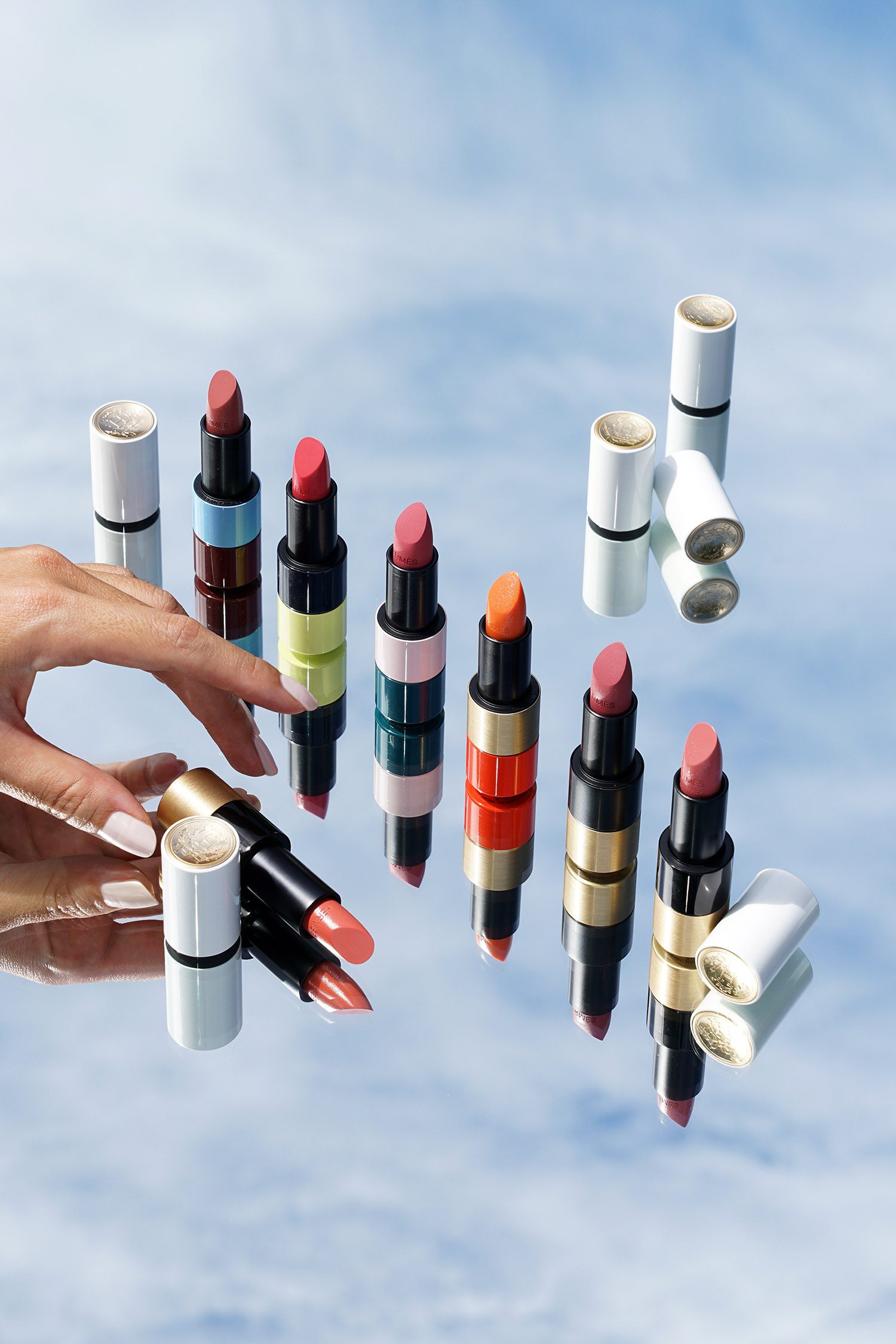 I have a Hermes Lipstick Haul to share today! The launch of three new limited-edition colors combined with numerous messages about this formula pushed me over the edge to splurge on these lipsticks. After extensive testing I have a review and swatches of the Rouge Hermes Lipsticks in three formulas: Satin, Lip Shine and Matte. I ordered all of these sight unseen and am very happy with all the colors I picked.
The Rouge Hermes Lipstick retails for $67 each in the US, however the new limited-edition shades for fall are priced at $72. The lipsticks are refillable and the refills are available at the Hermes website and stores. Each lipstick is cased in a bright orange box and mini canvas-like pouch.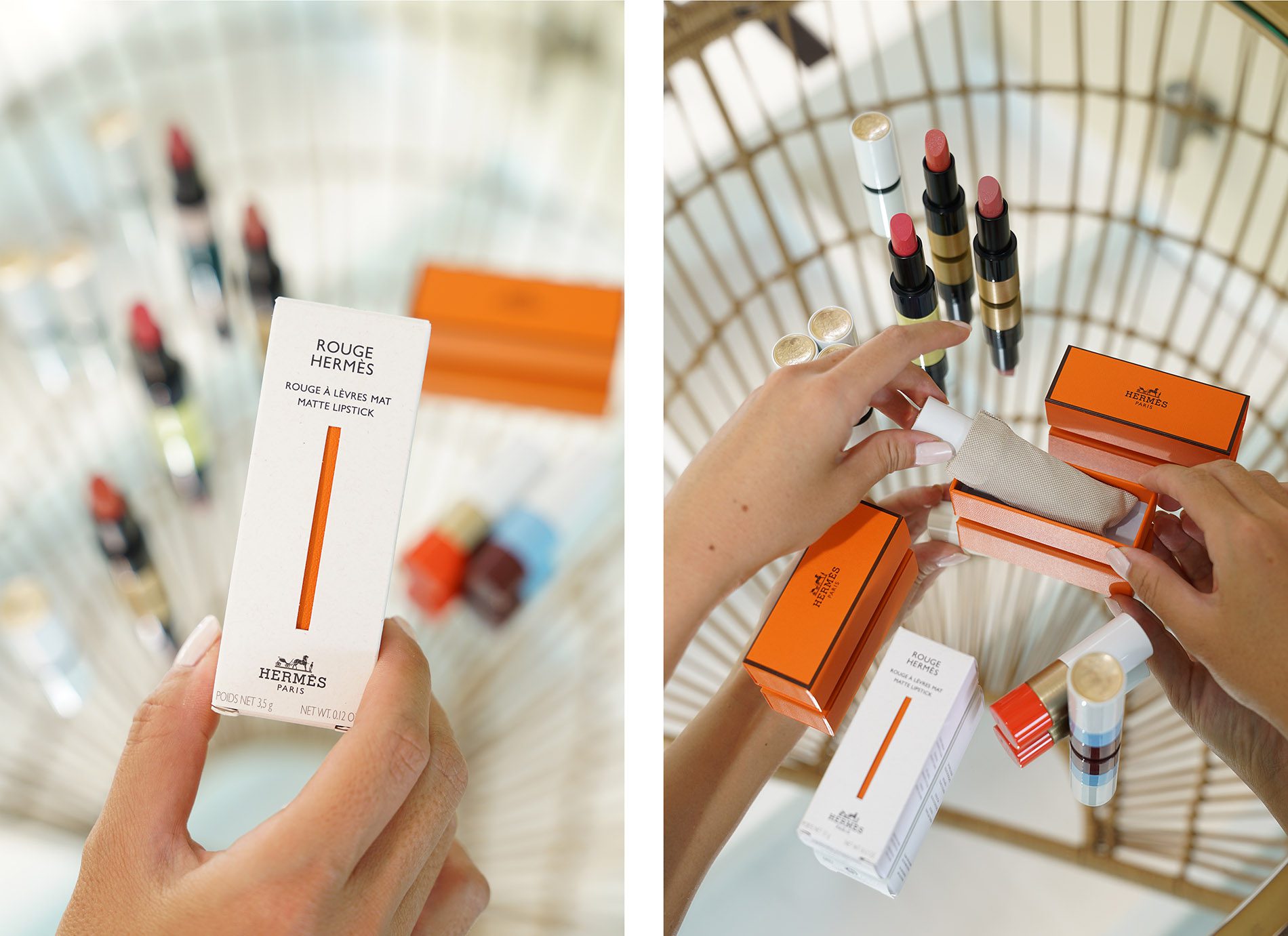 Most of the colors I bought far exceeded my expectations. The colors are really pretty, formula is comfortable and lightweight in feel. To me these are unscented but I put them close to my nose and can smell a tiny bit of sweetness but it's really subtle – I did not notice anything when I applied them. Lasting power is pretty good too! I love the simple and sleek packaging.
I bought 7 shades total in Rose Ombre (satin), Rose Pommette (satin), Rose Nuit (matte), Poppy Lip Shine, Rose Boise (matte), Rose Encens (satin), Beige Tadelakt (satin).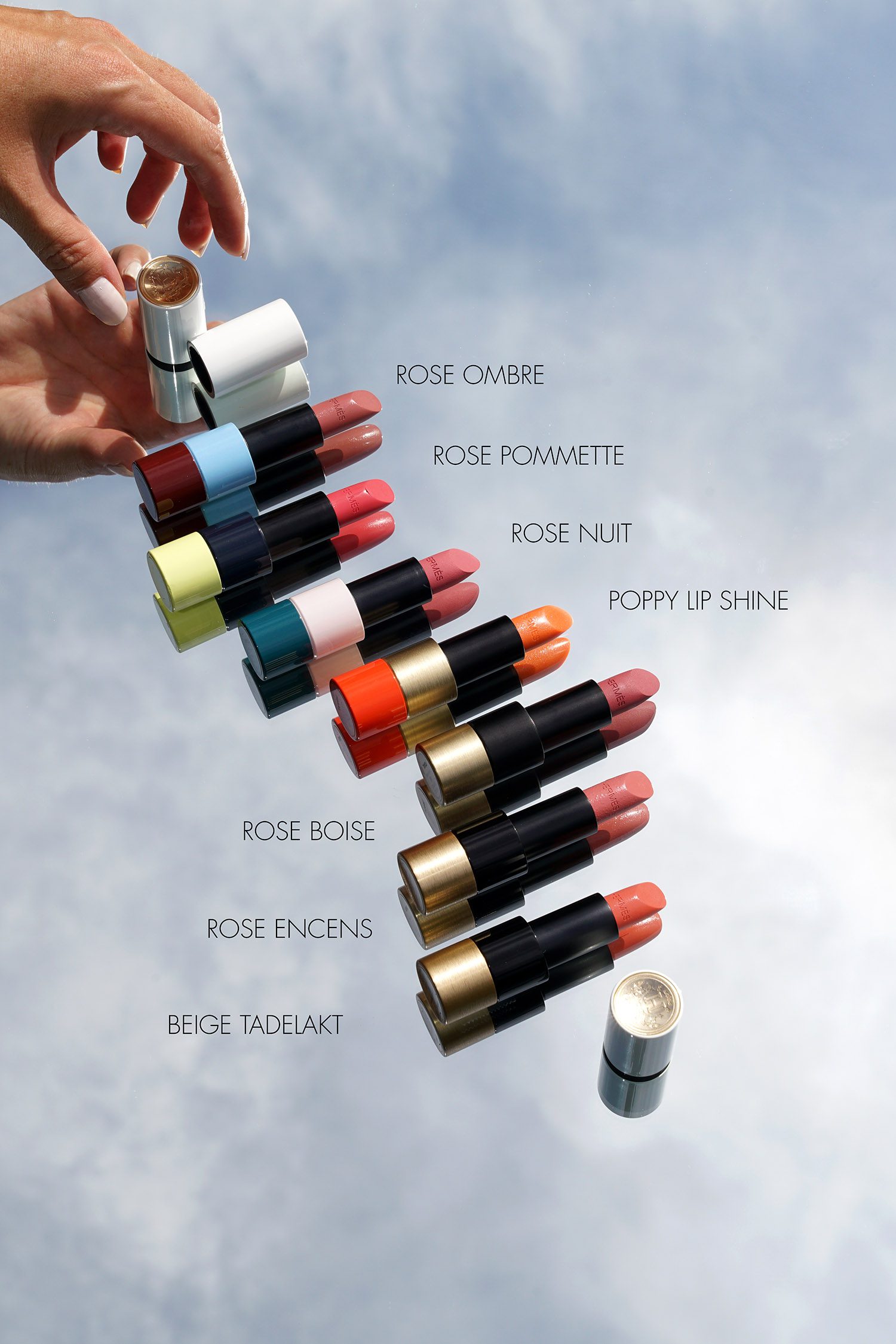 Swatched below, Rose Nuit and Rose Boise look similar on my arm. Rose Ombre and Rose Encens also are close. The difference is more noticeable on the lips (scroll down for face photos).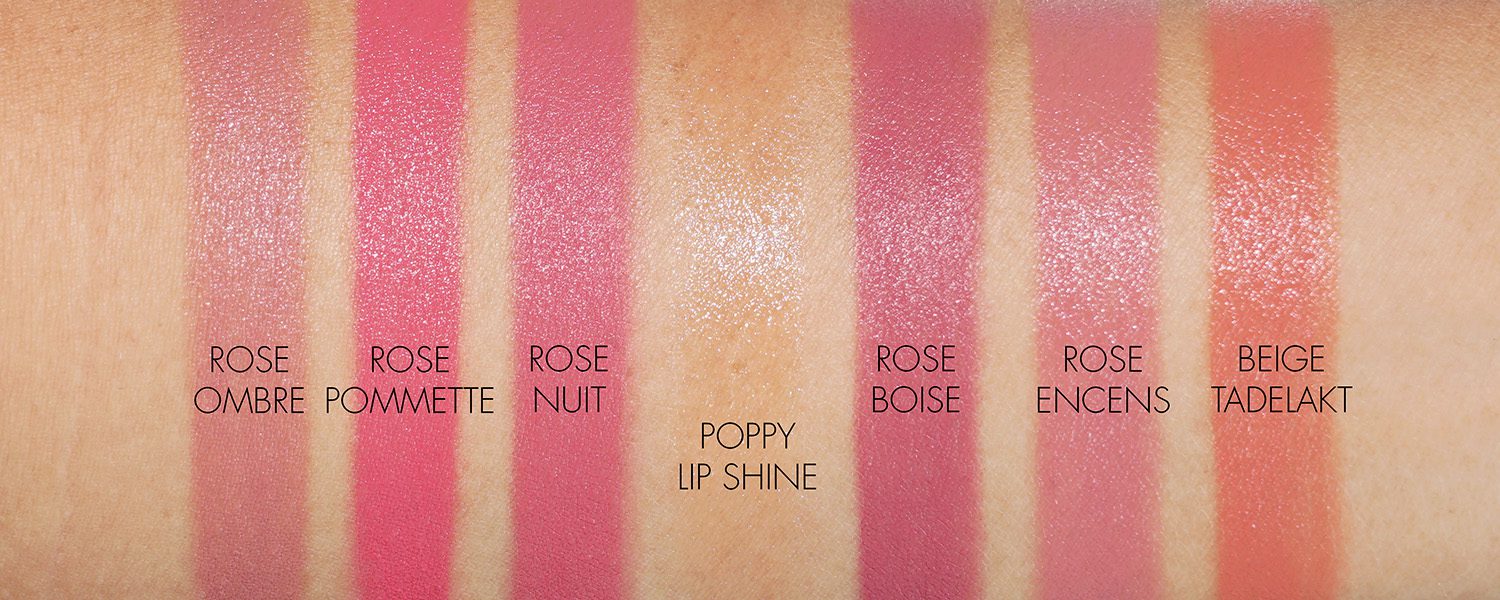 Rouge Hermes Fall 2020 Shades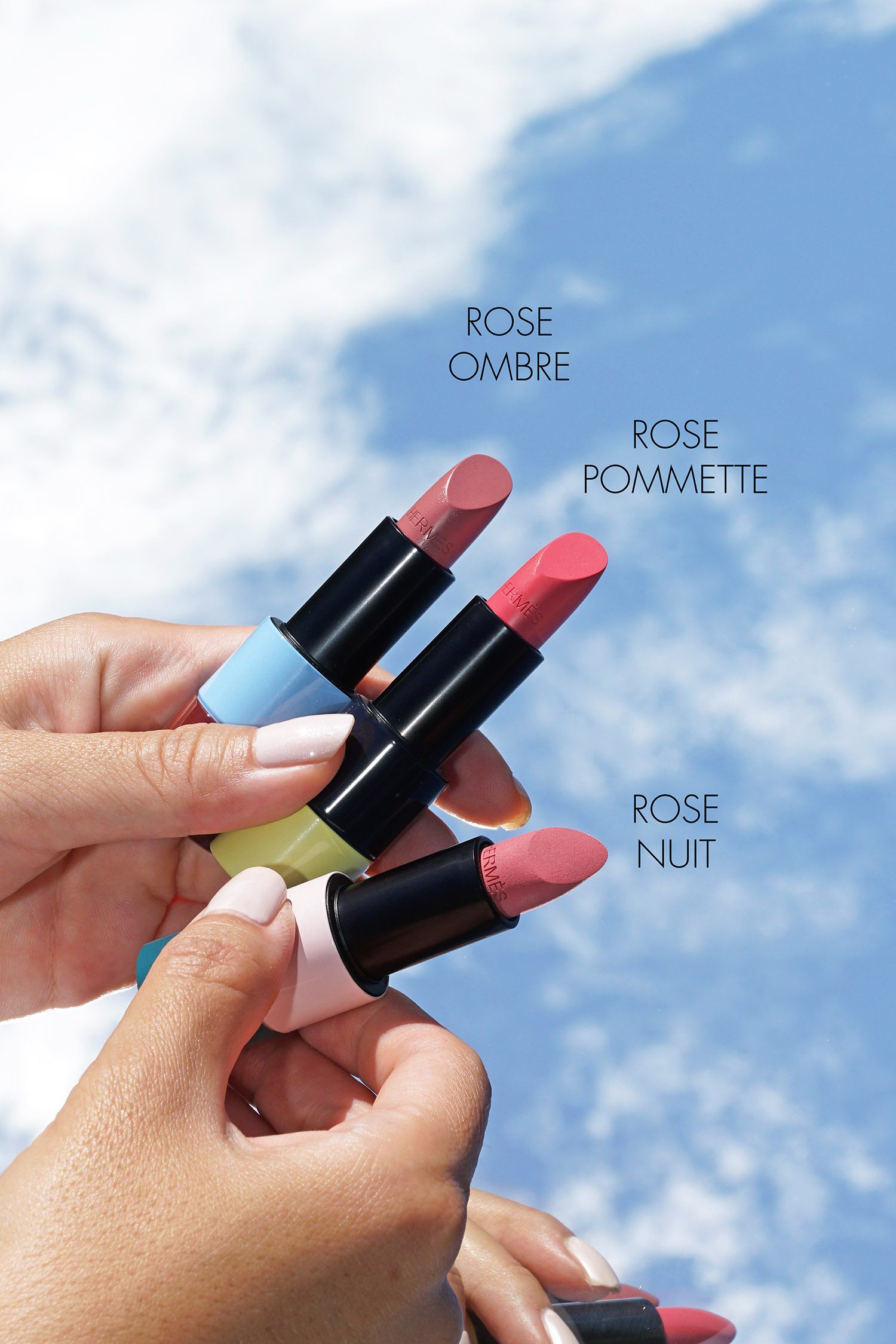 I think the three colors for fall are the stand outs for me. They are priced higher than the colors in the regular lineup and have different colored bases for the packaging:
Rose Ombre (Satin Lipstick) is the prettiest soft pink with a hint of mauve tones, it's very wearable even though it pulls more cool-toned, I wish they would make this one permanent. It's a super flattering natural rose color with medium coverage.
Rose Pommette (Satin Lipstick) is a brighter rose pink, formula has a subtle sheen to the finish.
Rose Nuit (Matte Lipstick) is a velvety warm pink. It's both muted and bright at the same time on my skin.
The satin formula feels smooth and like second skin. They have a slight sheen to the finish and make the lips look like they have a little gloss/shine to them. The matte in the fall collection has a lightweight feel to it but has full coverage. It glides on seamlessly and has good lasting power.
Fall colors on me, also wearing the Cle de Peau Radiant Fluid Foundation Matte in O40 and Hourglass Mini Unlocked Sculpture Palette.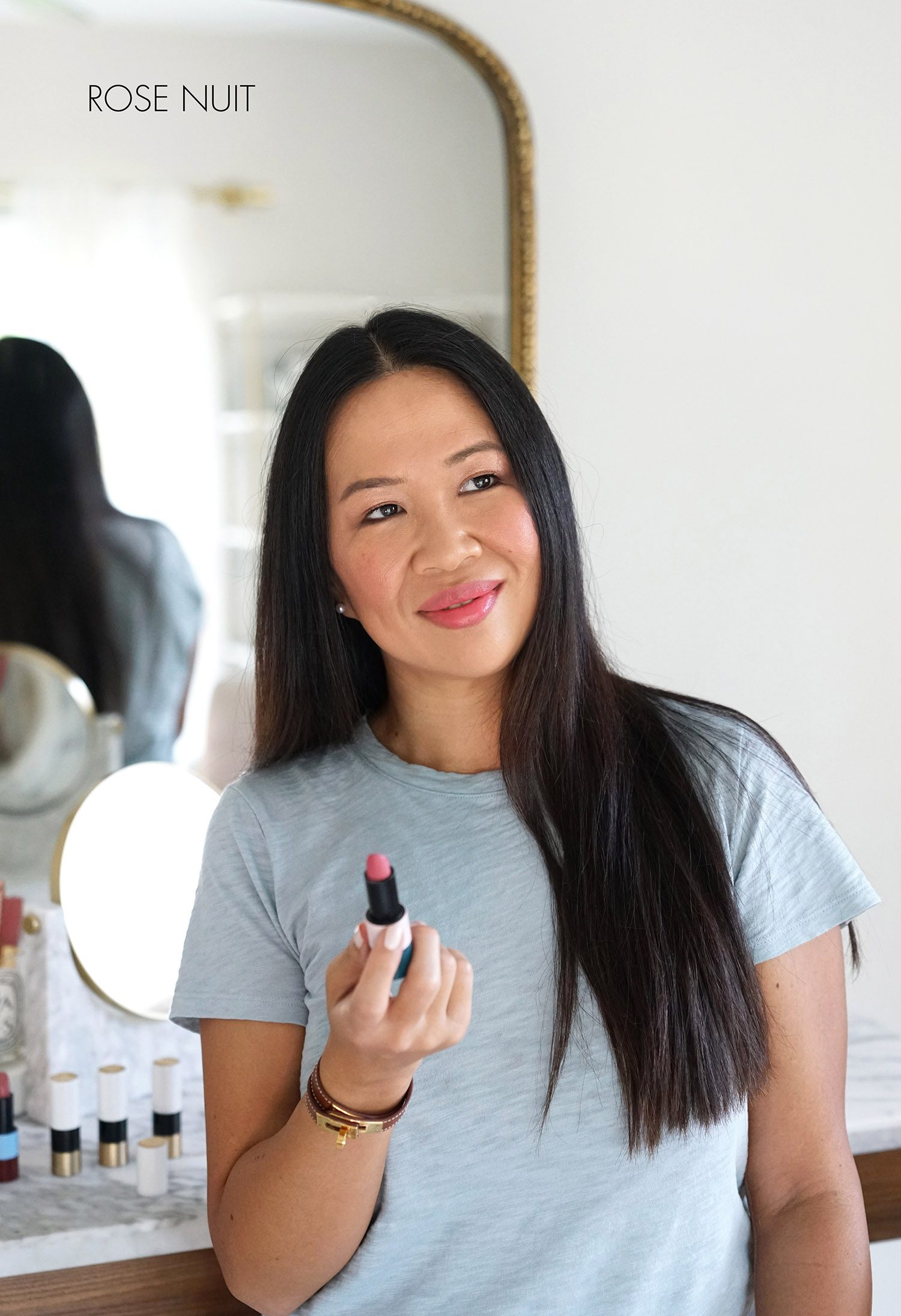 Neutral Satin and Matte
From the regular lineup:
Beige Tadelakt (Satin Lipstick) is a peachy soft coral neutral, it's a creamy warm color that is bright but not too bright.
Rose Encens (Satin Lipstick) is a soft muted pink, it is similar to Rose Ombre on my skin, the difference is Rose Encens is more neutral and warmer in color while the fall Rose Ombre pulls more mauve/cool.
Rose Boise (Matte Lipstick) is a medium rosewood, this pulls darker and cooler on the skin than Rose Nuit even though the arm swatches look close. For me this one had a little bit of texture in the tube, on the lips it's still a lightweight smooth matte, I felt the fall matte formula felt a lot better than this one.
Poppy Lip Shine
Last but not least is a look at the Poppy Lip Shine. This one was sold out for ages and when it popped back online I ordered it immediately. It's a bright orange in the tube but on my lips it goes on clear with shimmer. Part of me thinks this is an overpriced shine lipstick with shimmer particles. Another part of me loves how it feels lush and semi thick on the lips. The texture is smooth even with the shimmer, I don't feel any particles or glitter. It does leave a noticeable shine with the shimmer but it's not over the top. I like it! I just don't know that I think it's super special or worth the price.
That wraps up my Hermes Lipstick review! As many of you have messaged me I do think these are beautiful and splurge-worthy. I actually thought I had ordered a couple brighter shades and one of the reds, but in the process of moving things around in my cart it seems I ended up with all neutral-ish shades. Every color worked for me. If I had been able to see them in person I would have skipped Rose Boise and the Poppy Lip Shine, although I do think they're lovely. I like the refill concept – I do wish that the fall colors weren't limited though, I think they're the prettiest ones they've launched!
If I had to pick my top three, it would be Rose Ombre, Rose Nuit and Beige Tadelakt.
I ordered my lipsticks from Nordstrom and Hermes. Also available at Saks Fifth Avenue and Bloomingdales. Have you tried any of these yet? What did you think?