By popular request I have a Westman Atelier beauty haul review + swatches. I love the Superloaded Tints (reviewed last year here) and think Peau de Peche is one of the most beautiful unique colors I've tried! The most recent launch from Westman Atelier is the Eye Pods. They were kind enough to send Les Nuits for review and I loved the look so much I tracked down the Les Jours before the trio sold out (hoping it will restock soon). You can find Westman Atelier online at their website. I've also ordered things from Violet Grey, Credo Beauty and Net-A-Porter.
In today's review:
Beauty Butter Powder Bronzer in Coup de Soleil
The Beauty Butter Powder Bronzer comes in one shade called Coup de Soleil. It's a matte powder bronzer that is super soft and smooth. Color is a neutral-warm matte soft brown with a slight pink tinge – it does show up on my medium tan skin (I'm usually around MAC NC35-40). It has a super soft powdery texture and blends in smoothly without oxidizing or looking muddy. I think it's a nice one for a wearable lighter-toned bronzer. By comparison Tom Ford Terra is the closest and it's a tiny bit lighter in color and MAC Radiant Matte in Beige-ing Beauty is close but a little more brown.
Wearing the bronzer on the cheeks, beauty breakdown:
Baby Cheeks Blush Stick in Petal
I have such a love/hate relationship with cream blushes because most don't work for me in hot humid Florida. The Baby Cheeks Blush Stick is one of the better formulas I've tried with a creamy almost waxy formula that has a nice dry down. It is easy to blend and once it sets on the skin it does not feel super emollient or too dewy but still looks like fresh glowing skin. Petal is a medium rose pink that sheers once blended. Lasting power is around 4 hours on me before it starts to fade.
I also tried it on the lips and it gave them a soft washed matte glow. Below wearing Petal on lips and cheeks.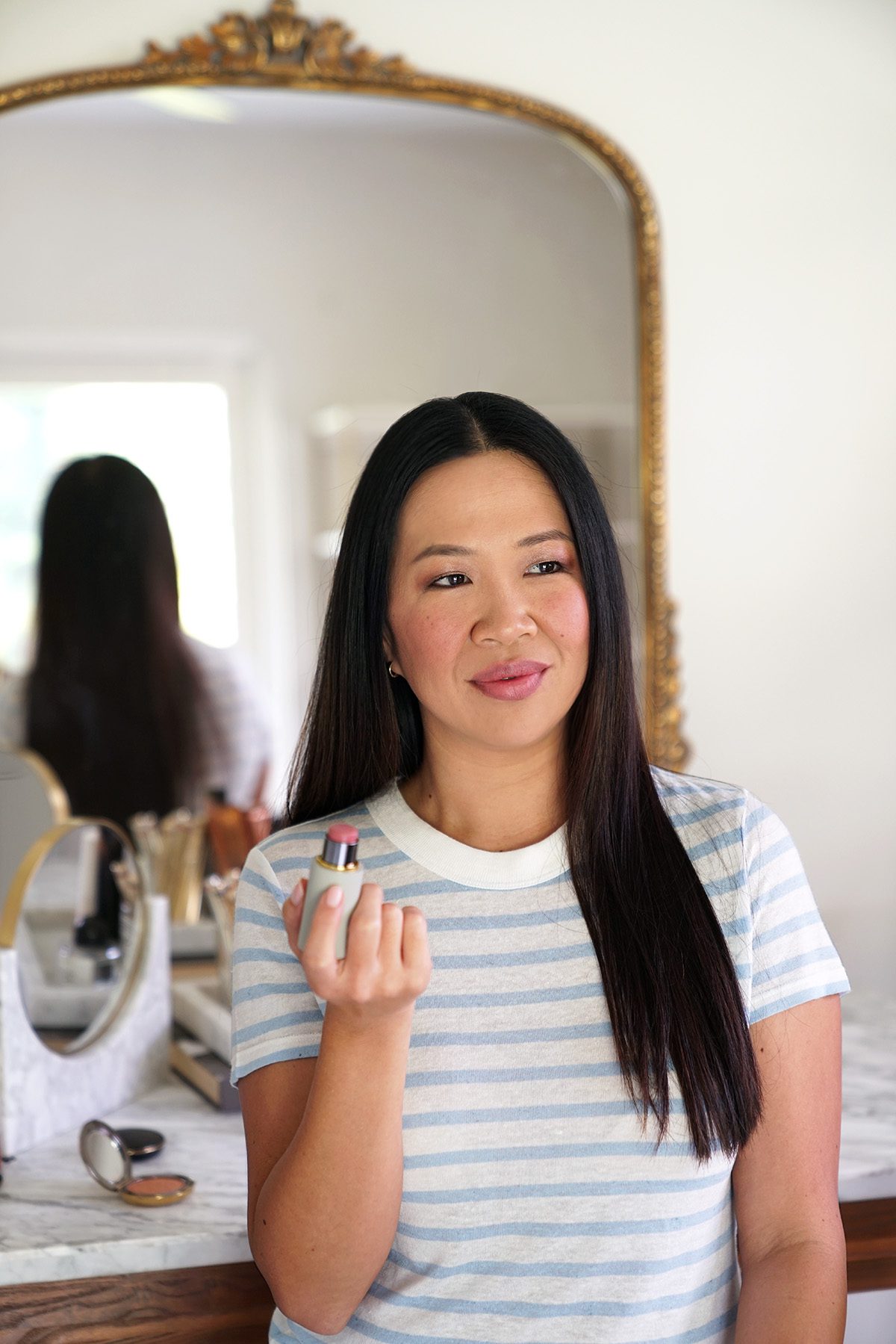 Super Loaded Tint in Peau de Rose
I love the Super Loaded Tint in Peau de Rose is a complex shimmery pink rose with white pearl. To me it has a more dewy creamy feel compared to the Peau de Peche/Soleil but is still easy to blend. It gives a shimmery glow to the skin and has a soft coconut scent to it. I think the Hourglass Vanish Flash Stick in Pink Flash or Rose Gold Flash have a similar effect on the skin.
Swatches of Peau de Peche, Peau de Soleil and Peau de Rose. You can see the other two on the face in this post here.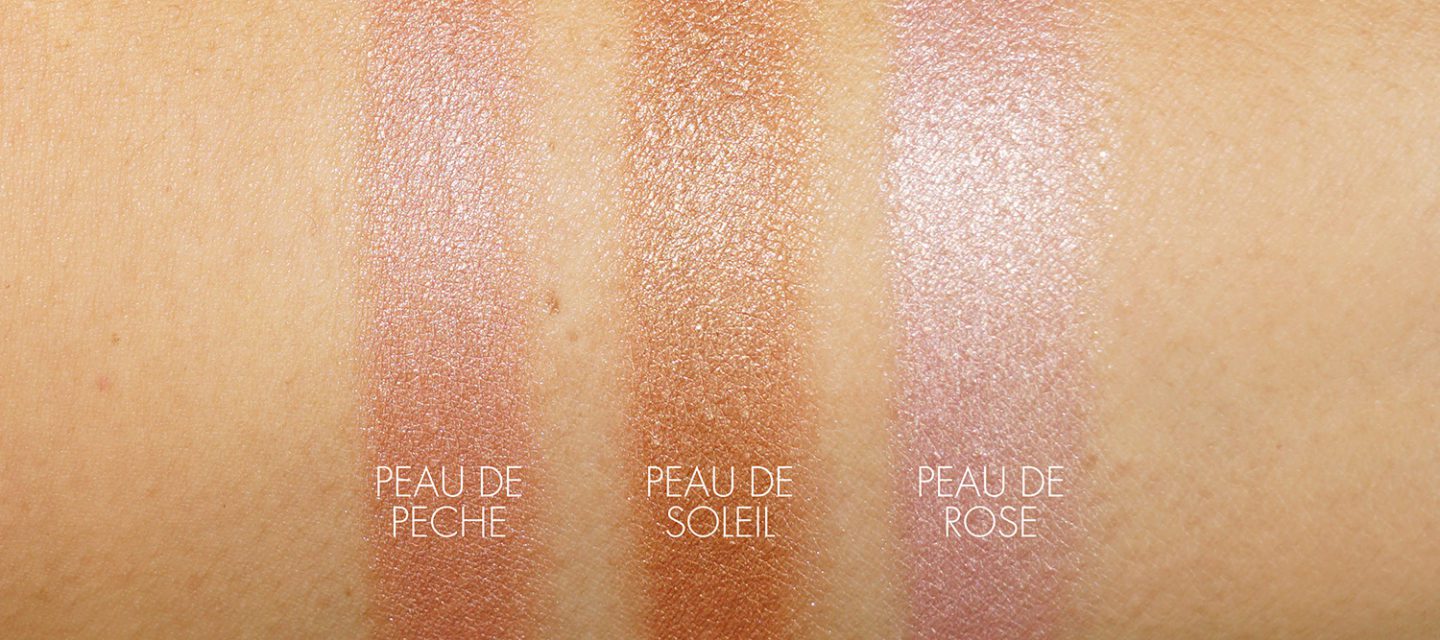 Below wearing the Westman Atelier Eye Pods in Les Nuit, Baby Cheeks in Petal on lips and cheeks, Super Loaded Tint in Peau de Rose, Fenty Beauty Gloss Bomb in $weetmouth.
Eye Pods in Les Jours and Les Nuits + Eye Shadow Brush I
Last I have a look at the new trios called Eye Pods. These are individual eyeshadow pots with twist lids. The packaging is magnetic so you can stack them as well.  The Eye Pods have luminous formula with a velvety cream-powder hybrid – they feel like bouncy creams with a powdery dry down. Pigment is sheer to medium – they have a soft look on the eyes but you can build and layer for more color.
The formula adheres well to the skin making the lasting power is very good. Les Jours has a softer look with Neige (sheer pearly white), Tabac (metallic golden-bronze sand) and Chocolat (plummy bronze shimmer). On me this is very natural and glowy looking for a nice everyday look.
My favorite of the two is Les Nuits which has Champagne (iridescent soft pink), Vin Rouge (warm reddish shimmer) and Noir (softwash faded deep grey black shimmer).
I also picked up the Eye Shadow Brush I which I need to play around more with. This is larger than I'm normally used to so I found it a little awkward to apply and blend eye colors for my eye size and shape. It is well made of nylon fibers. If it were smaller or shorter I think it would be easier for me to use.
Overall I love the look of the Eye Pods! I think Les Jours makes for a really nice everyday kind of look although I think Les Nuits is more unique and prettier! I'm pleasantly surprised by the Baby Cheeks cream blush although I still prefer powders. The new Peau de Rose highlighter is quite stunning but it is very shimmery and I think can be duped with the Hourglass Vanish Flash Sticks which have longer lasting power on me and a better dry down.
For those who have been asking for a review I hope you found this helpful! I do not have a counter near me so I have been relying on other reviews on beauty blogs and YouTube. Although the in-person beauty shopping situation has completely changed with Covid-19. They started to open up stores in Florida and limit the number of people that can enter a store. We are required to wear masks in our area (although I think it varies by county). I stopped by the mall for the first time in a long time last week. Nordstrom has all the testers covered with a plastic sheet (like a plastic wall!) so you can't touch anything. In Sephora they have signs everywhere saying "Do Not Touch" for the testers. If you want to see anything an associate will help you and they swatch product for you on a tissue. I haven't even tried shopping at any other beauty place and most of my purchases (except groceries) are online.
More beauty reviews coming next week! I have a lot of nail polishes I'm excited about. More NARS newness coming soon to the blog. I just ordered the new Gucci Bronzers and Lipstick (they arrived today and look beautiful!). If you've followed me on IG stories I'm trying to figure out my right shade for the new La Mer Radiant Skin Tint (Medium is slightly too dark, so I'm giving Light Medium a try).
Going back to my post, you can find Westman Atelier online at their website. I've also ordered things from Violet Grey, Credo Beauty and Net-A-Porter.
Eye Pods in Les Nuit provided for review. All other items purchased by me.