acrylic display stand from Muji
Doing something as simple as painting my nails these days has some kind of calming effect on me. I've been painting my own nails for several years now and since we're all stuck at home this might a good time to try and improve your own technique! I'm rounding up my favorite spring polish colors to brighten the mood. I'm kinda into softer shades and pastels at the moment. If you have any ones you love let me know in the comments!
First, if you want tips and info on a DIY mani, you can check out my hand and nail care routine roundup.
Chanel
Color-wise, my favorite colors right now are the Chanel Fleur do Pecher and Petale from the La Fleur Et L'Eau Collection. However many of you asked me for more budget-friendly recommendations so I'm sharing some colors I've hauled recently from Essie, OPI, Olive and June below.
_______________
Essie
Essie is a favorite among many of you. Color-wise I think there are some really nice shades. Formula-wise it's not my favorite simply because I find other brands last longer/better on my fingers. They recently launched a new quick-dry formula called Expressie and it really does dry faster! I picked up 3 colors to give a whirl and love all of them. I can get full opaque coverage with 2 thin coats.
Buns Up is a neutral beige cream, similar to OPI Samoan Sand, but the Essie is not as yellow and also has more opaque coverage.
_______________
Crop Top and Roll is a nice everyday neutral pink beige cream, I can get full smooth coverage with 2 coats as well.
_______________
In the Time Zone is a blue-based cream pink, but isn't too blue on my golden skin tone.
_______________
For the spring color launch I think all the colors are really fun and fresh. I limited myself to 2 of them including Kissed by Mist, a light blue-based pink with tiny violet sparkles.
_______________
Spring in Your Step is one of the prettiest smooth pearl lavender colors I've seen. It flashes a very subtle hint of pink in the shimmer.
_______________
OPI
OPI is my favorite affordable nail polish brand. I think they have the best color selection and lasting power. I've used a number of their base and top coats in the past and love them to extend wear. My most-worn neutrals are Samoan Sand, Machu Peach-u and Tiramisu for Two. In case you missed the swatches, check out my Top 5 Best Nude Nail Polishes post. They recently launched a Neo-Pearl Collection and since everything is online only these days I relied on YouTube swatches to pick a couple colors. I normally prefer the regular formula, but it appears the Infinite Shine 2 options for this launch are better and less streaky. I ordered these from Ulta but it looks like they are sold out right now. You might have to do a bit of searching to find these.
I'm a Natural is the perfect pale pink polish color. It's a soft pink that flashes a slight hint of blue. I think it's perfect! This one is best with at least 2 coats. In online swatches and photos I've seen it flash more purple/blue. I guess it depends on the angle and lighting!
_______________
You're Full of Abalone is a pale ivory white that has a flashes a tiny bit of blue/violet. It's sheer so I like it best with 3 coats. It's a nice clean white that isn't too stark or sharp on my skin.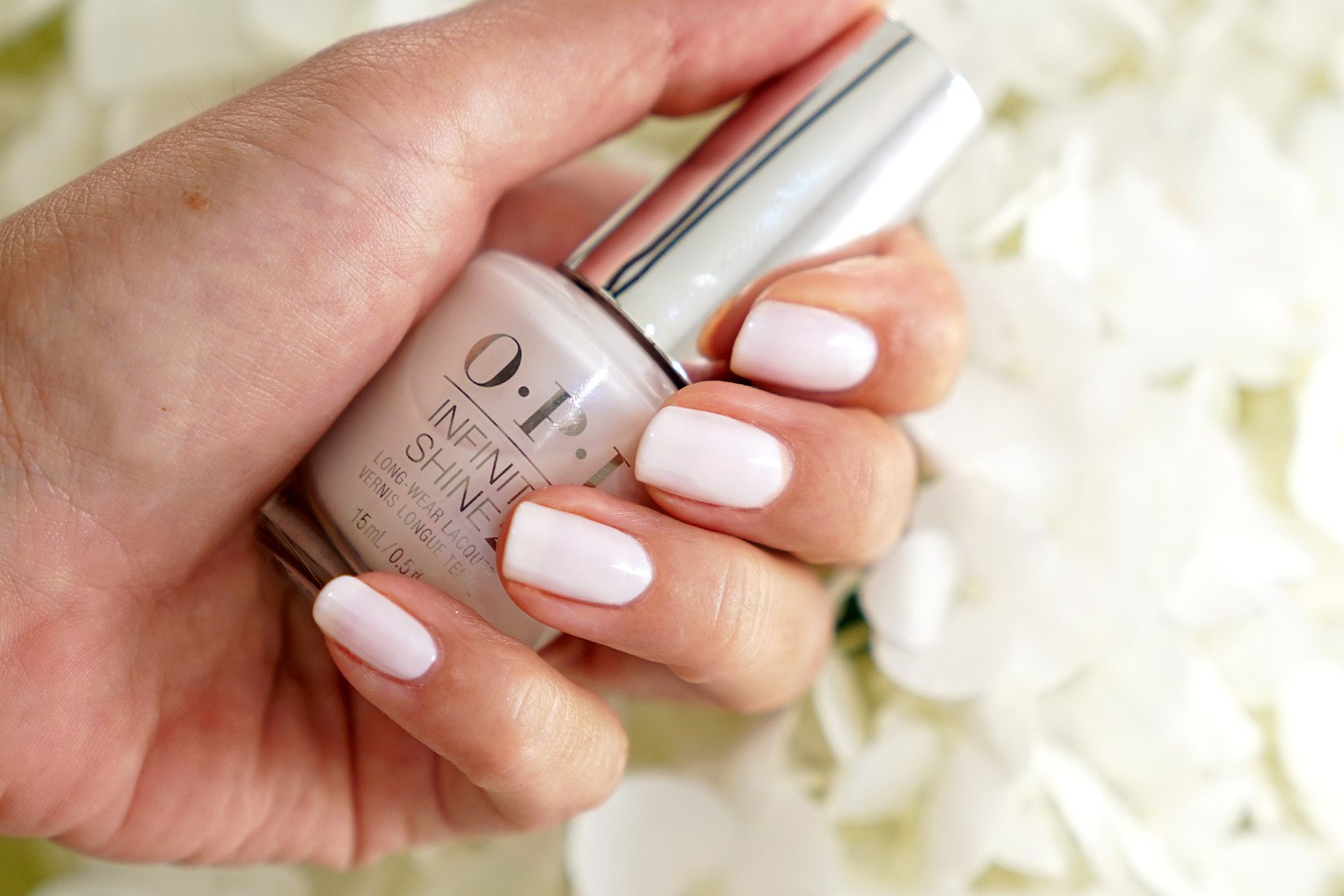 _______________
Olive and June
The Olive and June nail salon in LA is one of the cutest places I've ever been to. I've only been there once and it was the most expensive nail treatment I splurged on with a friend. We both still remember it! They launched their own line of polish and nail care products and I think they're super cute. You can see a previous review of their Tool Box here. A few of their polishes are now available at Target, but the vast majority of their products are online at their website Olive and June.
GH is a pale pink that's almost white on my skin. The formula is buildable so don't be shocked if the first coat looks streaky. Just apply 1 thin coat, let it dry completely. The 2nd coat will smooth out to smooth coverage.
_______________
TT is a pale lilac, also almost off -white on my skin, but looks clean and fresh!
_______________
SE is a baby blue-based pink, best with 2 thin coats. You may need a third on this color.
_______________
BI is a perfect peach cream. The formula on this one was difficult for me to work with, but if you have patience to apply slowly and let each coat dry completely, I think the end result is pretty!
_______________
Favorite hand cream of the moment is Chanel La Creme Main in Le Lift or the La Mer Rejuvinating Hand Serum. Favorite cuticle moisturizer is Olive and June's Cuticle Serum and Dior's Huile Abricot. More recommendations here.
Colors shown in bottom photo:
Acrylic Mini Bottle Stand from Muji (measures 6.9″ wide x 2.6 " deep x 9.1 inches tall)
Top Row: Essie Buns Up, Crop Top and Roll, In The Time Zone, Kissed By Mist, Spring In Your Step
Middle Row: ChanelPetale, Fleur de Pecher, OPI I'm a Natural, You're Full of Abalone
Bottom Row: OPI Natural Base Coat, Olive and June GH, TT, SE and BI
Swatch comparisons for you!
What are some of your favorite nail polishes for spring? Have you been trying any DIY at home manicures recently or are you already a pro/expert?
Chanel Petale, Fleur de Pecher, Olive and June SE and BI provided for review. Others purchased by me.