I'm back with a Tom Ford Beauty post! By popular request I have a review and swatches of all five new Tom Ford Eye Color Quads in Arabesque, De La Creme, Mink Mirage, Sous Le Sable and Noir Fume ($88 each for .31/9 g). As a long-time Tom Ford Beauty lover I could not have been more excited about new palettes, especially since most of the new ones are neutrals! Unfortunately most of these are strong misses for me and not as stellar as the other quads in terms of pigment and color payoff. Still I think there are some nice wearable options good for everyday wear.
Top Row: De La Creme, Arabesque, Noir Fume
Bottom Row: Sous le Sable, Mink Mirage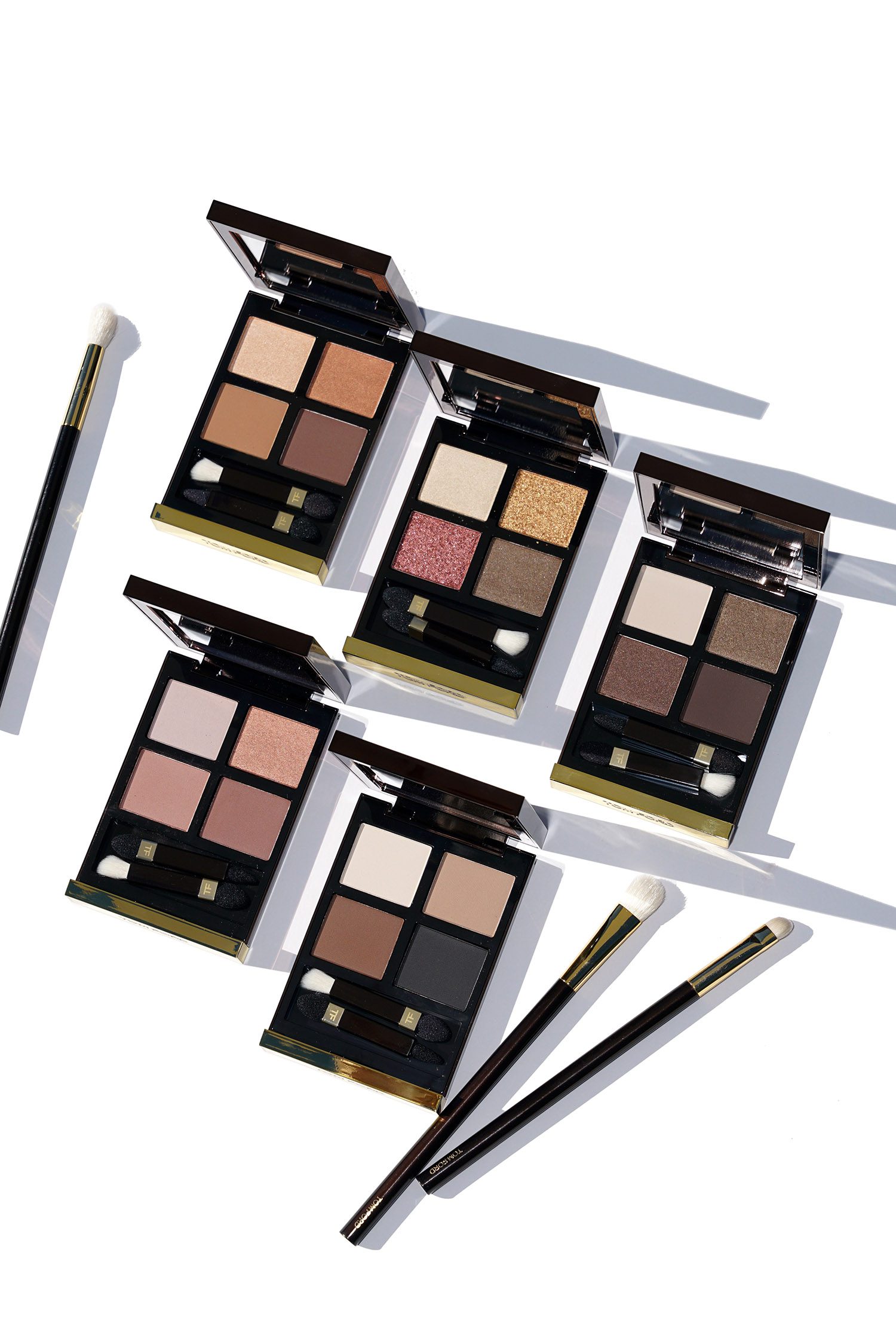 More thoughts on each palette below, ranked from best to worst based on my testing experience.
Mink Mirage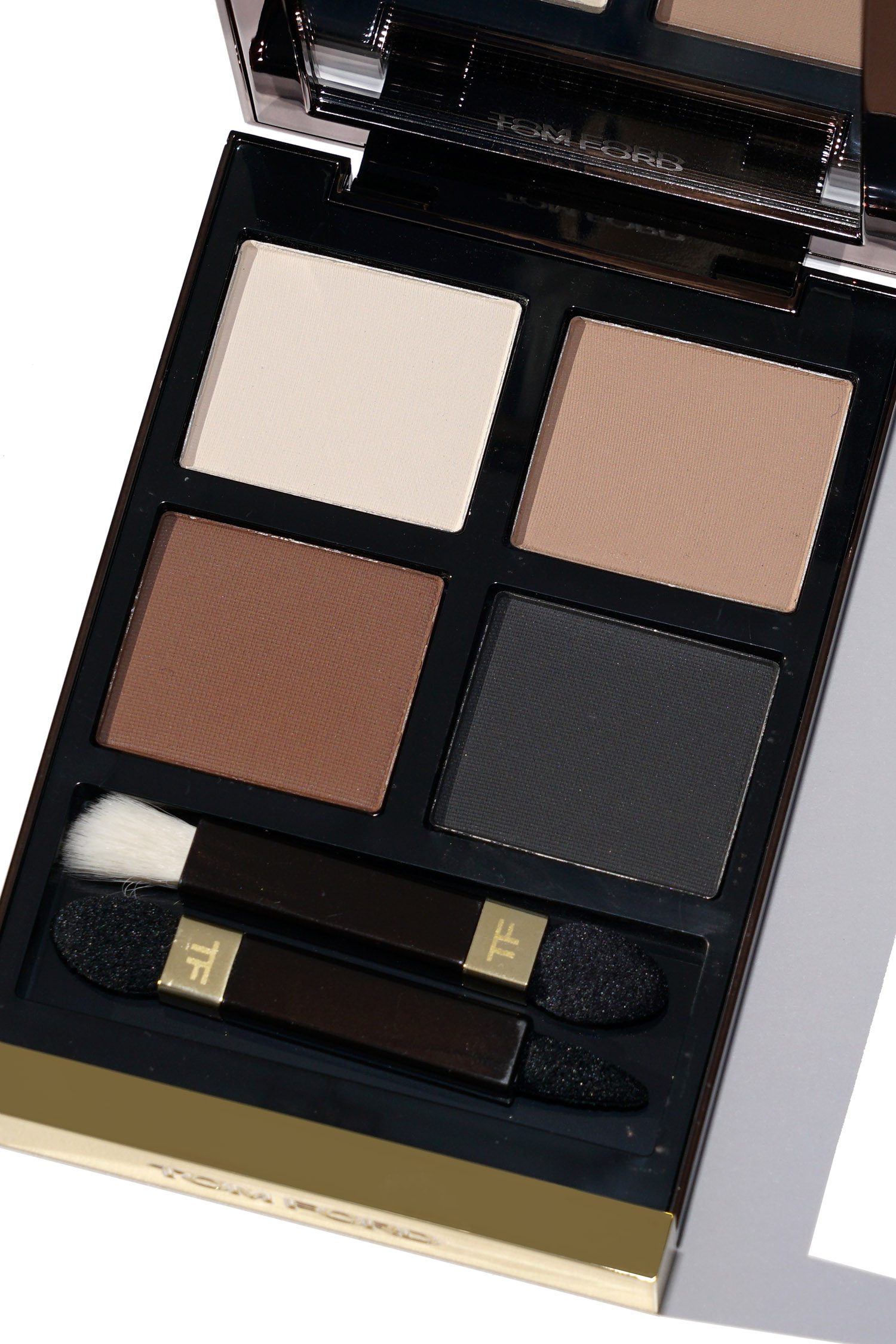 Mink Mirage is the best palette pigment-wise and it has all matte colors. I believe it's replacing Cocoa Mirage which had some of the most boring colors ever but had amazing pigment and actually looked a lot better on the eyes than in the pan. Mink Mirage has a matte cream, a soft matte brown, a medium brown and smokey black. The powders in this one are easy to blend and perform flawlessly for a nice smokey neutral eye. It's easy to wear for any occasion and quite versatile to take from day to night.
Wearing:
Laura Mercier Tinted Moisturizer in Sand
MAC Mineralize Skinfinish Natural
Charlotte Tilbury Highlighter Wand in Peachgasm
Charlotte Tilbury Matte Revolution in Pillow Talk
Charlotte Tilbury Lip Collagen in Rosy Plump
Tom Ford Eye Color Quad in Mink Mirage
_____________
Noir Fume
Noir Fume is the next best one for a soft smokey taupe eye look. It doesn't swatch the best on the arm but on the eyes it layers beautifully for an effortless smokey eye. There's a soft sheer ivory which smooth and evens out the lids. Other colors include a sheer golden brown that almost has slight olive tones, a shimmery taupe and a cool deep taupe grey brown matte.
_____________
De La Creme
De La Creme has the prettiest color scheme out of all the new palettes in my opinion but colors don't show up on my medium tan skin as well as I had hoped. If you're light or fair I think it will show up better. It has a perfect warm champagne peach shimmer, a warm copper, a warm soft matte brown and a medium warm matte brown. If I layer heavily on top of a creamy emollient cream base color adheres better on my skin – but I have to pack/pat it on. Any blending causes the colors to sheer out and almost disappear onto the same soft brown wash. I wish this had the same texture as the Nude Dip/Honeymoon quads because I think the color would show up better on the skin.
_____________
Sous le Sable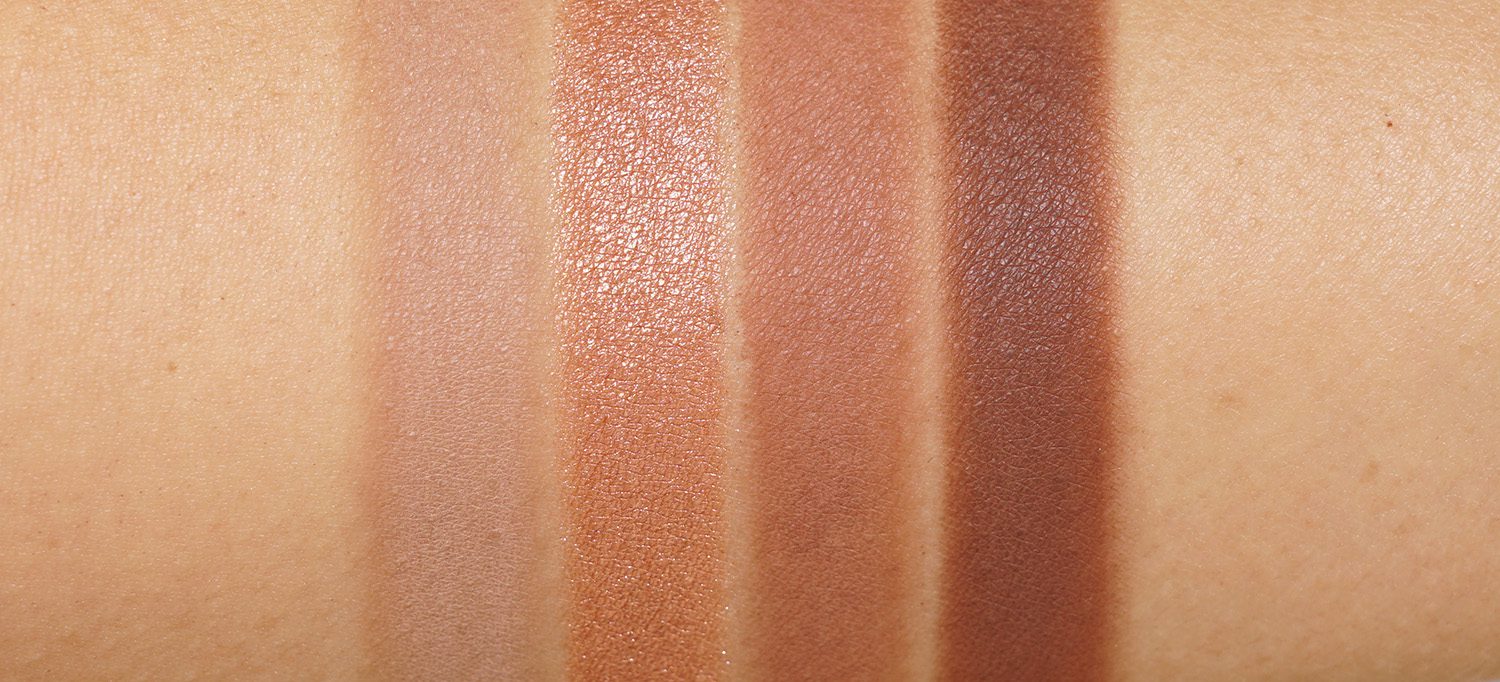 Sous le Sable also has such a gorgeous color palette and it swatches beautifully on my arm, but on my eyes, it disappears into my skin and pigment is barely noticeable. I have to pack on the colors with a heavy hand to see any distinction between the bottom mattes. The shimmery rose is so SO pretty but doesn't show up on my medium skin. The pale matte rose has decent pigment but the other three didn't perform as I had hoped. This made my heart sink – the colors are what I had hoped Charlotte Tilbury Pillow Talk would look like (which gives me a horrible pink eye look). Tom Ford's Sous le Sable has more brown undertones making the color scheme better – I just wish the colors would actually show up on my lids.
_____________
Arabesque
Arabesque is the worst of the five. I'm a huge fan of the glitter palettes because I think they make great toppers. I applied these in a patting motion on the lids and there is barely any color. Just sparkle in which case I feel the Golden Peach Cream Eye Duo or even the Golden Mink Quad are much better.
_____________
Out of all five the only two I truly feel are worth the splurge are Mink Mirage and Noir Fume. The other three are definitely not worth the $88 price tag and are huge disappointments compared to other Tom Ford Quads I've tried.
I personally think the color scheme of the new launches are truly beautiful, but that's where it ends for me. Pigment and color payoff are simply not there which is surprising and disappointing to me considering Tom Ford usually launches high quality products.
Have you tried any of the new quads? What did you think? Did they end up working for you or did you find them patchy/sheer? I bought mine from Nordstrom and Sephora. They're also available at all Tom Ford Beauty counters now.