Chanel has some new additions to their Sublimage Skincare line and after putting them to the test for the past couple of months I have a review to share today. The Chanel Sublimage line has been one of the most luxurious lines I have ever tested. I've loved the Eye Cream, Face Mist and Texture Fine Cream in the past. New items to the collection have launched and I've been getting so many messages from you to review. I'm thrilled to have been able to put the new launches to the test:
There is also a new Sublimage Le Savon de Soin that launched recently as well but I have not tested it. If you have, I'd love to hear your thoughts! It's been a long time since I've tried a bar soap for the face.
The Sublimage line is best suited for normal to dry skin types (in my opinion) but there are some great products for normal combination skin too. It's an excellent anti-aging line and comforts the skin in the most luxurious beautiful way. My thoughts on each product below along with some alternate suggestions in case you don't have dry skin. Mine is more normal to dry right now.
Sublimage L'Huile en Gel de Demaquillage
The Sublimage L'Huile en Gel de Demaquillage is their Ultimate Comfort and Radiance-Revealing Gel-to-Oil Cleanser. It's super gentle and hydrating and dissolves makeup when you rub it into the skin. It contains antioxidants and purifying ingredients to leave the skin feeling extra soft and clean. This is the most hydrating gel-to-oil cleanser I've tried. I really like it – it makes my skin feel so soft!
Long-time Chanel lovers might remember the Le Blanc line had a similar product which was reformulated to the current Le Blanc Tri-Phase Makeup Remover cleanser (which I have tried and loved but haven't repurchased in a while). If you have more oily or combination skin I would recommend opting for the Le Blanc version or the L'Huile Anti-Pollution Cleansing Oil which is a very soft cushiony cleanser more along the lines of a traditional cleansing oil remover.
Sublimage Ultimate Comfort and Radiance-Revealing Gel-to-Oil Cleanser vs L'Huile Anti-Pollution Cleansing Oil, on the nails is Le Vernis in Organdi

Sublimage L'Eau de Demaquilllage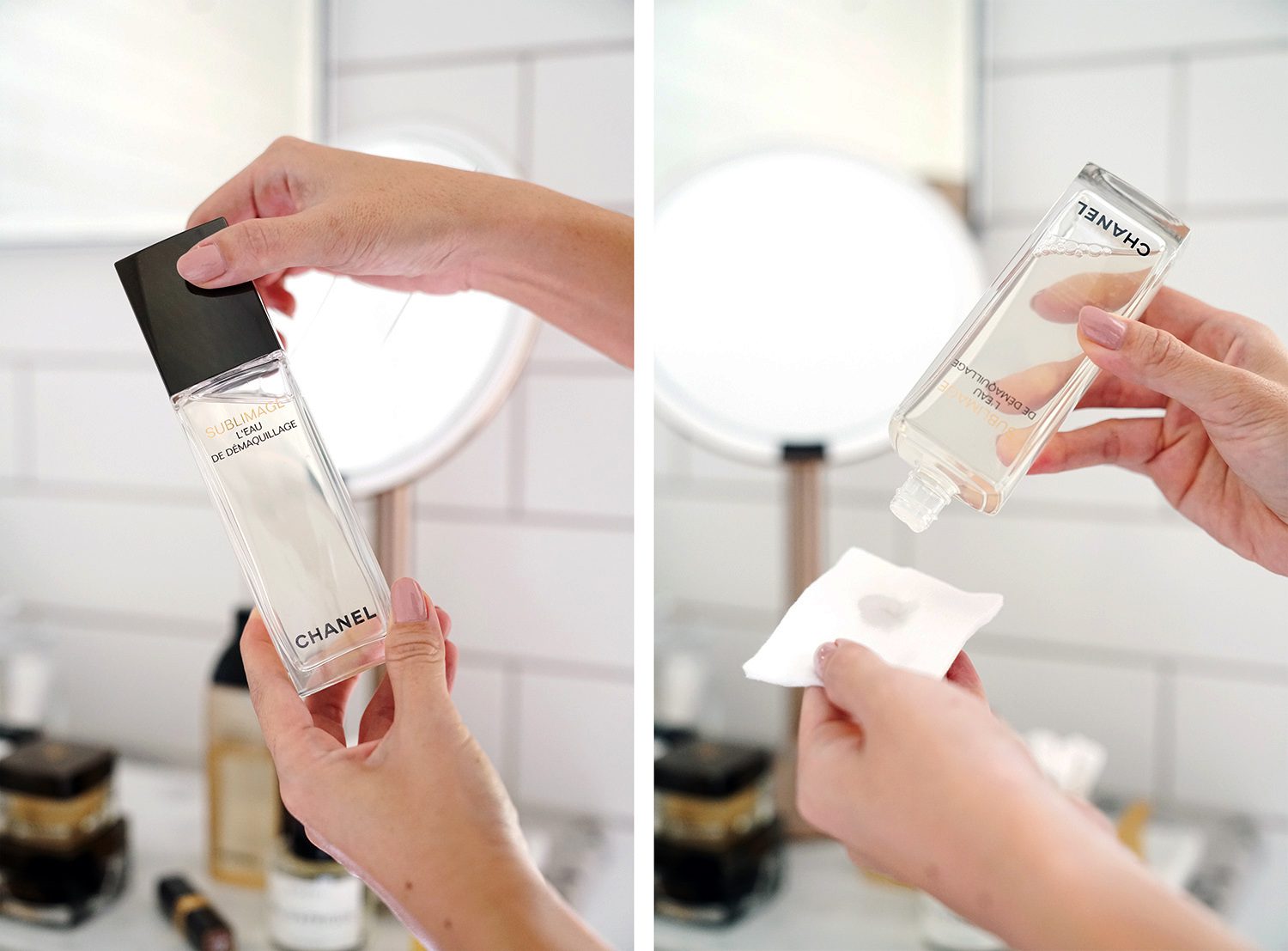 The Sublimage L'Eau de Demaquilllage is their Refreshing and Radiance Revealing Cleansing Water. This is also a very hydrating makeup remover and does just as the name implies: refreshes and adds radiance. It won't take off waterproof eye makeup but it's great for regular face, lip or eye makeup. It has a very soft fluid feel and is very moisturizing.I found it gentle and soothing on the skin. It has a small rubber opening at the top to control how much product you dispense. A little goes a very long way!
I think it's a beautiful product but best suited for normal to dry skin. For other cleansing waters I've really loved the Lancome Eau Fraiche Micellar Cleansing Water and the Chanel L'Eau Micellaire. I feel either of these will be better for normal or combination skin. I've gone through a full bottle of the Chanel L'Eau Micellaire and liked it enough to repurchase. It's a really nice one!
Sublimage Les Grains de Vanille
The Sublimage Les Grains de Vanille is the fanciest face scrub I've ever tested and the most gentle one too! If you have ultra sensitive skin that can't handle most abrasive scrubs this is one I think you might want to look into. It has Vanilla and Jojoba seeds that are super fine and suspended in a gel base. It has a smooth feel and while I can feel some subtle exfoliation it is very gentle. I love the Sublimage scent and wish it came in a body cream form. It's the most calming and soothing vanilla scent I've ever smelled.
I wish I could compare it to something else but this is a unique scrub in my experience. It's so gentle and soft, it almost doesn't feel like a scrub.
Sublimage La Creme Texture Supreme
The Sublimage La Creme Texture Supreme now comes in a mini form that is the perfect size for travel or to try out the formula. It's still quite spendy at $125 but the 0.5 oz format is perfect to me! I hope they consider launching the other formulas in this size too. Right now you can find regular La Creme in a travel size only in their Sublimage Le Voyage Set.
With the Sublimage La Creme Texture Supreme there's a little spatula to help keep the cream itself clean. Every cream comes sealed to preserve the product. A little goes a long way and it's ultra hydrating and smoothing. Skin is instantly calmed, tightness is removed and it gives the skin a luminous finish. I've been wearing this one at night more often than for day time because it's so hydrating.
This year my most-used moisturizer has been the Hydra Beauty Camellia Water Cream. It's the perfect lightweight texture for my skin. It's a lovely one to try if you have normal skin.
Sublimage La Brume Intense Revitalizing Mist
One last mention is the Sublimage La Brume Face Mist which is still one of my favorite face mists ever. This is quite the splurge at $200 but it does come with three refills which made the price easier for me to stomach. It dispenses a super fine mist and refreshes the skin without feeling heavy. Even if you have normal or combination skin I don't think you should let the "intense" part of the name intimidate you. I feel it's suitable for all skin types.
For those of you who have been asking for the Sublimage review I hope you found this helpful! If you've tried the Sublimage line I'd love to hear your thoughts! If not, have you tried any other Chanel skincare products?
You can find all the new Chanel Sublimage launches online now at Chanel.com.
P.S. The Spring-Summer Collection has already launched online and it looks so beautiful! Review coming soon 🙂
New Chanel Sublimage Skincare items gifted for review.