I'm thrilled to share that the Diptyque City Candles will be available online at Diptyque and in Diptyque boutiques for a limited time starting today 9/27 through Sunday 9/30. There are currently 9 city candles that have been created for Beverly Hills, London, Miami, Tokyo, New York City, Shanghai, Berlin, Paris and Hong Kong. Each candle comes in a beautifully designed jar. Since they are only available to the stores in each corresponding city they're harder to find and track down, but Diptyque is launching them all online for a limited time. Two new launches this round for online include Hong Kong and Paris. There is also a new Boxed Set of Six City Candles that comes packaged together in a white box.
While these are typically only available in city boutiques (similar to the Le Labo city perfumes), there have been a few times where Diptyque has launched the collection online so I was able to buy the ones I didn't own from boutique trips, but they sell out very fast! Earlier this year I found a wonderful Paris shopper who travels from the US to Paris frequently for work to purchase a couple of the Paris ones for me. Every single one is amazing and beautiful. The boxes these come in are just as beautiful if not prettier than the actual candle jars themselves.
I have a review for each one today except Berlin. I have the older version which is packaged in a clear glass jar and based on the description I think the tinted design jar is same as the clear one but I haven't smelled it to confirm.
Quick note for the US city candles and if you're based in the US. While the candles are only available at each city boutique (Beverly Hills, Miami, NYC) – you can call the store to order and they will ship to you! Every store I've ordered from and called is very friendly, patient and helpful.
Beverly Hills
Beverly Hills was the first city candle I discovered. I reviewed it several years ago when we were still living in San Diego. I am a little embarrassed to admit how many I stocked up on but this was my go-to for a long time. It has lemon, mint, orchid and freesia. It smells like a fresh citrus and the mint is a sweet mint but it's really subtle.
The description, "With its palm trees and lush gardens, the Beverly Hills candle embodies the aroma of an iconic city. A unique citrus scent blending mint and lemon with a hint of Freesia, the candle exudes a bright and zesty scent. The candle's colorful design has a psychedelic touch that is native to the west coast and pays homage to the famous Martinique wallpaper, the iconic pattern used in the Beverly Hills Hotel."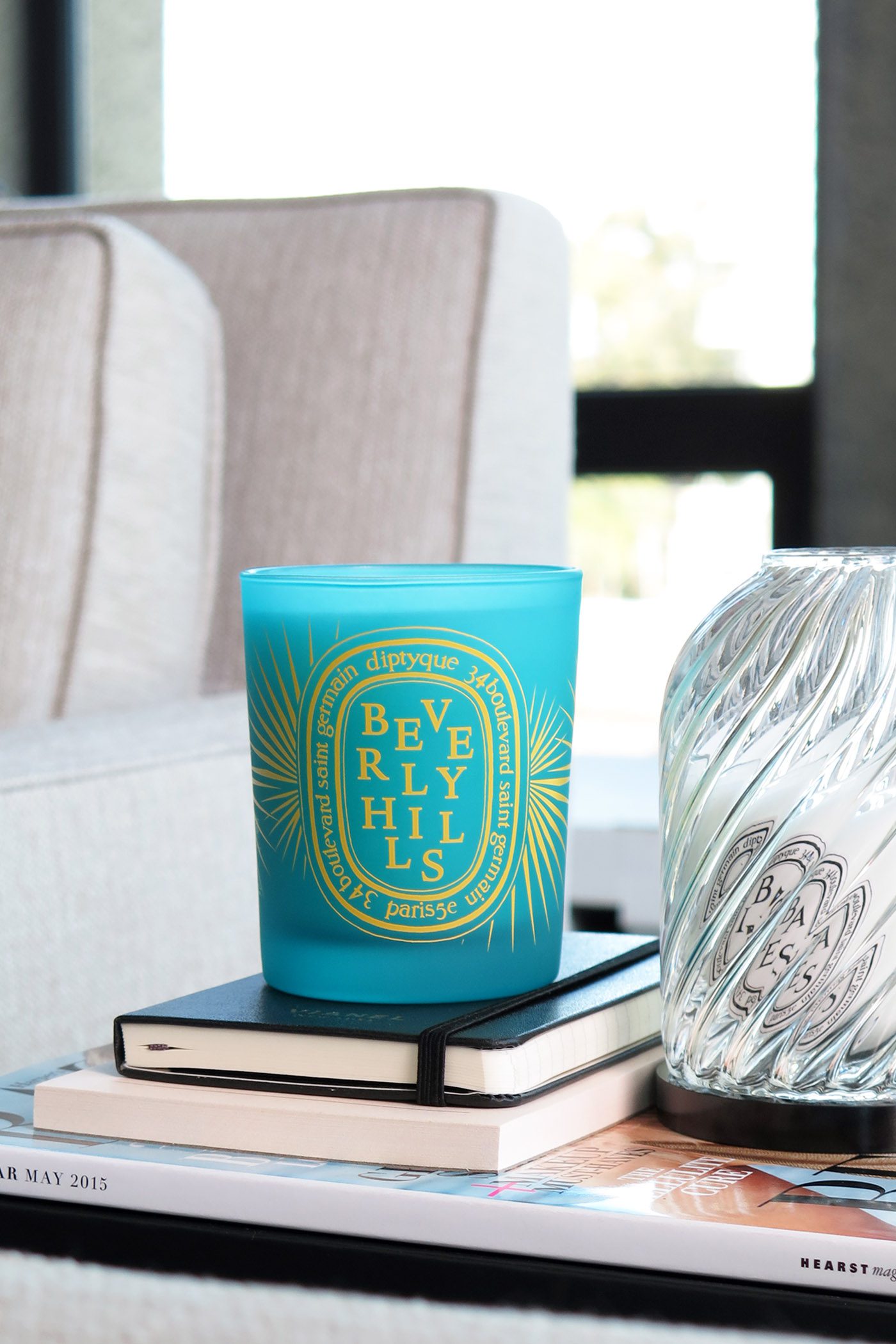 Miami
Miami is another one I bought online the first time city candles were offered. I also bought a couple in person at the Diptyque store at Bal Harbour. This is another floral citrus with magnolia, lemon, lime, vanilla. To me it's similar to Beverly Hills, but Miami is creamier and a little more green while Beverly Hills smells sweeter and more vibrant.
The description, "The scent of the Miami candle offers an exotic aroma of delicate magnolia blossoms enhanced by delicious citrus notes. Reminiscent of the tangy lemon and lime native to the city, the candle suggests hints of vanilla and an homage to its signature tropical atmosphere. Its design pays homage to the city's iconic Art Deco architecture, lively atmosphere and unique culture."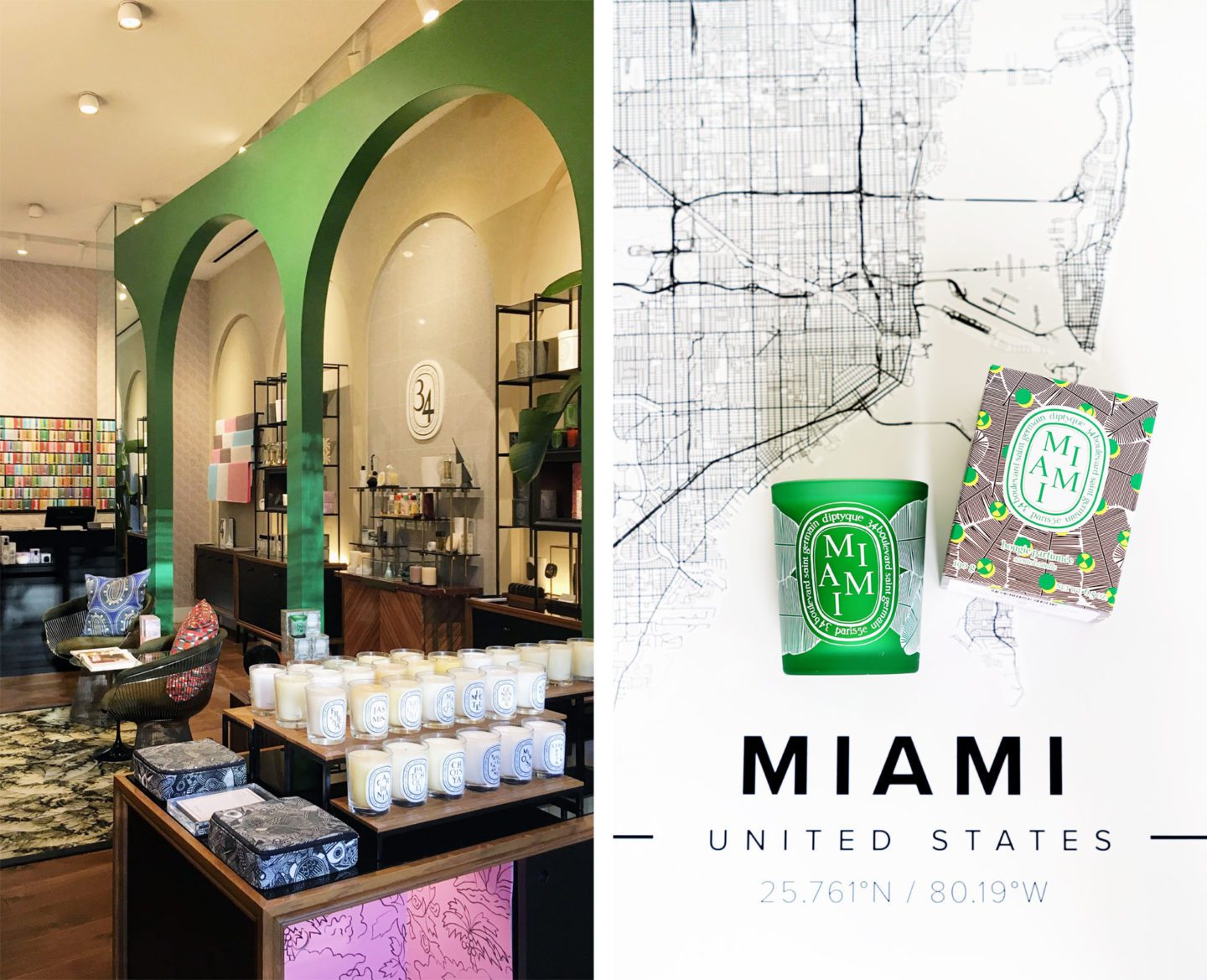 New York
New York is inspired by New York City nights. I don't know that I can attribute a smell to the city, but this candle has a warm patchouli, cedar and vetiver. It smells like fall in a warm cozy leather chair to me. It has a strong masculine vibe with the cedar. The candle doesn't smell like New York to me but regardless I think it's a beautiful one.
Description, "New York City candle evokes the spirit of speakeasies and the atmosphere of New York City by night… Like an echo: cedar, vetiver, and patchouli together are heightened by incense, reviving the scent of New York City at its golden age."
London
London candle has beautiful floral notes like a garden. The lilac and juniper are what I smell and it has a very soft airy feel to it. I haven't been to London in over 15 years, I have fond memories and am dying to go back to visit. When I was in college I did a summer study abroad trip to Oxford and went to London frequently. This was a life-changing experience for me not only to see England for the first time, but also because I met a boy who I married nearly 10 years later. I also roomed with a girl who became my long-time bestie even to this day we still keep in touch.
Description, "The scent of the London candle takes you to the heart of the Columbia Road flower market. Its unique notes of heliotrope, lilac, juniper and hyacinth are warmed with a touch of spice. With its floral detailing, the vessel celebrates a traditional bright and refined English wallpaper—paying homage to the pattern of the historic Westbourne Grove diptyque boutique."
Paris
The Paris candle is something I can't quite describe. It's described has having chypre accord with aromatic twist of lavender. It smells fresh, light, floral, deep all at the same time. It feels like a little bit of citrus, lavender and cedar all mixed in one. This is in my top picks because of the name Paris. It's a dream of mine to live there (always dreaming of the croissants and beautiful gardens!).
Description, "The newest addition to the City Candle Collection, the long-awaited Paris candle. Dressed in an ornate vessel that reveals the capital as seen from the sky, the pattern pays homage to the iconic city of light. The scent is marked by a chypre accord that permeates the enigmatic Parisian chic atmosphere."
Hong Kong, Tokyo and Shanghai
Hong Kong is one of the newest online launches. I haven't had a chance to burn this one as this is my first time seeing it in person. I love the bold red reflective jar with the design inspired by the high rise buildings in the city. The scent has floral notes that are built around the Bauhinia Blakeana one of their orchid trees. There are also also supposed to be notes of steam rice which usually doesn't have a scent to me. It's a creamy floral with a musk feel to me.
Description, "The Hong Kong vessel presents a setting inspired by the citys colorful, graphic, urban density. Ever present is the persistence of nature as it attempts to reassert its power throughout the city. The olfactory tribute to this city is expressed through a floral accord, built around the famous Bauhinia Blakeana, Hong-Kong's emblem, complemented by comforting steam of rice. Come, discover the newest addition to the city candle collection online or at our Hong Kong boutique."
Tokyo is one of my favorites because it has a fresh light scent of pine and cedar but doesn't feel as green as those notes typically are. There's a hint of hinoki and incense in it with subtle floral feels. This was one I was really excited to be able to buy online.
Description, "The aroma of the Tokyo candle takes you on a stroll amongst the majestic Japanese cypress trees. Notes of pine oil and cedar leaves celebrate majestic branches shading a hidden temple path and diffuses notes of soothing incense. Inspired by the art of the Japanese garden, its design evokes the harmony and serenity of two of Tokyo's most famous parks, Yoyogi Koen and Shinjuku Gyoen."
Shanghai smells like a sweet flower mixed with green tea. It almost smells sweet like a dessert I'd want to eat.
Description, "The scent of the Shanghai candle is closely linked to a Chinese tradition. Deliciously perfumed osmanthus flowers complemented with notes of green tea and maté to reveal the aroma of a freshly brewed cup of tea. The candle's design is an ode to the beauty of Huxinting, Shanghai's oldest tea house. The vessel's deep red shade, blue porcelain and gold are an ancient symbol of good luck."
City Candles Box Set 2018 Edition
The amazing 6-piece box set with Beverly Hills, London, Paris, New York, Tokyo and Shanghai. It retails at $432 and while you don't get a price break compared to buying individually but I can't think of a more amazing gift that this would make having them in a beautiful white box.
The only one I'm missing is Berlin but as mentioned at the top of the post I have the original glass jar version and while I'm almost 100% sure the colored green and yellow jar they have right now is the same, I haven't smelled it to confirm.
Going through all the descriptions again has me itching to travel overseas. I have such good memories of travels to Europe and I have only been to one country in Asia before but have so much on my travel wishlist. I love these city-inspired candles and as a Diptyque lover it's fun to have something a little rarer and harder to find.
The Diptyque City Candles retail for $72 each and the Boxed Set of Six retails at $432. Available online at Diptyque for a limited time through 9/30, in limited quantities. Also available in the free-standing Diptyque boutiques.

Have you tried any of these before or visited any of the Diptyque stores in these cities? If I'm traveling to a place with a Diptyque boutique it's always a MUST that I stop inside one. They're beautifully designed and the staff is always so knowledgeable and friendly.
Huge thanks to Diptyque for sending me all the candles for this feature. Being the Diptyque fan that I am I had already purchased all the scents on previous occasions except for Hong Kong. I'm the happiest person on earth to be stocked up on these scents from a brand that I've adored for many years.