I'm a huge fan of YSL lipsticks and balms so when I found out they were launching a new Volupte Liquid Colour Balm I literally stalked the web daily to buy them the second they went online. Right now these are exclusive to Nordstrom and there are twelve shades total. I ordered seven of them sight unseen and they are amazing. If you like the Volupte Tint in Balms or Rouge Volupte Shines you're going to be obsessed with the Volupte Liquid Colour Balms. YSL describes these as it having a "breakthrough formula" that is "packed with soothing shea butter, antioxidant-rich vitamin E, coconut water and jojoba oil, which soften lines, enhance lip texture and lock in moisture."
These come with a flexible cushiony sponge tip applicator. The tips are in the cutest shape of lips! Pigment is rather impressive for a lip balm in my opinion, but they are still medium in coverage. They have an ultra smooth hydrating feel and it's quite lush on the lips. Each balm has that distinct fruity melon/mango kind of scent which I love. One of the shades is a pale pink which is pretty much clear, but it's an overnight lip mask instead of a tinted balm. You can wear it as a regular balm – to me it feels the same as the other shades and if left on overnight it leaves lips incredibly soft.
Lasting power is about the same as the other glossy YSL lips. They'll stay on for a few hours and won't fade as long as you don't touch the lips. The formula leaves the lips so smooth and soft I don't mind reapplying.
The colors don't have shimmer but there is a high shine and some of them have a very subtle pearl which isn't noticeable on but adds dimension. While these aren't necessarily plumping for some reason on my already full lips the moisture and shine makes my lips look super full. Colors I picked were random, I literally wanted to buy all of them. After testing the shades I have I still do. I tried to show some restraint as there are a lot of other beauty releases coming out this spring. The colors are phenomenal and have a lot more color payoff than the Tint in Oils which are a lot thinner and more oily in texture.
YSL Volupte Liquid Colour Balms descriptions:
Night Rehab 1 is a clear pale milky pink
Expose Me Rose 2 is a bright rose pink
Show Me Peach 3 is a medium peach
Spy On Me Nude 4 is a peachy nude
Watch Me Orange 5 is a bright orange
Devour Me Plum 10 is a plum
Chase Me Nude 12 is a pinkish nude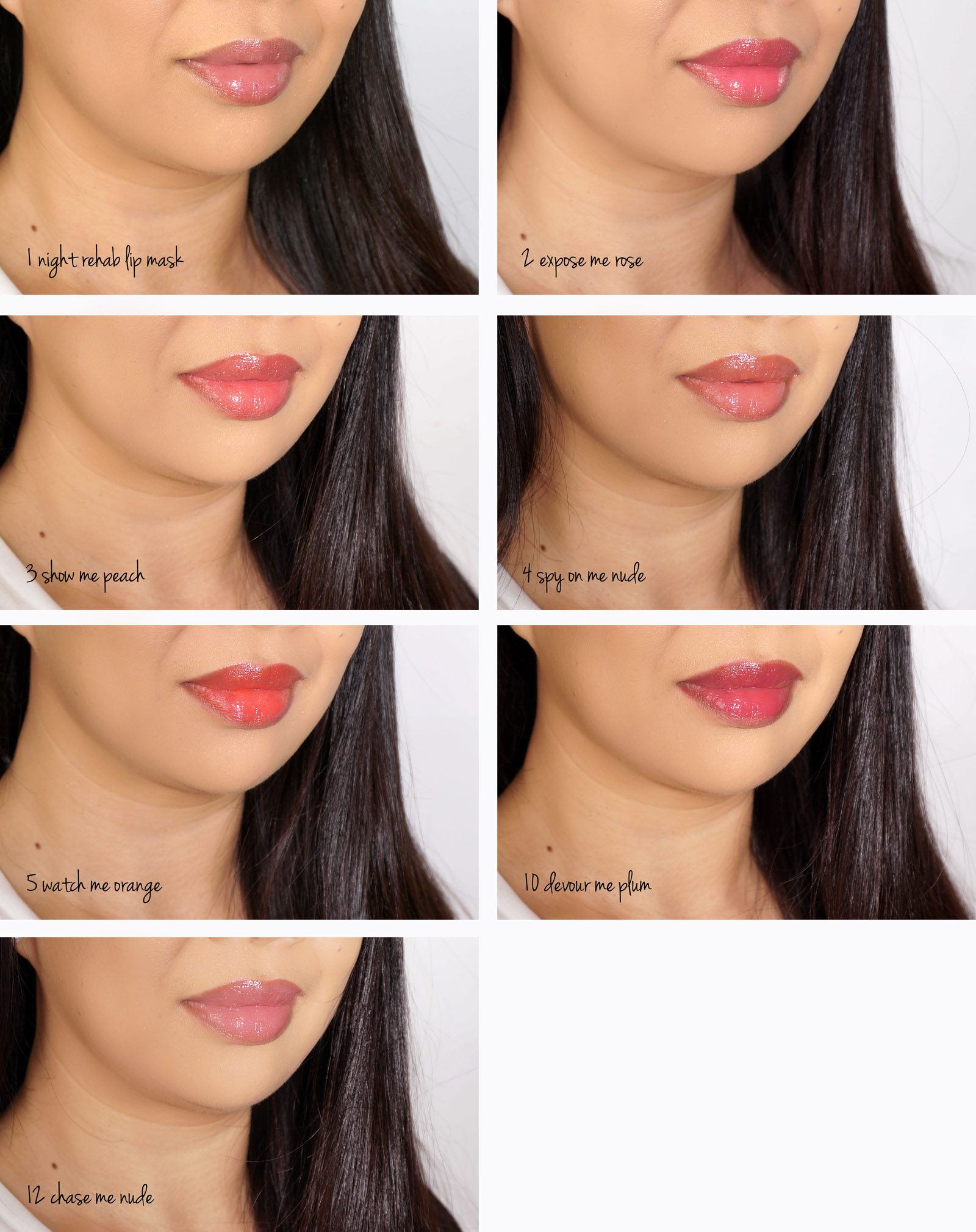 Side by sides next to the Chanel Rouge Coco Lip Blush from a few days ago:

A swatch of the Tint-In-Oil #9 swatched here vs the Volupte Liquid Colour Balm #12: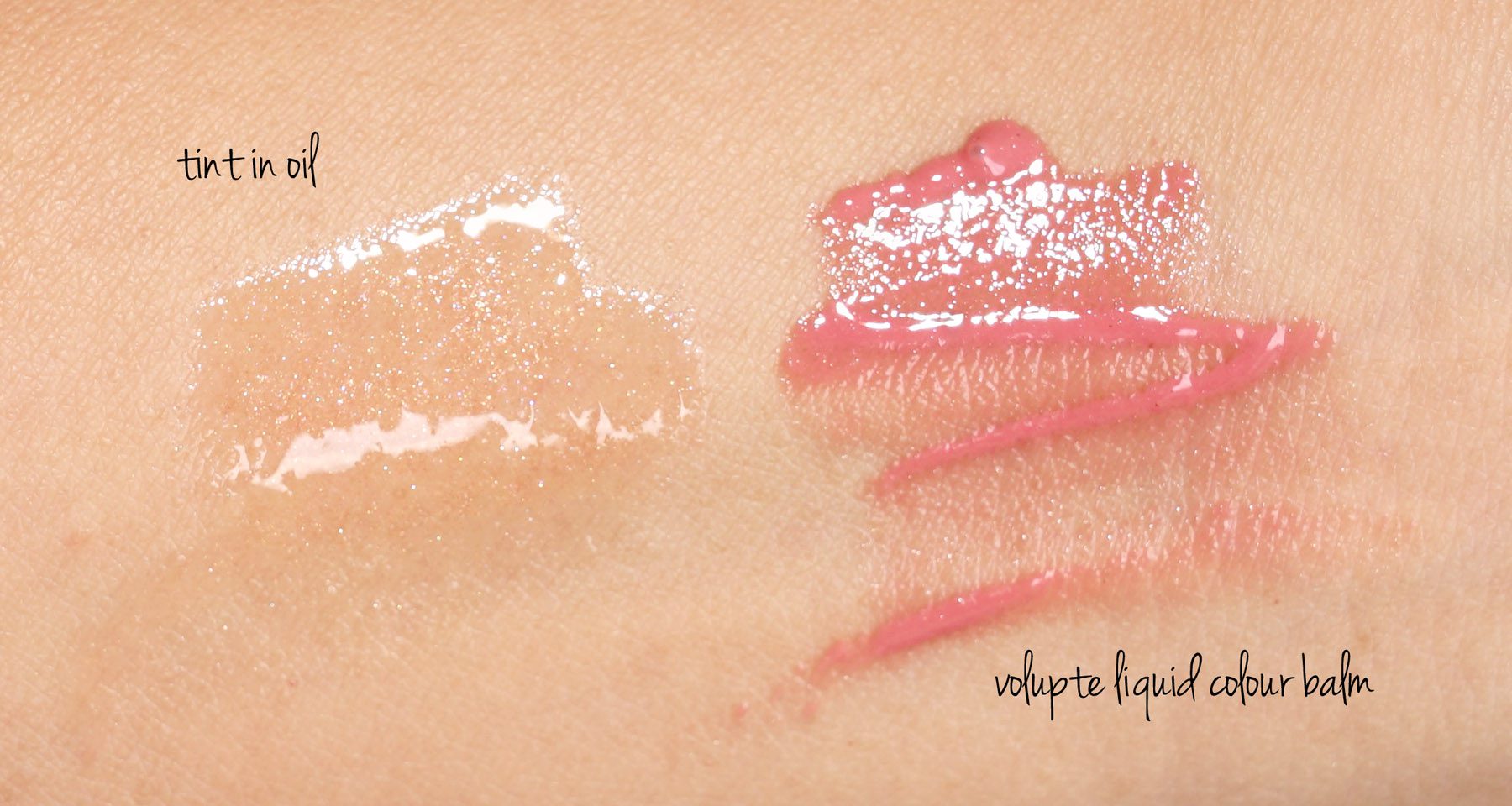 Bottom line 100% love. If you're a lip gloss lover and like tinted balms but want something with color these are for you! I love every single color I bought although #5 Watch Me Orange is really orange on me. I highly recommend checking these out. As a comparison of this to other YSL lipsticks that are sheer and glossy, I cannot pick a favorite formula. They're all different in color, texture and finish. I truly love them all, but these new Volupte Liquid Colour Balms are really phenomenal. The colors are pretty, fresh and perfect for spring to summer. I'm for sure going to have at least one these in my makeup bag at all times for the rest of the year.
You can find them now at Nordstrom for $32 each. I suspect they have an early exclusive and that they'll launch at other retailers later in the spring but I'm not 100% sure.
Have you tried any of these yet? What did you think?