By popular request I have a review with swatches of the new Eyes of Tom Ford Collection. This is Tom Ford's first eyes-only launch with new Private Shadows ($36 each), three new mascaras in Spike Lash, Shutter Lash and Fullscreen Lash ($45 each) and an Eye Gloss ($36).
Up first is a look at the Private Shadows which are individual shades of eye shadow. These come in the cutest mirrored compact with a snap lock closure versus the magnetic style the Eye Color Quads. There are five different finishes:
Ultra Suede – intensely pigmented matte shades formulated without pearl
Suede – matte shades formulated with subtle touches of pearl
Sateen – high shine shades with a pearl luster finish
Vinyl – pearlized shades with a metallic chrome finish
Paillette – pearlized shades with a sequin glitter finish
I've tested all formulas and find they are rich and smooth in pigment. I personally find the finish between the Suede, Sateen and Vinyl to be similar in the colors I tested. They have a smooth pearl quality that feels extremely soft to the touch. They glide on the lids flawlessly. The Paillette shades are glittery, but true to Tom Ford glitters in the sense that I don't experience fall out once they are on the lids and they are semi-sheer in the base with more pigment in the glitter flecks. I received 7 shades as press samples and purchased 5. Out of all 12 shades there are only 2 I'm not crazy about. Vertigo is a fairly basic grey-taupe (too basic for the price) and Videotape was fairly stiff and hard in texture (color payoff wasn't as good as the other shades).
I've split the shades by color family rather than formula: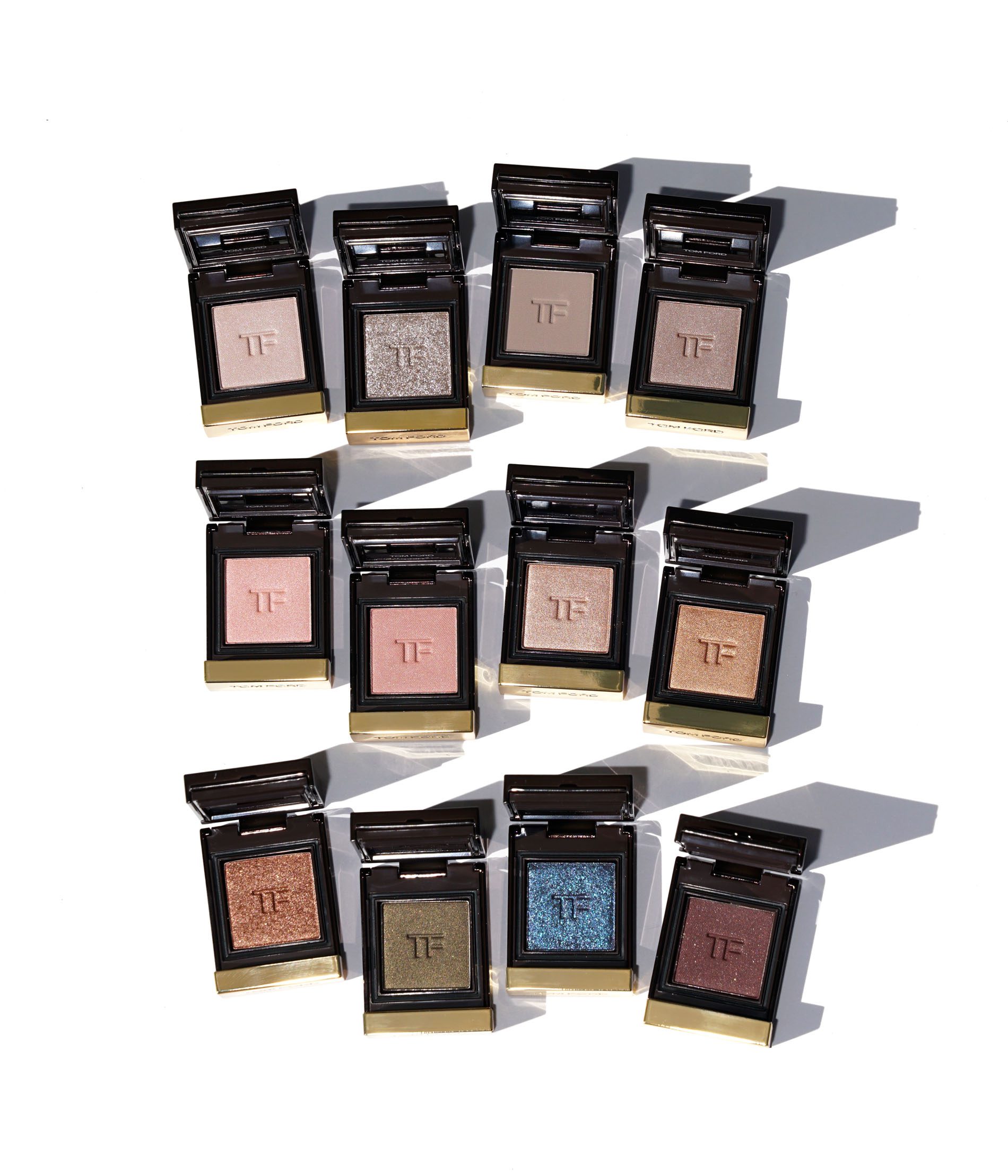 A closer look at each row with descriptions: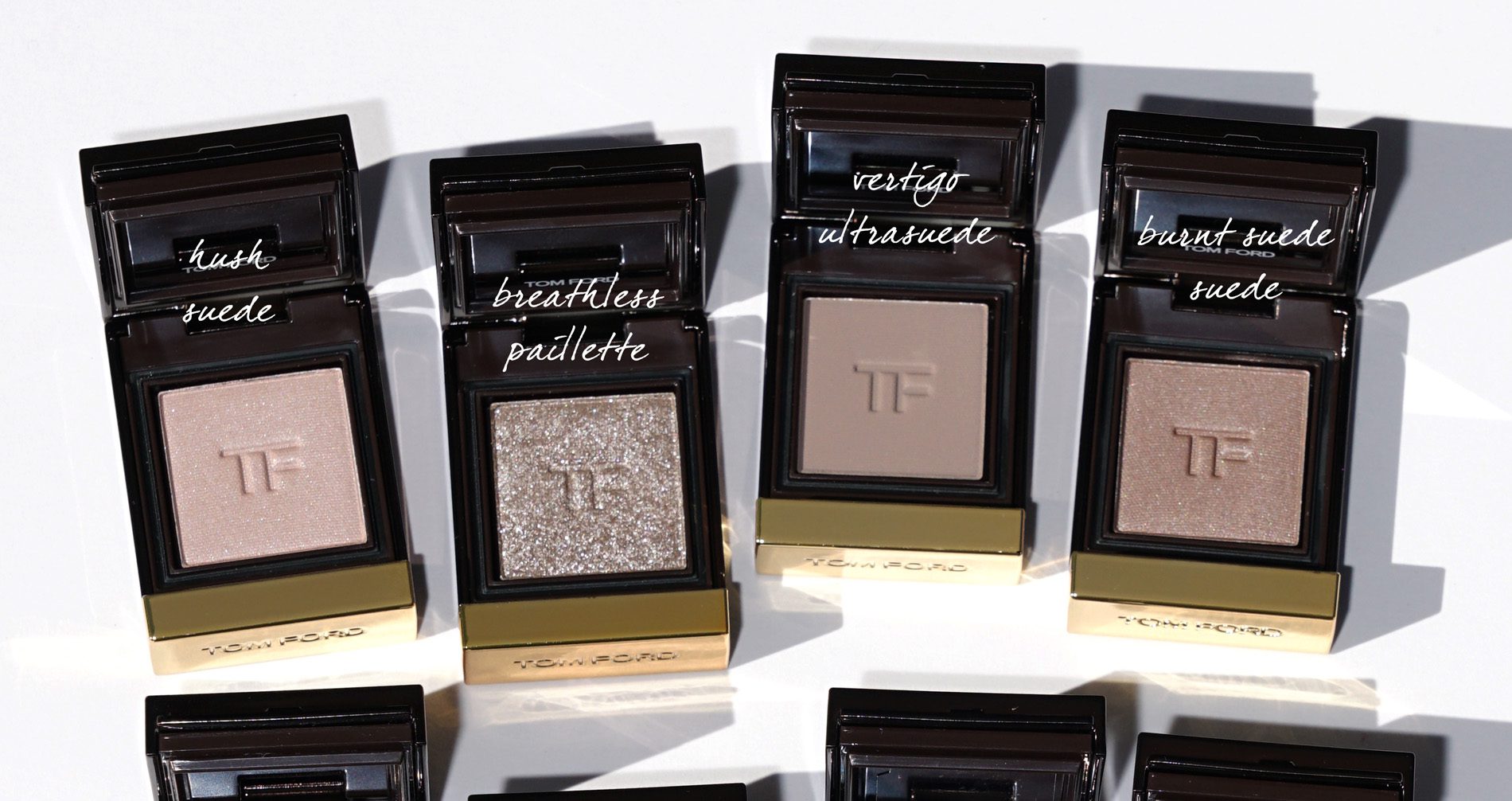 Top Row, left to right:
Hush (suede) is a soft champagne neutral with a sheen
Breathless (paillette) is a sparkling glitter pale silver
Vertigo (ultrasuede) is a matte soft grey
Burnt Suede (suede) is a soft taupe shimmer
____________________
Middle Row, left to right:
Exposure (sateen) goes on lighter than what I see in the pan, it's a light pink shimmer
Loveshade (suede) is a beautiful soft medium salmon pink shimmer
Body Double (vinyl) is my favorite, I live for shades like this! It's the perfect all over lid color in a neutral shimmer beige
Warm Leatherette (vinyl) is another favorite, it's a warm shimmering amber gold
____________________
Bottom Row, left to right:
Fire Sign (paillette) is a warm copper sparkle
Smoked Opaline (sateen) is a soft olive shimmer
Tempte Bleu (paillette) is a glittery blue, it's surprisingly wearable and the only blue shadow I've tried that I feel like I could wear
Videotape (suede) is a deep maroon
____________________
Swatches:
Next are three new mascaras in Spike Lash, Shutter Lash and Fullscreen Lash and an Eye Gloss. I tried all three mascaras to see how they held up throughout several days. I could not bring myself to test the Eye Gloss on my eyes for more than five minutes. I swiped and swatched it on my hand, dabbed it on my eyes and immediately removed it. This is one product I don't think I could ever bring myself to wear on the eyes. It has a smooth non-tacky texture but did not feel comfortable on my lids.
For the mascaras, my favorite is still the classic Waterproof Extreme. The new ones aren't completely smudge-proof because my lashes simply don't hold the curl well. My thoughts on each one:
A closer look:
In summary I think the new eyeshadow singles are really good and worth the splurge. The quality, texture and pigment is excellent. I swatched some of the other matte shades in store and they're quite smooth and soft. I was tempted to buy some but felt more compelled to go with the shades I felt had some shimmer because they looked more unique. I do wish they had made these like MAC Pro Palettes where you can make your own quad or palette because I find them more convenient than singles. I'm a huge fan of the Tom Ford Eye Color Quads (in particular Nude Dip, Honeymoon and Disco Dust) and almost always bring one with me when I travel because they're so versatile. Still these don't take up a lot of space and they're compact enough to bring several along with you.
I'm really not sure what to do with the Eye Gloss as it's just not my thing. If you wear eye gloss let me know how and when you wear it!
Mascaras are nice but I would have preferred to have waterproof options. I have lashes that usually don't hold the curl with a lash curler unless the mascara is waterproof. Waterproof Extreme does everything I need in a mascara. That being said I really like the different applicators in the new formulas.
You can find the Eyes of Tom Ford Collection at all Tom Ford locations now. Online at Neiman Marcus, Nordstrom, Beautylish, Sephora and Tom Ford Beauty.
Have you tried these yet? What did you think?
Press samples include Hush, Breathless, Vertigo, Warm Leatherette, Smoked Opaline, Tempete Bleu, Videotape, 3 New Mascaras and Eye Gloss.