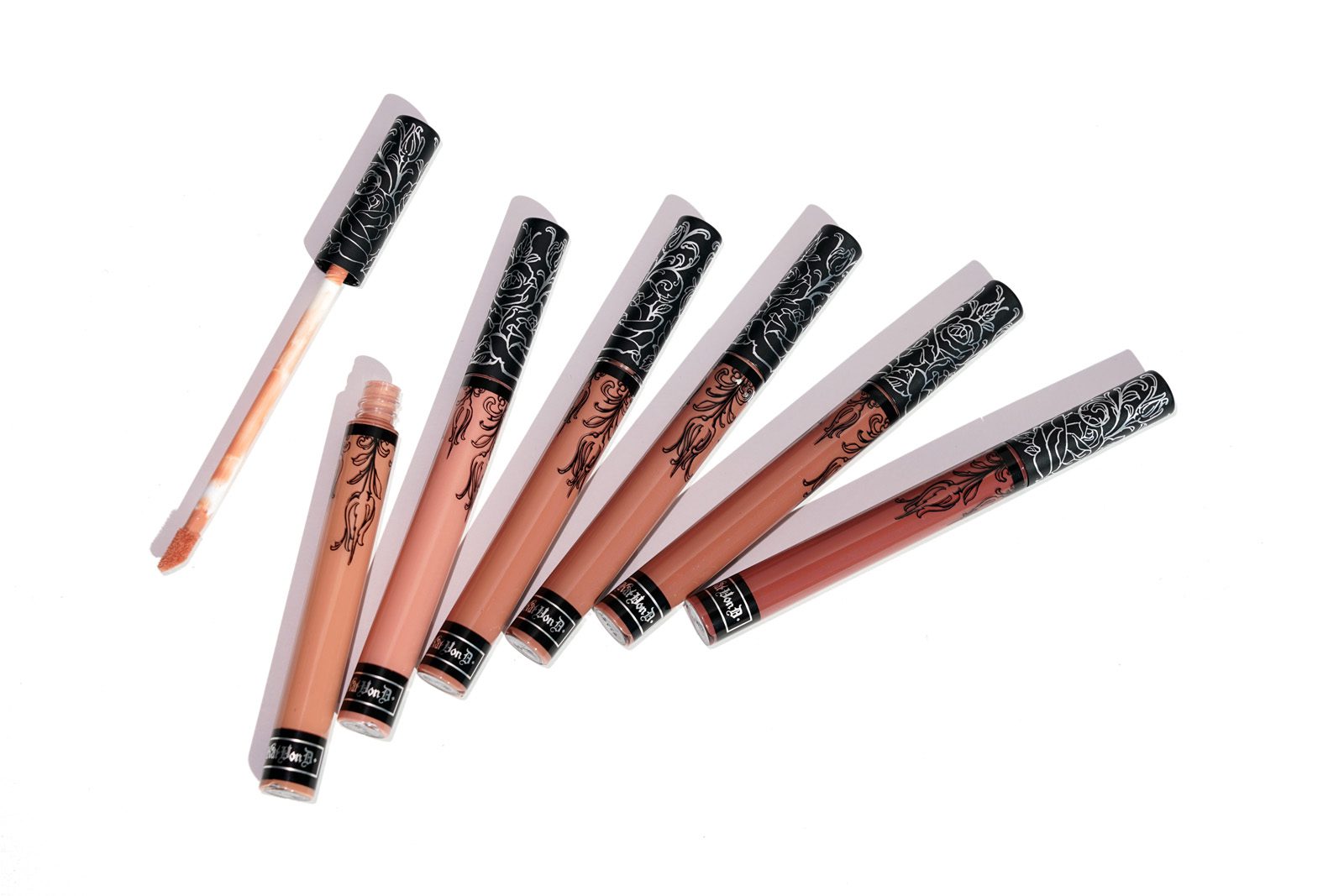 Kat Von D Beauty launched new nude shades of the popular Everlasting Liquid Lipstick ($20 each for 6.6 ml) and being the neutral lip lover I am, I jumped on the bandwagon the day they launched. Thanks to sneak peeks on social I was able to see swatches and photos before ordering so I knew there might be one shade that wouldn't work for me but decided to give it a try anyways. What I ordered: Muneca, Ophelia and Ludwig. I already own Noble, Bow N Arrow and Lolita so I decided to swatch them all for you side by side. Lolita is their best selling shade I think virtually everyone has tried so it serves as a good baseline for comparisons.
Many of you have raved about this formula and I've tried it and thought it was good but none of the shades really worked all that well for me with the exception of Bow N Arrow. The colors are super edgy and trendy and the conservative ones were too dark for my taste. Two of the new nudes are just absolutely perfect in color.
Left to right:
Noble

is a pale peach nude cream it runs pale on me and with the high contrast to my natural lip tone is prone to streaking, but with a bit layering smooths out

Muneca

is a pale pink peach, this one is not a good look on me, it's a color I suspect I could mix with a darker shade or liner, but alone it just clashes with my skintone too much, looks chalky, streaky and emphasizes lip lines

Ophelia

is a perfect nude peach, it's described as a nude chestnut, I don't really see it as a chestnut kind of color because it has some pink and peach in it, it's just so perfect

Ludwig

is the best one for me in my opinion, it's a nude fawn shade that doesn't wash out the complexion and pulls a bit deeper than Ophelia making it more wearable for me

Bow N Arrow

is a beige nude that pulls cool toned on me, it looks amazing on fair complexions, I like the color but sometimes it can make me look a little dead

Lolita

is a deep rose with cool tones, I have a love hate feel for this, sometimes it's too dark and cool, right now I'm lighter in skintone and I actually really like it for a more dramatic neutral
Lip swatches on bare lips:
I really love the look of Ophelia and Ludwig – they are similar but for me different enough to justify both. I do favor Ludwig because it's deeper and easier for me to wear color-wise. Lasting power is typical with these – they literally stay put all day long without budging and a little goes a long way. With these I had a learning curve with application – if you apply too much it can give me the shriveled lip look as many matte lipsticks can. With these apply a thin layer. Sometimes I'll add a bit of balm or clear gloss on top just to give it a bit of shine – I know that kinda defeats the purpose of a full coverage matte liquid lipstick, but I like what I like. I like that these are unscented and don't dry out my lips.
You can find the Kat Von D Everlasting Liquid Lipsticks and new shades at Sephora and Kat Von D Beauty for $20 each.
Do you have any favorites?
P.S. This may be old news but I just saw travel sizes of the Lock-It Powder and Setting Spray launched so I picked up one of each to try during my last Sephora visit. And I know it's been a long time since I did my Lock-It concealer swatches but I will review it soon.
Save
Save