Bobbi Brown released three limited-edition
Cheek Palette Trios
each containing two blushes and one highlighter color. The
Cheek Palettes
are all color-coordinated which include Calypso, Pink and Berry ($45 each, blushes are .12 oz / 3.4 g each and the highlighter is .16 oz / 4.55 g). It was hard to narrow down one pick as all three are extremely pretty. I purchased Calypso which has a peachy theme. The three colors inside include:
Pretty Coral Blush is a soft coral peach with a hint of pink
Calypso Sparkle Powder is a pale peachy gold highlighter
Coral Sugar Blush is a lighter peachy color
Although the theme is peach and coral, I found all three colors pulled a bit more on the pink side on my olive skin. It's been a while since I've worn or purchased a Bobbi Brown blush. Her blushes used to be among my favorites but I found them better suited for my skin when I was darker and more tan (around Chanel B40 and a MAC NC40). Many of her colors tended to darken and oxidize on my skin once I got lighter so I stopped wearing them (although I still adore and am obsessed with all of her shimmer bricks).
Calypso has a light to medium undertone with medium but buildable pigment. I'm in love with the middle highlight because it has a really soft shimmer to it and even though it has gold shimmer, it's not too warm for the skin making it very wearable. The texture of the colors is soft and melds into the skin nicely. A few swipes of color is all you need and they are easy to blend. I like layering them together for depth. It's really an all-in-one cheek palette for blush, highlight and a slightly darker shade to add a bit of color on the apples.
Close ups and swatches: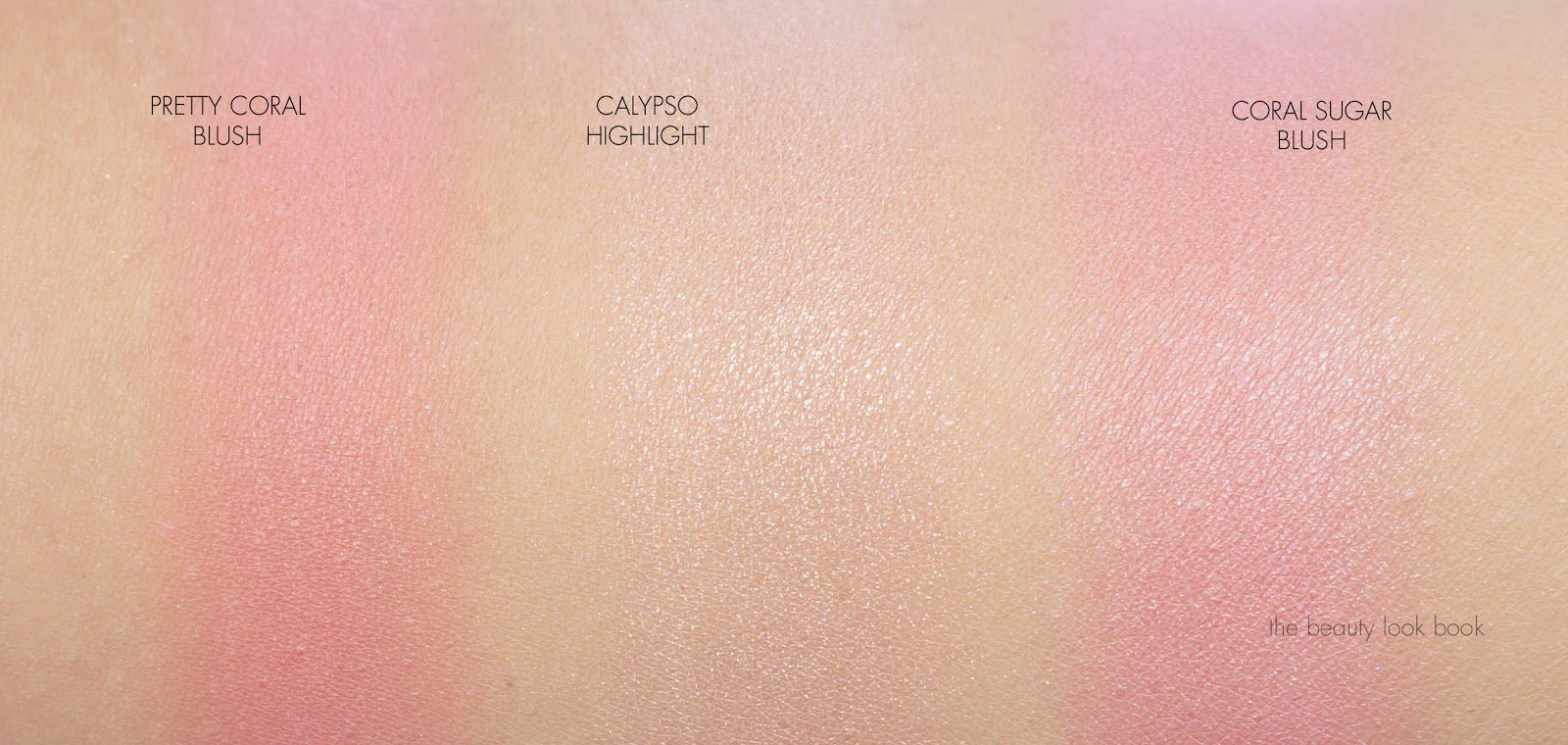 A few comparison swatches:
I really like this one. I've been playing with it for a few weeks now and give it a thumbs up. I do think if you have a lot of peachy coral blushes the effect on the skin will be similar to other brands, but I like the convenience of having multiple colors in one small compact. It makes it easy for travel or to carry around with you for touch ups. Lasting power is quite good, these will warm up on the skin after a little bit but they won't darken or oxidize. I found they stayed put on my cheeks from morning until late afternoon without fading.
Bottom line: it's a good reliable everyday staple. I'm seriously considering the pink one, although it seemed like it might be too pale for me after swatching it in store. If you bought it, I'd love to hear what you thought. Or if you tested any of the three palettes, what did you think?