By request, a comparison of some the newer Chanel peaches and corals to last year's releases (see my coral obsession from last year here). Left to right with descriptions:
Miami Peach 203 is the closest to a tangerine shade, it has a jelly finish requiring 3 coats for more coverage and has gold sparkles suspended (was a limited release to Neiman Marcus back in 2011, reviewed here)
Starlet 575 is the more pink than Miami Peach, Starlet has rich coverage with visible shimmer, still peachy/coral but has enough pink to prevent it from looking orange (swatched here)
Distraction 549 flashes the most pink because it has a fuchsia iridescent quality, glows with a sheen rather than full on shimmer, semi-jelly-like finish as well but more coverage than Miami Peach (swatched here and here)
Lilis 647 is several shades brighter, deeper and richer than the others, has a pinkish undertone (swatched here and here)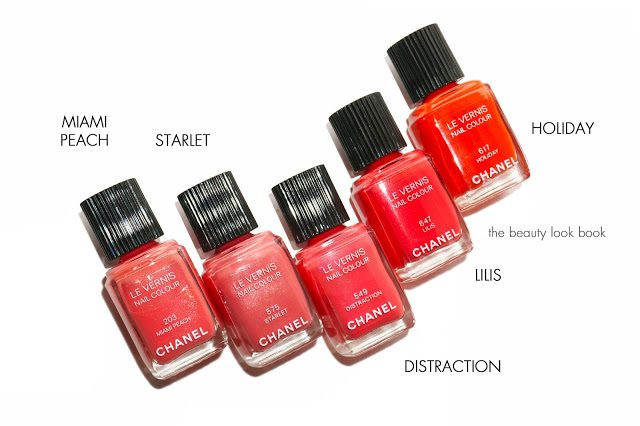 Swatched below, I hope the different angles will show the shimmer/iridescent quality a bit better:
All the shades are similar in undertone and color. Right now the only shade you can't find easily is Miami Peach since it was limited from a few years ago. All the others are still available at Chanel counters and online at
Chanel.com
,
Nordstrom.com
,
Neimanmarcus.com
and other Chanel retailers. If you have a substantial wishlist and are ready to make a larger purchase I'd recommend you check your local Chanel counters for gift with purchases. Many are having beauty events so you may want to take advantage of the GWPs while they are going on.
Hope this helped show the differences!