I will admit that I tend to associate rosy pinks more with spring or summer, but I feel that rosy pink lips can pretty much be worn year round. For lips, I tend to lean more towards more natural pinks since I already have a lot of pink in my natural lip tone, so these won't be the rosiest pinks that are out there.
Rosy Pink Lipglosses: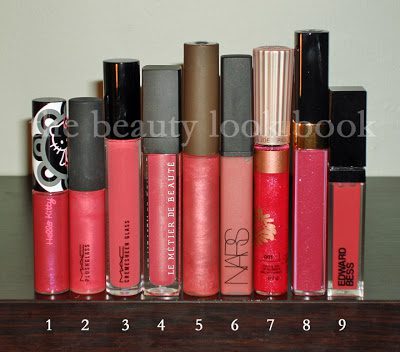 1. MAC Sweet Strawberry Lipglass
2. MAC Bingo! Plushglass
3. MAC Creme Anglaise Cremesheen Glass
4. Le Metier Siena Lip Creme (GWP)
5. Becca Rosita Lip Gloss
6. Nars Stella Lip Gloss
7. Paul & Joe Limited Edition 001 Lip Gloss
8. Chanel Imaginaire Glossimer
9. Edward Bess Love Always
Swatches, same order:
****************************
Rosy Pink Lipsticks:

1. Chanel Ischia #96 Aqualumiere
2. Chanel Tasmania #99 Aqualumiere
3. Bobbi Brown Ruffle Metallic Lip Color
4. Le Metier de Beaute Cannes
5. MAC Strawbaby Lipstick (Fafi label came off)
6. MAC Party Mate
7. MAC Skew
(The swatches didn't turn out so well, I might try again later)
****************************
Nail Polishes:

1. OPI California Raspberry
2. Essie Very Cranberry
3. OPI Grand Central Carnation
4. Dolce & Gabbana Rose (received as a GWP, but part of the regular D&G line)
5. Paul & Joe #13
For the swatches, the order is:
1. Thumb = Paul & Joe #13
2. Index = Dolce & Gabbana Rose
3. Middle = OPI Grand Central Carnation
4. Ring = Essie Very Cranberry
5. Pinkie = OPI California Raspberry

My blush collection has a lot of nude pinks, hot pinks, dusty pinks, peachy-pinks. I don't have very many rosy-pink colors for cheeks other than my Bobbi Brown Raspberry Pot Rouge. Hence, no focus on the cheeks. I definitely do not have any rosy pink eyeshadows.
Would love to hear what your favorite rosy pink colors are!